Abstract
Inferential reasoning by exclusion allows responding adaptively to various environmental stimuli when confronted with inconsistent or partial information. In the experimental context, this mechanism involves selecting correctly between an empty option and a potentially rewarded one. Recently, the increasing reports of this capacity in phylogenetically distant species have led to the assumption that reasoning by exclusion is the result of convergent evolution. Within one largely unstudied avian order, i.e. the Charadriiformes, brown skuas (Catharacta antarctica ssp lonnbergi) are highly flexible and opportunistic predators. Behavioural flexibility, along with specific aspects of skuas' feeding ecology, may act as influencing factors in their ability to show exclusion performance. Our study aims to test whether skuas are able to choose by exclusion in a visual two-way object-choice task. Twenty-six wild birds were presented with two opaque cups, one covering a food reward. Three conditions were used: 'full information' (showing the content of both cups), 'exclusion' (showing the content of the empty cup), and 'control' (not showing any content). Skuas preferentially selected the rewarded cup in the full information and exclusion condition. The use of olfactory cues was excluded by results in the control condition. Our study opens new field investigations for testing further the cognition of this predatory seabird.
Access options
Buy single article
Instant access to the full article PDF.
US$ 39.95
Tax calculation will be finalised during checkout.
Subscribe to journal
Immediate online access to all issues from 2019. Subscription will auto renew annually.
US$ 79
Tax calculation will be finalised during checkout.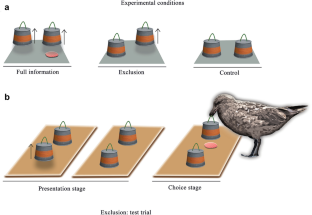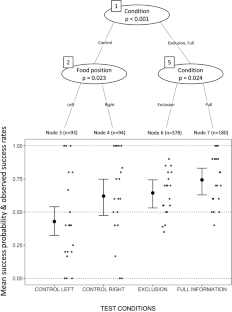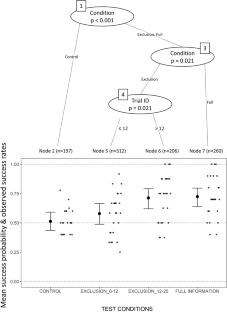 References
Aust U, Range F, Steurer M, Huber L (2008) Inferential reasoning by exclusion in pigeons, dogs, and humans. Anim Cogn 11:587–597

Burton RW (1968) Breeding biology of the brown skua, Catharacta skua lonnbergi (Mathews), at Signy Island, South Orkney Islands. Br Antarct Surv B 15:9–28

Byrne RW, Bates LA (2011) Cognition in the wild: exploring animal minds with observational evidence. Biol Lett 7:619–622

Call J (2004) Inferences about the location of food in the great apes (Pan paniscus, Pan troglodytes, Gorilla gorilla, and Pongo pygmaeus). J Comp Psychol 118:232–241

Call J (2006) Inferences by exclusion in the great apes: the effect of age and species. Anim Cogn 9:393–403

Carneiro APB, Manica A, Phillips RA (2014) Foraging behaviour and habitat use by brown skuas Stercorarius lonnbergi breeding at South Georgia. Mar Biol 161:1755–1764

Carneiro AP, Manica A, Trivelpiece WZ, Phillips RA (2015) Flexibility in foraging strategies of Brown Skuas in response to local and seasonal dietary constraints. J Ornithol 156:625–633

Cauchoix M, Hermer E, Chaine AS, Morand-Ferron J (2017) Cognition in the field: comparison of reversal learning performance in captive and wild passerines. Sci Rep 7:1–10

Chester SR (1993) Antarctic birds and seals. Wandering Albatross, San Mateo

Danel S, von Bayern AM, Osiurak F (2019) Ground-hornbills (Bucorvus) show means-end understanding in a horizontal two-string discrimination task. J Ethol 37:117–122

Darmaillacq AS, Dickel L, Avargues-Weber A, Duboscq J, Dufour V, Jozet-Alves C (2018) Cognition animale: perception, raisonnement et représentations. Dunod

De Kort SR, Clayton NS (2006) An evolutionary perspective on caching by corvids. Proc R Soc B 273:417–423

Erdőhegyi Á, Topál J, Virányi Z, Miklósi Á (2007) Dog-logic: inferential reasoning in a two-way choice task and its restricted use. Anim Behav 74:725–737

Fokkema M, Smits N, Zeileis A, Hothorn T, Kelderman H (2018) Detecting treatment-subgroup interactions in clustered data with generalized linear mixed-effects model tree. Behav Res Methods 50:2016–2034

Furness RW (1987) The Skuas. Pyser Press, Carlton

Furness RW, Boesman P, Garcia EFJ (2018) The brown skua (Catharacta antarctica). In: del Hoyo J, Elliott A, Sargatal J, Christie DA, de Juana E (eds) Handbook of the birds of the world alive. Lynx Edicions, Barcelona

Gagne M, Levesque K, Nutile L, Locurto C (2012) Performance on patterned string problems by common marmosets (Callithrix jacchus). Anim Cogn 15:1021–1030

Gajdon GK, Fijn N, Huber L (2006) Limited spread of innovation in a wild parrot, the kea (Nestor notabilis). Anim Cogn 9:173–181

Garland A, Low J, Armstrong N, Burns KC (2014) Wild robins (Petroica longipes) respond to human gaze. Anim Cogn 17:1149–1156

Grant PB, Samways MJ (2015) Acoustic prey and a listening predator: interaction between calling katydids and the bat-eared fox. Bioacoustics 24:49–61

Grether WF, Maslow AH (1937) An experimental study of insight in monkeys. J Comp Psychol 24:127–134

Hahn S, Peter HU (2003) Feeding territoriality and the reproductive consequences in brown skuas Catharacta antarctica lonnbergi. Polar Biol 26:552–559

Hill A, Collier-Baker E, Suddendorf T (2011) Inferential reasoning by exclusion in great apes, lesser apes, and spider monkeys. J Comp Psychol 125:91–103

Hill A, Collier-Baker E, Suddendorf T (2012) Inferential reasoning by exclusion in children (Homo sapiens). J Comp Psychol 126:243–254

Jacobs IF, Osvath M (2015) The string-pulling paradigm in comparative psychology. J Comp Psychol 129:89–120

Jelbert SA, Taylor AH, Gray RD (2015) Reasoning by exclusion in New Caledonian crows (Corvus moneduloides) cannot be explained by avoidance of empty containers. J Comp Psychol 129:283–290

Ketchaisri O, Siripunkaw C, Plotnik JM (2019) The use of a human's location and social cues by Asian elephants in an object-choice task. Anim Cogn 22:907–915

Lee WY, Han YD, Jablonski PG, Jung JW, Kim JH (2016) Antarctic skuas recognize individual humans. Anim Cogn 19:861–865

Maille A, Roeder JJ (2012) Inferences about the location of food in lemurs (Eulemur macaco and Eulemur fulvus): a comparison with apes and monkeys. Anim Cogn 15:1075–1083

Marsh HL, Vining AQ, Levendoski EK, Judge PG (2015) Inference by Exclusion in Lion-Tailed Macaques (Macaca silenus), a Hamadryas Baboon (Papio hamadryas), Capuchins (Sapajus apella), and Squirrel Monkeys (Saimiri sciureus). J Comp Psychol 3:256–267

Mikolasch S, Kotrschal K, Schloegl C (2011) African grey parrots (Psittacus erithacus) use inference by exclusion to find hidden food. Biol Lett 7:875–877

Mikolasch S, Kotrschal K, Schloegl C (2012) Is caching the key to exclusion in corvids? The case of carrion crows (Corvus corone corone). Anim Cogn 15:73–82

Moncorps S, Chapuis J, Haubreux D, Bretagnolle V (1998) Diet of the Brown Skua Catharacta skua lonnbergi on the Kerguelen archipelago: comparisons between techniques and between islands. Polar Biol 19:9–16

Morand-Ferron J, Sol D, Lefebvre L (2007) Food stealing in birds: brain or brawn? Anim Behav 74:1725–1734

Mougeot F, Bretagnolle V (2000) Predation as a cost of sexual communication in nocturnal seabirds: an experimental approach using acoustic signals. Anim Behav 60:647–656

Mougeot F, Genevois F, Bretagnolle V (1998) Predation on burrowing petrels by the brown skua (Catharacta skua lonnbergi) at Mayes Island, Kerguelen. J Zool 244:429–438

Nawroth C, von Borell E (2015) Domestic pigs' (Sus scrofa domestica) use of direct and indirect visual and auditory cues in an object choice task. Anim Cogn 18:757–766

Nawroth C, von Borell E, Langbein J (2014) Exclusion performance in dwarf goats (Capra aegagrus hircus) and sheep (Ovis orientalis aries). PLoS ONE 9:e93534

O'Hara M, Auersperg AM, Bugnyar T, Huber L (2015) Inference by exclusion in Goffin cockatoos (Cacatua goffini). PLoS ONE 10:e0134894

O'Hara M, Schwing R, Federspiel I, Gajdon GK, Huber L (2016) Reasoning by exclusion in the kea (Nestor notabilis). Anim Cogn 19:965–975

Paukner A, Huntsberry ME, Suomi SJ (2009) Tufted capuchin monkeys (Cebus apella) spontaneously use visual but not acoustic information to find hidden food items. J Comp Psychol 123:26–33

Paxton Gazes R, Chee NW, Hampton RR (2018) Monkeys choose, but do not learn, through exclusion. Anim Behav Cogn 5:1–25

Penn DC, Povinelli DJ (2007) Causal cognition in human and nonhuman animals: a comparative, critical review. Annu Rev Psychol 58:97–118

Pepperberg IM, Koepke A, Livingston P, Girard M, Hartsfield LA (2013) Reasoning by inference: further studies on exclusion in grey parrots (Psittacus erithacus). J Comp Psychol 127:272–281

Petit O, Dufour V, Herrenschmidt M, De Marco A, Sterck EH, Call J (2015) Inferences about food location in three cercopithecine species: an insight into the socioecological cognition of primates. Anim Cogn 4:821–830

Piaget J (1954) The construction of reality in the child. Basic Books, New York

Plotnik JM, Pokorny JJ, Keratimanochaya T, Webb C et al (2013) Visual cues given by humans are not sufficient for Asian elephants (Elephas maximus) to nd hidden food. PLoS ONE 8:e61174

Plotnik JM, Shaw RC, Brubaker DL, Tiller LN, Clayton SC (2014) Thinking with their trunks: elephants use smell but not sound to locate food and exclude nonrewarding alternatives. Anim Behav 88:91–98

Premack D, Premack AJ (1994) Levels of causal understanding in chimpanzees and children. Cognition 50:347–362

R Core Team (2019) R: A language and environment for statistical computing. In: R Foundation for Statistical Computing, Vienna, Austria. https://www.R-project.org/

Rice WR (1982) Acoustic location of prey by the marsh hawk: adaptation to concealed prey. Auk 19:403–413

Ricklefs RE (2004) The cognitive face of avian life histories: the 2003 Margaret Morse Nice lecture. Wilson J Ornithol 116:119–133

Romain A, Broihanne M-H, De Marco A, Ngoubangoye B, Call J, Rebout N, Dufour V (2021) Non-human primates use combined rules when deciding under ambiguity. Phil Trans R Soc B 376:20190672

Sabbatini G, Visalberghi E (2008) Inferences about the location of food in capuchin monkeys (Cebus apella) in two sensory modalities. J Comp Psychol 122:156–166

Schloegl C (2011) What you see is what you get-reloaded: can jackdaws (Corvus monedula) find hidden food through exclusion? J Comp Psychol 125:162–174

Schloegl C, Dierks A, Gajdon GK, Huber L, Kotrschal K, Bugnyar T (2009) What you see is what you get? Exclusion performances in ravens and keas. PLoS ONE 4:e6368

Schloegl C, Schmidt J, Boeckle M, Weiß BM, Kotrschal K (2012) Grey parrots use inferential reasoning based on acoustic cues alone. Proc R Soc B 279:4135–4142

Schmitt V, Fischer J (2009) Inferential reasoning and modality dependent discrimination learning in olive baboons (Papio hamadryas anubis). J Comp Psychol 123:316–325

Schreiber EA, Burger J (2002) Biology of marine birds. CRC Press, Boca Raton

Shaw RC, Plotnik JM, Clayton NS (2013) Exclusion in corvids: the performance of food-caching Eurasian jays (Garrulus glandarius). J Comp Psychol 127:428–435

Shaw RC, Boogert NJ, Clayton NS, Burns KC (2015) Wild psychometrics: evidence for 'general' cognitive performance in wild New Zealand robins, Petroica longipes. Anim Behav 109:101–111

Sittler B, Aebischer A, Gilg O (2011) Post-breeding migration of four Long-tailed Skuas (Stercorarius longicaudus) from North and East Greenland to West Africa. J Ornithol 152:375–381

Spear LB, Howell SNG, Oedekoven CS, Legay D, Bried J (1999) Kleptoparasitism by brown skuas on albatrosses and giant-petrels in the Indian ocean. Auk 116:545–548

Subias L, Griffin AS, Guez D (2019) Inference by exclusion in the Red-tailed Black Cockatoo (Calyptorhynchus banksii). Integr Zool 14:193–203

Tebbich S, Seed AM, Emery NJ, Clayton NS (2007) Non-tool-using rooks, Corvus frugilegus, solve the trap-tube problem. Anim Cogn 10:225–231

Tornick JK, Gibson BM (2013) Tests of inferential reasoning by exclusion in Clark's nutcrackers (Nucifraga columbiana). Anim Cogn 16:583–597

Trivelpiece W, Butler RG, Volkman NJ (1980) Feeding territories of Brown Skuas (Catharacta lonnbergi). Auk 97:669–676

Völter CJ and Call J (2017) Causal and inferential reasoning in animals. In J Call, GM Burghardt, IM Pepperberg, CT Snowdon, & T Zentall (Eds.), APA handbooks in psychology®. APA handbook of comparative psychology: Perception, learning, and cognition (p. 643–671). American Psychological Association.

Watanabe S, Huber L (2006) Animal logics: decisions in the absence of human language. Anim Cogn 9:235–245
Acknowledgments
This work was financed by the French Polar Institute (IPEV): project ETHOTAAF 354 to FB and IRFP-NSF (#0700939) Fellowship to APN. We would like to thank Yoanna Marescot for helping with the experiments on the field. We are very grateful to Dora Biro and two anonymous reviewers for their helpful comments on the manuscript.
Additional information
Publisher's Note
Springer Nature remains neutral with regard to jurisdictional claims in published maps and institutional affiliations.
Supplementary Information
Below is the link to the electronic supplementary material.
Video S2. Video of test trial examples in the full information and the exclusion conditions, respectively (MP4 64986 KB)
About this article
Cite this article
Danel, S., Chiffard-Carricaburu, J., Bonadonna, F. et al. Exclusion in the field: wild brown skuas find hidden food in the absence of visual information. Anim Cogn (2021). https://doi.org/10.1007/s10071-021-01486-4
Received:

Revised:

Accepted:

Published:
Keywords
Avian cognition

Charadriiformes

Cups task

Exclusion performance

Inferential reasoning