Abstract
Large pythons and boas comprise a group of animals whose anatomy and physiology are very different from traditional mammalian, avian and other reptilian models typically used in operant conditioning. In the current study, investigators used a modified shaping procedure involving successive approximations to train wild Burmese pythons (Python molurus bivitattus) to approach and depress an illuminated push button in order to gain access to a food reward. Results show that these large, wild snakes can be trained to accept extremely small food items, associate a stimulus with such rewards via operant conditioning and perform a contingent operant response to gain access to a food reward. The shaping procedure produced robust responses and provides a mechanism for investigating complex behavioral phenomena in massive snakes that are rarely studied in learning research.
Access options
Buy single article
Instant access to the full article PDF.
USD 39.95
Price includes VAT (USA)
Tax calculation will be finalised during checkout.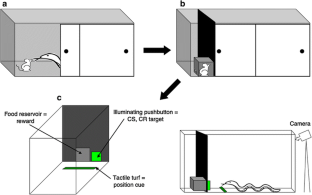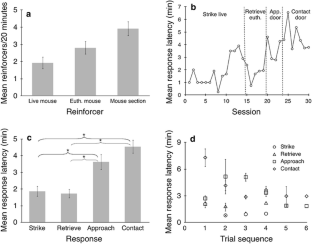 References
Almli L, Burghardt G (2006) Environmental enrichment alters the behavioral profile of ratsnakes (Elaphe). J Appl Anim Welf Sci 9(2):85–109

Andreadis PT, Burghardt GM (2005) Unlearned appetite controls: watersnakes (Nerodia) take smaller meals when they have the choice. J Comp Psychol 119(3):304–310

Arnold SJ (1993) Foraging theory and prey-size–predator-size relations in snakes. In: Seigel RA, Collins JT (eds) Snakes ecology and behavior. McGraw Hill, New York, pp 87–115

Begun D, Kubie J, O'Keefe M, Halpern M (1988) Conditioned discrimination of airborne odorants by garter snakes. J Comp Psychol 102(1):35–43

Bullock T, Diecke F (1956) Properties of an infrared receptor. J Physiol 134:47–87

Burghardt GM, Layne D (1995) Effects of ontogenetic processes and rearing conditions. In: Warwick C, Frye FL, Murphy JB (eds) Health and welfare of captive reptiles. Chapman and Hall, London, pp 165–185

Crawford F, Bartlett C (1966) Runway behavior of the gray rat snake with food and water reinforcement. Psychon Sci 4:99–100

Dalland JI (1970) The measurement of ultrasonic hearing. In: Stebbins WC (ed) Animal psychophysics: the design and conduct of sensory experiments. Appleton-Century-Crofts, New York, pp 21–40

Dorcas ME, Wilson JD, Reed RN, Snow RW, Rochford MR, Miller MA, Meshaka WE, Andreadis PT, Mazzotti FJ, Romagosa CM, Hart KM (2012) Severe mammal declines coincide with proliferation of invasive Burmese pythons in Everglades National Park. Proc Nat Acad Sci 109:2418–2422

Dove CJ, Snow RW, Rochford MR, Mazotti FJ (2011) Birds consumed by the invasive Burmese python (Python molurus bivittatus) in Everglades National Park, Florida, USA. Wilson J Ornithol 123:126–131

Ebert J, Müller S, Westhoff G (2007) Behavioural examination of the infrared sensitivity of ball pythons. J Zool 272:340–347

Gans C, Krakaure T, Paganelli CV (1968) Water loss in snakes: interspecific and intraspecific variability. Comp Biochem Physiol 27:747–761

Gavish L (1979) Conditioned-response of snakes (Malpolon monspessulanum) to light. J Herpetol 13:357–359

Gould J, Gould C (1994) The Animal Mind. W. H. Freeman, New York

Grace M, Matsushita A (2007) Neural correlates of complex behavior: vision and infrared imaging in boas and pythons. In: Henderson RW, Schuett G (eds) Biology of the boas, pythons and related taxa. Eagle Mountain, Eagle Mountain, pp 271–285

Gregory PT (2013) Once bitten twice shy: does previous experience influence behavioural decisions of snakes in encounters with predators? Ethology 119:919–925

Halpern M (1992) Nasal chemical senses in reptiles: structure and function. In: Gans C, Crews D (eds) Biology of the reptilia vol 18. University of Chicago Press, Chicago, pp 423–523

Halpern M, Halpern J, Erichsen E, Borghjid S (1997) The role of nasal chemical senses in garter snake responses to airborne odor cues from prey. J Comp Psychol 111:251–260

Hartline PH, Campbell HW (1969) Auditory and vibratory responses in the midbrains of snakes. Science 163:1221–1223

Haverly J, Kardong K (1996) Sensory deprivation effects on the predatory behavior of the rattlesnake, Crotalus viridis oreganus. Copeia 1996:419–428

Holtzman D, Harris T, Aranguran G, Bostock E (1999) Spatial learning of an escape task by young corn snakes (Elaphe guttata guttata). Anim Behav 57(1):51–60

Kellogg W, Pomeroy W (1936) Maze learning in water snakes. J Comp Psychol 21:275–295

Kleinginna P (1970) Operant conditioning in the indigo snake. Psychon Sci 18:53–55

Kluge AG (1991) Boine phylogeny and research cycles. Miscellaneous Publications, Musem of Zoology, University of Michigan

Kluge AG (1993) Aspidites and the phylogeny of pythonine snakes. Rec Aust Mus (Suppl) 19:1–77

Krochmal A, Bakken G (2003) Thermoregulation is the pits: use of thermal radiation for retreat site selection by rattlesnakes. J Exp Biol 206:2539–2545

Kubie J, Halpern M (1975) Laboratory observations on trailing behavior in garter snakes. J Comp Physiol Psychol 89:667–674

McNab BK (2002) The physiological ecology of vertebrates: a view from energetics. Cornell University Press, New York

Molenaar G (1992) Anatomy and physiology of infrared sensitivity of snakes. In: Gans C, Ulinski P (eds) Biology of the reptilia, vol 17. University of Chicago Press, Chicago, pp 367–453

Murphy JC, Henderson RW (1997) Tales of giant snakes: a historical natural history of anacondas and pythons. Krieger, Malabar

Noble GK, Schmidt A (1937) The structure and function of the facial and labial pits of snakes. Proc Am Philos Soc 77:263–288

Noonan BP, Chippindale PT (2006) Dispersal and vicariance: the complex evolutionary history of boid snakes. Mol Phylogenet Evol 40:347–358

Overgaard J, Andersen JB, Wang T (2002) The effects of fasting duration on the metabolic response to feeding in Python molurus: an evaluation of the energetic costs associated with gastrointestinal growth and upregulation. Physiol Biochem Zool 75(4):360–368

Pittman SE, Hart KM, Cherkiss MS, Snow RW, Fujisaki I, Smith BJ, Mazotti FJ, Dorcas ME (2014) Homing of invasive Burmese pythons in South Florida: evidence for map and compass senses in snakes. Biol Lett 10:20140040

Pope CH (1961) The giant snakes. Alfred A Knopf, New York

Powell R (1972) Operant conditioning in the common crow (Corvus brachyrhynchos). Auk 89:738–742

Rawlings LH, Rabosky DL, Donnellan SC, Hutchinson MN (2008) Python phylogenetics: inference from morphology and mitochondrial DNA. Biol J Linn Soc 93:603–619

Reed RN (2005) An ecological risk assessment of nonnative boas and pythons as potentially invasive species in the United States. Risk Anal 25:753–766

Reiserer RS (2002) Stimulus control of caudal luring and other feeding responses: a program for research on visual perception in vipers. In: Schuett GW, Hoggren M, Douglas ME, Greene HW (eds) Biology of the vipers. Eagle Mountain, Eagle Mountain, pp 361–383

Safer A, Grace M (2004) Infrared imaging in vipers: differential responses of crotaline and viperine snakes to paired thermal targets. Behav Brain Res 154:55–61

Secor SM (2008) Digestive physiology of the Burmese python: broad regulation of integrated performance. J Exp Biol 211:3767–3774

Sillman A, Carver J, Loew E (1999) The photoreceptors and visual pigments in the retina of a boid snake, the ball python (Python regius). J Exp Biol 202:1931–1938

Snow R, Brien M, Cherkiss M, Wilkins L, Mazotti F (2007) Dietary habits of the Burmese python, Python molurus bivittatus, from Everglades National Park, FL. Herpetol Bull 101:5–7

Starck JM, Beese K (2001) Structural flexibility of the intestine of Burmese python in response to feeding. J Exp Biol 204(2):325–335

Takemasa T, Nakamura K (1935) A study of learning using snakes. Educ Psychol Res 1935:575–581

Thompson T, Sturm T (1965) Visual-reinforcer color and operant behavior in Siamese fighting fish. J Exp Anal Behav 8:341–344

Walker M, Bitterman M (1985) Conditioned responding to magnetic fields by honeybees. J Comp Physiol A 157:67–71

Walker M, Diebel C, Haugh C, Pankhurst P, Montgomery J, Green C (1997) Structure and function of the vertebrate magnetic sense. Nature 390:371–376

Walls GL (1940) Ophthalmological implications for the early history of snakes. Copeia 1940:1–8

Walls GL (1942) The vertebrate eye and its adaptive radiation. The Cranebrook Institute of Science, Michigan

Wilson D (2007) Foraging ecology and diet of an ambush predator: the green python (Morelia viridis). In: Henderson RW, Powell R (eds) Biology of boas and pythons. Eagle, Eagle Mountain, pp 141–150

Wolfe D, Browne C (1940) A learning experiment with snakes. Copeia 1940:134

Yager D, Thorpe S (1970) Investigations in goldfish color vision. In: Stebbins WC (ed) Animal psychophysics: the design and conduct of sensory experiments. Appleton-Century-Crofts, New York, pp 259–275

Zug GR (1993) Herpetology. An introductory biology of amphibians and reptiles. Academic Press, San Diego
Acknowledgments
We thank the National Science Foundation (grant IOS 1052200 to MSG), Animal Behavior Society, the Society for Integrative and Comparative Biology, Herpetologists' League and Sigma Xi for financial support. Thanks to J. Fobb and R. Snow for supplying pythons, L. Buist, G. Emer and D. Emer for mechanical support in designing a prototype apparatus, H. DeMarr for training support and C. Stewart for animal care.
Electronic supplementary material
Below is the link to the electronic supplementary material.
Supplementary material Online Resource 1. A Burmese python performs the operant behavior chain. It assumes an observation position, waits for light illumination, pushes a button and is rewarded with access to the food reservoir where it retrieves the prey item. (PDF 225 kb)
Supplementary material Online Resource 2. Individual mean response latencies (±SE) during pre-training, shaping and discriminated operant (D.O.) training phases performed by five sub-adult pythons (SA, S4, S6, S11, S12). There were no significant differences in mean response latency between individual pythons (P>0.05). (PDF 36 kb)
About this article
Cite this article
Emer, S.A., Mora, C.V., Harvey, M.T. et al. Predators in training: operant conditioning of novel behavior in wild Burmese pythons (Python molurus bivitattus). Anim Cogn 18, 269–278 (2015). https://doi.org/10.1007/s10071-014-0797-1
Received:

Revised:

Accepted:

Published:

Issue Date:
Keywords
Python

Snake

Reptile

Predator

Behavior

Shaping

Operant conditioning