Abstract
In this study, lactic acid bacteria strains (LABs) were isolated from Korean traditional fermented food and examined as potential probiotics using in vitro methods. Ten LAB strains survived in de Man, Rogosa and Sharpe broth adjusted to pH 2.5 were tested for resistance to acidic conditions and bile, antimicrobial activity, and α-glucosidase inhibitory activity. Among them, strain MBEL1397 showed antimicrobial activity against Bacillus cereus and exhibited survival rates of over 97% in acidic and bile conditions. The α-glucosidase inhibitory activity was 3.91 ± 0.25%, corresponding to approximately 2.3 times higher than that of acarbose. MBEL1397 was susceptible to ampicillin, erythromycin, and penicillin G and identified as Lactobacillus sakei. It was deposited to Korean Collection for Type Culture (KCTC) as KCTC14037BP. In conclusion, these results demonstrate that L. sakei MBEL1397 might be prominent probiotics with potential hypoglycemic effects.
This is a preview of subscription content, log in to check access.
Access options
Buy single article
Instant access to the full article PDF.
US$ 39.95
Price includes VAT for USA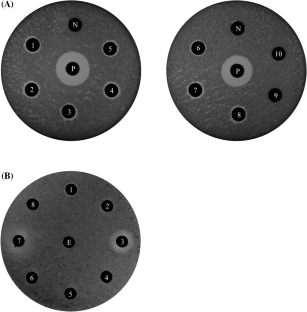 References
Argyri AA, Zoumpopoulou G, Karatzas KA, Tsakalidou E, Nychas GJ, Panagou EZ, Tassou CC. Selection of potential probiotic lactic acid bacteria from fermented olives by in vitro tests. Food Microbiol. 33: 282-291 (2013)

Bajpai VK, Han JH, Nam GJ, Majumder R, Park CS, Lim JH, Paek WK, Rathe IA, Park YH. Characterization and pharmacological potential of Lactobacillus sakei 1I1 isolated from fresh water fish Zacco koreanus. Daru 24: 8 (2016)

Borriello SP, Hammes WP, Holzapfel W, Marteau P, Schrezenmeir J, Vaara M, Valtonen V. Safety of probiotics that contain lactobacilli or bifidobacteria. Clin. Infect. Dis. 36: 775-780 (2003)

Calix-Lara TF, Rajendran M, Talcott ST, Smith SB, Miller RK, Castillo A, Sturino JM, Taylor TM. Inhibition of Escherichia coli O157:H7 and Salmonella enterica on spinach and identification of antimicrobial substances produced by a commercial lactic acid bacteria food safety intervention. Food Microbiol. 38: 192-200 (2014)

Chen P, Zhang Q, Dang H, Liu X, Tian F, Zhao J, Chen Y, Zhang H, Chen W. Screening for potential new probiotic based on probiotic properties and α-glucosidase inhibitory activity. Food Control 35: 65-72 (2014)

Chiasson JL, Josse RG, Gomis R, Hanefeld M, Karasik A, Laakso M, STOP-NIDDM Trial Research Group. Acarbose for prevention of type 2 diabetes mellitus: the STOP-NIDDM randomised trial. Lancet 359: 2072-2077 (2002)

De S, Kaur G, Roy A, Dogra G, Kaushik R, Yadav P, Singh R, Datta TK, Goswami SL. A simple method for the efficient isolation of genomic DNA from lactobacilli isolated from traditional Indian fermented milk (dahi). Indian J. Microbiol. 50: 412-418 (2010)

Duncan DB. Multiple range and multiple F tests. Biometrics 11: 1-42 (1955)

Fen W, Lu L, Hantong L, Shuwen Z, Jing L, Xiaoyang P, Jianming W, Jiaping L. Screening for potential probiotics based on high α-glucosidase inhibitory activity. Food Sci. 39: 192-200 (2018)

Gaspar C, Donders GG, Palmeira-de-Oliveira R, Queiroz JA, Tomaz C, Martinez-de-Oliveira J, Palmeira-de-Oliveira A. Bacteriocin production of the probiotic Lactobacillus acidophilus KS400. AMB Express 8: 153 (2018)

Gomes BC, Rodrigues MR, Winkelströter LK, Nomizo A, Martinis EC. In vitro evaluation of the probiotic potential of bacteriocin producer Lactobacillus sakei 1. J. Food Prot. 75: 1083-1089 (2012)

Kaya HI, Simsek O. Characterization of pathogen-specific bacteriocins from lactic acid bacteria and their application within cocktail against pathogens in milk. LWT-Food Sci. Technol. 115: 108464 (2019)

Kim HJ, Hwang Bo MH, Lee HJ, Yu TS, Lee IS. Antibacterial and anticancer effects of kimchi extracts prepared with Monascus purpureus Koji paste. Korean J. Food Sci. Technol. 37: 618-623 (2005)

Kim M, Nam DG, Kim SB, Im P, Choe JS, Choi AJ. Enhancement of viability, acid, and bile tolerance and accelerated stability in lyophilized Weissella cibaria JW15 with protective agents. Food Sci. Nutr. 6: 1904-1913 (2018)

Kwon HY, Kim YS, Kwon GS, Kwon CS, Sohn HY. Isolation of immune-stimulating strain Bacillus pumilus JB-1 from chungkook-jang and fermentational characteristics of JB-1. Korean J. Microbiol. Biotechnol. 32: 291-296 (2004)

Lee SH, Jung JY, Jeon CO. Source tracking and succession of kimchi lactic acid bacteria during fermentation. J. Food Sci. 80: 1871-1877 (2015)

Lee SR, Kim MS. Leuconostoc mesenteroides MKSR isolated from kimchi possesses α-glucosidase inhibitory activity, antioxidant activity, and cholesterol-lowering effects. LWT-Food Sci. Technol. 116: 108570 (2019)

Lim SM, Jeong JJ, Woo KH, Han MJ, Kim DH. Lactobacillus sakei OK67 ameliorates high-fat diet-induced blood glucose intolerance and obesity in mice by inhibiting gut microbiota lipopolysaccharide production and inducing colon tight junction protein expression. Nutr. Res. 36: 337-348 (2016)

Mulaw G, Tessema TS, Muleta D, Tesfaye A. In vitro evaluation of probiotic properties of lactic acid bacteria isolated from some traditionally fermented Ethiopian food products. Int. J. Microbiol. 2019: 7179514 (2019)

Oboh G, Ogunsuyi OB, Ogunbadejo MD, Adefegha SA. Influence of gallic acid on α-amylase and α-glucosidase inhibitory properties of acarbose. J. Food Drug Anal. 24: 627-634 (2016)

Park C, Youn M, Jung Y, Kim H, Jeong Y, Lee H, Kim H, Lee I, Le S, Kang K, Park Y. New functional probiotic Lactobacillus sakei probio 65 alleviates atopic symptoms in the mouse. J. Med. Food 11: 405-412 (2008)

Park EH, Kim MD. Antipathogenic activity of Lactobacillus plantarum isolated from pickled mulberry leaf. Microbiol. Biotechnol. Lett. 44: 163-170 (2016)

Park KY, Cho EJ, Rhee SH. Increased antimutagenic and anticancer activities of Chinese cabbage kimchi by changing kinds and levels of sub-ingredient. J. Korean Soc. Food Sci. Nutr. 27: 625-632 (1998)

Perchat S, Buisson C, Chaufaux J, Sanchis V, Lereclus D, Gohar M. Bacillus cereus produces several nonproteinaceous insecticidal exotoxins. J. Invertebr. Pathol. 90: 131-133 (2005)

Ron Y, Wainstein J, Leibovitz A, Monastirsky N, Habot B, Avni Y, Segal R. The effect of acarbose on the colonic transit time of elderly long-term care patients with type 2 diabetes mellitus. J. Gerontol. A. Biol. Sci. Med. Sci. 57: 111-114 (2002)

Rossland E, Andersen Borge GI, Langsrud T, Sorhaug T. Inhibition of Bacillus cereus by strains of Lactobacillus and Lactococcus in milk. Int. J. Food Microbiol. 89: 205-212 (2003)

Saarela M, Mogensen G, Fondén R, Mättö J, Mattila-Sandholm T. Probiotic bacteria: safety, functional and technological properties. J. Biotechnol. 84:197-215 (2000)

Sevim S, Topal GG, Tengilimoglu-Metin MM, Sancak B, Kizil M. Effects of inulin and lactic acid bacteria strains on aflatoxin M1 detoxification in yoghurt. Food Control 100: 235-239 (2019)

Shehata MG, Sohaimy SE, El-Sahn MA, Youssef MM. Screening of isolated potential probiotic lactic acid bacteria for cholesterol lowering property and bile salt hydrolase activity. Ann. Agric. Sci. 61: 65-75 (2016)

Son SH, Jeon HL, Yang SJ, Lee NK, Paik HD. In vitro characterization of Lactobacillus brevis KU15006, an isolate from kimchi, reveals anti-adhesion activity against foodborne pathogens and antidiabetic properties. Microb. Pathog. 112: 135-141 (2017)

Soria MC, Audisio MC. Inhibition of Bacillus cereus strains by antimicrobial metabolites from Lactobacillus johnsonii CRL1647 and Enterococcus faecium SM21. Probiotics Antimicrob. Proteins 6: 208-216 (2014)

Xia Y, Qin S, Shen Y. Probiotic potential of Weissella strains isolated from horse feces. Microb. Pathog. 132: 117-123 (2019)

Xu J, Lian F, Zhao L, Zhao Y, Chen X, Zhang X, Guo Y, Zhang C, Zhou Q, Xue Z, Pang X, Zhao L, Tong X. Structural modulation of gut microbiota during alleviation of type 2 diabetes with a Chinese herbal formula. ISME J. 9: 552-562 (2015)

Yang E, Fan L, Jiang Y, Doucette C, Fillmore S. Antimicrobial activity of bacteriocin-producing lactic acid bacteria isolated from cheeses and yogurts. AMB Express 2: 48 (2012)

Yoo SK, Cho WH, Kang SM, Lee SH. Isolation and identification of microorganisms in Korean traditional soybean paste and soybean sauce. Korean J. Appl. Microbiol. Biotechnol. 27: 113-117 (1999)

Yu HS, Jang HJ, Lee NK, Paik HD. Evaluation of the probiotic characteristics and prophylactic potential of Weissella cibaria strains isolated from kimchi. LWT-Food Sci. Technol. 112: 108229 (2019)

Zeng Z, Luo J, Zuo F, Zhang Y, Ma H, Chen S. Screening for potential novel probiotic Lactobacillus strains based on high dipeptidyl peptidase IV and α-glucosidase inhibitory activity. J. Funct. Foods 20: 486-495 (2016)
Acknowledgements
This research was financially supported by the Ministry of Trade, Industry, and Energy (MOTIE), Korea, under the "Regional Specialized Industry Development Program"(Reference No. P0002815) supervised by the Korea Institute for Advancement of Technology (KIAT).
Additional information
Publisher's Note
Springer Nature remains neutral with regard to jurisdictional claims in published maps and institutional affiliations.
About this article
Cite this article
Kwun, S., Bae, Y., Yoon, J. et al. Isolation of acid tolerant lactic acid bacteria and evaluation of α-glucosidase inhibitory activity. Food Sci Biotechnol (2020). https://doi.org/10.1007/s10068-020-00760-4
Received:

Revised:

Accepted:

Published:
Keywords
Lactic acid bacteria

Acid tolerance

Lactobacillus sakei

α-Glucosidase inhibitory activity

Fermented food