Abstract
The purpose of this study was to determine the anti-inflammatory and in vitro bone formation effects of Garcinia mangostana L. (mangosteen) and propolis extracts. Immortalized human gingival fibroblasts (hTERT-hNOF) cells were treated with Porphyromonas gingivalis KCOM 2804 lipopolysaccharide followed by treatment with mangosteen and propolis extract alone or in combination. Expression levels of inflammatory cytokines were evaluated by enzyme-linked immunosorbent assay. Effect of mangosteen and/or propolis extracts on mineralization of MG-63 cells was evaluated by alkaline phosphatase activity and alizarin red S staining. Group mangosteen extract complex 1:34 (1 µg/ml mangosteen extract and 34 µg/ml propolis extract) significantly reduced expression levels of IL-6, IL-8, and PGE2. It had higher than other groups in vitro bone formation effect on MG63 cells. These results suggest that mangosteen and propolis extract complex could be used in the prevention and treatment of periodontal disease.
Access options
Buy single article
Instant access to the full article PDF.
US$ 39.95
Tax calculation will be finalised during checkout.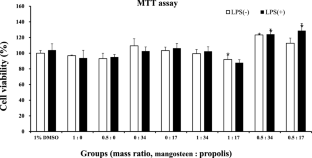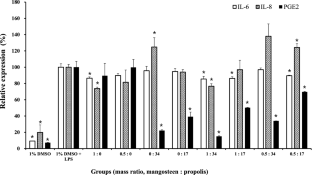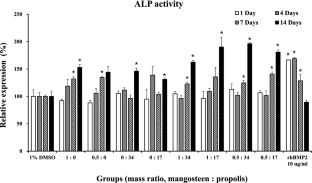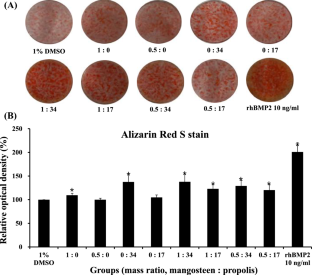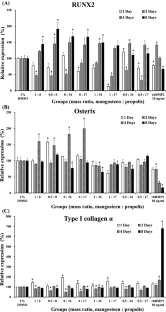 References
Altan BA, Kara IM, Nalcaci R, Ozan F, Erdogan SM, Ozkut MM, Inan S. Systemic propolis stimulates new bone formation at the expanded suture: a histomorphometric study. Angle Orthod. 83: 286-291 (2013)

Borrelli F, Maffia P, Pinto L, Ianaro A, Russo A, Capasso F, Ialenti A. Phytochemical compounds involved in the anti-inflammatory effect of propolis extract. Fitoterapia 73: 53-63 (2002)

Chen LG, Yang LL, Wang CC. Anti-inflammatory activity of mangostins from Garcinia mangostana. Food Chem. Toxicol. 46: 688-693 (2008)

Cushnie TP, Lamb AJ. Antimicrobial activity of flavonoids. Int. J. Antimicrob. Agents. 26: 343-356 (2005). Erratum in: Int. J. Antimicrob. Agents. 27: 181 (2006)

Feng J, Shi Z, Ye Z. Effects of metabolites of the lignans enterolactone and enterodiol on osteoblastic differentiation of MG-63 cells. Biol. Pharm. Bull. 31: 1067-1070 (2008)

Fujita Y, Ito H, Sekino S, Numabe Y. Correlations between pentraxin 3 or cytokine levels in gingival crevicular fluid and clinical parameters of chronic periodontitis. Odontology 100: 215-221 (2012)

Gutierrez-Orozco F, Chitchumroonchokchai C, Lesinski GB, Suksamrarn S, Failla ML. α-Mangostin: anti-inflammatory activity and metabolism by human cells. J. Agric. Food Chem. 61: 3891-3900 (2013)

Gutierrez-Orozco F, Failla ML. Biological activities and bioavailability of mangosteen xanthones: a critical review of the current evidence. Nutrient 5: 3163-3183 (2013)

Heim KE, Tagliaferro AR, Bobilya DJ. Flavonoid antioxidants: chemistry, metabolism and structure-activity relationships. J. Nutr. Biochem. 13: 572-584 (2002)

Idrus E, Bramma K. Mangosteen extract inhibits LPS-induced bone resorption by controlling osteoclast. J. Int. Dent. Med. Res. 9: 362-367 (2016)

Johnson JJ, Petiwala SM, Syed DN, Rasmussen JT, Adhami VM, Siddiqui IA, Kohl AM, Mukhtar H. α-Mangostin, a xanthone from mangosteen fruit, promotes cell cycle arrest in prostate cancer and decreases xenograft tumor growth. Carcinogenesis 33: 413-419 (2012)

Kern B, Shen J, Starbuck M, Karsenty G. Cbfa1 contributes to the osteoblast-specific expression of type I collagen genes. J. Biol. Chem. 276: 7101-7107 (2001)

Komori T, Yagi H, Nomura S, Yamaguchi A, Sasaki K, Deguchi K, Shimizu Y, Bronson RT, Gao YH, Inada M, Sato M, Okamoto R, Kitamura Y, Yoshiki S, Kishimoto T. Targeted disruption of Cbfa1 results in a complete lack of bone formation owing to maturational arrest of osteoblasts. Cell 89: 755-764 (1997)

Liu J, Tang X, Li C, Pan C, Li Q, Geng F, Pan Y. Porphyromonas gingivalis promotes the cell cycle and inflammatory cytokine production in periodontal ligament fibroblasts. Arch. Oral Biol. 60: 1153-1161 (2015)

Michaluart P, Masferrer JL, Carothers AM. Inhibition effects of caffeic acid phenethyl ester on the activity and expression of cyclooxygenase-2 in human oral epithelial cells and in a rat model of inflammation. Cancer Res. 59: 2347-2352 (1999)

Nakashima K, Zhou X, Kunkel G, Zhang Z, Deng JM, Behringer RR, de Crombrugghe B. The novel zinc finger-containing transcription factor osterix is required for osteoblast differentiation and bone formation. Cell 108: 17-29 (2002)

Nguyen PT, Marquis RE. Antimicrobial actions of α-mangostin against oral streptococci. Can. J. Microbiol. 57: 217-225 (2011)

Occhiuto F, Pasquale RD, Guglielmo G, Palumbo DR, Zangla G, Samperi S, Renzo A, Circosta C. Effects of phytoestrogenic isoflavones from red clover (Trifolium pratense L.) on experimental osteoporosis. Phytother. Res. 21: 130-134 (2007)

Okada N, Kobayashi M, Mugikura K, Okamatsu Y, Hanazawa S, Kitano S, Hasegawa K. Interleukin-6 production in human fibroblasts derived from periodontal tissues is differentially regulated by cytokines and a glucocorticoid. J. Periodontal Res. 32: 559-569 (1997)

Pai MR, Acharya LD, Udupa N. Evaluation of antiplaque activity of Azadirachta indica leaf extract gel—a 6-week clinical study. J. Ethnopharmacol. 90: 99-103 (2004)

Palombo EA. Traditional medicinal plant extracts and natural products with activity against oral bacteria: potential application in the prevention and treatment of oral diseases. Evid. Based Complement. Alternat. Med. 2011: 1-15 (2009)

Puchtler H, Meloan SN, Terry MS. On the history and mechanism of alizarin and alizarin red S stains for calcium. J. Histochem. Cytochem. 17: 110-124 (1969)

Ramos AFN, Miranda JL. Propolis: a review of its anti-inflammatory and healing actions. J. Venom. Anim. Toxins Incl. Trop. Dis. 13: 697-710 (2007)

Raso GM, Meli R, Carlo GD, Pacilio M, Carlo RD. Inhibition of inducible nitric oxide synthase and cyclooxygenase-2 expression by flavonoids in macrophage J774A. 1. Life Sci. 68: 921-931 (2001)

Reinholz GG, Getz B, Pederson L, Sanders ES, Subramaniam M, Ingle JN, Spelsberg TC. Bisphosphonates directly regulate cell proliferation, differentiation, and gene expression in human osteoblasts. Cancer Res. 60: 6001-6007 (2000)

Sánchez GA, Miozza VA, Delgado A, Busch L. Salivary IL-1β and PGE2 as biomarkers of periodontal status, before and after periodontal treatment. J. Clin. Periodontol. 40: 1112-1117 (2013)

Socransky SS, Smith C, Haffajee AD. Subgingival microbial profiles in refractory periodontal disease. J. Clin. Periodontol. 29: 260-268 (2002)

Suzuki N, Yoneda M, Hirofuji T. Mixed red-complex bacterial infection in periodontitis. Int. J. Dent. 2013: 587279 (2013)

Tjahjani S, Widowati W, Khiong K, Suhendra A, Tjokropranoto R. Antioxidant properties of Garcinia mangostana L. (Mangosteen) Rind. Procedia Chem. 13: 198-203 (2014)

Tredwin C, Scully C, Bagan-Sebastian J. Drug-induced disorders of teeth. J. Dental Res. 84: 596-602 (2005)

van den Dolder J, Bancroft GN, Sikavitsas VI, Spauwen PH, Jansen JA, Mikos AG. Flow perfusion culture of marrow stromal osteoblasts in titanium fiber mesh. J. Biomed. Mater. Res. A. 64: 235-241 (2003)

Yiemwattana I, Chaisomboon N, Jamdee K. Antibacterial and anti-inflammatory potential of Morus alba stem extract. Open Dent. J. 12: 265-274 (2018)

Yiemwattana I, Ruchadaporn, K. Alpha-mangostin suppresses IL-6 and IL-8 expression in LPS-stimulated human gingival fibroblasts. Odontology 103: 348-355 (2015)

Zhao J, Tan L, Lin L, Wang H, Pan C, Pan Y. Local and peripheral cytokines profiling on Porphyromonas gingivalis induced rat periodontitis model. Int. J. Clin. Exp. Med. 9: 5996-6004 (2016)
Acknowledgements
This research was supported by Med Lab Co., Ltd. (2016-0110).
Ethics declarations
Conflict of interest
Dae Sung Lee is a co-register on patent (No. 1018793980000, Korea) entitled "Pharmaceutical composition for enhancing osteogenesis comprising garcinia mangostana extract and propolis extract" and on patent (Nos. US 10,022,412 B2 and JP 6387467 B2) entitled "Composition for preventing or alleviating periodontal diseases, containing, as active ingredients, mangosteen extract or α- or γ-mangosteen. The authors declare that they have no conflict of interest.
Additional information
Publisher's Note
Springer Nature remains neutral with regard to jurisdictional claims in published maps and institutional affiliations.
Electronic supplementary material
Below is the link to the electronic supplementary material.
Flow chart for preparing the mangosteen extract used in this study. Supplementary Fig. S2. Certificate of the analysis of the composition of mangosteen extract used in this study. Supplementary Fig. S3. Schematic procedure for preparing the propolis extract used in this study. Supplementary Fig. S4. Certificate of analysis of the composition of the propolis extract used in this study. (PPTX 3771 kb)
About this article
Cite this article
Lim, Y.K., Yoo, S.Y., Jang, Y.Y. et al. Anti-inflammatory and in vitro bone formation effects of Garcinia mangostana L. and propolis extracts. Food Sci Biotechnol 29, 539–548 (2020). https://doi.org/10.1007/s10068-019-00697-3
Received:

Revised:

Accepted:

Published:

Issue Date:
Keywords
Garcinia mangostana L.

Propolis

Anti-inflammatory

In vitro bone formation