Abstract
Beta-carotene is an extremely interesting bioactive compound in the food industry due to its antioxidant capacity and pro-vitamin A activity. However, its incorporation into food products can be challenging, as it is highly hydrophobic and chemically unstable. The aim of this study was to evaluate the feasibility of incorporating beta-carotene-loaded solid lipid microparticles (SLMs) stabilized with a hydrolyzed soy protein isolate in yogurt. The SLMs were produced using palm stearin as the lipid phase. Microparticle dispersions containing only beta-carotene and both beta-carotene and alpha-tocopherol were incorporated into yogurts, comprising 5% of its total mass. This addition itself was efficient to provide color, and the presence of the lipid microparticles did not change the physicochemical or the rheological characteristics of the product. Based on the sensory evaluation, the panelists approved the yogurt, as average grades of global acceptance were around 8.0 ("liked it very much") on the hedonic scale.
This is a preview of subscription content, log in to check access.
Access options
Buy single article
Instant access to the full article PDF.
US$ 39.95
Price includes VAT for USA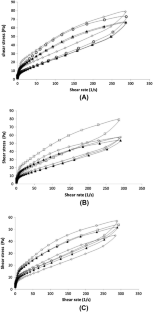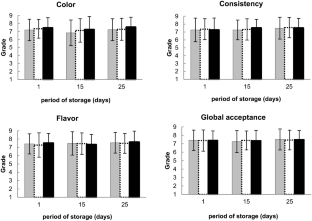 References
AOAC. Official Methods of Analysis of AOAC International, 18th ed. (2006).

Ares G, Gimenez A, Deliza R. Influence of three non-sensory factors on consumer choice of functional yogurts over regular ones. Food Qual. Pref. 21:351–367 (2010).

Bertolino M, Belviso, S, Dal Bello, B, Ghirardello D, Giordano M, Rolle L, Gerbi V, Zeppa G. Influence of the addition of different hazelnut skins on the physicochemical, antioxidant, polyphenol and sensory properties of yogurt. LWT – Food Sci. Tech. 63:1145–1154 (2015).

Brito-Oliveira TC, Molina CV, Netto FM, Pinho SC Encapsulation of beta-carotene in lipid microparticles stabilized with hydrolyzed soy protein isolate: production parameters, alpha-tocopherol coencapsulation and stability under stress conditions. J. Food Sci. 82:659–669 (2017).

Comunian T, Chaves IE, Thomazini M, Moraes ICF, Ferro-Furtado R, Castro IA, Favaro-Trindade CS. Development of functional yogurt containing free and encapsulated echium oil, phytosterol and sinapic acid. Food Chem. 237: 948–956 (2017).

Fraser PD, Bramley PM. The biosynthesis and nutritional uses of carotenoids. Prog. Lip. Res. 43: 228–265 (2004).

Gonnet M, Lethuaut L, Boury F. New trends in encapsulation of liposoluble vitamins. J. Contr. Rel., 146:276–290 (2010).

Hentschel A, Gramdorf S, Muller RH, Kurz T. β-Carotene-loaded nanostructured lipid carriers. J. Food Sci. 73:1–6 (2008).

Instituto Adolfo Lutz. Physicochemical methods for food analyses. São Paulo (2008) (in Portuguese)

Karnopp AR, Oliveira KG, Andrade EF, Postingher BM, Granato D. Optimization of an organic yogurt based on sensorial, nutritional, and functional perspectives. Food Chem., 233: 401–411 (2017).

Lima JG, Brito-Oliveira TC, Pinho SC. Characterization and evaluation of sensory acceptability of ce creams incorporated with beta-carotene. Food Sci. Tech. 36:664–671 (2016).

Mehnert W, Mäder K. Solid lipid nanoparticles: production, characterization and applications. Adv. Drug Del. Rev. 47: 165–196 (2001).

Mehrad, B, Ravanfar R, Licker J, Regenstein JM, Abbaspourrad A. Enhancing the physicochemical stability of β-carotene solid lipid nanoparticle (SLNP) using whey protein isolate. Food Res. Int. 105:962–969 (2018).

Müller RH, Radtke M, Wissing SA. Solid lipid nanoparticles (SLN) and nanostructured lipid carriers (NLC) in cosmetic and dermatological preparations. Adv. Drug Del. Rev. 54:S131-S155 (2002).

Pan Y, Tikekar RN, Nitin N Distribution of a model bioactive within solid lipid nanoparticles and nanostructured lipid carriers influences its loading efficiency and oxidative stability. Int. J. Pharm. 511:322–30 (2016).

Pathare PB, Opara UL, Al-Said FA. Colour measurement and analysis in fresh and processed foods: a review. Food Bioproc. Tech. 6:36–60 (2013).

Porter CJH, Trevaskis NL, Charman WN. Lipids and lipid-based formulations: optimizing the oral delivery of lipophilic drugs. Nat. Rev.: Drug Disc. 6:231–248 (2007).

Priamo WL, Cezaro AM, Ferreira SRS, Oliveira JV. Precipitation and encapsulation of β-carotene in PHBV using carbon dioxide as anti-solvent. J. Sup. Fluids 54:0103–109 (2010).

Purwandari U, Shah NP, Vasiljevic T. Effects of exopolysaccharide-producing strains of Streptococccus thermophiles on technological and rheological properties of set-type yoghurt. Int. Dairy Sci. 17:1344–1352 (2007).

Robinson RK, Lucey JA, Tamime AY. In: Tamime AY (Ed.), Fermented milks. Oxford: Blackwell Science (2006).

Steffe JF. Rheological methods in food process engineering. Freeman Press, Michigan (1996).

Tikekar RV, Nitin N. Effect of physical state (solid vs. liquid) of lipid core on the rate of transport of oxygen and free radicals in solid lipid nanoparticles and emulsion. Soft Matter, 7: 8149–8157 (2011).

Toniazzo T, Berbel IF, Cho S, Favaro-Trindade CS, Moraes ICF, Pinho SC. β-carotene-loaded liposome dispersions stabilized with xanthan and guar gums: Physico-chemical stability and feasibility of application in yogurt. LWT - Food Sci. Tech 59:1265–1273 (2014).

Vecchio R, Van Loo EJ, Annunziata A. Consumers' willingness to pay for conventional, organic and functional yogurt: evidence from experimental auctions. J Cons Stu 40:368–378 (2016).

Vital ACP, Goto PA, Hanai LN, Gomes-da-Costa SM, Abreu Filho BA, Nakamura CV, Matumoto-Pintro PT. Microbiological, functional and rheological properties of low fat yogurt supplemented with Pleurotus ostreatus aqueous extract. LWT – Food Sci Tech 64:1028–1035 (2015).
Acknowledgements
The authors thank CNPq (Brazil) for the financial support of the project (Grant Number 471689/2012-2), Agropalma and Du Pont for the donation of the palm stearin and xanthan gum, respectively, as well as Symrise for the donation of flavors.
About this article
Cite this article
Molina, C.V., Lima, J.G., Moraes, I.C.F. et al. Physicochemical characterization and sensory evaluation of yogurts incorporated with beta-carotene-loaded solid lipid microparticles stabilized with hydrolyzed soy protein isolate. Food Sci Biotechnol 28, 59–66 (2019). https://doi.org/10.1007/s10068-018-0425-y
Received:

Revised:

Accepted:

Published:

Issue Date:
Keywords
Microencapsulation

Carotenoid

Dairy product

Lipid particles

Yogurt