Abstract
Autoimmune pancreatitis (AIP) type 1 is an IgG4-related disease (IgG4-RD), characterized by inflammatory pseudotumors and histologically by dense lymphoplasmacytic infiltrates rich in IgG4 positive plasma cells, storiform fibrosis, and obliterative phlebitis. Although quite rare, IgG4-RD was found to be associated with medium or small vessel vasculitides. A new overlap syndrome between IgG4-RD and ANCA-associated vasculitis (AAV) has recently been described in the adult population. Here we present a 16-year-old adolescent girl admitted with abdominal pain, episcleritis, palpable purpura, salivary gland enlargement, and bloody diarrhea. Laboratory investigations revealed findings of glomerulonephritis. Abdominal imaging surprisingly revealed a focal mass in the pancreatic tail, while the c-ANCA level was found to be quite high as well as serum IgG4 level. Biopsy of the pancreatic mass showed lymphoplasmacytic IgG4 positive cells infiltrating the pancreas with storiform fibrosis compatible with IgG4-related AIP. The renal biopsy that was done simultaneously showed necrotizing granulomatous vasculitis indicating AAV. Renal biopsy showed IgG4 positive plasma cells very rarely by immunohistochemical examination, which does not indicate any significance for IgG4-RD. Our diagnosis was IgG4-related AIP and AAV overlap syndrome, which has not been reported in the pediatric populations yet. IgG4-RD should be investigated in patients with ANCA-associated vasculitis who shows atypical organ involvement. We searched the Pubmed/Medline and Google Scholar databases to identify clinical findings, treatment, and outcome of the patients with IgG4-related AIP and AAV.
Access options
Buy single article
Instant access to the full article PDF.
US$ 39.95
Tax calculation will be finalised during checkout.
Subscribe to journal
Immediate online access to all issues from 2019. Subscription will auto renew annually.
US$ 79
Tax calculation will be finalised during checkout.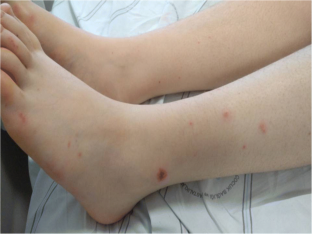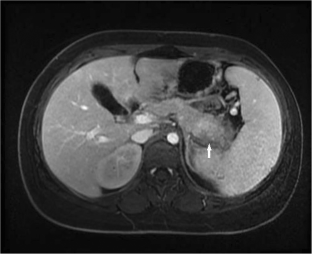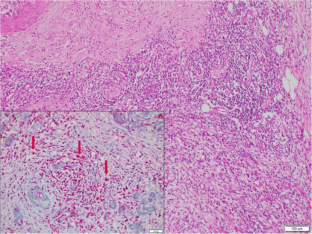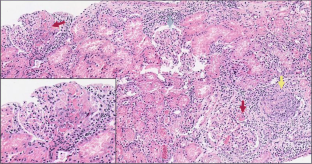 Data availability
Data are available on request due to privacy/ethical restrictions. The data that support the findings of this report are available on request from the corresponding author. The data are not publicly available due to privacy or ethical restrictions. Informed consent from the patient and the parents were taken.
References
1.

Shimosegawa T, Chari ST, Frulloni L, Kamisawa T, Kawa S, Mino-Kenudson M, Kim MH, Klöppel G, Lerch MM, Löhr M, Notohara K, Okazaki K, Schneider A, Zhang L, International Association of Pancreatology (2011) International Association of Pancreatology. International consensus diagnostic criteria for autoimmune pancreatitis: guidelines of the International Association of Pancreatology. Pancreas. 40(3):352–358

2.

Hart PA, Kamisawa T, Brugge WR, Chung JB, Culver EL, Czakó L, Frulloni L, Go VLW, Gress TM, Kim MH, Kawa S, Lee KT, Lerch MM, Liao WC, Löhr M, Okazaki K, Ryu JK, Schleinitz N, Shimizu K, Shimosegawa T, Soetikno R, Webster G, Yadav D, Zen Y, Chari ST (2013) Long-term outcomes of autoimmune pancreatitis: a multicentre, international analysis. Gut. 62(12):1771–1776

3.

Iida T, Adachi T, Tabeya T, Nakagaki S, Yabana T, Goto A, Kondo Y, Kasai K (2016) Rare type of pancreatitis as the first presentation of anti-neutrophil cytoplasmic antibody-related vasculitis. World J Gastroenterol 22(7):2383–2390

4.

Danlos FX, Rossi GM, Blockmans D, Emmi G, Kronbichler A, Durupt S, Maynard C, Luca L, Garrouste C, Lioger B, Mourot-Cottet R, Dhote R, Arlet JB, Hanslik T, Rouvier P, Ebbo M, Puéchal X, Nochy D, Carlotti A, Mouthon L, Guillevin L, Vaglio A, Terrier B, French Vasculitis Study Group (2017) Antineutrophil cytoplasmic antibody-associated vasculitides and IgG4-related disease: a new overlap syndrome. Autoimmun Rev 16(10):1036–1043

5.

Kawashima H, Utsugi A, Shibamiya A, Iida K, Mimura N, Ohashi H, Hase R, Kawakami M, Yanagisawa T, Hiraguri M (2019) Consideration concerning similarities and differences between ANCA-associated vasculitis and IgG-4-related diseases: case series and review of literature. Immunol Res 67(1):99–107

6.

Ma Y, Chen L, Xu Y, Han Q, Yu B, Yuan Y, Zhao J, Yang Y, Chen J, Han F (2019) Clinical and pathological features of patients with antineutrophil cytoplasmic antibody-associated vasculitides concomitant with IgG4-related disease. Int J Rheum Dis 22(12):2143–2150

7.

Jennette JC, Falk RJ, Bacon PA, Basu N, Cid MC, Ferrario F, Flores-Suarez LF, Gross WL, Guillevin L, Hagen EC, Hoffman GS, Jayne DR, Kallenberg CGM, Lamprecht P, Langford CA, Luqmani RA, Mahr AD, Matteson EL, Merkel PA, Ozen S, Pusey CD, Rasmussen N, Rees AJ, Scott DGI, Specks U, Stone JH, Takahashi K, Watts RA (2013) 2012 Revised International Chapel Hill Consensus Conference Nomenclature of Vasculitides. Arthritis Rheum 65(1):1–11

8.

Guillevin L, Pagnoux C, Karras A, Khouatra C, Aumaître O, Cohen P, Maurier F, Decaux O, Ninet J, Gobert P, Quémeneur T, Blanchard-Delaunay C, Godmer P, Puéchal X, Carron PL, Hatron PY, Limal N, Hamidou M, Ducret M, Daugas E, Papo T, Bonnotte B, Mahr A, Ravaud P, Mouthon L (2014) Rituximab versus azathioprine for maintenance in ANCA-associated vasculitis. N Engl J Med 371(19):1771–1780

9.

Cai O, Tan S (2017) From pathogenesis, clinical manifestation, and diagnosis to treatment: an overview on autoimmune pancreatitis. Gastroenterol Res Pract 2017:3246459

10.

Scheers I, Palermo JJ, Freedman S, Wilschanski M, Shah U, Abu-El-Haija M et al (2017) Autoimmune pancreatitis in children: characteristic features, diagnosis, and management. Am J Gastroenterol 112(10):1604–1611

11.

Hart PA, Krishna SG, Okazaki K (2017) Diagnosis and management of autoimmune pancreatitis. Curr Treat Options Gastroenterol 15(4):538–547

12.

Chang SY, Keogh KA, Lewis JE, Ryu JH, Cornell LD, Garrity JA, Yi ES (2013) IgG4-positive plasma cells in granulomatosis with polyangiitis (Wegener's): a clinicopathologic and immunohistochemical study on 43 granulomatosis with polyangiitis and 20 control cases. Hum Pathol 44(11):2432–2437

13.

Khosroshahi A, Wallace ZS, Crowe JL, Akamizu T, Azumi A, Carruthers MN et al (2015) International Consensus Guidance Statement on the Management and Treatment of IgG4-Related Disease. Arthritis Rheum 67(7):1688–1699

14.

Cheng X, Zhou D, Wei J, Zheng S (2013) Regional portal hypertension, systemic lymphadenopathy, and splenomegaly associated with autoimmune pancreatitis. Clin Res Hepatol Gastroenterol 37(3):e75–e80

15.

Kotani S, Wakamatsu R, Itoh A, Miyamoto K, Yoshino M, Takami K et al (2012) Proteinase 3 anti-neutrophil cytoplasmic antibody (PR3-ANCA) positive IgG4-related retroperitoneal fibrosis: utility of PET-CT with 18F-fluorodeoxyglucose (FDG). Internal Med 51(7):755–758

16.

Lurz E, Gonska T (2015) Pancreatic head mass leading to transient obstructive jaundice and diabetes mellitus in an adolescent. Gastroenterology. 149(7):e9–e10

17.

McCormick DJ, McNeilly T, McKeveney P (2017) 011. Granulomatosis with polyangiitis presenting as autoimmune pancreatitis. Rheumatology 56(suppl_2):kex062.011

18.

Miyawaki Y, Katsuyama T, Sada KE, Taniguchi K, Kakio Y, Wada J (2016) Development of intracerebral hemorrhage in the short-term clinical course of a patient with microscopic polyangiitis without neurological symptoms at diagnosis: an autopsy case. CEN Case Rep 5(2):173–178

19.

Su T, Yang L, Cui Z, Wang SX, Zhao MH (2017) Concurrent IgG4-related tubulointerstitial nephritis and IgG4 myeloperoxidase-anti-neutrophil cytoplasmic antibody positive crescentic glomerulonephritis: A case report. Medicine. 96(20):e6707

20.

Kitching AR, Anders HJ, Basu N, Brouwer E, Gordon J, Jayne DR et al (2020) ANCA-associated vasculitis. Nat Rev Dis Primers 6(1):71

21.

Ishiguro N, Moriyama M, Furusho K, Furukawa S, Shibata T, Murakami Y, Chinju A, Haque ASMR, Gion Y, Ohta M, Maehara T, Tanaka A, Yamauchi M, Sakamoto M, Mochizuki K, Ono Y, Hayashida JN, Sato Y, Kiyoshima T, Yamamoto H, Miyake K, Nakamura S (2020) Activated M2 macrophages contribute to the pathogenesis of IgG4-related disease via toll-like receptor 7/interleukin-33 signaling. Arthritis Rheum 72(1):166–178

22.

Della-Torre E, Lanzillotta M, Campochiaro C, Bozzalla E, Bozzolo E, Bandiera A, Bazzigaluppi E, Canevari C, Modorati G, Stone JH, Manfredi A, Doglioni C (2016) Antineutrophil cytoplasmic antibody positivity in IgG4-related disease: a case report and review of the literature. Medicine. 95(34):e4633

23.

Cupps TR, Edgar LC, Fauci AS (1982) Suppression of human B lymphocyte function by cyclophosphamide. J Immunol 128(6):2453–2457

24.

Wallace ZS, Stone JH (2019) Personalized medicine in ANCA-associated vasculitis ANCA specificity as the guide? Front Immunol 10:2855

25.

Stone JH, Merkel PA, Spiera R, Seo P, Langford CA, Hoffman GS, RAVE-ITN Research Group et al (2010) Rituximab versus cyclophosphamide for ANCA-associated vasculitis. N Engl J Med 363(3):221–232

26.

Carruthers MN, Topazian MD, Khosroshahi A, Witzig TE, Wallace ZS, Hart PA, Deshpande V, Smyrk TC, Chari S, Stone JH (2015) Rituximab for IgG4-related disease: a prospective, open-label trial. Ann Rheum Dis 74(6):1171–1177
Additional information
Publisher's note
Springer Nature remains neutral with regard to jurisdictional claims in published maps and institutional affiliations.
Supplementary information
About this article
Cite this article
Demir, A.M., Aydin, F., Acar, B. et al. IgG4-related disease and ANCA positive vasculitis in childhood: a case-based review. Clin Rheumatol (2021). https://doi.org/10.1007/s10067-021-05635-5
Received:

Revised:

Accepted:

Published:
Keywords
ANCA positive vasculitis

Autoimmune pancreatitis

Children

IgG4-related disease