Abstract
Objectives
Non-immune complex (IC)-mediated renal thrombotic microangiopathy (TMA) has been reported in patients with systemic lupus erythematosus (SLE), but most studies included patients with both renal TMA and IC-mediated lupus nephritis (LN). In this study, the clinicopathological features and outcomes of renal injury characterised by only renal TMA were retrospectively analyzed.
Methods
Patients with glomerular and/or vascular TMA in the absence of subendothelial or epithelial immune deposits were screened from 2,332 biopsied of SLE patients. The TMA lesions were divided into glomerular, vascular or both. Acute tubular-interstitial injury was semi-quantitatively analyzed. The podocyte foot process effacement (FPE) was measured by electronic microscopy.
Results
Two hundred fifty-seven (11.0%) renal biopsies revealed TMA, among which 237 biopsies showed TMA coexisting with LN, and 20 (0.9%) biopsies had only renal TMA without or with only mesangial immune deposits. All patients manifested with acute kidney injury and haematological disorders. Among them, 11 (55%) required renal replacement therapy, 12 (60%) had nephrotic syndrome and 13 (65.0%) showed microvascular haemolytic anaemia with thrombocytopenia. Seventeen (85%) biopsies revealed both glomerular TMA and vascular TMA, two had only glomerular TMA and one had vascular TMA. Eight (40%) had no glomerular immune deposits and 12 (60%) showed only mesangial immune deposits. The acute tubulointerstitial injury in patients requiring dialysis was more severe than those not needing dialysis ((43.6 ± 24.9) % vs. (21.7 ± 20.1) %, p = 0.047). FPE of podocytes was positively correlated with proteinuria (r2 = 0.347, p = 0.006). All patients received high-dose methylprednisolone pulse therapy. Four patients received plasma exchange. The renal function of 11 patients requiring dialysis initially recovered after 16.0 (interquartile range [IQR] 9.0, 30.0) days of treatment. During the follow-up of 58.0 (IQR 36.0, 92.3) months, remission was achieved in 19 (95%) patients; only one patient had no response. No patient died or progressed to end-stage renal disease; six patients (30%) relapsed.
Conclusion
Renal TMA, usually accompanying severe renal injury, was not uncommon in SLE patients with renal disease and should be distinguished from immune complex–mediated severe classes of LN. Early intensive immunosuppressive treatment may be associated with a good long-term renal outcome.
Key Points
• Most previous reports of renal TMA in SLE patients were associated with severe types of immune complex–mediated lupus nephritis;
• Renal TMA with glomerular pauci-immune or only mesangial immune deposits was found in SLE patients and clinically presented with severe acute renal injury but good renal outcome;
• Renal TMA should be considered as a unique type of SLE-associated renal injury.
Access options
Buy single article
Instant access to the full article PDF.
US$ 39.95
Tax calculation will be finalised during checkout.
Subscribe to journal
Immediate online access to all issues from 2019. Subscription will auto renew annually.
US$ 79
Tax calculation will be finalised during checkout.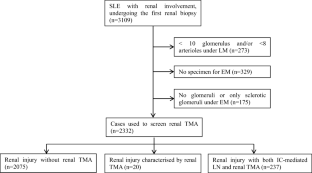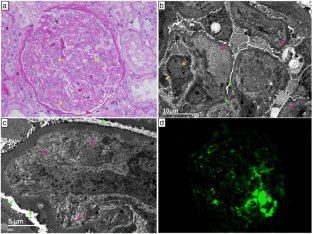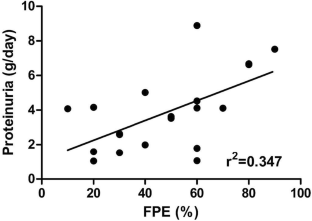 References
1.

Weening JJ, D'Agati VD, Schwartz MM et al (2004) The classification of glomerulonephritis in systemic lupus erythematosus revisited. J Am Soc Nephrol. 15(2):241–250

2.

Moake JL (2002) Thrombotic microangiopathies. N Engl J Med. 347(8):589–600

3.

Chen D, Hu W (2018) Lupus podocytopathy: a distinct entity of lupus nephritis. J Nephrol. 31(5):629–634

4.

Anders HJ, Weening JJ (2013) Kidney disease in lupus is not always 'lupus nephritis'. Arthritis Res Ther. 15(2):108

5.

Song D, Wu LH, Wang FM, Yang XW, Zhu D, Chen M, Yu F, Liu G, Zhao MH (2013) The spectrum of renal thrombotic microangiopathy in lupus nephritis. Arthritis Res Ther. 15(1):R12

6.

Hu WX, Liu ZZ, Chen HP, Zhang HT, Li LS, Liu ZH (2010) Clinical characteristics and prognosis of diffuse proliferative lupus nephritis with thrombotic microangiopathy. Lupus. 19(14):1591–1598

7.

Tomov S, Lazarchick J, Self SE, Bruner ET, Budisavljevic MN (2013) Kidney-limited thrombotic microangiopathy in patients with SLE treated with romiplostim. Lupus. 22(5):504–509

8.

Wilson WA, Gharavi AE, Koike T, Lockshin MD, Branch DW, Piette JC, Brey R, Derksen R, Harris EN, Hughes GRV, Triplett DA, Khamashta MA (1999) International consensus statement on preliminary classification criteria for definite antiphospholipid syndrome: report of an international workshop. Arthritis Rheum. 42(7):1309–1311

9.

Hughson MD, Nadasdy T, McCarty GA, Sholer C, Min KW, Silva F (1992) Renal thrombotic microangiopathy in patients with systemic lupus erythematosus and the antiphospholipid syndrome. Am J Kidney Dis. 20(2):150–158

10.

Banfi G, Bertani T, Boeri V, Faraggiana T, Mazzucco G, Monga G, Sacchi G (1991) Renal vascular lesions as a marker of poor prognosis in patients with lupus nephritis. Gruppo Italiano per lo Studio della Nefrite Lupica (GISNEL). Am J Kidney Dis. 18(2):240–248

11.

Bridoux F, Vrtovsnik F, Noel C et al (1998) Renal thrombotic microangiopathy in systemic lupus erythematosus: clinical correlations and long-term renal survival. Nephrol Dial Transplant. 13(2):298–304

12.

Chen MH, Chen MH, Chen WS, Mu-Hsin Chang P, Lee HT, Lin HY, Huang DF (2011) Thrombotic microangiopathy in systemic lupus erythematosus: a cohort study in North Taiwan. Rheumatology (Oxford). 50(4):768–775

13.

Hochberg MC (1997) Updating the American College of Rheumatology revised criteria for the classification of systemic lupus erythematosus. Arthritis Rheum. 40(9):1725

14.

Austin HA 3rd, Muenz LR, Joyce KM, Antonovych TT, Balow JE (1984) Diffuse proliferative lupus nephritis: identification of specific pathologic features affecting renal outcome. Kidney Int. 25(4):689–695

15.

Austin HA 3rd, Boumpas DT, Vaughan EM, Balow JE (1994) Predicting renal outcomes in severe lupus nephritis: contributions of clinical and histologic data. Kidney Int. 45(2):544–550

16.

Bombardier C, Gladman DD, Urowitz MB, Caron D, Chang CH (1992) Derivation of the SLEDAI. A disease activity index for lupus patients. The Committee on Prognosis Studies in SLE. Arthritis Rheum. 35(6):630–640

17.

Liang MH, Socher SA, Larson MG, Schur PH (1989) Reliability and validity of six systems for the clinical assessment of disease activity in systemic lupus erythematosus. Arthritis Rheum. 32(9):1107–1118

18.

Gladman DD, Urowitz MB, Goldsmith CH, Fortin P, Ginzler E, Gordon C, Hanly JG, Isenberg DA, Kalunian K, Nived O, Petri M, Sanchez-Guerrero J, Snaith M, Sturfelt G (1997) The reliability of the Systemic Lupus International Collaborating Clinics/American College of Rheumatology Damage Index in patients with systemic lupus erythematosus. Arthritis Rheum 40(5):809–813. https://doi.org/10.1002/art.1780400506

19.

Khwaja A (2012) KDIGO clinical practice guidelines for acute kidney injury. Nephron Clin Pract. 120(4):c179–c184

20.

Okusa MD, Davenport A (2014) Reading between the (guide)lines--the KDIGO practice guideline on acute kidney injury in the individual patient. Kidney Int. 85(1):39–48

21.

Li C, Yap D, Chan G et al (2019) Clinical outcomes and clinico-pathological correlations in lupus nephritis with kidney biopsy showing thrombotic microangiopathy. J Rheumatol. 46:1478–1484

22.

Barber C, Herzenberg A, Aghdassi E, Su J, Lou W, Qian G, Yip J, Nasr SH, Thomas D, Scholey JW, Wither J, Urowitz M, Gladman D, Reich H, Fortin PR (2012) Evaluation of clinical outcomes and renal vascular pathology among patients with lupus. Clin J Am Soc Nephrol. 7(5):757–764

23.

Tsumagari T, Fukumoto S, Kinjo M, Tanaka K (1985) Incidence and significance of intrarenal vasculopathies in patients with systemic lupus erythematosus. Hum Pathol. 16(1):43–49

24.

Pattanashetti N, Anakutti H, Ramachandran R, Rathi M, Sharma A, Nada R, Gupta KL (2017) Effect of thrombotic microangiopathy on clinical outcomes in Indian patients with lupus nephritis. Kidney Int Rep. 2(5):844–849

25.

Yu F, Tan Y, Zhao MH (2010) Lupus nephritis combined with renal injury due to thrombotic thrombocytopaenic purpura-haemolytic uraemic syndrome. Nephrol Dial Transplant. 25(1):145–152

26.

Park MH, Caselman N, Ulmer S, Weitz IC (2018) Complement-mediated thrombotic microangiopathy associated with lupus nephritis. Blood Adv. 2(16):2090–2094

27.

George JN, Nester CM (2014) Syndromes of thrombotic microangiopathy. N Engl J Med 371(7):654–666

28.

Yu F, Wu LH, Tan Y, Li LH, Wang CL, Wang WK, Qu Z, Chen MH, Gao JJ, Li ZY, Zheng X, Ao J, Zhu SN, Wang SX, Zhao MH, Zou WZ, Liu G (2010) Tubulointerstitial lesions of patients with lupus nephritis classified by the 2003 International Society of Nephrology and Renal Pathology Society system. Kidney Int. 77(9):820–829

29.

Zhu D, Qu Z, Tan Y, Yu F, Zhao MH (2011) Acute kidney injury in Chinese patients with lupus nephritis: a large cohort study from a single center. Lupus. 20(14):1557–1565

30.

Yuan M, Tan Y, Wang Y, Wang SX, Yu F, Zhao MH (2019) The associations of endothelial and podocyte injury in proliferative lupus nephritis: from observational analysis to in vitro study. Lupus. 28(3):347–358

31.

Craici IM, Wagner SJ, Weissgerber TL, Grande JP, Garovic VD (2014) Advances in the pathophysiology of pre-eclampsia and related podocyte injury. Kidney Int. 86(2):275–285

32.

Siddiqi FS, Advani A (2013) Endothelial-podocyte crosstalk: the missing link between endothelial dysfunction and albuminuria in diabetes. Diabetes. 62(11):3647–3655

33.

Kohan DE, Barton M (2014) Endothelin and endothelin antagonists in chronic kidney disease. Kidney Int. 86(5):896–904

34.

Han TS, Schwartz MM, Lewis EJ (2006) Association of glomerular podocytopathy and nephrotic proteinuria in mesangial lupus nephritis. Lupus. 15(2):71–75

35.

Kraft SW, Schwartz MM, Korbet SM, Lewis EJ (2005) Glomerular podocytopathy in patients with systemic lupus erythematosus. J Am Soc Nephrol. 16(1):175–179

36.

Hu W, Chen Y, Wang S, Chen H, Liu Z, Zeng C, Zhang H, Liu Z (2016) Clinical-Morphological Features and Outcomes of Lupus Podocytopathy. Clin J Am Soc Nephrol. 11(4):585–592

37.

Bajema IM, Wilhelmus S, Alpers CE, Bruijn JA, Colvin RB, Cook HT, D'Agati VD, Ferrario F, Haas M, Jennette JC, Joh K, Nast CC, Noël LH, Rijnink EC, Roberts ISD, Seshan SV, Sethi S, Fogo AB (2018) Revision of the International Society of Nephrology/Renal Pathology Society classification for lupus nephritis: clarification of definitions, and modified National Institutes of Health activity and chronicity indices. Kidney Int. 93(4):789–796
Funding
This study was supported by the National Natural Science Foundation of China (grant number 81770701).
Ethics declarations
Ethics approval
This study was approved by ethics committees of Jinling Hospital, Jinling Clinical Medical College of Nanjing Medical University, China (approval no. 2019NZKYKS-003-01).
Disclosures
None.
Additional information
Publisher's note
Springer Nature remains neutral with regard to jurisdictional claims in published maps and institutional affiliations.
About this article
Cite this article
Chen, W., Liang, S., Zuo, K. et al. Clinicopathological features and outcomes of SLE patients with renal injury characterised by thrombotic microangiopathy. Clin Rheumatol (2021). https://doi.org/10.1007/s10067-021-05627-5
Received:

Revised:

Accepted:

Published:
Keywords
Clinicopathological features

Lupus nephritis

Outcome

Systemic lupus erythematosus

Thrombotic microangiopathy