Abstract
Coexistence of antineutrophil cytoplasmic antibody (ANCA)-associated vasculitis (AAV) and inflammatory bowel disease (IBD) is rare (Sy et al. in Semin Arthritis Rheum 45:475–482, 2016). Nevertheless, we present a case of an AAV in a 53-year-old female with enteropathic spondylarthritis previously treated with tumor necrosis factor α inhibitors (TNFi). Management of vasculitis in a patient with IBD may be problematic due to the difficulty in distinguishing if the vasculitis is an extraintestinal manifestation of the IBD or a new coexistent entity. Moreover, in our report, the previous treatment with TNFi is a possible confounding factor due to the paradoxical effects induced by TNFi, including vasculitis (Ramos-Casals et al. in Curr Rheumatol Rep 10:442–448, 2008). The reported case alerts to the complexity in the management of patients with enteropathic spondylarthritis and vasculitis, as well as discusses the diversity of differential diagnosis in this particular clinical scenario.
Access options
Buy single article
Instant access to the full article PDF.
US$ 39.95
Tax calculation will be finalised during checkout.
Subscribe to journal
Immediate online access to all issues from 2019. Subscription will auto renew annually.
US$ 79
Tax calculation will be finalised during checkout.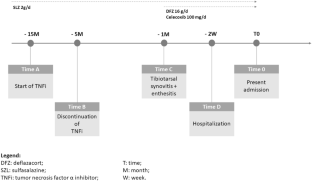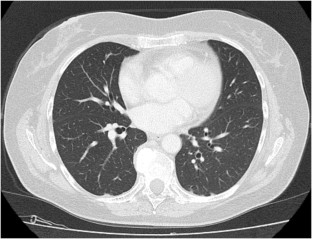 References
1.

Karreman MC, Luime JJ, Hazes JMW, Weel AEAM (2016) The Prevalence and Incidence of Axial and Peripheral Spondyloarthritis in Inflammatory Bowel Disease: A Systematic Review and Meta-analysis. J Crohns Colitis:jjw199. https://doi.org/10.1093/ecco-jcc/jjw199

2.

Corica D, Romano C (2016) Renal Involvement in Inflammatory Bowel Diseases. J Crohns Colitis 10:226–235. https://doi.org/10.1093/ecco-jcc/jjv138

3.

Emejuaiwe N (2019) Treatment Strategies in ANCA-Associated Vasculitis. Curr Rheumatol Rep 21:21. https://doi.org/10.1007/s11926-019-0835-8

4.

Jiang JX, Keat K, Swaminathan S (2019) ANCA-Associated Vasculitis in Inflammatory Bowel Disease. Dig Dis Sci 64:3350–3354. https://doi.org/10.1007/s10620-019-05654-y

5.

Schulte-Pelkum J, Radice A, Norman GL, Lόpez Hoyos M, Lakos G, Buchner C, Musset L, Miyara M, Stinton L, Mahler M (2014) Novel Clinical and Diagnostic Aspects of Antineutrophil Cytoplasmic Antibodies. J Immunol Res 2014:1–12. https://doi.org/10.1155/2014/185416

6.

Sy A, Khalidi N, Dehghan N, Barra L, Carette S, Cuthbertson D, Hoffman GS, Koening CL, Langford CA, McAlear C, Moreland L, Monach PA, Seo P, Specks U, Sreih A, Ytterberg SR, Assche GV, Merkel PA, Pagnoux C (2016) Vasculitis in patients with inflammatory bowel diseases: A study of 32 patients and systematic review of the literature. Semin Arthritis Rheum 45:475–482. https://doi.org/10.1016/j.semarthrit.2015.07.006

7.

Humbert S, Guilpain P, Puéchal X, Terrier B, Rivière S, Mahr A, Pagnoux C, Bagnères D, Cordier J-F, Le Quellec A, Altwegg R, Guillevin L, on behalf of the French Vasculitis Study Group (2015) Inflammatory bowel diseases in anti-neutrophil cytoplasmic antibody–associated vasculitides: 11 retrospective cases from the French Vasculitis Study Group. Rheumatology 54:1970–1975. https://doi.org/10.1093/rheumatology/kev199

8.

Radhakrishnan KR, Kay M, Wyllie R, Hashkes PJ (2006) Wegener Granulomatosis Mimicking Inflammatory Bowel Disease in a Pediatric Patient. J Pediatr Gastroenterol Nutr 43:391–394. https://doi.org/10.1097/01.mpg.0000226382.26118.aa

9.

Kindle SA, Camilleri MJ, Gibson LE, Davis MDP (2017) Granulomatosis with polyangiitis mimicking classic inflammatory bowel disease-associated pyoderma gangrenosum. Int J Dermatol 56:e1–e3. https://doi.org/10.1111/ijd.13218

10.

Hanna R, Shahedi K, Melamed O, Wilson J (2013) Wegener's granulomatosis mimicking inflammatory bowel disease and presenting with chronic enteritis. Int Med Case Rep J:65. https://doi.org/10.2147/IMCRJ.S36546

11.

Shapiro SC, Khararjian A, Manno RL (2016) Inflammatory bowel disease mimicking granulomatosis with polyangiitis: a case report. J Med Case Rep 10:10. https://doi.org/10.1186/s13256-016-1000-x

12.

Arias-Loste MT, Bonilla G, Moraleja I, Mahler M, Mieses MA, Castro B, Rivero M, Crespo J, López-Hoyos M (2013) Presence of Anti-proteinase 3 Antineutrophil Cytoplasmic Antibodies (Anti-PR3 ANCA) as Serologic Markers in Inflammatory Bowel Disease. Clin Rev Allergy Immunol 45:109–116. https://doi.org/10.1007/s12016-012-8349-4

13.

Ramos-Casals M, Brito-Zerón P, Cuadrado M-J, Khamashta MA (2008) Vasculitis induced by tumor necrosis factor-targeted therapies. Curr Rheumatol Rep 10:442–448. https://doi.org/10.1007/s11926-008-0072-z

14.

Codish S, Abu-Shakra M, Depsames R, Sion-Vardy N, Benharroch D, Sukenik S (2000) Wegner's Granulomatosis in a patient with Crohn's Disease. Isr Med Assoc J 2:630–631

15.

dos Santos CE, Dal Pizzol VI, Aragão SC, Filho AR, Marques FM (2013) Vasculite c-ANCA relacionada em paciente com retocolite ulcerativa: relato de caso*. Rev Bras Reumatol 53:441–443. https://doi.org/10.1590/S0482-50042013000500012

16.

Li J, Li C, Li J (2018) Thoracic manifestation of Wegener's granulomatosis: Computed tomography findings and analysis of misdiagnosis. Exp Ther Med. https://doi.org/10.3892/etm.2018.6154
Ethics declarations
The patient signed the informed consent in accordance with the 1964 Helsinki declaration.
Disclosures
None.
Additional information
Publisher's note
Springer Nature remains neutral with regard to jurisdictional claims in published maps and institutional affiliations.
The authors declare that the manuscript has not been submitted or published elsewhere with the exception of abstracts published in scientific meetings.
About this article
Cite this article
Guimarães, F., Santos-Faria, D., Azevedo, S. et al. ANCA-associated vasculitis in a patient with enteropathic spondylarthritis: a case report and literature review. Clin Rheumatol (2021). https://doi.org/10.1007/s10067-021-05612-y
Received:

Revised:

Accepted:

Published:
Keywords
ANCA vasculitis

Enteropathic spondylarthritis

Granulomatosis with polyangiitis

Inflammatory bowel disease