Abstract
Introduction/objectives
Few studies have addressed the detection and clinical impact of different crystals in patients with diverse rheumatologic diagnoses in Latin America. The aim of this study was to assess the consistency between the clinical referring diagnosis and the identification of crystals, such as monosodium urate (MSU) and calcium pyrophosphate (CPP), in the synovial fluid (SF) of patients from a Mexican tertiary care institution.
Methods
We reviewed the results of 264 SF analyses to identify any changes in diagnosis upon SF analysis. We reported patient medical file data on sex, age, diagnosis, and microscopic SF analysis results. We performed consistency analyses between referring diagnoses and SF findings with McNemar's test.
Results
The prevalence of MSU crystals in SF was noted in 89.1% of gout cases and 9.09% of cases of calcium pyrophosphate disease (CPPD). CPP crystals were present in 54.5% of CPPD cases, 42.9% of osteoarthritis (OA) cases, and 7.27% of gout cases. Calcium hydroxyapatite (HA) crystals were identified in 5.45% of gout cases, 33.3% of rheumatoid arthritis (RA) cases, 57.1% of OA cases, and 63.6% of CPPD cases. Cholesterol and lipid crystals were present in small proportions in RA cases. Glucocorticoid crystals were observed in 1.85% of gout cases, 44.4% of RA cases, and 42.9% of OA cases. We observed an association of MSU identification with clinical suspicion of gout (P = 0.08), CPP with OA (P = 0.26) and CPPD (P = 0.50). An association was noted between HA and the diagnosis of CPPD (P = 0.84) and OA (P > 0.99). The number of initial diagnoses that changed upon SF analysis was 14.3%.
Conclusions
SF analysis has major diagnostic value regarding MSU crystals and gout. Our findings underscore the importance of SF crystal analysis in identifying the prevalence of crystals in the Mexican population. SF analysis provides for better diagnosis of crystal arthropathies and improves the quality of the medical care that the patient receives.
Key Points
• Synovial fluid analysis in laboratories from developing countries has been scarce.
• In some cases, the initial diagnosis is modified after of synovial fluid analysis.
• This study confirmed that synovial fluid analysis exhibits major diagnostic value for urate crystals and gout.
Access options
Buy single article
Instant access to the full article PDF.
US$ 39.95
Tax calculation will be finalised during checkout.
Subscribe to journal
Immediate online access to all issues from 2019. Subscription will auto renew annually.
US$ 79
Tax calculation will be finalised during checkout.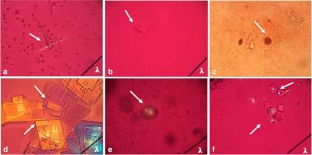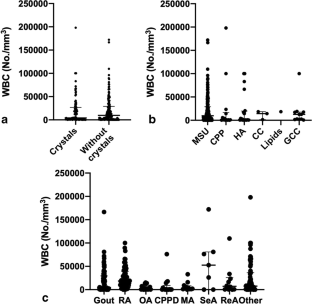 References
1.

García-Méndez S, Arreguín-Reyes R, López-López O, Vázquez-Mellado J (2014) Frequency of gout according to the perception of physicians in México. Reumatol Clin 10(3):197–198

2.

Peláez-Ballestas I, Sanin LH, Moreno-Montoya J, Alvarez-Nemegyei J, Burgos-Vargas R, Garza-Elizondo M et al (2011) Epidemiology of the rheumatic diseases in Mexico. A study of 5 regions based on the COPCORD methodology. J Rheumatol Suppl 86:3–8. https://doi.org/10.3899/jrheum.100951

3.

005. Gota, enfermedad crónica que afecta a tres por ciento de los mexicanos [Available at: https://www.gob.mx/salud/prensa/005-gota-enfermedad-cronica-que-afecta-a-tres-por-ciento-de-los-mexicanos]

4.

Kim SC, Liu J, Solomon DH (2015) Risk of incident diabetes in patients with gout: a cohort study. Arthritis Rheumatol 67(1):273–280

5.

Harrold LR, Mazor KM, Negron A, Ogarek J, Firneno C, Yood RA (2013) Primary care providers' knowledge, beliefs and treatment practices for gout: results of a physician questionnaire. Rheumatology (Oxford) 52(9):1623–1629

6.

Qaseem A, RM ML, Starkey M, Forciea MA, Clinical guidelines committee of the American College of Physicians (2017) Diagnosis of acute gout: a clinical practice guideline from the American College of Physicians. Ann Intern Med 166(1):52–57

7.

Neogi T, Jansen TL, Dalbeth N, Fransen J, Schumacher HR, Berendsen D et al (2015) Gout classification criteria: an American College of Rheumatology/European League Against Rheumatism collaborative initiative. Ann Rheum Dis 74(10):1789–1798

8.

Richette P, Doherty M, Pascual E, Barskova V, Becce F, Castañeda-Sanabria J, Coyfish M, Guillo S, Jansen TL, Janssens H, Lioté F, Mallen C, Nuki G, Perez-Ruiz F, Pimentao J, Punzi L, Pywell T, So A, Tausche AK, Uhlig T, Zavada J, Zhang W, Tubach F, Bardin T (2017) 2016 updated EULAR evidence-based recommendations for the management of gout. Ann Rheum Dis 76(1):29–42

9.

Sicras-Mainar A, Viana Álvarez R, Galera Llorca J, Granell Villalón M, Navarro-Artieda R (2012) Estudio de pacientes con gota: características clínicas en los últimos 2 años de seguimiento [Study of patients with gout: clinical features in the last 2 years of monitoring]. Gac Med Mex 148(5):448–456

10.

Taylor WJ, Fransen J, Dalbeth N, Neogi T, Schumacher HR, Brown M et al (2016) Diagnostic arthrocentesis for suspicion of gout is safe and well tolerated. J Rheumatol 43(1):150–153

11.

Vogelgesang SA, Karplus TM, Kreiter CD (2002) An instructional program to facilitate teaching joint/soft-tissue injection and aspiration. J Gen Intern Med 17(6):441–445

12.

Janssens HJ, Janssen M, van de Lisdonk EH, Fransen J, van Riel PL, van Weel C (2010) Limited validity of the American College of Rheumatology criteria for classifying patients with gout in primary care. Ann Rheum Dis 69(6):1255–1256

13.

Amigo-Castañeda MC, Canoso JJ (2016) Detección de cristales de urato monosódico en el líquido sinovial en la práctica clínica: barreras y oportunidades. An Med Asoc Med Hosp ABC 61(3):173–176

14.

Swan A, Amer H, Dieppe P (2002) The value of synovial fluid assays in the diagnosis of joint disease: a literature survey. Ann Rheum Dis 61(6):493–498

15.

Ventura-Ríos L, Ferrusquia-Toriz D, Saldarriaga LM (2017) Hydroxyapatite and calcium pyrophosphate crystals mimicking gout in systemic sclerosis. Reumatol Clin 13(4):235–236

16.

Galozzi P, Oliviero F, Frallonardo P, Favero M, Hoxha A, Scanu A, Lorenzin M, Ortolan A, Punzi L, Ramonda R (2016) The prevalence of monosodium urate and calcium pyrophosphate crystals in synovial fluid from wrist and finger joints. Rheumatol Int 36(3):443–446

17.

Martínez-Castillo A, Núñez C, Cabiedes J (2010) Synovial fluid analysis. Reumatol Clin 6(6):316–321

18.

Oliviero F, Scanu A, Galozzi P, Gava A, Frallonardo P, Ramonda R, Punzi L (2013) Prevalence of calcium pyrophosphate and monosodium urate crystals in synovial fluid of patients with previously diagnosed joint diseases. Joint Bone Spine 80(3):287–290

19.

Zamudio-Cuevas Y, Fernández-Torres J, Martínez-Nava GA, Martínez-Flores K, López-Reyes A (2018) Emergent nanotherapies in microcrystal-induced arthritis. Int Immunopharmacol 6:197–203. https://doi.org/10.1016/j.intimp.2018.06.007

20.

Reginato AJ, Schumacher HR, Allan DA, Rabinowitz JL (1985) Acute monoarthritis associated with lipid liquid crystals. Ann Rheum Dis 44(8):537–543

21.

Kahn CB, Hollander JL, Schumacher HR (1970) Corticosteroid crystals in synovial fluid. JAMA 211(5):807–809

22.

Punzi L, Oliviero F (2009) Arthrocentesis and synovial fluid analysis in clinical practice: value of sonography in difficult cases. Ann N Y Acad Sci 1154:152–158. https://doi.org/10.1111/j.1749-6632.2009.04389.x

23.

Schlapbach P, Pfluger D, Gerber NJ (1992) Identification of crystals in synovial fluid: joint-specific identification rate and correlation with clinical preliminary diagnosis. Schweiz Med Wochenschr 122(25):969–974

24.

Ibarra LG, Pineda C (2011) Instituto Nacional de Rehabilitación. Editorial RIC. Instituto Nacional de Rehabilitación. Rev Invest Clin 63(4):331–334

25.

Lumbreras B, Pascual E, Frasquet J, González-Salinas J, Rodríguez E, Hernández-Aguado I (2005) Analysis for crystals in synovial fluid: training of the analysis results in high consistency. Ann Rheum Dis 64(4):612–615

26.

Jaccard YB, Gerster JC, Calame L (1996) Mixed monosodium urate and calcium pyrophosphate crystal-induced arthropathy. A review of seventeen cases. Rev Rhum Engl Ed 63(5):331–335

27.

Yavorskyy A, Hernandez-Santana A, McCarthy G, McMahon G (2008) Detection of calcium phosphate crystals in the joint fluid of patients with osteoarthritis analytical approaches and challenges. Analyst 133(3):302–318

28.

Hamilton E, Pattrick M, Hornby J, Derrick G, Doherty M (1990) Synovial fluid calcium pyrophosphate dihydrate crystals and alizarin red positivity: analysis of 3000 samples. Br J RheumatoL 29(2):101–104

29.

Robier C, Neubauer M, Quehenberger F, Rainer F (2011) Coincidence of calcium pyrophosphate and monosodium urate crystals in the synovial fluid of patients with gout determined by the cytocentrifugation technique. AnnRheumDis 70(6):1163–1164

30.

Singh JA, Dalbeth N (2015) Is the double contour sign specific for gout? Or only for crystal arthritis. J Rheumatol 42(3):353–354

31.

Ogdie A, Taylor WJ, Neogi T, Fransen J, Jansen TL, Schumacher HR, Louthrenoo W, Vazquez-Mellado J, Eliseev M, McCarthy G, Stamp LK, Perez-Ruiz F, Sivera F, Ea HK, Gerritsen M, Cagnotto G, Cavagna L, Lin C, Chou YY, Tausche AK, Lima Gomes Ochtrop M, Janssen M, Chen JH, Slot O, Lazovskis J, White D, Cimmino MA, Uhlig T, Dalbeth N (2017) Performance of ultrasound in the diagnosis of gout in a multicenter study: comparison with monosodium urate monohydrate crystal analysis as the gold standard. Arthritis Rheumatol 69(2):429–438

32.

Jørgensen SH, Rasmussen C, Espesen J (2014) Cholesterol crystals in synovial fluid in patients with rheumatoid arthritis may be linked with a poor prognosis. UgeskrLaeger 176(46):V06140378

33.

Checa A, Wong H, Chun W (2011) Sonographic characterization of mixed crystal arthropathy due to monosodium urate and calcium pyrophosphate dihydrate: the triple contour sign. J Ultrasound Med 30(6):859–867

34.

Macmullan P, McCarthy G (2012) Treatment and management of pseudogout: insights for the clinician. Ther Adv Musculoskelet Dis 4(2):121–131

35.

Berendsen D, Neogi T, Taylor WJ, Dalbeth N, Jansen TL (2017) Crystal identification of synovial fluid aspiration by polarized light microscopy. An online test suggesting that our traditional rheumatologic competence needs renewed attention and training. Clin Rheumatol 36(3):641–647
Funding
This work was supported by federal resources from the INR-LGII.
Ethics declarations
Ethics approval
We declare that this study was approved by the appropriate ethics committee and was therefore conducted in accordance with the ethical standards set forth in the 1964 Declaration of Helsinki and its subsequent amendments. The study was retrospectively registered (INR21/19). Details that might reveal the identity of the subjects under study have been omitted.
Disclosures
None.
Additional information
Publisher's note
Springer Nature remains neutral with regard to jurisdictional claims in published maps and institutional affiliations.
Supplementary Information
About this article
Cite this article
Zamudio-Cuevas, Y., Martínez-Nava, G.A., Martínez-Flores, K. et al. Synovial fluid analysis for the enhanced clinical diagnosis of crystal arthropathies in a tertiary care institution. Clin Rheumatol (2021). https://doi.org/10.1007/s10067-021-05610-0
Received:

Revised:

Accepted:

Published:
Keywords
Crystal arthropathies

Diagnosis

Gout

Synovial fluid