Abstract
Introduction
Rheumatoid arthritis (RA)–associated interstitial lung disease (ILD) (RA-ILD) is a serious systemic RA manifestation with high mortality that needs proper, accurate, and sensitive assessment tools.
Objectives
Firstly, evaluate serum Krebs von den Lungen-6 (KL-6) levels and lung ultrasound B lines (LUS B lines) score in RA-ILD correlating them with the severity of ILD assessed by high-resolution computed tomography (HRCT) and pulmonary function tests (PFTs). Secondly, determine cut-off values for LUS and KL-6 in RA-ILD assessment and outcome prediction.
Methods
A case-control study included seventy-five RA-ILD patients with an equal number of matched RA patients without ILD. Clinical assessment includes DAS-28 and PFTs, laboratory assessment of serum KL-6 by latex-enhanced immunoturbidimetric assay, and radiological evaluation of ILD using semiquantitative CT grade and LUS B lines.
Results
RA-ILD patients had significantly higher serum KL6 compared to those without ILD (1025.5 ± 419.6 vs. 237.5 ± 51.9, p ≤ 0.001). Serum KL6 was positively correlated with HRCT and LUS scores (r = 0.93, r = 0.97, respectively) with negative correlation with FVC% and FEV1% (r = − 0.93, r = − 0.91, respectively). LUS was positively correlated with KL6 and HRCT (r = 0.97, r = 0.944, respectively) while, negatively correlated with PFTs. Cut-off values of KL6 and LUS were 277.5 U/ml and < 5.5, with AUC 0.878 and 1, sensitivity 86.7% and 100%, and specificity 88% and 100%, respectively.
Conclusions
The non-invasive, radiation-free LUS with a score < 5.5 combined with serum KL6 could be helpful for RA-ILD assessment correlating with HRCT and disease severity. Serum KL6 combined with LUS is important new and potential prognostic factor predicting poor outcomes in RA-ILD. Further large-scale, multi-center, and prospective studies are needed to confirm these findings.
Key Points
• Combination of the non-invasive, radiation-free LUS with a score < 5.5 and serum KL6 levels of 277.5 U/ml is recommended as prognostic tools for RA-ILD.
• Easily obtainable tests such as serum KL-6, inflammatory markers, and LUS are sensitive for assessing RA-ILD and the risk of poor outcomes in patients with RA-ILD.
• RA-ILD patients with higher KL6 levels, higher LUS scores had a poor prognosis with short survival.
• LUS B lines could be used as the first imaging tool for the evaluation of RA-ILD decreasing the risk of HRCT radiation exposure in asymptomatic or mild RA-ILD patients.
Access options
Buy single article
Instant access to the full article PDF.
US$ 39.95
Tax calculation will be finalised during checkout.
Subscribe to journal
Immediate online access to all issues from 2019. Subscription will auto renew annually.
US$ 79
Tax calculation will be finalised during checkout.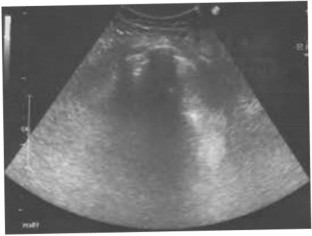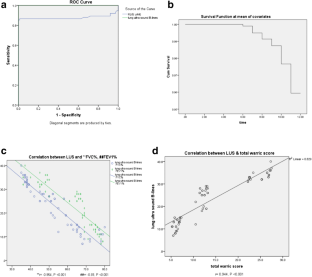 Data availability
On fair request, the data sets are available from the corresponding author during and/or analyzed during the current review.
References
1.

Lin Y-J, Anzaghe M, Schülke S (2020) Update on the pathomechanism, diagnosis, and treatment options for rheumatoid arthritis. Cells 9(4):880

2.

Jacob J et al (2019) Predicting outcomes in rheumatoid arthritis related interstitial lung disease. Eur Respir J 53(1)

3.

Juge P-A, Crestani B, Dieudé P (2020) Recent advances in rheumatoid arthritis-associated interstitial lung disease. Curr Opin Pulm Med 26(5)

4.

Avouac J, Cauvet A, Steelandt A, Shirai Y, Elhai M, Kuwana M, Distler O, Allanore Y (2020) Improving risk-stratification of rheumatoid arthritis patients for interstitial lung disease. PLoS One 15(5):e0232978–e0232978

5.

Mira-Avendano I, Abril A, Burger CD, Dellaripa PF, Fischer A, Gotway MB, Lee AS, Lee JS, Matteson EL, Yi ES, Ryu JH (2019) Interstitial lung disease and other pulmonary manifestations in connective tissue diseases. Mayo Clin Proc 94(2):309–325

6.

Ciancio N, Pavone M, Torrisi SE, Vancheri A, Sambataro D, Palmucci S, Vancheri C, di Marco F, Sambataro G (2019) Contribution of pulmonary function tests (PFTs) to the diagnosis and follow up of connective tissue diseases. Multidiscip Respir Med 14:17

7.

Falcetta A et al (2018) The role of lung ultrasound in the diagnosis of interstitial lung disease. Shanghai Chest 2(5)

8.

Xie HQ, Zhang WW, Sun DS, Chen XM, Yuan SF, Gong ZH, Liu L (2019) A simplified lung ultrasound for the diagnosis of interstitial lung disease in connective tissue disease: a meta-analysis. Arthritis Research & Therapy 21(1):93

9.

Qin H, Xu XP, Zou J, Zhao XJ, Wu HW, Zha QF, Chen S, Kang Y, Jiang HD (2019) Krebs von den Lungen-6 associated with chest high-resolution CT score in evaluation severity of patients with interstitial lung disease. Pulmonology 25(3):143–148

10.

Benyamine A, Heim X, Resseguier N, Bertin D, Gomez C, Ebbo M, Harlé JR, Kaplanski G, Rossi P, Bardin N, Granel B (2018) Elevated serum Krebs von den Lungen-6 in systemic sclerosis: a marker of lung fibrosis and severity of the disease. Rheumatol Int 38(5):813–819

11.

Salazar GA, Kuwana M, Wu M, Estrada-Y-Martin RM, Ying J, Charles J, Mayes MD, Assassi S (2018) KL-6 but not CCL-18 is a predictor of early progression in systemic sclerosis-related interstitial lung disease. J Rheumatol 45(8):1153–1158

12.

Lee JS, Lee EY, Ha YJ, Kang EH, Lee YJ, Song YW (2019) Serum KL-6 levels reflect the severity of interstitial lung disease associated with connective tissue disease. Arthritis Res Ther 21(1):58

13.

Matsui T et al (2007) Disease Activity Score 28 (DAS28) using C-reactive protein underestimates disease activity and overestimates EULAR response criteria compared with DAS28 using erythrocyte sedimentation rate in a large observational cohort of rheumatoid arthritis patients in Japan. Ann Rheum Dis 66(9):1221–1226

14.

Pellegrino R et al (2005) Interpretative strategies for lung function tests. Eur Respir J 26(5):948–968

15.

Graham BL et al (2017) ERS/ATS standards for single-breath carbon monoxide uptake in the lung. Eur Respir J 2017, 49(1)

16.

Warrick JH et al (1991) High resolution computed tomography in early scleroderma lung disease. J Rheumatol 18(10):1520–1528

17.

Tardella M, di Carlo M, Carotti M, Filippucci E, Grassi W, Salaffi F (2018) Ultrasound B-lines in the evaluation of interstitial lung disease in patients with systemic sclerosis: cut-off point definition for the presence of significant pulmonary fibrosis. Medicine (Baltimore) 97(18):e0566

18.

Wang Y, Gargani L, Barskova T, Furst DE, Cerinic MM (2017) Usefulness of lung ultrasound B-lines in connective tissue disease-associated interstitial lung disease: a literature review. Arthritis Res Ther 19(1):206

19.

Gouda MA (2015) Common pitfalls in reporting the use of SPSS software. Medical principles and practice: international journal of the Kuwait University, Health Science Centre 24(3):300–300

20.

Schmidt W, Tąpolska M, Pawlak-Buś K, Owczarek M, Leszczyński P (2020) Work instability, and associated factors among patients with rheumatoid arthritis in Greater Poland. Reumatologia/Rheumatology 58(4):208–212

21.

Huang S et al (2020) Rheumatoid arthritis–associated interstitial lung disease: current update on prevalence, risk factors, and pharmacologic treatment. Current Treatment Options in Rheumatology

22.

Yamakawa H, Sato S, Tsumiyama E, Nishizawa T, Kawabe R, Oba T, Kamikawa T, Horikoshi M, Akasaka K, Amano M, Kuwano K, Matsushima H (2019) Predictive factors of mortality in rheumatoid arthritis-associated interstitial lung disease analysed by modified HRCT classification of idiopathic pulmonary fibrosis according to the 2018 ATS/ERS/JRS/ALAT criteria. Journal of Thoracic Disease 11(12):5247–5257

23.

Wong AW, Ryerson CJ, Guler SA (2020) Progression of fibrosing interstitial lung disease. Respir Res 21(1):32

24.

Walsh SLF, Devaraj A, Enghelmayer JI, Kishi K, Silva RS, Patel N, Rossman MD, Valenzuela C, Vancheri C (2018) Role of imaging in progressive-fibrosing interstitial lung diseases. Eur Respir Rev 27(150):180073

25.

Umakoshi H, Iwano S, Inoue T, Li Y, Nakamura K, Naganawa S (2019) Quantitative follow-up assessment of patients with interstitial lung disease by 3D-curved high-resolution CT imaging parallel to the chest wall. Nagoya J Med Sci 81(1):41–53

26.

Man MA, Dantes E, Domokos Hancu B, Bondor CI, Ruscovan A, Parau A, Motoc NS, Marc M (2019) Correlation between transthoracic lung ultrasound score and HRCT features in patients with interstitial lung diseases. J Clin Med 8(8):1199

27.

Hamai K et al (2016) Comparative study of circulating MMP-7, CCL18, KL-6, SP-A, and SP-D as disease markers of idiopathic pulmonary fibrosis. Dis Markers 2016:4759040

28.

Kim HC, Choi KH, Jacob J, Song JW (2020) Prognostic role of blood KL-6 in rheumatoid arthritis-associated interstitial lung disease. PLoS One 15(3):e0229997–e0229997

29.

Bonella F, Ohshimo S, Miaotian C, Griese M, Guzman J, Costabel U (2013) Serum KL-6 is a predictor of outcome in pulmonary alveolar proteinosis. Orphanet journal of rare diseases 8:53–53

30.

Wang Y, Chen S, Lin Z, du G, Lin J, Lin Q, Xiufeng H, Zhang G, Furst DE, Gargani L, Matucci-Cerinic M (2019) Imaging and serum biomarkers in connective tissue disease-associated interstitial lung diseases: correlation between lung ultrasound B-lines and KL-6 levels. Ann Rheum Dis 78(4):573–575

31.

Iqbal K, Kelly C (2015) Treatment of rheumatoid arthritis-associated interstitial lung disease: a perspective review. Therapeutic advances in musculoskeletal disease 7(6):247–267

32.

Cogliati C, Antivalle M, Torzillo D, Birocchi S, Norsa A, Bianco R, Costantino G, Ditto MC, Battellino M, Sarzi Puttini PC, Montano N (2014) Standard and pocket-size lung ultrasound devices can detect interstitial lung disease in rheumatoid arthritis patients. Rheumatology (Oxford) 53(8):1497–1503

33.

Moazedi-Fuerst FC et al (2014) Ultrasound screening for interstitial lung disease in rheumatoid arthritis. Clin Exp Rheumatol 32(2):199–203

34.

Goh NS et al (2008) Interstitial lung disease in systemic sclerosis: a simple staging system. Am J Respir Crit Care Med 177(11):1248–1254

35.

Wang K, Ju Q, Cao J, Tang W, Zhang J (2017) Impact of serum SP-A and SP-D levels on comparison and prognosis of idiopathic pulmonary fibrosis: a systematic review and meta-analysis. Medicine (Baltimore) 96(23):e7083

36.

Kelly CA, Saravanan V, Nisar M, Arthanari S, Woodhead FA, Price-Forbes AN, Dawson J, Sathi N, Ahmad Y, Koduri G, Young A, on behalf of the British Rheumatoid Interstitial Lung (BRILL) Network (2014) Rheumatoid arthritis-related interstitial lung disease: associations, prognostic factors, and physiological and radiological characteristics--a large multicentre UK study. Rheumatology (Oxford) 53(9):1676–1682

37.

Kim EJ, Elicker BM, Maldonado F, Webb WR, Ryu JH, van Uden JH, Lee JS, King TE, Collard HR (2010) Usual interstitial pneumonia in rheumatoid arthritis-associated interstitial lung disease. Eur Respir J 35(6):1322–1328

38.

Lee YS et al (2016) The value of biomarkers as predictors of outcome in patients with rheumatoid arthritis-associated usual interstitial pneumonia. Sarcoidosis Vasc Diffuse Lung Dis 33(3):216–223

39.

Vassallo R et al (2014) Cellular, and humoral immunity in arthritis are profoundly influenced by the interaction between cigarette smoke effects and host HLA-DR and DQ genes. Clinical immunology (Orlando, Fla.) 152(1–2):25–35

40.

Damgaard D et al (2015) Smoking is associated with increased levels of extracellular peptidylarginine deiminase 2 (PAD2) in the lungs. Clin Exp Rheumatol 33(3):405–408

41.

Jacob J, Song JW, Yoon HY, Cross G, Barnett J, Woo WL, Adams F, Kokosi M, Devaraj A, Renzoni E, Maher TM, Kim DS, Wells AU (2018) Prevalence and effects of emphysema in never-smokers with rheumatoid arthritis interstitial lung disease. EBioMedicine 28:303–310

42.

Su HH, Lin HT, Suen JL, Sheu CC, Yokoyama KK, Huang SK, Cheng CM (2016) Aryl hydrocarbon receptor-ligand axis mediates pulmonary fibroblast migration and differentiation through increased arachidonic acid metabolism. Toxicology 370:116–126

43.

Woeller CF, Roztocil E, Hammond CL, Feldon SE, Phipps RP (2016) The aryl hydrocarbon receptor and its ligands inhibit myofibroblast formation and activation: implications for thyroid eye disease. Am J Pathol 186(12):3189–3202

44.

Chen K, Pociask DA, McAleer JP, Chan YR, Alcorn JF, Kreindler JL, Keyser MR, Shapiro SD, Houghton AMG, Kolls JK, Zheng M (2011) IL-17RA is required for CCL2 expression, macrophage recruitment, and emphysema in response to cigarette smoke. PLoS One 6(5):e20333
Ethics declarations
Disclosures
None.
Ethical guidelines
This study was conducted under the Declaration of Helsinki and accepted by our University Hospital Committee's Institutional Review Board (IRB approval no. 19122018INTPH1). Both participants involved in the study received informed consent.
Additional information
Publisher's note
Springer Nature remains neutral with regard to jurisdictional claims in published maps and institutional affiliations.
About this article
Cite this article
Fotoh, D.S., Helal, A., Rizk, M.S. et al. Serum Krebs von den Lungen-6 and lung ultrasound B lines as potential diagnostic and prognostic factors for rheumatoid arthritis–associated interstitial lung disease. Clin Rheumatol (2021). https://doi.org/10.1007/s10067-021-05585-y
Received:

Revised:

Accepted:

Published:
Keywords
Interstitial lung disease

KL-6

Lung ultrasound B lines

Rheumatoid arthritis