Abstract
Introduction/objectives
Prior opioid use can influence outcomes for patients with musculoskeletal disorders. The purpose of this study was to compare downstream medical utilization-based outcomes (costs, visits, recurrent episodes) after an initial diagnosis of patellofemoral pain based on pre-injury utilization of opioids.
Method
A total of 85,7880 consecutive patients were followed for a full 12 months before and 24 months after an initial diagnosis of patellofemoral pain (January 2009 to December 2013). Data were sourced from the Military Health System Data Repository, a single-payer closed government system. Opioid prescription fills were identified, and medical visits and costs were calculated for all knee-related medical care, to include recurrence rates in the 2-year surveillance period.
Results
A relatively small number of individuals filled an opioid prescription in the year prior (n = 1746; 2.0%); however, these individuals had almost twice the mean costs of knee-related medical care ($1557 versus %802) and medical visits (8.4 versus 4.0). Patients with prior opioid use were more likely to have at least 1 recurrent episode of knee pain (relative risk 1.58, 95% CI 1.51, 1.65) with a higher mean number of episodes of knee pain (1.5 vs 1.8). The use of opioids with higher risk of misuse or dependency (Schedule II or III) resulted in greater medical costs (for any reason) and recurrent episodes of knee pain compared to the use of opioids in a lower risk category (Schedule IV).
Conclusions
Prior opioid utilization was associated with a greater number of recurrent episodes of knee pain and higher downstream medical costs compared with individuals without prior opioid use. For individuals with prior opioid utilization, opioids with higher risk of misuse or dependency (Schedule II or III) resulted in greater medical costs (for any reason) and recurrent episodes compared to the use of lower-risk opioids (Schedule IV).
Key Points
• Patients with prior opioid use had much greater knee-related medical costs compared to patients without prior opioid use.
• Patients with prior opioid use were more likely to have additional episodes of knee pain in the following 2 years compared to patients without prior opioid use.
• Prior opioid use has predicted higher costs and poor outcomes after surgery, but this is the first study to confirm similar findings in non-surgical patients.
Access options
Buy single article
Instant access to the full article PDF.
US$ 39.95
Tax calculation will be finalised during checkout.
Subscribe to journal
Immediate online access to all issues from 2019. Subscription will auto renew annually.
US$ 79
Tax calculation will be finalised during checkout.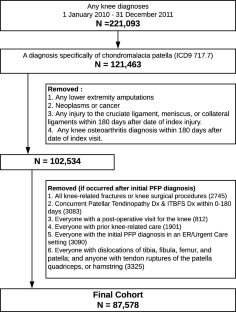 Data availability
Data is proprietary to the US Defense Health Agency. It can be requested after the approval of a Data Sharing Agreement Application available at health.mil.
References
1.

Kerns RD, Brandt CA, Peduzzi P (2019) NIH-DoD-VA pain management collaboratory. Pain Med 20:2336–2345

2.

National Academies of Sciences, Engineering, and Medicine, Health and Medicine Division, Board on Health Sciences Policy et al (2017) Trends in opioid use, harms, and treatment. National Academies Press (US), Washington, D.C.

3.

Office of the Army Surgeon General, The Pain Management Task Force Report. Department of Defense

4.

Benyamin R, Trescot AM, Datta S et al (2008) Opioid complications and side effects. Pain Physician 11:S105–S120

5.

Lee M, Silverman SM, Hansen H, Patel VB, Manchikanti L (2011) A comprehensive review of opioid-induced hyperalgesia. Pain Physician 14:145–161

6.

Jones BQ, Covey CJ, Sineath MH Jr (2015) Nonsurgical management of knee pain in adults. Am Fam Physician 92:875–883

7.

Berthelot J-M, Darrieutort-Lafitte C, Le Goff B, Maugars Y (2015) Strong opioids for noncancer pain due to musculoskeletal diseases: not more effective than acetaminophen or NSAIDs. Joint Bone Spine 82:397–401

8.

Krebs EE, Gravely A, Nugent S, Jensen AC, DeRonne B, Goldsmith ES, Kroenke K, Bair MJ, Noorbaloochi S (2018) Effect of opioid vs nonopioid medications on pain-related function in patients with chronic Back pain or hip or knee osteoarthritis pain: the SPACE randomized clinical trial. JAMA 319:872–882

9.

Carducci MP, Zimmer ZR, Jawa A (2019) Predictors of unsatisfactory patient outcomes in primary reverse total shoulder arthroplasty. J Shoulder Elb Surg 28:2113–2120

10.

Cron DC, Englesbe MJ, Bolton CJ, Joseph MT, Carrier KL, Moser SE, Waljee JF, Hilliard PE, Kheterpal S, Brummett CM (2017) Preoperative opioid use is independently associated with increased costs and worse outcomes after major abdominal surgery. Ann Surg 265:695–701

11.

Goplen CM, Verbeek W, Kang SH, Jones CA, Voaklander DC, Churchill TA, Beaupre LA (2019) Preoperative opioid use is associated with worse patient outcomes after total joint arthroplasty: a systematic review and meta-analysis. BMC Musculoskelet Disord 20:234

12.

Kim SC, Jin Y, Lee YC, Lii J, Franklin PD, Solomon DH, Franklin JM, Katz JN, Desai RJ (2019) Association of preoperative opioid use with mortality and short-term safety outcomes after total knee replacement. JAMA Netw Open 2:e198061

13.

Kim Y, Cortez AR, Wima K, Dhar VK, Athota KP, Schrager JJ, Pritts TA, Edwards MJ, Shah SA (2018) Impact of preoperative opioid use after emergency general surgery. J Gastrointest Surg 22:1098–1103

14.

Rhon DI, Snodgrass SJ, Cleland JA, Cook CE (2019) Comorbid insomnia and sleep apnea are associated with greater downstream health care utilization and chronic opioid use after arthroscopic hip surgery. Pain Physician 22:E351–E360

15.

Benchimol EI, Smeeth L, Guttmann A, Harron K, Moher D, Petersen I, Sørensen HT, von Elm E, Langan SM, RECORD Working Committee (2015) The REporting of studies conducted using observational routinely-collected health data (RECORD) statement. PLoS Med 12:e1001885

16.

Crossley KM, Callaghan MJ, van Linschoten R (2016) Patellofemoral pain. Br J Sports Med 50:247–250

17.

Crossley KM, Stefanik JJ, Selfe J, Collins NJ, Davis IS, Powers CM, McConnell J, Vicenzino B, Bazett-Jones DM, Esculier JF, Morrissey D, Callaghan MJ (2016) 2016 patellofemoral pain consensus statement from the 4th International Patellofemoral Pain Research Retreat, Manchester. Part 1: terminology, definitions, clinical examination, natural history, patellofemoral osteoarthritis and patient-reported outcome measures. Br J Sports Med 50:839–843

18.

Hauschild VD, Hauret K, Richardson M, Jones HBA Taxonomy of injuries for public health monitoring and reporting. Army Public Health Center

19.

Rhon DI, Clewley D, Young JL, Sissel CD, Cook CE (2018) Leveraging healthcare utilization to explore outcomes from musculoskeletal disorders: methodology for defining relevant variables from a health services data repository. BMC Med Inform Decis Mak 18:10

20.

Serdarevic M, Striley CW, Cottler LB (2017) Sex differences in prescription opioid use. Curr Opin Psychiatry 30:238–246

21.

Higgins DM, Kerns RD, Brandt CA, Haskell SG, Bathulapalli H, Gilliam W, Goulet JL (2014) Persistent pain and comorbidity among Operation Enduring Freedom/Operation Iraqi Freedom/Operation New Dawn veterans. Pain Med 15:782–790

22.

Cichowski SB, Rogers RG, Komesu Y, Murata E, Qualls C, Murata A, Murata G (2018) A 10-yr analysis of chronic pelvic pain and chronic opioid therapy in the women veteran population. Mil Med 183:e635–e640

23.

Dunn LK, Yerra S, Fang S, Hanak MF, Leibowitz MK, Tsang S, Durieux ME, Nemergut EC, Naik BI (2018) Incidence and risk factors for chronic postoperative opioid use after major spine surgery: a cross-sectional study with longitudinal outcome. Anesth Analg 127:247–254

24.

Hills JM, Pennings JS, Archer KR, Wick JB, Daryoush J, Butler M, Sivaganesan A, Khan I, Call R, Devin CJ (2019) Preoperative opioids and 1-year patient-reported outcomes after spine surgery. Spine 44:887–895

25.

Young JL, Wright AA, Rhon DI (2019) Nonoperative management prior to hip arthroscopy for femoroacetabular impingement syndrome: an investigation into the utilization and content of physical therapy. J Orthop Sports Phys Ther 49:593–600

26.

DiMarco LA, Ramger BC, Howell GP et al (2019) Differences in characteristics and downstream drug use among opioid-naïve and prior opioid users with low back pain. Pain Pract 19:149–157

27.

Rhon DI, Lentz TA, George SZ (2020) Utility of catastrophizing, body symptom diagram score and history of opioid use to predict future health care utilization after a primary care visit for musculoskeletal pain. Fam Pract 37:81–90

28.

Tye EY, Anderson JT, Faour M, Haas AR, Percy R, Woods ST, Ahn UM, Ahn NU (2017) Prolonged preoperative opioid therapy in patients with degenerative lumbar stenosis in a workers' compensation setting. Spine 42:E1140–E1146
Ethics declarations
Disclaimer
The view(s) expressed herein are those of the author(s) and do not reflect the official policy or position of Brooke Army Medical Center, the U.S. Army Medical Department, the U.S. Army Office of the Surgeon General, the Department of the Air Force, the Department of the Army, the Defense Health Agency, the Department of Defense or the U.S. Government.
Disclosures
None.
Ethics approval
The study was approved by the Institutional Review Board at Army Regional Health Command Central.
Consent to participate
Consent requirements were waived by the IRB due to the nature of this study.
Consent for publication
Not applicable.
Code availability
Not applicable.
Additional information
Publisher's note
Springer Nature remains neutral with regard to jurisdictional claims in published maps and institutional affiliations.
About this article
Cite this article
Rhon, D.I., Cook, C.E., Cleland, J.A. et al. The influence of prior opioid use on healthcare utilization and recurrence rates for non-surgical patients seeking initial care for patellofemoral pain. Clin Rheumatol 40, 1047–1054 (2021). https://doi.org/10.1007/s10067-020-05307-w
Received:

Revised:

Accepted:

Published:

Issue Date:
Keywords
Health services

Knee

Musculoskeletal pain

Opioids

Patellofemoral