Abstract
Muscular sarcoidosis is rarely symptomatic and mainly affects proximal muscles of the lower extremities. However, the distal localization in the upper extremities is rare. We used systematic approach to analyze all relevant literature review and we identified only three cases of muscular sarcoidosis of the upper extremities. We report the case of a 56-year-old woman who presented distal and bilateral swelling of the extensor surface of the forearms revealing muscular sarcoidosis. The laboratory exams associated elevated acute phase reactants with elevated serum angiotensin-converting enzyme levels and normal serum muscle enzymes. Ultrasound and MRI showed a bilateral and symmetrical muscle hypertrophy of the extensors of the fingers. Histological examination of muscle specimen and minor salivary gland biopsy revealed noncaseating epithelioid-cell granulomas. Therefore, the diagnosis of muscular sarcoidosis of the finger extensor muscles was made. Swelling of the forearms disappeared gradually under prednisolone 1 mg/kg/day. We used methotrexate as a steroid-sparing agent. Muscular MRI in sarcoidosis is not specific, but is to make a diagnosis of the lesion to optimize the biopsy which the cornerstone of the diagnosis ofsarcoidosis.
This is a preview of subscription content, log in to check access.
Access options
Buy single article
Instant access to the full article PDF.
US$ 39.95
Price includes VAT for USA
Subscribe to journal
Immediate online access to all issues from 2019. Subscription will auto renew annually.
US$ 99
This is the net price. Taxes to be calculated in checkout.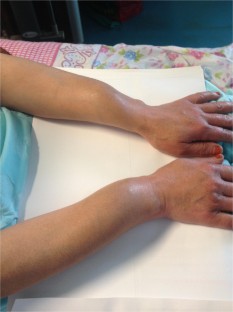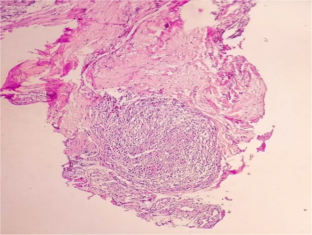 References
1.

Bechman K, Christidis D, Walsh S, Birring SS, Galloway J (2018) A review of the musculoskeletal manifestations of sarcoidosis. Rheumatology (Oxford) 57:777–783. https://doi.org/10.1093/rheumatology/kex317

2.

Sazliyana Shaharir S, Jamil A, Kosasih S, Soo Fin L, Sridharan R, Hayati Md Pauzi S (2017) Sarcoid myopathy mimicking polymyositis: a case report and pool analysis of the literature reviews. Acta Med Iran 55:800–806

3.

Balageas A, Sanguinet F, Lequen L, Delbrel X (2013) Muscular sarcoidosis: a case report of muscle and fascia involvement and literature. La Rev Med 34:706–712. https://doi.org/10.1016/j.revmed.2013.02.008

4.

Gaulke R, Suppelna G (2003) Solitary tumorous muscular sarcoidosis (granulomatous myopathy) of the forearm extensors. Z Rheumatol 62:66–72. https://doi.org/10.1007/s00393-003-0411-4

5.

Ikeda K, Saito M, Sueyoshi Y, Ichizen H, Tomita K (1996) Flexion contracture of fingers due to sarcoidosis-a case report. Acta Orthop Scand 67:623–625. https://doi.org/10.3109/17453679608997770

6.

Yamaguchi N, Hosoda S, Bamba T et al (1972) A case of sarcoidosis of the skeletal muscle. Tumor formation in the right upper arm. Nihon Naika Gakkai Zasshi 61:643–648. https://doi.org/10.2169/naika.61.643

7.

Iannuzzi MC, Rybicki BA, Teirstein AS (2007) Sarcoidosis. N Engl J Med 357:2153–2165. https://doi.org/10.1056/NEJMra071714

8.

Brandão Guimarães J, Nico MA, Omond AG, Silva FD, Aivazoglou LU, Carneiro BC, Fernandes ARC (2019) Radiologic manifestations of musculoskeletal sarcoidosis. Curr Rheumatol Rep 21:7. https://doi.org/10.1007/s11926-019-0806-0

9.

Charlot-Lambrecht I, Brochot P, Noblet H, Varoquier C, Eschard JP (2009) Neurogenic muscle hypertrophy. Jt Bone Spine 76:401–403. https://doi.org/10.1016/j.jbspin.2008.10.014

10.

Sindoni A, Rodolico C, Pappalardo MA, Portaro S, Benvenga S (2016) Hypothyroid myopathy: a peculiar clinical presentation of thyroid failure. Review of the literature. Rev Endocr Metab Disord 17:499–519. https://doi.org/10.1007/s11154-016-9357-0

11.

Zeng Y, Liu Y, Xie Y, Liang J, Kuang J, Lu Z, Zhou Y (2019) Muscular tuberculosis: a new case and a review of the literature. Front Neurol 10:1031

12.

Lee S, Lee IS, Mok J, Song YS, Choi KU (2018) Muscular sarcoidosis involving the chest and abdominal walls: case report with MR imaging. Skelet Radiol 47:407–411. https://doi.org/10.1007/s00256-017-2787-2

13.

Akasbi N, Tahiri L, Daoudi A et al (2011) Frohse's arcade syndrome revealing sarcoidosic myopathy. Jt Bone Spine 78:522–523. https://doi.org/10.1016/j.jbspin.2011.03.007

14.

Barnard J, Newman LS (2001) Sarcoidosis: immunology, rheumatic involvement, and therapeutics. Curr Opin Rheumatol 13:84–91. https://doi.org/10.1097/00002281-200101000-00014

15.

Amber KT, Bloom R, Mrowietz U, Hertl M (2015) TNF-α: a treatment target or cause of sarcoidosis? J Eur Acad Dermatol Venereol 29:2104–2111. https://doi.org/10.1111/jdv.13246

16.

Baughman RP, Winget DB, Lower EE (2000) Methotrexate is steroid sparing in acute sarcoidosis: results of a double blind, randomized trial. Sarcoidosis, Vasc Diffus lung Dis Off J WASOG 17:60–66
Ethics declarations
Disclosures
None.
Informed consent
Written informed consent was obtained from the patient.
Additional information
Publisher's note
Springer Nature remains neutral with regard to jurisdictional claims in published maps and institutional affiliations.
About this article
Cite this article
Ahmed Ghassem, M., El Maghraoui, A., Djossou, J.H. et al. Bilateral swelling of the forearms revealing muscular sarcoidosis: a case-based review. Clin Rheumatol (2020). https://doi.org/10.1007/s10067-020-05259-1
Received:

Revised:

Accepted:

Published:
Keywords
Magnetic resonance imaging

Muscular diseases

Sarcoidosis

Upper extremities