Abstract
Multiple myeloma (MM) is a malignant tumor originating from plasma cells that synthesize immunoglobulin in an abnormal amount and invade the bone marrow. The presenting symptoms have usually been severe bone pain, osteolytic bone damage and pathologic fractures, hypercalcemia, kidney damage, compromised immune function, and anemia. The patient age is typically over 40, with the majority of the cases diagnosed between ages 50 and 70. MM occurs in hematopoietic locations with red marrows; most common locations include the vertebrae, ribs, skull, pelvis, and proximal long bones. It often has extensive bone destruction with no reactive bone formation and a large soft tissue component similar to the lesion. In the literature, the presence of pathological fracture in the humerus is generally seen as the first clinical manifestation of MM. In this report, it is presented a case with MM occurring in the right humerus after strain and presenting only shoulder pain without pathologic fracture.
This is a preview of subscription content, log in to check access.
Access options
Buy single article
Instant access to the full article PDF.
US$ 39.95
Price includes VAT for USA
Subscribe to journal
Immediate online access to all issues from 2019. Subscription will auto renew annually.
US$ 99
This is the net price. Taxes to be calculated in checkout.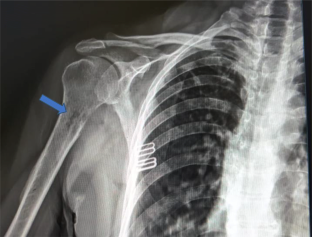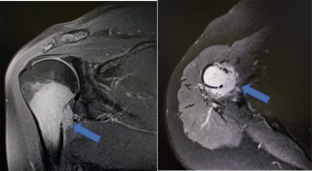 References
1.

Barlogie B, Shaughnessy J (2001) Plasma Cell Myeloma. In: Williams Hematology, 6th edn. New York, Mc Graw-Hill Company, pp 1279–1287

2.

Yochum TR, Rowe LJ (1996) Tumors and Tumorlike processes; essentials of skeletal radiology. Williams & Wilkins, Baltimore, pp 1004–1013

3.

Singh AP, Mahajan S, Singh AP (2008) Spontaneous bilateral fracture of the proximal humerus: an unusual presentation of multiple myeloma. Can J Surg 51:E95–E96 http://canjsurg.ca/wp-content/uploads/2014/03/51-4-E95.pdf

4.

Boccadoro M, Pileri A (1997) Diagnosis, prognosis, and standard treatment of multiple myeloma. Hematol Oncol Clin North Am 11:111–131. https://doi.org/10.1016/s0889-8588(05)70418-4

5.

Bataille R, Manolagas SC, Berenson JR (1997) Pathogenesis and management of bone lesions in multiple myeloma. Hematol Oncol Clin North Am 11:349–361. https://doi.org/10.1016/s0889-8588(05)70435-4

6.

Wang L, Jin FY, Li Y, Sun JN, Zhang JJ, Tang R, Zhong YP (2018) IgA type multiple myeloma, clinical features, and prognosis. Chin Med J 131:1249–1250. https://doi.org/10.4103/0366-6999.231513

7.

Khan MM, Mori M, Sakauchi F, Matsuo K, Ozasa K, Tamakoshi A (2006) Risk factors for multiple myeloma: evidence from the Japan Collaborative Cohort (JACC) study. Asian Pac J Cancer Prev 7:575–581

8.

Blimark C, Holmberg E, Mellqvist UH, Landgren O, Björkholm M, Hultcrantz M, Kjellander C, Turesson I, Kristinsson SY (2015) Multiple myeloma and infections: a population-based study on 9253 multiple myeloma patients. Haematologica 100:107–113. https://doi.org/10.3324/haematol.2014.107714

9.

Bühler S, Laitinen K, Holthöfer H, Jarvinen A, Schauman KO, Hedman K (2002) High rate of monoclonal gammopathy among immunocompetent subjects with primary cytomegalovirus infection. Clin Infect Dis 35:1430–1433. https://doi.org/10.1086/344465

10.

Li Y, Bai O, Liu C, Du Z, Wang X, Wang G, Li W (2016) Association between hepatitis B virus infection and risk of multiple myeloma: a systematic review and meta-analysis. Intern Med J 46:307–314. https://doi.org/10.1111/imj.12981

11.

Li Y, Jin L, Chen T (2020) The effects of secretory IgA in the mucosal immune system. Biomed Res Int 2020:2032057. https://doi.org/10.1155/2020/2032057

12.

Rajkumar SV, Kumar S (2016) Multiple myeloma: diagnosis and treatment. Mayo Clin Proc 91:101–119. https://doi.org/10.1016/j.mayocp.2015.11.007
Ethics declarations
Informed Consent
Informed consent was taken from the patient.
Disclosures
None.
Additional information
Publisher's note
Springer Nature remains neutral with regard to jurisdictional claims in published maps and institutional affiliations.
About this article
Cite this article
Yilmaz, E. Presentation of multiple myeloma occurring in the humerus after strain: a case report. Clin Rheumatol (2020). https://doi.org/10.1007/s10067-020-05256-4
Received:

Revised:

Accepted:

Published:
Keywords
Etiology and treatment

Multiple myeloma

Musculoskeletal pain