Abstract
Moyamoya syndrome (MMS) is a chronic cerebrovascular disorder characterized by occlusion or stenosis of the internal carotid arteries with the formation of abnormal collateral vascular networks. Moreover, the development of MMS, which is a distinct category from "moyamoya disease," is attributed to the underlying disease, while some cases of MMS related to systemic lupus erythematosus (SLE) have been previously reported. Herein, we present the case of a 29-year-old Japanese woman with SLE in whom intracranial hemorrhage ascribable to MMS developed during pregnancy. Craniotomy was performed to remove hematoma, and prednisolone, tacrolimus, and hydroxychloroquine were consecutively administered. She ultimately achieved remission and childbearing without the relapse of cerebrovascular event. To our knowledge, this is the first report of MMS associated with SLE in pregnancy. Through reviewing published English articles and our case, it was suggested that the pathogenesis of SLE is implicated in the development of moyamoya vasculopathy leading to cerebrovascular events. Moreover, pregnancy may affect the bleeding from the fragile collateral vessel wall.
This is a preview of subscription content, log in to check access.
Access options
Buy single article
Instant access to the full article PDF.
US$ 39.95
Price includes VAT for USA
Subscribe to journal
Immediate online access to all issues from 2019. Subscription will auto renew annually.
US$ 99
This is the net price. Taxes to be calculated in checkout.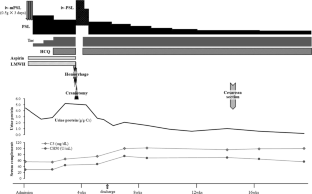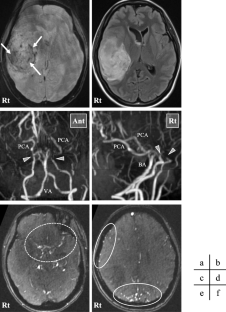 References
1.

Scott RM, Smith ER (2009) Moyamoya disease and moyamoya syndrome. N Engl J Med 360:1226–1237. https://doi.org/10.1056/NEJMra0804622

2.

Kuroda S, Houkin K (2008) Moyamoya disease: current concepts and future perspectives. Lancet Neurol 7:1056–1066. https://doi.org/10.1016/s1474-4422(08)70240-0

3.

Suzuki J, Takaku A (1969) Cerebrovascular "moyamoya" disease. Disease showing abnormal net-like vessels in base of brain. Arch Neurol 20:288–299. https://doi.org/10.1001/archneur.1969.00480090076012

4.

Wang CY, Grupke SL, Roberts J, Lee J, Fraser JF (2018) Factors associated with moyamoya syndrome in a Kentucky regional population. J Stroke Cerebrovasc Dis 27:793–800. https://doi.org/10.1016/j.jstrokecerebrovasdis.2017.10.016

5.

Fujimura M, Tominaga T (2015) Diagnosis of moyamoya disease: international standard and regional differences. Neurol Med Chir (Tokyo) 55:189–193. https://doi.org/10.2176/nmc.ra.2014-0307

6.

Hanly JG, Urowitz MB, Sanchez-Guerrero J, Bae SC, Gordon C, Wallace DJ, Isenberg D, Alarcón GS, Clarke A, Bernatsky S, Merrill JT, Petri M, Dooley MA, Gladman D, Fortin PR, Steinsson K, Bruce I, Manzi S, Khamashta M, Zoma A, Aranow C, Ginzler E, van Vollenhoven R, Font J, Sturfelt G, Nived O, Ramsey-Goldman R, Kalunian K, Douglas J, Thompson K, Farewell V, Systemic Lupus International Collaborating Clinics (2007) Neuropsychiatric events at the time of diagnosis of systemic lupus erythematosus: an international inception cohort study. Arthritis Rheum 56:265–273. https://doi.org/10.1002/art.22305

7.

Hanly JG (2014) Diagnosis and management of neuropsychiatric SLE. Nat Rev Rheumatol 10:338–347. https://doi.org/10.1038/nrrheum.2014.15

8.

Matsuki Y, Kawakami M, Ishizuka T, Kawaguchi Y, Hidaka T, Suzuki K, Nakamura H (1997) SLE and Sjogren's syndrome associated with unilateral moyamoya vessels in cerebral arteries. Scand J Rheumatol 26:392–394. https://doi.org/10.3109/03009749709065707

9.

Prelipcean V, Koch AE (1998) Systemic lupus erythematosus associated with moyamoya disease case report and review of the literature. J Clin Rheumatol 4:328–332. https://doi.org/10.1097/00124743-199812000-00008

10.

El Ramahi KM, Al Rayes HM (2000) Systemic lupus erythematosus associated with moyamoya syndrome. Lupus 9:632–636. https://doi.org/10.1191/096120300678828686

11.

Lee CM, Lee SY, Ryu SH, Lee SW, Park KW, Chung WT (2003) Systemic lupus erythematosus associated with familial moyamoya disease. Korean J Intern Med 18:244–247. https://doi.org/10.3904/kjim.2003.18.4.244

12.

Jeong HC, Kim YJ, Yoon W, Joo SP, Lee SS, Park YW (2008) Moyamoya syndrome associated with systemic lupus erythematosus. Lupus 17:679–682. https://doi.org/10.1177/0961203307087375

13.

Park DJ, Kim TJ, Lee HJ, Lee KE, Lee SJ, Seo SR, Yoon W, Moon KS, Lee KW, Lee SS, Park YW (2010) De novo appearance of primitive neuroectodermal tumor in a patient with systemic lupus erythematosus and moyamoya disease. Lupus 19:989–992. https://doi.org/10.1177/0961203310364399

14.

Mok CC, Poon WL (2011) Moyamoya phenomenon in systemic lupus erythematosus. Rheumatology (Oxford) 50:1931. https://doi.org/10.1093/rheumatology/ker248

15.

Tomiyama A, Kimura H, Nakayama H, Izukura H, Harashina J, Ito K, Sato KI, Hayashi M, Saito N, Sakurai T, Hirata Y, Aoki K, Iwabuchi S (2012) Treatment of moyamoya syndrome associated with systemic lupus erythematosus and hypothyroidism in an adult by encephaloduroarteriosynangiosis: a case report. Case Rep Med 2012:120867–120865. https://doi.org/10.1155/2012/120867

16.

Wang R, Xu Y, Lv R, Chen J (2013) Systemic lupus erythematosus associated with moyamoya syndrome: a case report and literature review. Lupus 22:629–633. https://doi.org/10.1177/0961203313485828

17.

Troedson C, Wong M, Dalby-Payne J, Wilson M, Dexter M, Rice GI, Crow YJ, Dale RC (2013) Systemic lupus erythematosus due to C1q deficiency with progressive encephalopathy, intracranial calcification and acquired moyamoya cerebral vasculopathy. Lupus 22:639–643. https://doi.org/10.1177/0961203313486950

18.

Lee YJ, Yeon GM, Nam SO, Kim SY (2013) Moyamoya syndrome occurred in a girl with an inactive systemic lupus erythematosus. Korean J Pediatr 56:545–549. https://doi.org/10.3345/kjp.2013.56.12.545

19.

Zhou G, An Z, Gokhale S (2014) Moyamoya syndrome as an unusual presenting manifestation of systemic lupus erythematosus in a young woman. Med Princ Pract 23:279–281. https://doi.org/10.1159/000354109

20.

Lee JS, Lim BC, Kim KJ, Kim SK, Kim OH, Kim JG, Park SG, Cho TJ, Chae JH (2019) A case of familial spondyloenchondrodysplasia with immune dysregulation masquerading as moyamoya syndrome. J Clin Neurol 15:407–409. https://doi.org/10.3988/jcn.2019.15.3.407

21.

Yonekawa Y, Ogata N, Kaku Y, Taub E, Imhof HG (1997) Moyamoya disease in Europe, past and present status. Clin Neurol Neurosurg 99(Suppl 2):S58–S60. https://doi.org/10.1016/s0303-8467(97)00042-5

22.

Zhang H, Zheng L, Feng L (2019) Epidemiology, diagnosis and treatment of moyamoya disease. Exp Ther Med 17:1977–1984. https://doi.org/10.3892/etm.2019.7198

23.

Rees F, Doherty M, Grainge MJ, Lanyon P, Zhang W (2017) The worldwide incidence and prevalence of systemic lupus erythematosus: a systematic review of epidemiological studies. Rheumatology (Oxford) 56:1945–1961. https://doi.org/10.1093/rheumatology/kex260

24.

Lin R, Xie Z, Zhang J, Xu H, Su H, Tan X, Tian D, Su M (2012) Clinical and immunopathological features of moyamoya disease. PLoS One 7:e36386. https://doi.org/10.1371/journal.pone.0036386

25.

Yamashita M, Tanaka K, Matsuo T, Yokoyama K, Fujii T, Sakamoto H (1983) Cerebral dissecting aneurysms in patients with moyamoya disease. Report of two cases. J Neurosurg 58:120–125. https://doi.org/10.3171/jns.1983.58.1.0120

26.

Shimojima Y, Matsuda M, Gono T, Ishii W, Ikeda S (2005) Relationship between clinical factors and neuropsychiatric manifestations in systemic lupus erythematosus. Clin Rheumatol 24:469–475. https://doi.org/10.1007/s10067-004-1060-y

27.

Petri M, Howard D, Repke J (1991) Frequency of lupus flare in pregnancy. The Hopkins Lupus Pregnancy Center experience. Arthritis Rheum 34:1538–1545. https://doi.org/10.1002/art.1780341210

28.

Baba T, Houkin K, Kuroda S (2008) Novel epidemiological features of moyamoya disease. J Neurol Neurosurg Psychiatry 79:900–904. https://doi.org/10.1136/jnnp.2007.130666

29.

Govoni M, Bortoluzzi A, Padovan M, Silvagni E, Borrelli M, Donelli F, Ceruti S, Trotta F (2016) The diagnosis and clinical management of the neuropsychiatric manifestations of lupus. J Autoimmun 74:41–72. https://doi.org/10.1016/j.jaut.2016.06.013

30.

Maragkos GA, Ascanio LC, Chida K, Boone MD, Ogilvy CS, Thomas AJ, Kasper EM (2018) Moyamoya disease in pregnancy: a systematic review. Acta Neurochir 160:1711–1719. https://doi.org/10.1007/s00701-018-3597-6

31.

Ouzounian JG, Elkayam U (2012) Physiologic changes during normal pregnancy and delivery. Cardiol Clin 30:317–329. https://doi.org/10.1016/j.ccl.2012.05.004

32.

Velasquez Forero F, Garcia Prugue N, Ruiz Morales N (1988) Idiopathic nephrotic syndrome of the adult with asymptomatic thrombosis of the renal vein. Am J Nephrol 8:457–462. https://doi.org/10.1159/000167654

33.

Tarry WC, Moser AJ, Makhoul RG (1993) Peripheral arterial thrombosis in the nephrotic syndrome. Surgery 114:618–623

34.

Bremme KA (2003) Haemostatic changes in pregnancy. Best Pract Res Clin Haematol 16:153–168. https://doi.org/10.1016/s1521-6926(03)00021-5

35.

Andreoli L, Bertsias GK, Agmon-Levin N, Brown S, Cervera R, Costedoat-Chalumeau N, Doria A, Fischer-Betz R, Forger F, Moraes-Fontes MF, Khamashta M, King J, Lojacono A, Marchiori F, Meroni PL, Mosca M, Motta M, Ostensen M, Pamfil C, Raio L, Schneider M, Svenungsson E, Tektonidou M, Yavuz S, Boumpas D, Tincani A (2017) EULAR recommendations for women's health and the management of family planning, assisted reproduction, pregnancy and menopause in patients with systemic lupus erythematosus and/or antiphospholipid syndrome. Ann Rheum Dis 76:476–485. https://doi.org/10.1136/annrheumdis-2016-209770

36.

Roberge S, Villa P, Nicolaides K, Giguère Y, Vainio M, Bakthi A, Ebrashy A, Bujold E (2012) Early administration of low-dose aspirin for the prevention of preterm and term preeclampsia: a systematic review and meta-analysis. Fetal Diagn Ther 31:141–146. https://doi.org/10.1159/000336662

37.

Bates SM, Greer IA, Middeldorp S, Veenstra DL, Prabulos AM, Vandvik PO (2012) VTE, thrombophilia, antithrombotic therapy, and pregnancy: antithrombotic therapy and prevention of thrombosis, 9th ed: American College of Chest Physicians Evidence-Based Clinical Practice Guidelines. Chest 141:e691S–e736S. https://doi.org/10.1378/chest.11-2300

38.

Molad Y, Borkowski T, Monselise A, Ben-Haroush A, Sulkes J, Hod M, Feldberg D, Bar J (2005) Maternal and fetal outcome of lupus pregnancy: a prospective study of 29 pregnancies. Lupus 14:145–151. https://doi.org/10.1191/0961203305lu2072oa
Acknowledgments
We wish to thank the members of the Department of Obstetrics and Gynecology and Department of Neurosurgery, Shinshu University School of Medicine, for their efforts in providing medical care.
Ethics declarations
Disclosures
None.
Informed consent
Informed consent was obtained from the patient in this case.
Additional information
Publisher's note
Springer Nature remains neutral with regard to jurisdictional claims in published maps and institutional affiliations.
About this article
Cite this article
Tanaka, R., Shimojima, Y., Ueno, K. et al. Moyamoya syndrome related to systemic lupus erythematosus developing during pregnancy: a case-based review. Clin Rheumatol (2020). https://doi.org/10.1007/s10067-020-05246-6
Received:

Revised:

Accepted:

Published:
Keywords
Intracranial hemorrhage

Moyamoya syndrome

Pregnancy

Systemic lupus erythematosus