Abstract
Eosinophilia is uncommon in early rheumatoid arthritis (RA). The most frequent causes of hypereosinophilia during RA treatment are atopic eczema, allergy, helminth infection, haematological malignancy and drug-associated complications. The pathogenesis of this abnormality associated with anti-cytokine therapy is still unknown. We report the case of a young woman with RA and eosinophilia accompanied by systemic symptoms such as dyspnoea, fluid retention and eosinophilic vasculitis. An interesting observation was the persistence of eosinophilia during treatment with various biologics and its normalization after switching to the Janus kinase inhibitor baricitinib.
This is a preview of subscription content, log in to check access.
Access options
Buy single article
Instant access to the full article PDF.
US$ 39.95
Price includes VAT for USA
Subscribe to journal
Immediate online access to all issues from 2019. Subscription will auto renew annually.
US$ 99
This is the net price. Taxes to be calculated in checkout.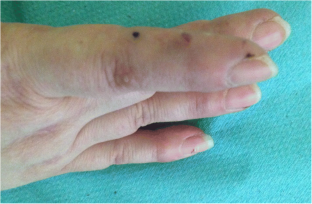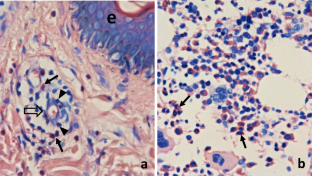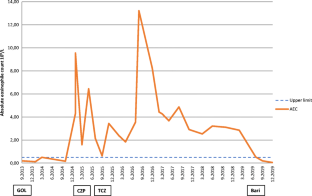 References
1.

Kovalszki A, Weller PF (2016) Eosinophilia. Prim Care 43(4):607–617

2.

Guellec D, Milin M, Cornec D, Tobon GJ, Marhadour T, Jousse-Joulin S, et al (2015) Eosinophilia predicts poor clinical outcomes in recent-onset arthritis: results from the ESPOIR cohort. RMD Open 2015; published on 15 July. https://doi.org/10.1136/rmdopen-2015-000070

3.

Panush RS, Franco AE, Schur PH (1971) Rheumatoid arthritis associated with eosinophilia. Ann Intern Med 75(2):199–205

4.

Rothenberg ME (1998) Eosinophilia. N Engl J Med 338(22):1592–1600

5.

Savolainen HA, Leirisalo-Repo M (2001) Eosinophilia as a side-effect of methotrexate in patients with chronic arthritis. Clin Rheumatol 20(6):432–434

6.

Edelman J, Davis P, Gwen ET (1983) Prevalence of eosinophilia during gold therapy for rheumatoid arthritis. J Rheumatol 10:121

7.

Nakahigashi K, Egawa G, Miyachi Y, Kabashima K (2014) Digital vasculitis with eosinophilia possibly associated with etanercept therapy. Acta Derm Venereol 94(2):239–240

8.

Azuma N, Matsui K, Hashimoto N, Yoshikawa T, Sano H (2017) Successful switch to golimumab for eosinophilia and skin symptoms related to multiple biologics in a patient with rheumatoid arthritis. Intern Med 56(12):1585–1590

9.

Kay J, Matteson EL, Dasgupta B, Nash P, Durez P, Hall S, Hsia EC, Han J, Wagner C, Xu Z, Visvanathan S, Rahman MU (2008) Golimumab in patients with active rheumatoid arthritis despite treatment with methotrexate: a randomized, double-blind, placebo-controlled, dose-ranging study. Arthritis Rheum 58(4):964–975

10.

Leu JH, Adedokun OJ, Gargano C, Hsia EC, Xu Z, Shankar G (2019) Immunogenicity of golimumab and its clinical relevance in patients with rheumatoid arthritis, psoriatic arthritis and ankylosing spondylitis. Rheumatology (Oxford) 58(3):441–446

11.

Jani M, Isaacs JD, Morgan AW, Wilson AG, Plant D, Hyrich KL, Chinoy H, Barton A, BRAGGSS (2017) High frequency of antidrug antibodies and association of random drug levels with efficacy in certolizumab pegol-treated patients with rheumatoid arthritis: results from the BRAGGSS cohort. Ann Rheum Dis 76(1):208–213

12.

Ogata A, Tanimura K, Sugimoto T, Inoue H, Urata Y, Matsubara T, Kondo M, Ueki Y, Iwahashi M, Tohma S, Ohta S, Saeki Y, Tanaka T, the Musashi Study Investigators (2014) Phase III study of the efficacy and safety of subcutaneous versus intravenous tocilizumab monotherapy in patients with rheumatoid arthritis. Arthritis Care Res (Hoboken) 66:344–354

13.

Simon HU, Blaser K (1995) Inhibition of programmed eosinophil death: a key pathogenic event for eosinophilia? Immunol Today 16:53–55

14.

Bystrom J, Clanchy FI, Taher TE (2017) Response to treatment with TNFα inhibitors in rheumatoid arthritis is associated with high levels of GM-CSF and GM-CSF+ T lymphocytes. Clin Rev Allergy Immunol 53(2):265–276

15.

Simon HU, Yousefi S, Dibbert B, Levi-Schaffer F, Blaser K (1997) Anti-apoptotic signals of granulocyte-macrophage colony-stimulating factor are transduced via JAK2 tyrosine kinase in eosinophils. Eur J Immunol 27(12):3536–3539

16.

Yousefi S, Hoessli DC, Blaser K, Mills GB, Simon HU (1996) Requirement of Lyn and Syk tyrosine kinases for the prevention of apoptosis by cytokines in human eosinophils. J Exp Med 183(4):1407–1414
Additional information
Publisher's note
Springer Nature remains neutral with regard to jurisdictional claims in published maps and institutional affiliations.
About this article
Cite this article
Šteňová, E., Tarabčáková, L., Babál, P. et al. Hypereosinophilic syndrome—a rare adverse event of anti-cytokine treatment in rheumatoid arthritis resolved after Janus kinase inhibitor therapy. Clin Rheumatol (2020). https://doi.org/10.1007/s10067-020-05134-z
Received:

Revised:

Accepted:

Published:
Keywords
Anti-cytokine therapy

Baricitinib

Eosinophilia

Rheumatoid arthritis

Vasculitis