Abstract
Objectives
Recently, several clinical prognostic factors for hip osteoarthritis (OA) progression such as spinal malalignment, reduced spinal mobility, and excessive daily cumulative hip loading have been identified. This study aimed to identify clinical phenotypes based on clinical prognostic factors in patients with secondary hip OA using data from prospective cohort studies and to define the clinical features of each phenotype.
Methods
Fifty patients participated. Two-step cluster analysis was performed to identify the phenotypes using the following potential prognostic factors for hip OA progression: spinal inclination in standing, thoracolumbar spine mobility, daily cumulative hip moment, and minimum joint space width (JSW) at baseline. Comprehensive basic and clinical features (age, body mass index, hip pain, Harris hip score, JSW, radiographic hip morphology, hip impairments, spinal alignment and mobility, and gait-related variables) and ratio of progressors in 12 months were compared among the phenotypes using bootstrap method (unadjusted and adjusted for age).
Results
Three phenotypes were identified and each phenotype was characterized as follows (P < 0.05): phenotype 1 (30%)—relatively young age and higher daily cumulative hip loading; phenotype 2 (42.0%)—relatively older age, reduced JSW, and less spinal mobility; and phenotype 3 (28.0%)—changed thoracic spine alignment and less spinal (especially in the thoracic spine) mobility. The ratio of progressors among the phenotypes was not statistically significantly different. These characteristics remained after adjustment for age.
Conclusion
Three phenotypes with similar progression risk were identified. This finding will help in designing treatment tailored to each phenotype for hip OA progression prevention.
Key Points
• Three phenotypes with similar progression risk were identified based on clinical prognostic factors.
• Phenotype 1 was characterized by young age and higher daily cumulative hip loading.
• Phenotype 2 was relatively old age and had reduced JSW and less spinal mobility.
• Phenotype 3 had changed thoracic spine alignment and less thoracic spine mobility.
This is a preview of subscription content, log in to check access.
Access options
Buy single article
Instant access to the full article PDF.
US$ 39.95
Price includes VAT for USA
Subscribe to journal
Immediate online access to all issues from 2019. Subscription will auto renew annually.
US$ 99
This is the net price. Taxes to be calculated in checkout.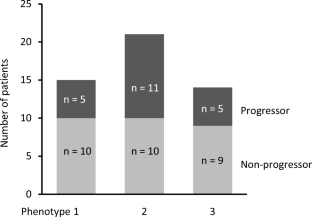 References
1.

Driban JB, Sitler MR, Barbe MF, Balasubramanian E (2010) Is osteoarthritis a heterogeneous disease that can be stratified into subsets? Clin Rheumatol 29:123–131

2.

Bijlsma JW, Berenbaum F, Lafeber FP (2011) Osteoarthritis: an update with relevance for clinical practice. Lancet. 377(9783):2115–2126

3.

Deveza LA, Melo L, Yamato TP, Mills K, Ravi V, Hunter DJ (2017) Knee osteoarthritis phenotypes and their relevance for outcomes: a systematic review. Osteoarthr Cartil 25:1926–1941

4.

Sandell LJ (2012) Etiology of osteoarthritis: genetics and synovial joint development. Nat Rev Rheumatol 8:77–89

5.

Rushton MD, Reynard LN, Barter MJ, Refaie R, Rankin KS, Young DA et al (2014) Characterization of the cartilage DNA methylome in knee and hip osteoarthritis. Arthritis Rheum 66:2450–2460

6.

Merle C, Waldstein W, Gregory JS, Goodyear SR, Aspden RM, Aldinger PR et al (2014) How many different types of femora are there in primary hip osteoarthritis? An active shape modeling study. J Orthop Res 32:413–422

7.

Ledingham J, Dawson S, Preston B, Milligan G, Doherty M (1992) Radiographic patterns and associations of osteoarthritis of the hip. Ann Rheum Dis 51:1111–1116

8.

Ledingham J, Dawson S, Preston B, Milligan G, Doherty M (1993) Radiographic progression of hospital referred of osteoarthritis of the hip. Ann Rheum Dis 52:263–267

9.

Lievense AM, Bierma-Zeinstra SMA, Verhagen AP, Verhaar JA, Koes BW (2002) Prognostic factors of progress of hip osteoarthritis: a systematic review. Arthritis Rheum 47:556–562

10.

Tateuchi H, Koyama Y, Akiyama H, Goto K, So K, Kuroda Y et al (2017) Daily cumulative hip moment is associated with radiographic progression of secondary hip osteoarthritis. Osteoarthr Cartil 25:1291–1298

11.

Tateuchi H, Akiyama H, Goto K, So K, Kuroda Y et al (2018) Sagittal alignment and mobility of the thoracolumbar spine are associated with radiographic progression of secondary hip osteoarthritis. Osteoarthr Cartil 26:397–404

12.

Felson DT (2010) Identifying different osteoarthritis phenotypes through epidemiology. Osteoarthr Cartil 18:601–604

13.

Sarstedt M, Mooi E. Cluster analysis. In: A concise guide to market research. The process, data, and methods using IBM SPSS statistics. 2nd edition. Heidelberg, et al.: Springer; 2014. P.273–324

14.

Takatori Y, Ito K, Sofue M, Hirota Y, Itoman M, Mtsumoto T et al (2010) Analysis of interobserver reliability for radiographic staging of coxarthrosis and indexes of acetabular dysplasia: a preliminary study. J Orthop Sci 15:14e9

15.

Nakamura J, Oinuma K, Ohtori S, Watanabe A, Shigemura T, Sasho T et al (2013) Distribution of hip pain in osteoarthritis patients secondary to developmental dysplasia of the hip. Mod Rheumatol 23:119–124

16.

Okano K, Takaki M, Okazaki N, Shindo H (2008) Bilateral incidence and severity of acetabular dysplasia of the hip. J Orthop Sci 13:401–404

17.

Hoaglund FT (2013) Primary osteoarthritis of the hip: a genetic disease caused by European genetic variants. J Bone Joint Surg Am 95:463–468

18.

Jacobsen S, Sonne-Holm S (2005) Hip dysplasia: a significant risk factor for the development of hip osteoarthritis. A cross-sectional survey. Rheumatology. 44:211–218

19.

Altman RD, Bloch DA, Dougados M, Hochberg M, Lohmander S, Pavelka K et al (2004) Measurement of structural progression in osteoarthritis of the hip: the Barcelona consensus group. Osteoarthr Cartil 12:512–524

20.

Ornetti P, Brand K, Hellio-Le Graverand MP, Hochberg M, Hunter DJ, Kloppenburg M et al (2009) OARSI-OMERACT definition of relevant radiological progression in hip/knee osteoarthritis. Osteoarthr Cartil 17:856–863

21.

Pua YH, Wrigley TW, Cowan SM, Bennell KL (2008) Intrarater test-retest reliability of hip range of motion and hip muscle strength measurements in person with hip osteoarthritis. Arch Phys Med Rehabil 89:1146–1154

22.

Tateuchi H, Koyama Y, Akiyama H, Goto K, So K, Kuroda Y et al (2016) Radiographic and clinical factors associated with one-leg standing and gait in patients with mild-to-moderate secondary hip osteoarthritis. Gait Posture 49:207–212

23.

Bieler T, Magnusson SP, Kjaer M, Beyer N (2014) Intra-rater reliability and agreement of muscle strength, power and functional performance measures in patients with hip osteoarthritis. J Rehabil Med 46:997–1005

24.

Mannion AF, Knecht K, Balaban G, Dvorak J, Grob D (2004) A new skin-surface device for measuring the curvature and global and segmental ranges of motion of the spine: reliability of measurements and comparison with data reviewed from the literature. Eur Spine J 13:122–136

25.

Kellis E, Adamou G, Tzilios G, Emmanouilidou M (2008) Reliability of spinal range of motion in healthy boys using a skin-surface device. J Manip Physiol Ther 31:570–576

26.

Barrett E, McCreesh K, Lewis J (2014) Reliability and validity of non-radiographic methods of thoracic kyphosis measurement: a systematic review. Man Ther 19:10–17

27.

Bacher J, Wenzig K, Vogler M. SPSS TwoStep cluster. A first evaluation. Erlangen-Nuremberg: Department of Sociology, Social Science Institute, Friedrich-Alexander-University; 2004. P.1–30. http://www.ssoar.info/ssoar/handle/document/32715.

28.

Gelbard R, Goldman O, Spiegler I (2007) Investigating diversity of clustering methods: an empirical comparison. DKE. 63:155–166

29.

Chu Miow Lin D, Reichmann WM, Gossec L, Losina E, Conaghan PG, Maillefert JF (2011) Validity and responsiveness of radiographic joint space width metric measurement in hip osteoarthritis: a systematic review. Osteoarthr Cartil 19:543–549

30.

Bland JM, Altman DG (2009) Analysis of continuous data from small samples. BMJ. 338:a3166

31.

Efron B (1979) Bootstrap methods: another look at the jackknife. Ann Stat 7:1–26

32.

Mueller MJ, Maluf KS (2002) Tissue adaptation to physical stress: a proposed "physical stress theory" to guide physical therapist practice, education, and research. Phys Ther 82:383–403

33.

Maly MR (2008) Abnormal and cumulative loading in knee osteoarthritis. Curr Opin Rheumatol 20:547–552

34.

Clements KM, Bee ZC, Crossingham GV, Adams MA, Sharif M (2001) How severe must repetitive loading be to kill chondrocytes in articular cartilage? Osteoarthr Cartil 9:499–507

35.

Dougados M, Gueguen A, Nguyen M, Berdah L, Lequesne M, Mazieres B et al (1996) Radiological progression of hip osteoarthritis: definition, risk factors and correlations with clinical status. Ann Rheum Dis 55:356–362

36.

Reijman M, Hazes JM, Pols HA, Bernsen RM, Koes BW, Bierma-Zeinstra SM (2004) Validity and reliability of three definitions of hip osteoarthritis: cross sectional and longitudinal approach. Ann Rheum Dis 63:1427–1433

37.

Pan F, Firouzabadi A, Reitmaier S, Zander T, Schmidt H (2018) The shape and mobility of the thoracic spine in asymptomatic adults. A systematic review of in vivo studies. J Biomech 78:21–35

38.

Shum GLK, Crosbie J, Lee RYW (2005) Effect of low back pain on the kinematics and joint coordination of the lumbar spine and hip during sit-to-stand and stand-to-sit. Spine. 30:1998–2004

39.

Okuda T, Fujita T, Kaneuji A, Miaki K, Yasuda Y, Matsumoto T (2007) Stage-specific sagittal spinopelvic alignment changes in osteoarthritis of the hip secondary to developmental hip dysplasia. Spine. 32:E816–E819

40.

Day LM, DelSole EM, Beaubrun BM et al (2018) Radiological severity of hip osteoarthritis in patients with adult spinal deformity: the effect on spinopelvic and lower extremity compensatory mechanisms. Eur Spine J 27:2294–2302

41.

Zhang W, Moskowitz RW, Nuki G, Abramson S, Altman RD, Arden N et al (2008) OARSI recommendations for the management of hip and knee osteoarthritis, part II: OARSI evidence-based, expert consensus guidelines. Osteoarthr Cartil 16:137–162

42.

Fernandes L, Hagen KB, Bijlsma JW, Andreassen O, Christensen P, Conaghan PG et al (2013) EULAR recommendations for the non-pharmacological core management of hip and knee osteoarthritis. Ann Rheum Dis 72:1125–1135

43.

Bansal S, Katzman WB, Giangregorio LM (2014) Exercise for improving age-related hyperkyphotic posture: a systematic review. Arch Phys Med Rehabil 95(1):129–140

44.

Coskun A, Ceyhan E, Inal TC, Serteser M, Unsal I (2013) The comparison of parametric and nonparametric bootstrap methods for reference interval computation in small sample size groups. Accred Qual Assur 18:51–60

45.

Conrozier T, Jousseaume CA, Mathieu P, Tron AM, Caton J, Bejui J et al (1998) Quantitative measurement of joint space narrowing progression in hip osteoarthritis: a longitudinal retrospective study of patients treated by total hip arthroplasty. Br J Rheumatol 37:961–968
Acknowledgments
We wish to thank all volunteers who participated in this study for their participation. The authors would also like to thank Junji Katsuhira, Rui Tsukagoshi, Yoshihiro Fukumoto, Yumiko Koyama, and Momoko Yamagata for their assistance in the acquisition of data and the kinematic and kinetic analysis.
Additional information
Publisher's note
Springer Nature remains neutral with regard to jurisdictional claims in published maps and institutional affiliations.
About this article
Cite this article
Tateuchi, H., Akiyama, H., Goto, K. et al. Clinical phenotypes based on clinical prognostic factors in patients with secondary hip osteoarthritis: preliminary findings from a prospective cohort study. Clin Rheumatol 39, 2207–2217 (2020). https://doi.org/10.1007/s10067-020-04988-7
Received:

Revised:

Accepted:

Published:

Issue Date:
Keywords
Gait

Hip osteoarthritis

Phenotype

Progression

Spine