Abstract
A 49-year-old African American male with multiorgan sarcoidosis presented with recurrent episodes of dactylitis and arthritis. Imaging had shown sarcoid osseous involvement of both hands. This would improve temporarily with high-dose corticosteroids but once tapered, he would experience recurrent flares. Despite several different oral immunosuppressant regimens, significant improvement was only observed after the initiation of adalimumab. Not only was adalimumab successful in symptomatic relief, in addition, patient continues to be in remission with no recurrent episodes of dactylitis. Prednisone was successfully tapered from 40 to 3 mg daily. This improvement with TNF inhibitors has been reported with other manifestations of sarcoidosis including pulmonary and ocular involvements. Osseous sarcoidosis is a very rare presentation, and little information regarding treatment with TNF inhibitors is available. TNF inhibitors should be considered as the next-step therapy in resistant cases of osseous sarcoidosis and dactylitis not responding to corticosteroids and traditional immunosuppressant therapy.
This is a preview of subscription content, log in to check access.
Access options
Buy single article
Instant access to the full article PDF.
US$ 39.95
Price includes VAT for USA
Subscribe to journal
Immediate online access to all issues from 2019. Subscription will auto renew annually.
US$ 99
This is the net price. Taxes to be calculated in checkout.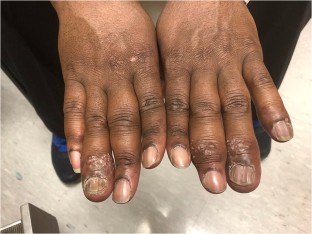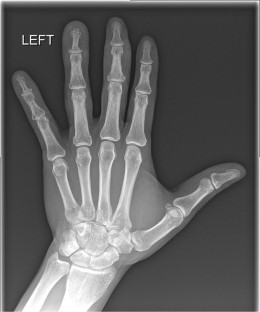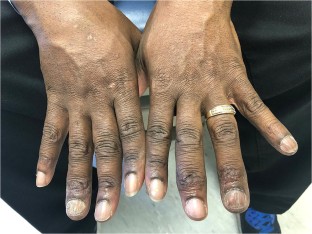 References
1.

Ungprasert P, Ryu JH, Matteson EL (2019) Clinical manifestations, diagnosis, and treatment of sarcoidosis. Mayo Clin Proc Innov Qual Outcomes

2.

Zhou Y, Lower EE, Li H, Farhey Y, Baughman RP (2017) Clinical characteristics of patients with bone sarcoidosis. In: Seminars in arthritis and rheumatism, vol. 47, no. 1, WB Saunders, pp 143–148

3.

Sparks JA, McSparron JI, Shah N, Aliabadi P, Paulson V, Fanta CH, Coblyn JS (2014) Osseous sarcoidosis: clinical characteristics, treatment, and outcomes—experience from a large, academic hospital. In: Seminars in arthritis and rheumatism, vol. 44, no. 3, WB Saunders, pp 371–379

4.

Wilcox A, Bharadwaj P, Sharma OP (2000) Bone sarcoidosis. Curr Opin Rheumatol 12(4):321–330

5.

Shariatmaghani S, Salari R, Sahebari M, Tabrizi PS, Salari M (2019) Musculoskeletal manifestations of sarcoidosis: a review article. Curr Rheumatol Rev 15(2):83–89

6.

Bargagli E, Olivieri C, Penza F, Bertelli P, Gonnelli S, Volterrani L, Rottoli P (2011) Rare localizations of bone sarcoidosis: two case reports and review of the literature. Rheumatol Int 31(11):1503–1506

7.

Hasni SA, Kunz D, Finzel K, Gruber BL (2010) Osseous sarcoidosis treated with tumor necrosis factor-inhibitors: case report and review of the literature. Spine 35(18):E904–E907

8.

Karjigi U, Paul A (2013) Refractory multisystem sarcoidosis involving pelvic bone responding to infliximab. In: BMC musculoskeletal disorders, vol. 14, no. 1, BioMed Central, p A9

9.

Nessrine A, Zahra AF, Taoufik H (2014) Musculoskeletal involvement in sarcoidosis. J Bras Pneumol 40(2):175–182

10.

Allanore Y, Perrot S, Menkès C-J, Kahan A (2001) Management of a patient with sarcoid calcaneitis and dactylitis. Joint Bone Spine 68(2):175–177

11.

Nagai Y, Igarashi N, Ishikawa O (2010) Lupus pernio with multiple bone cysts in the fingers. J Dermatol 37(9):812–814

12.

Bechman K, Christidis D, Walsh S, Birring SS, Galloway J (2017) A review of the musculoskeletal manifestations of sarcoidosis. Rheumatology 57(5):777–783

13.

Barnard J, Newman LS (2001) Sarcoidosis: immunology, rheumatic involvement, and therapeutics. Curr Opin Rheumatol 13(1):84–91

14.

Sweiss NJ, Welsch MJ, Curran JJ, Ellman MH (2005) Tumor necrosis factor inhibition as a novel treatment for refractory sarcoidosis. Arthritis Care Res 53(5):788–791

15.

Huang A, Harty LC, Ryan CM, Veale DJ (2011) Clinical images: Infliximab therapy of polyarticular small joint sarcoid arthritis. Arthritis Rheum 63(7):2030

16.

Garg S, Garg K, Altaf M, Magaldi JA (2008) Refractory vertebral sarcoidosis responding to infliximab. J Clin Rheumatol 14(4):238–240

17.

Kuzyshyn H, Feinstein D, Kolasinski SL, Eid H (2015) Osseous sarcoidosis: a case series. Rheumatol Int 35(5):925–933

18.

Khanna D, Liebling MR, Louie JS (2003) Etanercept ameliorates sarcoidosis arthritis and skin disease. J Rheumatol 30(8):1864–1867

19.

Hobbs K (2005) Chronic sarcoid arthritis treated with intraarticular etanercept. Arthritis Rheum 52(3):987–988
Ethics declarations
Conflict of interest
The authors declare they have no conflict of interest. We have full control of all the primary data and allow the journal to review data if requested. The manuscript does not contain clinical studies or patient data that might disclose identity.
Additional information
Publisher's note
Springer Nature remains neutral with regard to jurisdictional claims in published maps and institutional affiliations.
About this article
Cite this article
Alawneh, D., Al-Shyoukh, A. & Edrees, A. TNF inhibitor treating osseous sarcoidosis and dactylitis: case and literature review. Clin Rheumatol 39, 2219–2222 (2020). https://doi.org/10.1007/s10067-020-04964-1
Received:

Revised:

Accepted:

Published:

Issue Date:
Keywords
Adalimumab

Chronic arthropathy

Dactylitis

Osseous

Sarcoidosis