Abstract
The present study identified groundwater depletion–induced land subsidence by spaceborne differential interferometric SAR (DInSAR) technique and assessed the damaging impacts of land subsidence by characterising the cracks on houses in Mohali-Chandigarh area of India. First, we identified groundwater depletion hot spots using pre-monsoon and post-monsoon groundwater-level (GWL) data of Central Ground Water Board (CGWB), India, for the period of 2005–2018. Both conventional and advanced DInSAR techniques were used to identify temporally consistent subsiding areas and measure precise rates of subsidence in and around groundwater depletion hot spots. We studied the damaging impacts of land surface deformation by characterising the damaging cracks on houses in affected areas. Groundwater depletion and resulting aquifer-system compaction increase effective stress on confining clay layer which leads to stress build-up at the soil-structure interface and causes damaging cracks on houses. A variety of damaging cracks on houses were observed at the affected areas such as Sohana, Landran, Kharar and Kurali localities. We attempted to characterise the damaging cracks on the basis of shape, size, orientation, surface morphology and texture of the cracks; sense of ground movement; and nature of stress build-up at the interface. We identified tensional cracks, compressional cracks and shear cracks with diverse orientations and separation widths. Finally, a comparative assessment of groundwater depletion, land subsidence and damaging impacts on houses has been made. Using DInSAR technique, we identified land subsidence in and around the groundwater depletion areas in Sohana and Landran (both in Mohali City area), Kharar and Kurali (in Mohali district outside Mohali City area) and Sectors 27–28 in Chandigarh with radar line-of-sight subsidence rates of ~6–7.5 cm/year, ~5.5–6.5 cm/year, and ~ 4 cm/year respectively. We observed that the houses in and around Landran appears to be worst affected followed by Kharar, Sohana and Kurali. From this study, it appears that the type of construction of the houses, e.g. prevalence of masonry and reinforced masonry structures, is primarily responsible for the worst damaging impacts of the houses in Landran and Kurali areas besides the magnitude of land subsidence.
Access options
Buy single article
Instant access to the full article PDF.
US$ 39.95
Tax calculation will be finalised during checkout.
Subscribe to journal
Immediate online access to all issues from 2019. Subscription will auto renew annually.
US$ 79
Tax calculation will be finalised during checkout.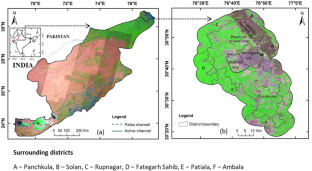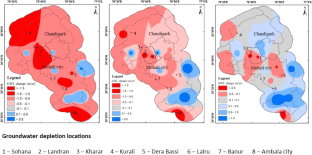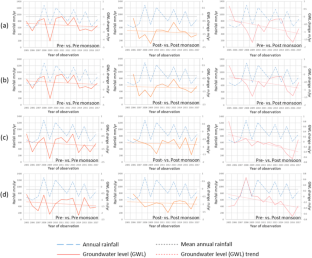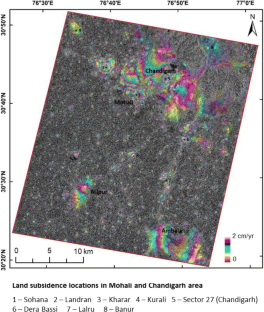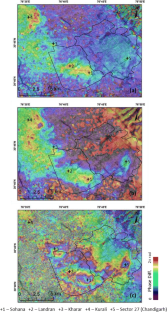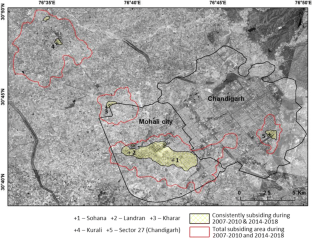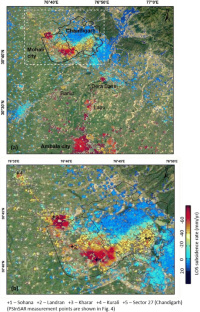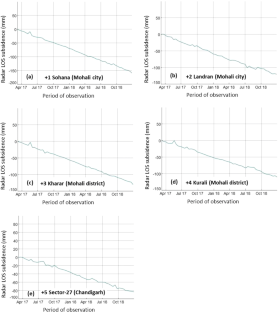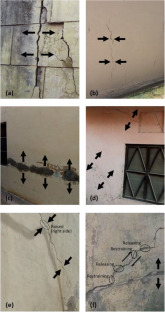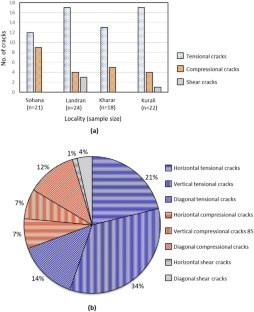 References
Aeschbach-Hertig W, Gleeson T (2012) Regional strategies for the accelerating global problem of groundwater depletion. Nat Geosci 5(12):853–861. https://doi.org/10.1038/NGEO1617

Alexander D (1986) Landslide damage to buildings. Environ Geol Water Sci 8(3):147–151. https://doi.org/10.1007/bf02509902

American Concrete Institute (1994) Guide for concrete floor and slab construction: manual of concrete practice (II). Construction pra Aeschbach-Hertig ctices and inspection pavements, section ACI 302.IR-89: American Concrete Institute 302: 1-45

Audell HS (1996) Geotechnical nomenclature and classification systems for crack patterns in buildings. Environ Eng Geosc II 2:225–248. https://doi.org/10.2113/gseegeosci.ii.2.225

Bell FG, Stacey TR, Genske DD (2000) Mining subsidence and its effect on the environment: some differing examples. Environ Geol 40(1-2):135–152. https://doi.org/10.1007/s002540000140

Bhattacharya S, Singh MM (1985) Development of subsidence damage criteria: final report. Engineers International Inc. Westmont for U.S. Department of the Interior, office of Surface Mining Reclamation and Enforcement, 229p

Calderhead AI, Martel A, Alasset P-J, Rivera A, Garfias J (2010) Land subsidence induced by groundwater pumping, monitored by D-InSAR and field data in the Toluca Valley, Mexico. Can J Remote Sens 36(1):9–23. https://doi.org/10.5589/m10-024

Census of India (2011) District census handbook Chandigarh and Sahibzada Ajit Singh Nagar, village and town directory. Directorate of Census Operations Chandigarh and Punjab, series-05, part XII- A

Chatterjee RS, Syafiudin MF, Abidin HZ (2013) Land subsidence characteristics in Bandung city, Indonesia as revealed by spaceborne geodetic techniques and hydrogeological observations. Photogramm Eng Remote Sens 79(7):639–652. https://doi.org/10.14358/PERS.79.7.639

Chiocchio C, Iovine G, Parise M (1997) A proposal for surveying and classifying landslide damage to buildings. In: Marinos PG, Koukis GC, Tsiambaos GC, Stournaras GC (eds) Engineering Geology and the Environement. Balkema, Rotterdam

Cooper AH (2005) Building damage classification and recording scheme for subsidence and landslip mapping. British Geological Survey Internal Report IR/05/029

Cooper AH (2008) The classification, recording, data basing and use of information about building damage caused by subsidence and landslides. Q J Eng Geol Hydrogeol 41(3):409–424. https://doi.org/10.1144/1470-9236/07-223

Corti T, Muccione V, Köllner-Heck P, Bresch D, Seneviratne SI (2009) Simulating past droughts and associated building damages in France. Hydrol Earth Syst Sci 13(9):1739–1747. https://doi.org/10.5194/hess-13-1739-2009

Ding XL, Liu GX, Li ZW, Li ZL, Chen YQ (2004) Ground subsidence monitoring in Hong Kong with satellite SAR interferometry. Photogramm Eng Remote Sens 70(10):1151–1156. https://doi.org/10.14358/pers.70.10.1151

Feng Q, Liu G, Meng L, Fu E, Zhang H, Zhang K (2008) Land subsidence induced by groundwater extraction and building damage level assessment - a case study of Datun, China. J China Univ Min Technol 18(4):556–560. https://doi.org/10.1016/s1006-1266(08)60293-x

Ferretti A, Prati C, Rocca F (2000) Nonlinear subsidence rate estimation using permanent scatterers in differential SAR interferometry. IEEE Trans Geosci Remote Sens 38(5):2202–2212. https://doi.org/10.1109/36.868878

Ferretti A, Prati C, Rocca F (2001) Permanent scatterers in SAR interferometry. IEEE Trans Geosci Remote Sens 39(1):8–20. https://doi.org/10.1109/36.898661

Figueroa-Miranda S, Tuxpan-Vargas J, Ramos-Leal JA, Hernandez-Madrigal VM, Villasenor-Reyes CI (2018) Land subsidence by groundwater over-exploitation from aquifers in tectonic valleys of Central Mexico: a review. Eng Geol 246:91–106. https://doi.org/10.1016/j.enggeo.2018.09.023

Hanssen RF (2001) Radar interferometry: data interpretation and error analysis. Remote Sens Digit Image Process 2: 275p. https://doi.org/10.1007/0-306-47633-9

Hooper A, Zebker H, Segall P, Kampes B (2004) A new method for measuring deformation on volcanoes and other natural terrains using InSAR persistent scatterers. Geophys Res Lett 31(23). https://doi.org/10.1029/2004gl021737

Howard H et al (1993) Subsidence in Norwich. Report of the study on the causes and mechanisms of land subsidence. Department of the Environment (Research Contract PECD7/1/362), London, HMSO, 99p

Kampes BM (2006) Radar interferometry: persistent scatterer technique. Remote Sens Digit Image Process 12: 207p. https://doi.org/10.1007/978-1-4020-4723-7.

Konikow LF, Kendy E (2005) Groundwater depletion: a global problem. Hydrogeol J 13:317–320. https://doi.org/10.1007/s10040-004-0411-8

Krishan G, Lohani AK, Rao MS, Kumar S, Takshi KS (2015) Spatiotemporal variability analysis of groundwater level for water resources development and management in northern Punjab, India. J Environ Anal Toxicol 5(4):279. https://doi.org/10.4172/2161-0525.1000279

Loupasakis C, Rozos D (2009) Finite-element simulation of land subsidence induced by water pumping in Kalochori village, Greece. Q J Eng Geol Hydrogeol 42(3):369–382. https://doi.org/10.1144/1470-9236/08-022

Massonnet D, Feigl KL (1998) Radar interferometry and its application to changes in the earth's surface. Rev Geophys 36(4):441–500. https://doi.org/10.1029/97rg03139

Modoni G, Darini G, Spacagna RL, Saroli M, Russo G, Croce P (2013) Spatial analysis of land subsidence induced by groundwater withdrawal. Eng Geol 167:59–71. https://doi.org/10.1016/j.enggeo.2013.10.014

Motagh M, Shamshiri R, Haghshenas-Haghighi M, Wetzel H-U, Akbari B, Nahavandchi H, Roessner S (2017) Quantifying groundwater exploitation induced subsidence in the Rafsanjan Plain, southeastern Iran, using InSAR time-series and in situ measurement. Eng Geol 218:134–151. https://doi.org/10.1016/j.enggeo.2017.01.011

NCB (1975) Subsidence engineers' handbook. National Coal Board Mining Department, UK, 111p.

Pacheco-Martinez J, Arzate J, Rojas E, Arroyo M, Yutsis V, Ochoa G (2006) Delimitation of ground failure zones due to land subsidence using gravity data and finite element modeling in the Querétaro valley, México. Eng Geol 84(3-4):143–160. https://doi.org/10.1016/j.enggeo.2005.12.003

Pacheco-Martinez J, Hernandez-Marin M, Burbey TJ, Gonzalez-Cervantes N, Ortiz-Lozano JA, Zermeno-De-Leon ME, Solis-Pinto A (2013) Land subsidence and ground failure associated to groundwater exploitation in the Aguascalientes Valley, Mexico. Eng Geol 164:172–186. https://doi.org/10.1016/j.enggeo.2013.06.015

Perissin D, Wang T (2012) Repeat-pass SAR interferometry with partially coherent targets. IEEE Trans Geosci Remote Sens 50(1):271–280. https://doi.org/10.1109/tgrs.2011.2160644

Phien-wej N, Giao PH, Nutalaya P (2006) Land subsidence in Bangkok, Thailand. Eng Geol 82(4):187–201. https://doi.org/10.1016/j.enggeo.2005.10.004

Preene M (2000) Assessment of settlements caused by groundwater control. Proc Inst Civ Eng Geotech Eng 143(4):177–190. https://doi.org/10.1680/geng.2000.143.4.177

Rocca F, Prati C, Monti Guarnieri A, Ferretti A (2000) SAR interferometry and its applications. Surv Geophys 21(2/3):159–176. https://doi.org/10.1023/a:1006710731155

Sakai A (2001) Land subsidence due to seasonal pumping of groundwater in Saga Plain, Japan. Lowland Technol Int 3(1):25–40

Singh K (2011) Groundwater depletion in Punjab: measurement and countering strategies. Indian J Agric Econ 66(4):573–589

Sun H, Grandstaff D, Shagam R (1999) Land subsidence due to groundwater withdrawal: potential damage of subsidence and sea level rise in southern New Jersey, USA. Environ Geol 37(4):290–296. https://doi.org/10.1007/s002540050386

The Institution of Structural Engineers (1994) Subsidence of low rise buildings. Inst Struct Eng, 106.

Van Rooy JL (1989) A proposed classification system for dolomitic areas south of Pretoria. Contributions to engineering geology 1: 57-65.

Werner C, Wegmuller U, Strozzi T, Wiesmann A (2003) Interferometric point target analysis for deformation mapping. IEEE Int Geosci Remote Sens Symp Proc (IEEE Cat. No.03CH37477). https://doi.org/10.1109/igarss.2003.1295516.

Zhu L, Gong H, Li X, Wang R, Chen B, Dai Z, Teatini P (2015) Land subsidence due to groundwater withdrawal in the northern Beijing plain, China. Eng Geol 193:243–255. https://doi.org/10.1016/j.enggeo.2015.04.020
Acknowledgements
GWL data were provided by CGWB, India. ALOS-1 and ALOS-2 data were available from Japan Aerospace Exploration Agency (JAXA), Japan. RADARSAT-2 data was procured from MDA Systems Ltd., Canada. Sentinel-1 data are freely downloadable from European Space Agency under Copernicus programme. Gamma, SARscape and SARProz DInSAR and PSInSAR tools were used in the study.
Funding
The study was funded by Indian Space Research Organization (ISRO) under the Earth Observation Application Mission (EOAM) project scheme.
About this article
Cite this article
Kadiyan, N., Chatterjee, R.S., Pranjal, P. et al. Assessment of groundwater depletion–induced land subsidence and characterisation of damaging cracks on houses: a case study in Mohali-Chandigarh area, India. Bull Eng Geol Environ (2021). https://doi.org/10.1007/s10064-021-02111-x
Received:

Accepted:

Published:
Keywords
Groundwater depletion

Land subsidence

DInSAR

PSInSAR

Damaging cracks on houses