Abstract
Airport runways built on reclaimed coral calcareous sand foundation on coral reef islands is a type of important infrastructure for marine science observation, marine disaster relief, and marine supplies. Creep behavior of coral calcareous sand foundation under long-term loading applied by overlying structures could cause continuous foundation settlement; and excessive settlement may affect the normal service ability of airport runways built on coral reef islands. In this study, it is aimed to predict the long-term settlement of an airport runway built on a reclaimed coral reef island in the South China Sea (SCS) adopting a finite element method. Firstly, two improved Burgers creep models are proposed based on some laboratory triaxial test results; and then, they are embedded into the finite element software ABAQUS using the User Material Subroutine (UMAT) interface. Secondly, the two proposed improved Burgers creep models are validated by a series of triaxial creep tests for the coral calcareous sands sampled from a reclaimed coral reef island in SCS. Meanwhile, the parameters describing the creep behavior of the coral calcareous sands in SCS are calibrated for the subsequent numerical analysis. Thirdly, the long-term settlement of an airport runway built on a reclaimed coral reef island in SCS is numerically predicted adopting the two proposed improved Burgers creep models and the calibrated parameters. The computational results show that the settlement of the airport runway is in the range of 6.7 to 19.9 mm in the future 50 years, satisfying the requirement of Chinese design code MH/T 5027-2013. Finally, parametric analysis is performed to screen the significance and sensitivity of the parameters describing the creep behavior of the coral calcareous sands.
This is a preview of subscription content, log in to check access.
Access options
Buy single article
Instant access to the full article PDF.
US$ 39.95
Price includes VAT for USA
Subscribe to journal
Immediate online access to all issues from 2019. Subscription will auto renew annually.
US$ 99
This is the net price. Taxes to be calculated in checkout.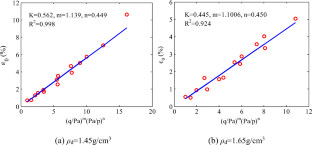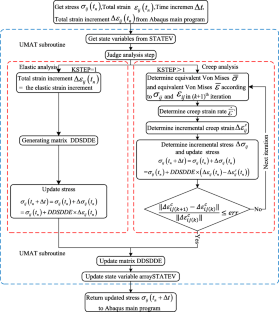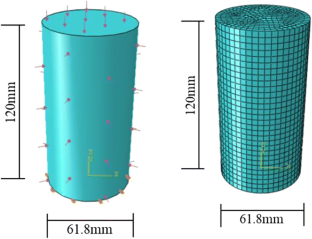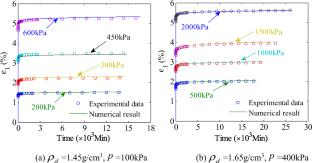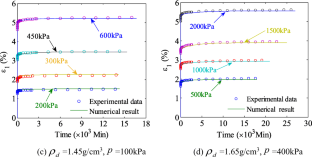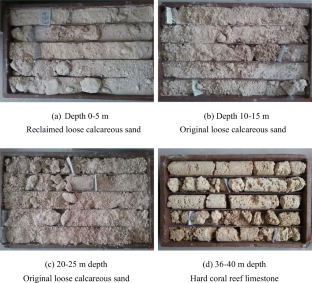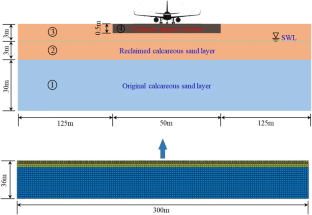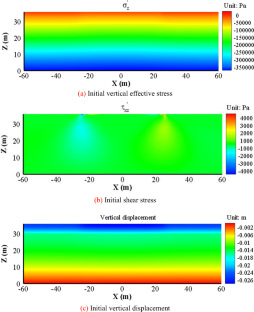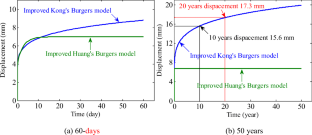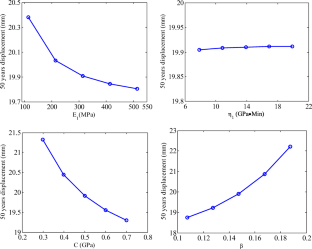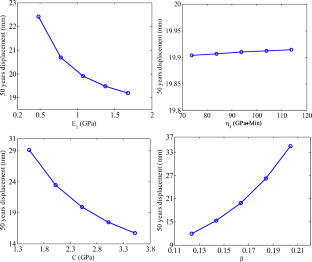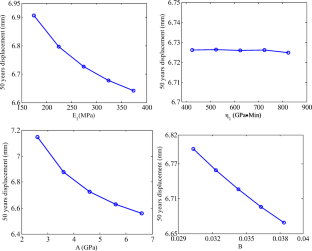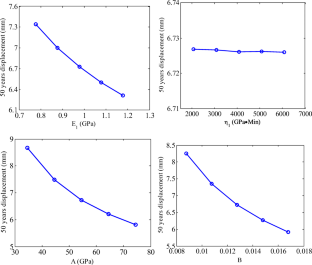 References
Cao M, Ye JH (2019) Creep-stress-time four parameters mathematical model of calcareous sand in South China Sea. Rock Soil Mech 40(5):1771–1777

Cao WG, Yang S, Zhang C (2017) A statistical damage constitutive model of rocks considering the variation of the elastic modulus. Hydrogeol Eng Geol 44(3):42–48

Civil Aviation Administration of China (2013) Code for geotechnical engineering design of airport (MH/T 5027-2013). China Civil Aviation Press, Beijing

Di H, Zhou S, Xiao J, Gong QM, Luo Z (2016) Investigation of the long-term settlement of a cut-and-cover metro tunnel in a soft deposit. Eng Geol 204:33–40

Dorfman JR, Faller AJ (1982) Jan Burgers. Physics Today 35(1):84–85

Enomoto T, Koseki J, Tatsuoka F, Sato T (2016) Creep failure of natural gravelly soil and its simulation. Geotechnique 66(11):865–877

Fu KM, Huang XM (2008) The secondary development of modified burgers creep model based on ABAQUS general software. Highw Eng 03:132–137

He LJ, Kong LW, Wu WJ, Cai Y (2011) A description of creep model for soft soil with fractional derivative. Rock Soil Mech 32(S2):239–249

Jiang L, Lin H (2010) Integrated analysis of SAR interferometric and geological data for investigating long-term reclamation settlement of Chek Lap Kok Airport, Hong Kong. Eng Geol 110(3–4):77–92

Lv Y, Li F, Liu YW, Wang MY (2017) Comparative study of coral sand and silica sand in creep under general stress states. Can Geotech J 54(11):1601–1611

Mesri G, Funk JR (2014) Settlement of the Kansai international airport islands. J Geotech Geoenviron Eng 141(2):04014102

Mesri G, Febres-Cordero E, Shields DR, Castro A (1981) Shear stress-strain-time behaviour of clays. Geotechnique 31(4):537–552

Murayama S (1983) Formulation of stress-strain-time behavior of soils under deviatoric stress condition. Soils Found 23(2):43–57

Murayama S, Michihiro K, Sakagami T (1984) Creep characteristics of sands. Soils Found 24(2):1–15

Nishihara M (1952) Creep of shale and sandy-shale. J Geol Soc Jpn 58(683):373–377

Nishihara M (1958) Rheological properties of rocks I and II. Doshisha Eng Rev 8:85–115

Pramthawee P, Jongpradist P, Sukkarak R (2017) Integration of creep into a modified hardening soil model for time-dependent analysis of a high rockfill dam. Comput Geotech 91:104–116

Puzrin AM, Alonso EE, Pinyol NM (2010) Unexpected excessive settlements: Kansai international airport. In: Geomechanics of failures, 2rd edition. Springer, Dordrecht, page: 23–43

Qiu J, Liu H, Lai J, Lai HP, Che JX (2018) Investigating the long-term settlement of a tunnel built over improved loessial foundation soil using jet grouting technique. J Perform Constr Facil 32(5):04018066

Shahnazari H, Rezvani R (2013) Effective parameters for the particle breakage of calcareous sands: an experimental study. Eng Geol 159:98–105

Shen SL, Wu HN, Cui YJ, Yin ZY (2014) Long-term settlement behaviour of metro tunnels in the soft deposits of Shanghai. Tunn Undergr Space Technol 40:309–323

Shi YJ, Li MG, Chen JJ, Wang JH (2018) Long-term settlement behavior of a highway in land subsidence area. J Perform Constr Facil 32(5):04018063

Singh A, Mitchell JK (1968) General stress-strain-time function for soils. J Soil Mech Found Div 94(1):21–46

Wang XZ, Wang R, Meng QS, Liu XP (2009) Study of plate load test of calcareous sand. Rock Soil Mech 30(01):147–151

Wongsaroj J, Soga K, Mair RJ (2013) Tunnelling-induced consolidation settlements in London Clay. Geotechnique 63(13):1103

Yao YP, Wang K, Wang ND, Zhang QL (2019) Prediction method on long-term settlement of high-speed railway subgrade under the influence of near-load. Chin J Geotech Eng 41(04):625–630

Ye JH, Cao M (2019) Preliminary study on the creep characteristics of calcareous sand from reclaimed coral reef islands in South China Sea. Chin J Rock Mech Eng 38(06):1242–1251

Zhang CC, Zhu HH, Shi B, Fatahi B (2018a) A long term evaluation of circular mat foundations on clay deposits using fractional derivatives. Comput Geotech 94:72–82

Zhang Y, Yu DW, Ye JH (2018b) Study on measurement methodology of tensile elastic modulus of rock materials. Rock Soil Mech 39(6):2295–2303

Zhang YC, Gao F, Lu GS, Ma C, Zhao Y (2018c) Numerical simulation of high fill foundation settlement based on creep test of loess. Sci Technol Eng 18(30):220–227
Funding
This work is financially supported by the "Strategic Priority Research Program of the Chinese Academy of Sciences," Grant No. XDA13010202, as well as the National Natural Science Foundation of China, Grant No. 51879257.
About this article
Cite this article
Yu, D., Ye, J. & Yao, L. Prediction of the long-term settlement of the structures built on a reclaimed coral reef island: an aircraft runway. Bull Eng Geol Environ (2020). https://doi.org/10.1007/s10064-020-01866-z
Received:

Accepted:

Published:
Keywords
Long-term settlement

Reclaimed coral reef islands

Improved Burgers creep model

Aircraft runway on coral reef island

Creep of coral sands