Abstract
A successful excavation of roadheaders depends on the cutting performance and the tool life of conical picks. Tool life is important in terms of wear rate which is affected by different rock parameters such as equivalent quartz content, mineral grain size, as well as cutting parameters on the cutterhead. In this study, analyses among wear rate, specific energy, advance rate, and cutter consumption were carried out. The wear mechanisms of two different models of conical picks were examined from different aspects depending on rock and machine parameters. Their relation with the mechanical and abrasivity properties of rocks and petrographic analyses were investigated. In addition, the metallurgic content and Rockwell hardness of conical picks were determined to describe the metal alloys and their effects on the wear of cutting tool. The results showed that the metallurgic content, pick positions, and other environmental conditions influence the wear mechanism. Finally, two different models were proposed to estimate the pick consumption in sandstone and siltstone rocks based on actual data obtained from coalfield.
This is a preview of subscription content, log in to check access.
Access options
Buy single article
Instant access to the full article PDF.
US$ 39.95
Price includes VAT for USA
Subscribe to journal
Immediate online access to all issues from 2019. Subscription will auto renew annually.
US$ 99
This is the net price. Taxes to be calculated in checkout.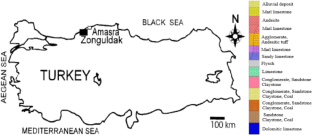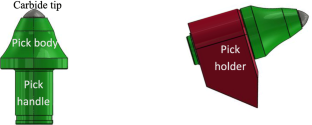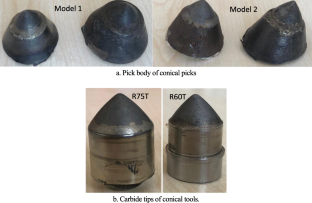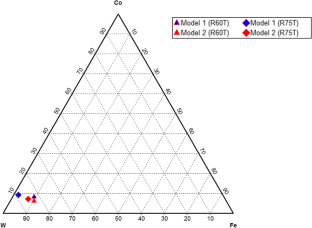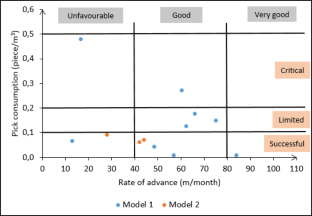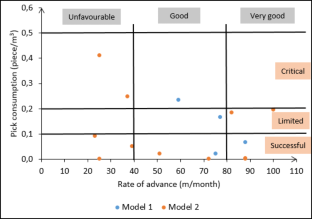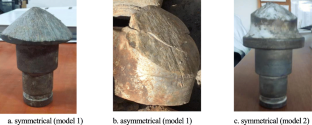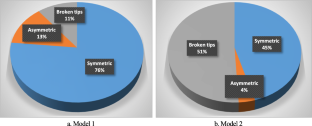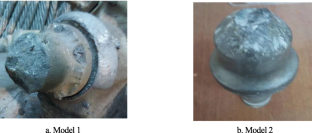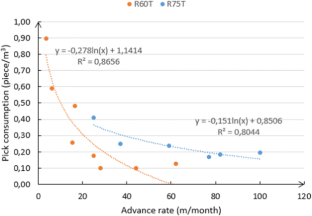 References
Akkas M (2019) Assessment of performance and pick consumption of medium duty roadheaders driven in Amasra coalfield. Zonguldak Bulent Ecevit University

Alber M et al (2013) ISRM suggested method for determining the abrasivity of rock by the CERCHAR abrasivity test. Rock Mech Rock Eng 47:261–266. https://doi.org/10.1007/s00603-013-0518-0

Aydın H (2019) Investigating the effects of various testing parameters on Cerchar abrasivity index and its repeatability. Wear 418-419:61–74. https://doi.org/10.1016/j.wear.2018.11.001

Balci C, Demircin MA, Copur H, Tuncdemir H (2004) Estimation of optimum specific energy based on rock properties for assessment of roadheader performance. J South Afr Inst Min Metall 104:633–641

Beste U, Jacobson S (2008) A new view of the deterioration and wear of WC/Co cemented carbide rock drill buttons. Wear 264:1129–1141. https://doi.org/10.1016/j.wear.2007.01.030

Bilgin N, Dincer T, Copur H, Erdogan M (2004) Some geological and geotechnical factors affecting the performance of a roadheader in an inclined tunnel. Tunn Undergr Space Technol 19:629–636. https://doi.org/10.1016/j.tust.2004.04.004

Bilgin N, Demircin MA, Copur H, Balci C, Tuncdemir H, Akcin N (2006) Dominant rock properties affecting the performance of conical picks and the comparison of some experimental and theoretical results. Int J Rock Mech Min Sci 43:139–156. https://doi.org/10.1016/j.ijrmms.2005.04.009

Bilgin N, Copur H, Balci C (2014) Mechanical excavation in mining and civil industries. 1st edn. CRC Press, New York

Carbonell J, Onate E, Suarez B (2013) Modelling of tunnelling processes and rock cutting tool wear with the particle finite element method. Comput Mech 52:607–629. https://doi.org/10.1007/s00466-013-0835-x

Comakli R (2019) Effects of the physico-mechanical properties of low-strength pyroclastic rocks on cutter wear of roadheaders. Wear 428-429:205–216. https://doi.org/10.1016/j.wear.2019.03.014

Copur H, Ozdemir L, Rostami J (1998) Roadheader applicaitons in mining and tunneling projects. Min Eng 50:38–42

Deketh HJR (1995) Wear of rock cutting tools, laboratory experiments on the abrasivity of rock. Balkema, Rotterdam

Deketh HJR, Grima MA, Hergarden IM, Giezen M, Verhoef PNW (1998) Towards the prediction of rock excavation machine performance. Bull Eng Geol Environ 57:3–15. https://doi.org/10.1007/s100640050016

Dewangan S, Chattopadhyaya S, Hloch S (2015) Wear assessment of conical pick used in coal cutting operation. Rock Mech Rock Eng 48:2129–2139. https://doi.org/10.1007/s00603-014-0680-z

Dogruoz C, Bolukbasi N (2014) Effect of cutting tool blunting on the performances of various mechanical excavators used in low- and medium-strength rocks. Bull Eng Geol Environ 73:781–789. https://doi.org/10.1007/s10064-013-0551-y

Dogruoz C, Rostami J, Keles S (2018) Study of correlation between specific energy of cutting and physical properties of rock and prediction of excavation rate for lignite mines in Cayirhan area, Turkey. Bull Eng Geol Environ 77:533–539. https://doi.org/10.1007/s10064-017-1124-2

Frenzel C (2011) Disc cutter wear phenomenology and their implications on disc cutter consumption for TBM. Paper presented at the 45th US Rock Mechanics/Geomechanics Symposium

Hassanpour J (2018) Development of an empirical model to estimate disc cutter wear for sedimentary and low to medium grade metamorphic rocks. Tunn Undergr Space Technol 75:90–99. https://doi.org/10.1016/j.tust.2018.02.009

ISRM (1981) ISRM Commission on Testing Methods. Suggested methods of rock characterization, testing, and monitoring. Pergamon

Jones HG, Norgren SM, Kritikos M, Mingard KP, Gee MG (2017) Examination of wear damage to rock-mining hardmetal drill bits. Int J Refract Met Hard Mater 66:1–10. https://doi.org/10.1016/j.ijrmhm.2017.01.013

Karayigit AI, Gayer RA, Demirel IH (1998) Coal rank and petrography of Upper Carboniferous seams in the Amasra coalfield, Turkey. Int J Coal Geol 36:277–294. https://doi.org/10.1016/S0166-5162(97)00047-5

Li FH, Cai ZX, Kang YL (2011) A theoretical model for estimating the wear of the disc cutter Advances in Civil Engineering, Pts 1-4 90–93:2232–2236 doi:https://doi.org/10.4028/www.scientific.net/AMM.90-93.2232

Li X, Wang S, Wang S (2017) Experimental investigation of the influence of confining stress on hard rock fragmentation using a conical pick. Rock Mech Rock Eng 51:255–277. https://doi.org/10.1007/s00603-017-1309-9

Li HS, Liu SY, Xu PP (2019) Numerical simulation on interaction stress analysis of rock with conical picks. Tunn Undergr Space Technol 85:231–242. https://doi.org/10.1016/j.tust.2018.12.014

Liu S, Ji H, Liu X, Jiang H (2017) Experimental research on wear of conical pick interacting with coal-rock. Eng Fail Anal 74:172–187. https://doi.org/10.1016/j.engfailanal.2017.01.013

Majeed Y, Abu Bakar MZ (2016) Statistical evaluation of CERCHAR abrasivity index (CAI) measurement methods and dependence on petrographic and mechanical properties of selected rocks of Pakistan. Bull Eng Geol Environ 75:1341–1360. https://doi.org/10.1007/s10064-015-0799-5

McFeat S, Fowell RJ (1979) The selection and application of roadheaders for rock tunneling. Paper presented at the 4th Rapid Excavation and Tunneling Conference, Atlanta, USA

Moradizadeh M, Cheshomi A, Ghafoori M, TrighAzali S (2016) Correlation of equivalent quartz content, Slake durability index and Is50 with Cerchar abrasiveness index for different types of rock. Int J Rock Mech Min Sci 86:42–47. https://doi.org/10.1016/j.ijrmms.2016.04.003

Plinninger R, Käsling H, Thuro K, Spaun G (2003) Testing conditions and geomechanical properties influencing the CERCHAR abrasiveness index (CAI) value. Int J Rock Mech Min Sci 40:259–263. https://doi.org/10.1016/S1365-1609(02)00140-5

Ren DJ, Shen SL, Arulrajah A, Cheng WC (2018) Prediction model of TBM disc cutter wear during tunnelling in heterogeneous ground. Rock Mech Rock Eng 51:3599–3611. https://doi.org/10.1007/s00603-018-1549-3

Rojek J (2014) Discrete element thermomechanical modelling of rock cutting with valuation of tool wear. Comput Part Mech 1:71–84. https://doi.org/10.1007/s40571-014-0008-5

Rojek J et al (2008) Prediction of wear of roadheader picks using numerical simulations. Geomech Tunn 1:47–54. https://doi.org/10.1002/geot.200800005

Saeidi O, Elyasi A, Torabi SR (2015) Wear assessment of the WC/Co cemented carbide tricone drill bits in an open pit mine. Geomech Eng 8:477–493. https://doi.org/10.12989/gae.2015.8.4.477

Schimazek T, Knatz H (1970) The influence of rock structure on the cutting speed and pick wear of heading machines. Glücckauf:275–278

Singh SP, Chattopadhyaya S (2013) A review on the excavator tool bits wear. Paper presented at the 1st International and 16th National Conference on Machines and Mechanisms, IIT Roorkee, India, December, 18-20

Sun Z et al (2019) A practical TBM cutter wear prediction model for disc cutter life and rock wear ability. Tunn Undergr Space Technol 85:92–99. https://doi.org/10.1016/j.tust.2018.12.010

Thuro K, Plinninger RJ (2003) Hard rock tunnel boring, cutting, drilling and blasting: rock parameters for excavability. In: 10th ISRM Congress, South Africa

Tkalich D et al (2017) Wear of cemented tungsten carbide percussive drill–bit inserts: laboratory and field study. Wear 386-387:106–117. https://doi.org/10.1016/j.wear.2017.05.010

Trent EM (1969) The wear rate of carbide cutting tools. Powder Metall 12:566–581. https://doi.org/10.1179/pom.1969.12.24.019

Wang S, Li X, Du K, Wang S, Tao M (2018) Experimental study of the triaxial strength properties of hollow cylindrical granite specimens under coupled external and internal confining stresses. Rock Mech Rock Eng 51:2015–2031. https://doi.org/10.1007/s00603-018-1452-y

Wang S et al (2019) Experimental investigation of rock breakage by a conical pick and its application to non-explosive mechanized mining in deep hard rock. Int J Rock Mech Min Sci 122:104063. https://doi.org/10.1016/j.ijrmms.2019.104063

Yaralı O, Duru H (2016) Investigation into effect of scratch length and surface condition on Cerchar abrasivity index. Tunn Undergr Space Technol 60:111–120. https://doi.org/10.1016/j.tust.2016.08.005
Acknowledgments
The authors would like to acknowledge the support from Scientific Research Project of Zonguldak Bulent Ecevit University for funding this research under Grant No. 2014-29011448-02.
About this article
Cite this article
Su, O., Akkaş, M. Assessment of pick wear based on the field performance of two transverse type roadheaders: a case study from Amasra coalfield. Bull Eng Geol Environ 79, 2499–2512 (2020). https://doi.org/10.1007/s10064-019-01712-x
Received:

Accepted:

Published:

Issue Date:
Keywords
Pick wear

Advance rate

Specific energy

Rock excavation

Conical pick

Roadheader