Abstract
This paper presents a landslide that occurred in loess hills resulting in structural damage to the Zhangjiazhuang tunnel of the Lanzhou–Xinjiang high-speed railway line. The characteristics of tunnel deformation and structural damage are provided in detail. To ensure future safety of the tunnel, investigations consisting of field reconnaissance, borehole investigations, seismic activity and rainfall records analysis, and numerical simulations were conducted to identify the regional geology and landslide characteristics. Using these investigations, the probable formation mechanism of this sliding failure is determined to be (i) an ancient groove that provides a natural slip bed leading to stress concentrations and dislocation failure at the back of the slope; (ii) seepage channels that are well-developed on this loess hillslope, through which an extreme rainfall event 6 months prior to the landslide saturated the strata materials; and (iii) finally, the limit state of the materials is reached in an earthquake under undrained condition, and the landslide is triggered. The findings presented in this paper can provide a reference for the control and treatment of landslides in loess areas.
This is a preview of subscription content, log in to check access.
Access options
Buy single article
Instant access to the full article PDF.
US$ 39.95
Price includes VAT for USA
Subscribe to journal
Immediate online access to all issues from 2019. Subscription will auto renew annually.
US$ 99
This is the net price. Taxes to be calculated in checkout.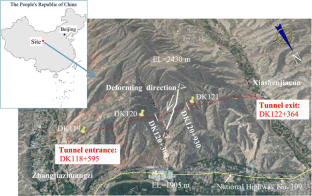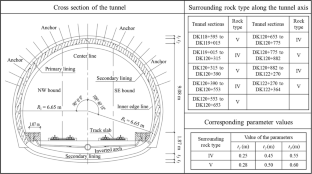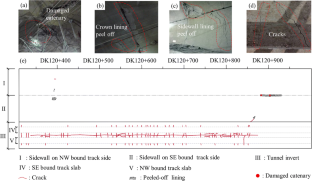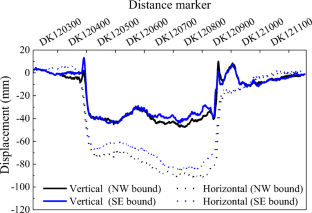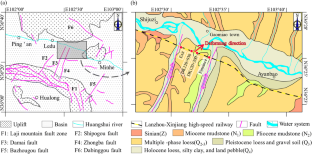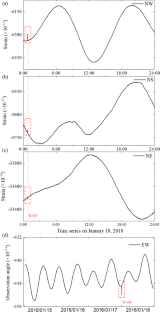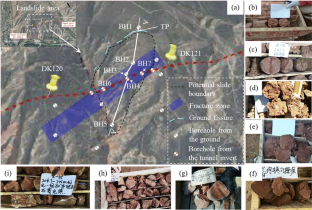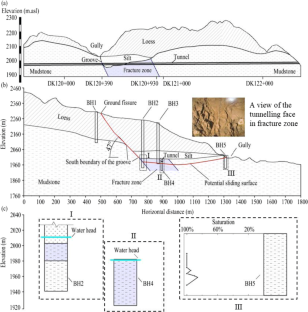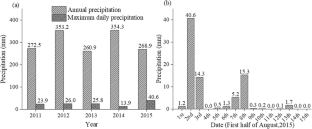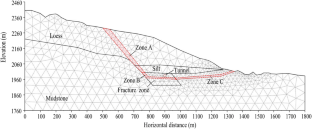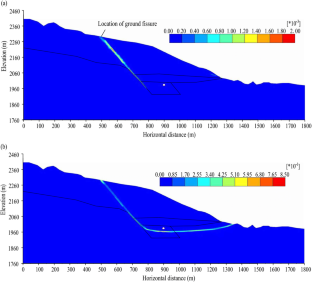 References
Ahmad R, Earle AH, Hugues P, Maharaj R, Robinson E (1993) Landslide damage to the board river water supply pipeline, Bromley Hill, Jamaica: case study of a landslide caused by hurricane Gilbert (1988). Bull Eng Geol Environ 47:59–70

Bieniawski ZT (1973) Engineering classification of jointed rock masses. Trans South Afr Institut Civil Eng 15(12):335–343

Derbyshire E, Dijkstra TA, Smalley IJ, Li Y (1994) Failure mechanisms in loess and the effects of moisture content changes on remoulded strength. Quat Int 24:5–15

Dijkstra TA, Rogers CDF, Smalley IJ, Derbyshire E, Li YJ, Meng XM (1994) The loess of north-Central China: geotechnical properties and their relation to slope stability. Eng Geol 36(3–4):153–171

Dutta S, Hawlader B (2018) Pipeline-soil-water interaction modeling for submarine landslide impact on suspended offshore pipelines. Géotechnique 69(1):29–41

Fan X, Xu Q, Scaringi G, Li S, Peng D (2017) A chemo-mechanical insight into the failure mechanism of frequently occurred landslides in the loess plateau, Gansu province, China. Eng Geol 228:337–345

Fredlund DG, Rahardjo H (1993) Soil mechanics for unsaturated soils. Wiley, New York

Griffiths DV, Lane PA (2001) Slope stability analysis by finite elements. Géotechnique 51(7):653–654

Hu S, Qiu H, Pei YQ, Cui YF, Xie W, Wang XG, Yang DD, Tu X, Zou Q, Cao PY, Cao MM (2018) Digital terrain analysis of a landslide on the loess tableland using high-resolution topography data. Landslides 16(3):617–632

Hungr O, Leroueil S, Picarelli L (2014) The Varnes classification of landslide types, an update. Landslides 11(2):167–194

Li C, Yao D, Wang Z, Liu C, Wuliji N, Yang L, Li L, Amini F (2016) Model test on rainfall-induced loess–mudstone interfacial landslides in Qingshuihe, China. Environ Earth Sci 75(9):835

Liang C, Cao C, Wu S (2016) Hydraulic-mechanical properties of loess and its behavior when subjected to infiltration-induced wetting. Bull Eng Geol Environ 77(1):385–397

Mitchell JK, Soga K (2005) Fundamentals of soil behavior. Wiley, New York

Pan P, Shang YQ, Lü Q, Yu Y (2017) Periodic recurrence and scale-expansion mechanism of loess landslides caused by groundwater seepage and erosion. Bull Eng Geol Environ 78:1143–1155

Poisel R, Tinkhof KMA, Preh A (2015) Landslide caused damages in a gallery. Rock Mech Rock Eng 49(6):2301–2315

Schuster RL, Highland LM (2007) The third Hans Cloos lecture. Urban landslides: socioeconomic impacts and overview of mitigative strategies. Bull Eng Geol Environ 66(1):1–27

Shen X, Ji BY, Xu G, Zhang YF, Ma FJ (2016) Discussion on the genetic type of selenium-Rich area in Xining-Ledu. China Mining Magazine, 25(Z1), 382–385. (in Chinese)

Su WG, Fen LL, Ma RY, Ma Z (2018) Comparative of disturbance characteristics from horizontal pendulum and vertical pendulum tiltmeter. Seismological and Geomanetic Observation and Research, 39(4), 151–163. https://doi.org/10.3969/j.issn.1003-3246.2018.04.019 (in Chinese)

Sun P, Wang G, Wu LZ, Lgwe O, Zhu E (2019) Physical model experiments for shallow failure in rainfall-triggered loess slope, Northwest China. Bull Eng Geol Environ 78:4363. https://doi.org/10.1007/s10064-018-1420-5

Sun W, Shao Q, Liu J, Zhai J (2014) Assessing the effects of land use and topography on soil erosion on the Loess Plateau in China. CATENA 121:151–163

TRTBGQPGM (The Regional Team of Bureau of Geology in Qinghai Province of Geology Ministry) (1965) Report of regional geological surveys of People's Republic of China, Ledu (1:200,000). Qinghai Publishing House, Xining, p 1965

Tu DL, Wang ZJ, Xia YS, Chang ZG (1997) Historical earthquakes investigation and study in Huangshui basin in Qinghai province. Earthquake Res Plateau 3:23–27 (in Chinese)

Vassallo R, Mishra M, Santarsiero G, Masi A (2016) Interaction of a railway tunnel with a deep slow landslide in clay shales. Procedia Earth Planet Sci 16:15–24

Wang TT (2010) Characterizing crack patterns on tunnel linings associated with shear deformation induced by instability of neighboring slopes. Eng Geol 115(1–2):80–95

Wang X, Wang H, Liang RY (2017) A method for slope stability analysis considering subsurface stratigraphic uncertainty. Landslides 15(5):925–936

Wang J, Zhang D, Wang N, Gu T (2019) Mechanisms of wetting-induced loess slope failures. Landslides 16(5):937–953

Xu ZJ, Lin ZG, Zhang MS (2007) Loess in China and loess landslides. Chin J Rock Mech Eng 26(7):1297–1312 (in Chinese)

Zhang XC, Liu WZ, Li Z, Zheng FL (2009) Simulating site-specific impacts of climate change on soil erosion and surface hydrology in southern Loess Plateau of China. Catena 79(3):237–242
Funding
This study was supported by the National Natural Science Foundation of China (NSFC) through Grants No. 51808405 and No. 51478353 and by the National Key R&D Program of China through Grant No. 2017YFB1201204. The authors express their sincere thanks to the reviewers and the editor for their invaluable help and guidance throughout.
About this article
Cite this article
Zhou, S., Tian, Z., Di, H. et al. Investigation of a loess-mudstone landslide and the induced structural damage in a high-speed railway tunnel. Bull Eng Geol Environ 79, 2201–2212 (2020). https://doi.org/10.1007/s10064-019-01711-y
Received:

Accepted:

Published:

Issue Date:
Keywords
High-speed railway

Tunnel damages

Loess landslide

Strength reduction method

Formation mechanism