Abstract
In engineering practice, the in situ soil layer is under different static pressures and experiences different types of dynamic loads. To determine the influence of stress state and dynamic load type on the dynamic characteristics of, and damage evolution in, saturated loess, consolidated-undrained dynamic triaxial tests were conducted on samples subjected to different confining pressures and consolidation stress ratios. During the test, rectangular wave and sine wave were selected as types of applied dynamic load. Results show that samples with good consolidation effect, and loaded by the sine wave, exhibit relatively high strength. The deformation of the samples is influenced by their initial consolidation state and the value of dynamic stress: the better the consolidation effect of samples and the lower the applied dynamic stress, the smaller the strain difference therein; with the increase of dynamic stress, greater strain occurs in samples loaded by a rectangular wave. The influence of waveforms on the initial dynamic elastic modulus changed with the stress state: this was significantly affected by application of sine wave loading (low confining pressure, low consolidation stress ratio), significantly affected by application of rectangular wave loading (low confining pressure, high consolidation stress ratio), and slightly affected by waveforms (high confining pressure). The instantaneous application of rectangular wave load can cause consolidated samples to be strengthened in the early test stage, while damage developed rapidly with the proceeding of loading process.
This is a preview of subscription content, log in to check access.
Access options
Buy single article
Instant access to the full article PDF.
US$ 39.95
Price includes VAT for USA
Subscribe to journal
Immediate online access to all issues from 2019. Subscription will auto renew annually.
US$ 99
This is the net price. Taxes to be calculated in checkout.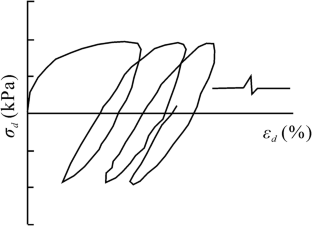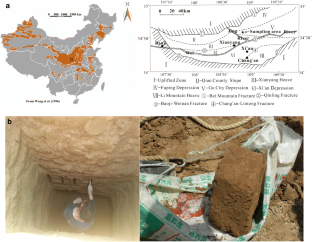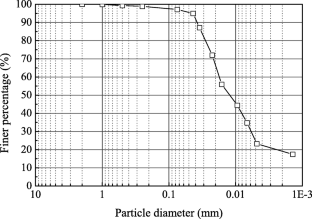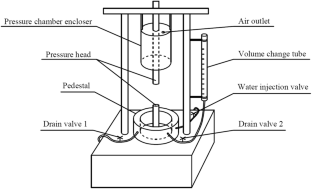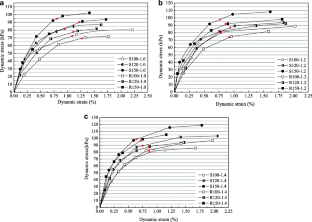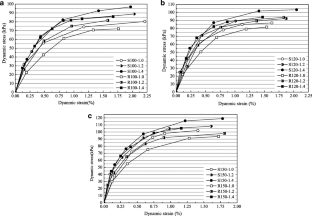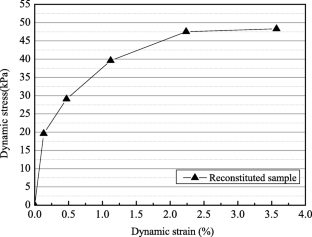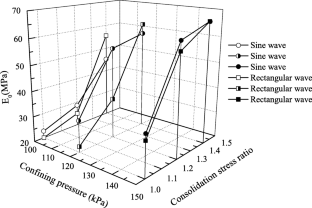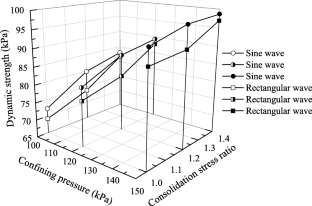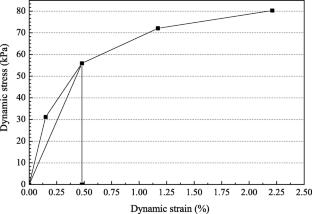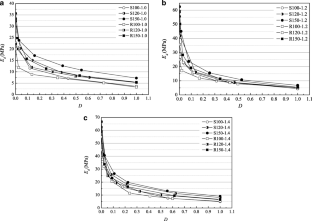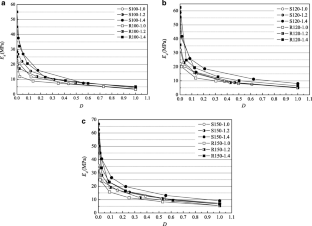 References
American Society for Testing and Materials. ASTM D5311-11 (2011) Standard test method for load controlled cyclic triaxial strength of soil. In: Annual book of ASTM standards. Volume 04.08 on Soil and Rock, Section 4-Construction, West Conshohocken

Amini PF, Noorzad R (2018) Energy-based evaluation of liquefaction of fiber-reinforced sand using cyclic triaxial testing. Soil Dyn Earthq Eng 104:45–53. https://doi.org/10.1016/j.soildyn.2017.09.026

Baudet B, Stallerbrass S (2004) A constitutive model for structured clays. Geotechnique 54:269–278. https://doi.org/10.1680/geot.2004.54.4.269

Benoit J and Lutenegger AJ (1992) Determining lateral stress in soft clays. In: Houlsby GT and Schofield AN (ed) Predictive soil mechanics: Proceedings of the Wroth Memorial Symposium. Thomas Telford, London, pp 135–155

Carol I, Rizzi E, Willam K (2001) On the formulation of anisotropic elastic degradation. I. Theory based on a pseudo-logarithmic damage tensor rate. Int J Solids Struct 38:491–518. https://doi.org/10.1016/S0020-7683(00)00030-5

Chen J (2009) Study on the geological structure features and forming mechanism of Xianyang geothermal field. J Shanxi Coal 2:26–29

Chen H, Jiang Y, Niu C, Yuan X (2019) Dynamic characteristics of saturated loess under different confining pressures: a microscopic analysis. Bull Eng Geol Environ 78:931–944. https://doi.org/10.1007/s10064-017-1101-9

Deng QL, Ren XW (2017) An energy method for deformation behaviour of soft clay under cyclic loads based on dynamic response analysis. Soil Dyn Earthq Eng 94:75–82. https://doi.org/10.1016/j.soildyn.2016.12.012

Derbyshire E, Mellors TW (1988) Geological and geotechnical characteristics of some loess and loessic soils from China and Britain: a comparison. Eng Geol 25:135–175. https://doi.org/10.1016/0013-7952(88)90024-5

Derbyshire E, Meng X, Wang J, Zhou Z, Li B (1995) Collapsible loess on the loess plateau of China. In: Derbyshire E, Dijkstra T, Smalley IJ (eds) Genesis and properties of collapsible soils. Kluwer Academic Publishers, Norwell, pp 267–293

Ding H, Li YR, Yang Y, Jia X (2019) Origin and evolution of modern loess science-1824 to 1964. J Asian Earth Sci 170:45–55. https://doi.org/10.1016/j.jseaes.2018.10.024

General Administration of Quality Supervision, Inspection and Quarantine of the People's Republic of China (2015) Seismic ground motion parameters zonation map of China. Standards Press of China, Beijing

Grabowska-Olszewska B (1988) Engineering-geological problems of loess in Poland. Eng Geol 25:177–199. https://doi.org/10.1016/0013-7952(88)90025-7

Hardin BQ, Drnevich VP (1972) Shear modulus and damping in soils: design equations and curves. J Soil Mech Found Division 98:667–692

Hu RL, Yeung MR, Lee CF (2001) Mechanical behavior and microstructural variation of loess under dynamic compaction. Eng Geol 59:203–217. https://doi.org/10.1016/S0013-7952(00)00074-0

Hwang H, Wang L, Yuan Z (2000) Comparison of liquefaction potential of loess in Lanzhou, China, and Memphis, USA. Soil Dyn Earthq Eng 20:389–395. https://doi.org/10.1016/S0267-7261(00)00088-9

Ishihara K, Akira N, Mano R (1983) Residual strain and strength of clay under seismic loading. In: Proceedings of the 4th Canadian Conference on Earthquake Engineering. University of British Columbia, Vancouver, pp 602–613

Ishihara K, Okusa S, Oyagi N, Ischuk A (1990) Liquefaction-induced flow slide in the collapsible loess deposit in soviet Tajik. Soils Found 30:73–89. https://doi.org/10.3208/sandf1972.30.4_73

Jafarian Y, Towhata I, Baziar MH (2012) Strain energy based evaluation of liquefaction and residual pore water pressure in sands using cyclictorsional shear experiments. Soil Dyn Earthq Eng 35:13–28. https://doi.org/10.1016/j.soildyn.2011.11.006

Kachanov LM (1958) Time of the rupture process under creep conditions. Izv Akad Nauk SSR 8:26–31 https://doi.org/citeulike-article-id:5466815

Karam JP, Cui YJ, Tang AM (2009) Experimental study on the cyclic resistance of a natural loess from Northern France. Soils Found 49:421–429. https://doi.org/10.3208/sandf.49.421

Knight K (1963) The origin and occurrence of collapsing soils. In: Proceedings of the 3rd regional conference for Africa on soil mechanics and foundation engineering, vol Vol 1, pp 127–130

Lemaitre J (1995) A continuous damage mechanics model for ductile fracture. J Eng Mater Technol 107:83–89. https://doi.org/10.1115/1.3225775

Li Y (2018) A review of shear and tensile strengths of the Malan Loess in China. Eng Geol 236:4–10. https://doi.org/10.1016/j.enggeo.2017.02.023

Lin ZG, Liang WM (1982) Engineering properties and zoning of loess and loess-like soils in China. Can Geotech J 19:76–91. https://doi.org/10.1016/0148-9062(83)91627-3

Liu Z, Liu FY, Ma FL, Wang M, Bai XH, Zheng YL, Yin H, Zhang GP (2016) Collapsibility, composition, and microstructure of loess in China. Can Geotech J 53:673–686. https://doi.org/10.1139/cgj-2015-0285

Luo Y (2000) Experimental analysis on the dynamic characteristics and parameters of typical loess in China. Dissertation, Xi'an University of Technology

Mahesh S, Phoenix SL, Beyerlein IJ (2002) Strength distributions and size effects for 2D and 3D composites with Weibull fibers in an elastic matrix. Int J Fract 115:41–85. https://doi.org/10.1023/A:1015729607223

Miner MA (1945) Cumulative damage in fatigue. J Appl Mech 3:159–164

Ministry of Housing and Urban-Rural Development of the People's Republic of China (2017) Code for investigation of geotechnical engineering (GB50021-2017). China Architecture and Building Press, Beijing

Planning committee of Shanxi Province (2004) Code for building construction in collapsible loess regions. China Architecture and Building Press, Beijing

Puri VK (1984) Liquefaction behavior and dynamic properties of loessial (Silty) soils. Dissertation, University of Missouri-Rolla

Qiu J, Wang X, Lai J, Zhang Q, Wang J (2018) Response characteristics and preventions for seismic subsidence of loess in Northwest China. Nat Hazards 92:1909–1935. https://doi.org/10.1007/s11069-018-3272-5

Rogers CDF, Boardman DI, Zourmpakis A (2006) Case study of a loess collapse field trial in Kent, SE England. Q J Eng Geol Hydrogeol 39:131–150. https://doi.org/10.1144/1470-9236/04-046

Russell A, Green AM, Gregory A, Terri AM (2005) Number of equivalent cycles concept for liquefaction evaluations-revisited. J Geotech Geoenviron Eng 131:477–488. https://doi.org/10.1061/(ASCE)1090-0241(2005)131:4(477)

Song B, Tsinaris A, Anastasiadis A (2017) Small-strain stiffness and damping of Lanzhou loess. Soil Dyn Earthq Eng 95:96–105. https://doi.org/10.1016/j.soildyn.2017.01.041

The Ministry of Water Resources of the Peoples' Republic of China (2007) Specification of soil test (GBT50123-1999). China Planning Press, Beijing

Wang ZJ, Luo YS, Guo H, Tian H (2012) Effects of initial deviatoric stress ratios on dynamic shear modulus and damping ratio of undisturbed loess in China. Eng Geol 143-144:43–50. https://doi.org/10.1016/j.enggeo.2012.06.009

Xiao ZH, Liao HJ, Wen Y (2011) Accumulative deformation behaviour of loess under cyclic loading. Mater Res Innov 15:539–542. https://doi.org/10.1179/143307511X12858957676515

Xu L, Coop MR (2016) The influence of structure on the behavior of a saturated clayey loess. Can Geotech J 53:1026–1037. https://doi.org/10.1139/cgj-2015-0200

Xu XT, Dong YH, Fan CX (2015) Laboratory investigation on energy dissipation and damage characteristics of frozen loess during deformation process. Cold Reg Sci Technol 109:1–8. https://doi.org/10.1016/j.coldregions.2014.09.006
Acknowledgements
This work was financially supported by the National Natural Science Foundation of China (grant numbers 41472242, 51890914, 41602285) and the Science and Technology Development Program of Jilin Province, China (grant number 20180520064JH).
About this article
Cite this article
Chen, H., Li, H., Fu, R. et al. Dynamic behaviour and damage characteristics of loess in Xianyang, China. Bull Eng Geol Environ 79, 2285–2297 (2020). https://doi.org/10.1007/s10064-019-01709-6
Received:

Accepted:

Published:

Issue Date:
Keywords
Loess

Dynamic loads type

Consolidation state

Damage evolution