Abstract
A rock mass sliding along one controlling bedding plane is a shear failure that occurs under compressive stress. The failure mechanism is relevant to the propagation and coalescence of cracks in the rock bridge. A direct shear test was used to examined samples containing one preexisting crack to investigate the initiation, propagation, and coalescence of cracks. These cracking behaviors were analyzed by a charge-coupled device camera, the acoustic emission (AE), and a resistance strain gauge. Linear elastic fracture mechanics were applied to analyze the crack initiation in theory. In the study, the deformation and AE count rate were increased before failure. Simultaneously, shear spalling occurs in this process. This phenomenon shows that shear spalling is a precursor to failure. The spalling triggered by tensile cracks is similar to the in situ rock mass failure that explained the failure mechanism of the key block in the Jiweishan rockslide. The mechanical behavior shows that rockfalls induced by tensile cracks are a precursor to failure. Additionally, the degree of spalling is affected by the continuity factor of the preexisting crack. The failure modes are affected by normal stress and the preexisting crack length. This research provides theoretical support for predicting the stability of a bedding rock mass containing one key block.
This is a preview of subscription content, log in to check access.
Access options
Buy single article
Instant access to the full article PDF.
US$ 39.95
Price includes VAT for USA
Subscribe to journal
Immediate online access to all issues from 2019. Subscription will auto renew annually.
US$ 99
This is the net price. Taxes to be calculated in checkout.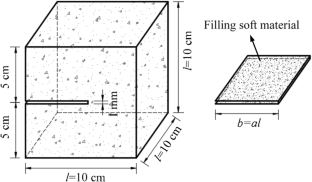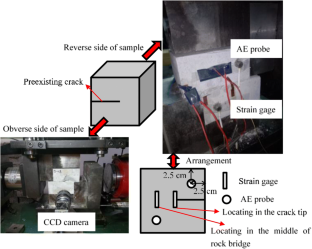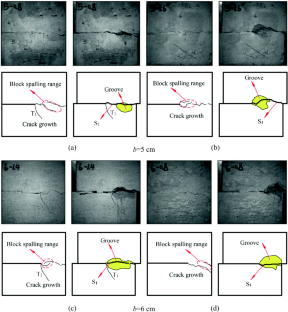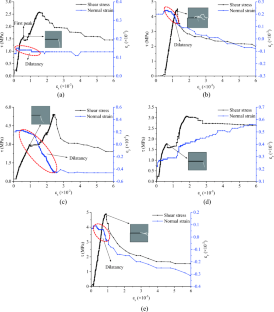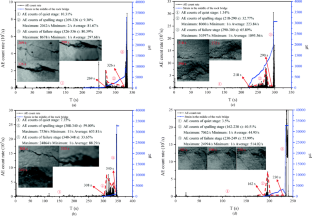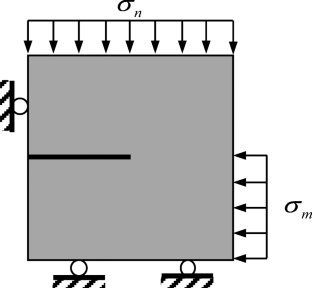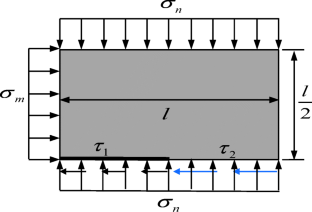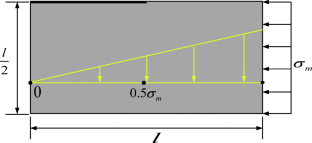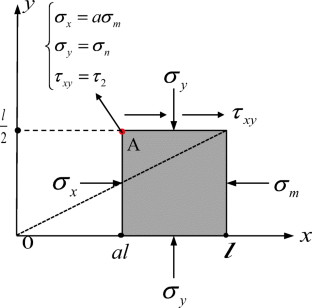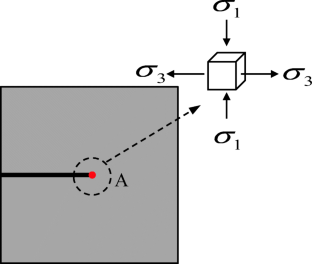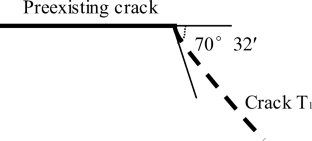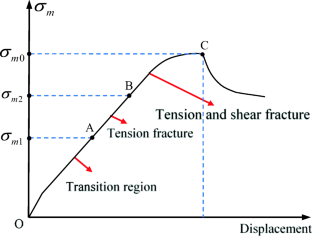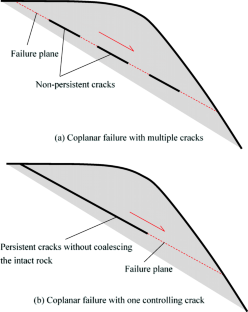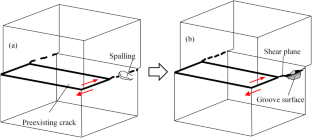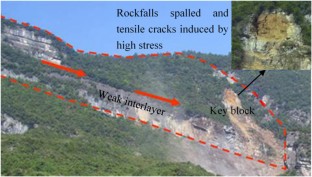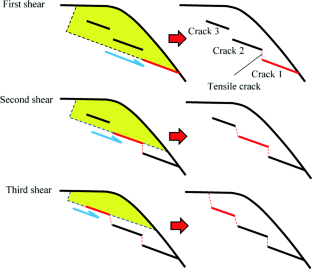 References
Asadizadeh M, Moosavi M, Hossaini MF, Masoumi H (2018) Shear strength and cracking process of non-persistent jointed rocks: an extensive experimental investigation. Rock Mech Rock Eng 51(2):415–428

Brace WF, Paulding BW, Scholz C (1966) Dilatancy in the fracture of crystalline rocks. J Geophys Res 71(16):3939–3953

Bahaaddini M, Sharrock G, Hebblewhite BK (2013) Numerical investigation of the effect of joint geometrical parameters on the mechanical properties of a non-persistent jointed rock mass under uniaxial compression. Comput Geotech 49:206–225

Cen D, Huang D (2017) Direct shear tests of sandstone under constant normal tensile stress condition using a simple auxiliary device. Rock Mech Rock Eng 50(6):1425–1438

Chen HR, Qin SQ, Xue L, Yang BC, Zhang K (2018) A physical model predicting instability of rock slopes with locked segments along a potential slip surface. Eng Geol 242:34–43

Cheng Y, Wong LNY, Zou CJ (2015) Experimental study on the formation of faults from en-echelon fractures in Carrara marble. Eng Geol 195:312–326

Camones LAM, Vargas ED, de Figueiredo RP, Velloso RQ (2013) Application of the discrete element method for modeling of rock crack propagation and coalescence in the step-path failure mechanism. Eng Geol 153:80–94

Darlington WJ, Ranjith PG, Choi SK (2011) The effect of specimen size on strength and other properties in laboratory testing of rock and rock-like cementitious brittle materials. Rock Mech Rock Eng 44(5):513–529

Einstein HH, Veneziano D, Baecher GB, O'Reilly KJ (1983) The effect of discontinuity persistence an rock slope stability. Int J Rock Mech Min Sci Geomech Abstr 20(5):227–236

Eftekhari M, Baghbanan A, Hashemolhosseini H (2016) Crack propagation in rock specimen under compressive loading using extended finite element method. Arab J Geosci 9(2):145

Feng Z, Li B, Peng CQ, Wen CJ (2016) Initiation mechanism of the Jiweishan landslide in Chongqing, southwestern China. Environ Eng Geosci 22(4):341–351

Ghahramani N, Evans SG (2018) The 1985 earthquake-triggered north Nahanni rockslide, Northwest Territories, Canada: the co-seismic movement of a sedimentary rock mass conditioned by residual strength. Eng Geol 247:1–11

Gehle C, Kutter HK (2003) Breakage and shear behaviour of intermittent rock joints. Int J Rock Mech Min Sci 40(5):687–700

Ghazvinian A, Sarfarazi V, Schubert W, Blumel M (2012) A study of the failure mechanism of planar non-persistent open joints using PFC2D. Rock Mech Rock Eng 45(5):677–693

Ghazvinian A, Nejati HR, Sarfarazi V, Hadei MR (2013) Mixed mode crack propagation in low brittle rock-like materials. Arab J Geosci 6(11):4435–4444

Gerolymatou E, Triantafyllidis T (2016) Shearing of materials with intermittent joints. Rock Mech Rock Eng 49(7):2689–2700

Hoek E, Bieniawski ZT (1965) Brittle fracture propagation in rock under compression. Int J Fract 1(3):137–155

Huang D, Cen DF, Ma GW, Huang RQ (2015) Step-path failure of rock slopes with intermittent joints. Landslides 12(5):911–926

Huang RQ, Chen GQ, Guo F, Zhang GF, Zhang Y (2016) Experimental study on the brittle failure of the locking section in a large-scale rock slide. Landslides 13(3):583–588

Jennings JE (1970) A mathematical theory for the calculation of the stability of open cast mines. In: Proceedings of the symposium on theoretical background to the planning of open pit mines, Johannesburg p. 87–102

Kim H, Fukuda D, Lkezawa J, Moriya K, Cho SH, Kaneko K (2013) Dynamic fracture process analysis in rock-like materials for axisymmetric problem. Sci Technol Energ Mater 74(3–4):73–79

Kukshenko V, Tomlin N, Damaskinskaya E, Lockner D (1996) A two-stage model of fracture of rocks. Pure Appl Geophys 146(2):253–264

Lajtai EZ (1969) Shear strength of weakness planes in rock. Int J Rock Mech Min Sci Geomech Abstr 6(5):499–515

Li HQ, Wong LNY (2014) Numerical study on coalescence of pre-existing flaw pairs in rock-like material. Rock Mech Rock Eng 47(6):2087–2105

Mughieda O, Omar MT (2008) Stress analysis for rock mass failure with offset joints. Geotech Geol Eng 26(5):543–552

Pommier S, Gravouil A, Combescure A, Moes N (2011) Extended finite element method for crack propagation. Wiley-ISTE, Hoboken

Prudencio M, Jan MV (2007) Strength and failure modes of rock mass models with non-persistent joints. Int J Rock Mech Min Sci 44(6):890–902

Rosser N, Lim M, Petley D, Dunning S, Allison R (2007) Patterns of precursory rockfall prior to slope failure. J Geophys Res-Earth Surf 112(F4):F04014

Singh M, Rao KS (2005) Empirical methods to estimate the strength of jointed rock masses. Eng Geol 77:127–137

Tang CA, Wang WT, Fu YF, Xu XH (1998) A new approach to numerical method of modelling geological processes and rock engineering problems-continuum to discontinuum and linearity to nonlinearity. Eng Geol 49:207–214

Tharp TM, Coffin DT (1985) Field application of fracture mechanics analysis to small rock slopes. In: 26th U.S. symposium on rock mechanics. South Dakota

Tang HM, Zou ZX, Xiong CR, Wu YP, Hu XL, Wang LQ, Lu S, Criss RE, Li CD (2015) An evolution model of large consequent bedding rockslides, with particular reference to the Jiweishan rockslide in Southwest China. Eng Geol 186:17–27

Usefzadeh A, Yousefzadeh H, Salari-Rad H, Sharifzadeh M (2013) Empirical and mathematical formulation of the shear behavior of rock joints. Eng Geol 164:243–252

Vergara MR, Jan MV, Lorig L (2016) Numerical model for the study of the strength and failure modes of rock containing non-persistent joints. Rock Mech Rock Eng 49(4):1211–1226

Wong RHC, Chau KT (1998) Crack coalescence in a rock-like material containing two cracks. Int J Rock Mech Min Sci 35(2):147–164

Wang DJ, Tang HM, Elsworth D, Wang CY (2019) Fracture evolution in artificial bedded rocks containing a structural flaw under uniaxial compression. Eng Geol 250:130–141

Wong LNY, Einstein HH (2009) Crack coalescence in molded gypsum and Carrara marble: part 1. Macroscopic observations and interpretation. Rock Mech Rock Eng 42(3):475–511

Wong RHC, Chau KT, Tang CA, Lin P (2001a) Analysis of crack coalescence in rock-like materials containing three flaws—part I: experimental approach. Int J Rock Mech Min Sci 38(7):909–924

Walsh JB (1965) The effect of cracks on the compressibility of rock. J Geophys Res 70(2):381–389

Wong RHC, Leung WL, Wang SW (2001b) Shear strength studies on rock-like models containing arrayed open joints. Dc Rocks E U.s.symposium on Rock Mechanics

Wu LZ, Shao GQ, Huang RQ, He Q (2018) Overhanging rock: theoretical, physical and numerical modeling. Rock Mech Rock Eng 51(11):3585–3597

Xu Q, Fan XM, Huang RQ, Yin YP, Hou SS, Dong XJ, Tang MG (2010) A catastrophic rockslide-debris flow in Wulong, Chongqing, China in 2009: background, characterization and causes. Landslides 7(1):75–87

Xu T, Xu Q, Deng ML, Ma TH, Yang TH, Tang CA (2014) A numerical analysis of rock creep-induced slide: a case study from Jiweishan mountain, China. Environ Earth Sci 72(6):2111–2128

Xu J, Li ZX (2019) Crack propagation and coalescence of step-path failure in rocks. Rock Mech Rock Eng 52(4):965–979

Yang XX, Kulatilake PHSW (2019) Laboratory investigation of mechanical behavior of granite samples containing discontinuous joints through direct shear tests. Arab J Geosci 12(2):79

Yin YP, Sun P, Zheng M, Li B (2011) Mechanism on apparent dip sliding of oblique inclined bedding rockslide at Jiweishan, Chongqing, China. Landslides 8(1):49–65

Zhou XP, Chen JW (2019) Extended finite element simulation of step-path brittle failure in rock slopes with non-persistent en-echelon joints. Eng Geol 250:65–88

Zhang K, Cao P, Ma GW, Ren F, Li KH (2016a) Stability analysis of rock slope controlled by major geological discontinuities based on the extended kinematical element method. Rock Mech Rock Eng 49:2967–2975

Zhang M, McSaveney M, Shao H, Zhang CY (2018) The 2009 Jiweishan rock avalanche, Wulong, China: precursor conditions and factors leading to failure. Eng Geol 233:225–230

Zhao ZH, Yang J, Zhou D, Chen YF (2017) Experimental investigation on the wetting-induced weakening of sandstone joints. Eng Geol 225(SI):61–67

Zhurkov SN (1984) Kinetic concept of the strength of solids. Int J Fract 26(4):295–307

Zhang K, Cao P, Ma GW, Wang WH, Fan WC, Li KH (2016b) Strength, fragmentation and fractal properties of mixed flaws. Acta Geotech 11(4):901–912

Zou Z, Tang H, Xiong C, Su A, Criss RE (2017) Kinetic characteristics of debris flows as exemplified by field investigations and discrete element simulation of the catastrophic Jiweishan rockslide, China. Geomorphology 295:1–15
Funding
This work was supported by the National Key R&D Program of China (2017YFC1501301), the National Natural Science Foundation of China (Grant Nos. 41572283 and 41972284), the Funding of Science and Technology Office of Sichuan Province (Grant No. 2017TD0018) and the State Key Laboratory of Geohazard Prevention and Geoenvironment Protection Independent Research Project (SKLGP2018Z011).
About this article
Cite this article
Qin, C., Chen, G., Zhu, J. et al. A precursor of bedding rockslide: rock spalling in the key block triggered by tensile cracks. Bull Eng Geol Environ 79, 2513–2528 (2020). https://doi.org/10.1007/s10064-019-01703-y
Received:

Accepted:

Published:

Issue Date:
Keywords
Bedding plane

Compressive stress

Rock bridge

Direct shear test

Shear spalling

Precursor