Abstract
In this study, comprehensive laboratory experiments, such as thin-section and optical section analyses and P wave velocity and uniaxial compression tests, are performed on three types of quartz mica schist samples. The thin-section analysis reveals that the schist predominately consists of flaky mica and granular minerals, including quartz, feldspar, and calcite. The two types of minerals, both presenting a certain degree of orientation, are arranged to form a quasi-bedded structure as a whole, which essentially leads to macroscopic physicomechanic anisotropy. By means of optical section observation, directional microfissures are found to mainly be distributed alongside the edge of the oriented mica layer, while defects in other parts exhibit irregular orientation. Moreover, quantitative information is extracted from gray images by Image-Pro Plus (IPP), and then, relevant indicators are proposed to quantitatively analyze the differences in the content, morphology, and distribution characteristics of minerals and defects among the three types of samples. P wave velocity measurements of dry cylindrical specimens with different schistosity angles α show that the minimum value lies in the direction of the transverse schistosity planes (α = 90°) and that the P wave velocity increases with the decrease of the schistosity angle. There is an obvious linear positive correlation between the orientation coefficient of mica, which is adopted to indirectly reflect the orientation degree of microfissure, and the 0.5 power of the velocity anisotropy coefficient. The uniaxial compression test of specimens reveals the anisotropic characteristics of the peak strength, failure mode, and crack initiation and propagation for the schist samples. In particular, with the change of the schistosity angle, the peak strength and crack initiation strength have a U shape, characterized by a minimum value at α = 30° and maximum value at α = 0° or 90°. Directional microfissures and irregular defects with a dominant angle control the crack initiation of the specimens with 0° ≤ α ≤ 45° and 45° < α ≤ 90°, respectively. The weak edge of the directional mica layers has a more or less guiding effect on crack propagation when compressive loading is applied obliquely to the schistosity planes, while crack propagation is independent of weak edges when perpendicular to the planes. Three failure modes occur in the specimens with the change of the schistosity angle: tension-splitting failure, shear-slip failure, and shear failure. It is found that the mechanical anisotropy properties of the schist samples are closely associated with the content, morphology, and distribution characteristics of minerals and defects based on the analyses of the macro- and microquantitative data.
This is a preview of subscription content, log in to check access.
Access options
Buy single article
Instant access to the full article PDF.
US$ 39.95
Price includes VAT for USA
Subscribe to journal
Immediate online access to all issues from 2019. Subscription will auto renew annually.
US$ 99
This is the net price. Taxes to be calculated in checkout.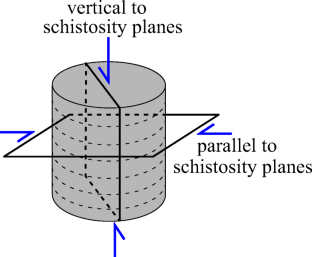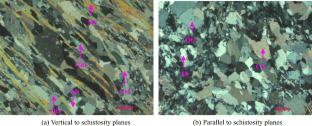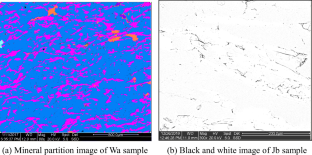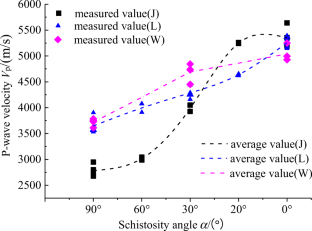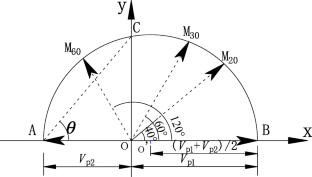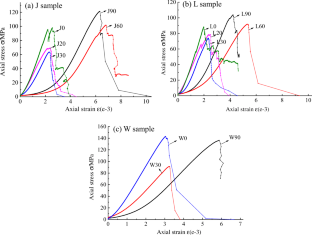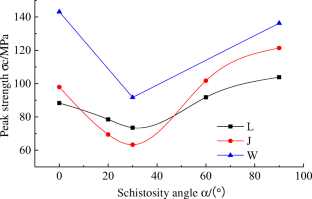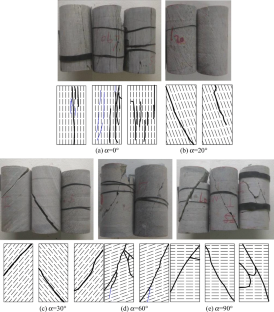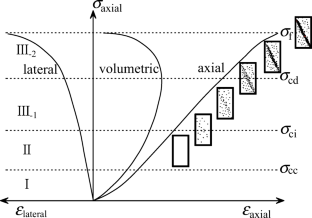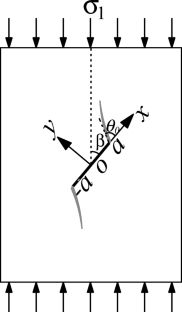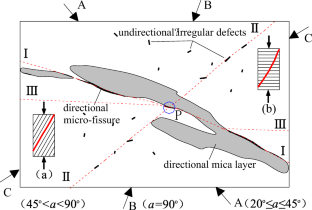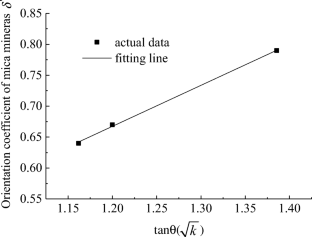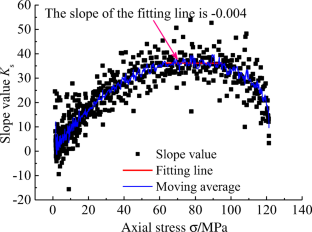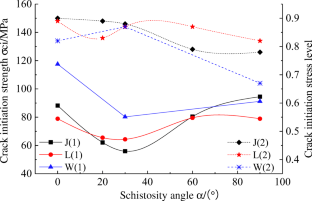 References
Ali E, Guang W, Zhiming Z, Weixue J (2014) Assessments of strength anisotropy and deformation behavior of banded amphibolite rocks. Geotech Geol Eng 32(2):429–438

Amann F, Ündül Ö, Kaiser PK (2013) Crack initiation and crack propagation in heterogeneous sulfate-rich clay rocks. Rock Mech Rock Eng

Attewell PB, Sandford MR (1974) Intrinsic shear strength of a brittle, anisotropic rock—I: experimental and mechanical interpretation. Int J Rock Mech Mining Sci 11(1):423–430

Bieniawski ZT (1967) Mechanism of brittle failure of rock part I—theory of fracture process. Int J Rock Mech Min Sci Geomech Abstr 4(4):395–406

Brace WF, Paulding BR, Scholz C (1966) Dilatancy in fracture of crystalline rocks. J Geophys Res 71(16):3939–3953

Brown ET, Richards LR, Barr MV (1977) Shear strength characteristics of Delabole slates. Proc. Conf. Rock Eng. Tyne, Newcastle, pp 31–51

Chen TY, Feng XT, Zhang XW, Chao WD, Fu CJ (2014) Experimental study on mechanical and anisotropic properties of black shale. Chin J Rock Mech Eng 33(9):1772–1779

Chenevert ME, Gatlin C (1965) Mechanical anisotropies of laminated sedimentary rocks. Soc Pet Eng J 5(01):67–77

Cho JW, Kim H, Jeon S, Min KB (2012) Deformation and strength anisotropy of Asan gneiss, Boryeong shale, and Yeoncheon schist. Int J Rock Mech Min Sci 50:158–169

Cholach PY, Schmitt DR (2006) Intrinsic elasticity of a textured transversely isotropic muscovite aggregate: comparisons to the seismic anisotropy of schists and shales. J Geophys Res 111(B9):B09410

Corthesy R, Gill DE, Leite MH (1993) An integrated approach to rock stress measurement in anisotropic non-linear elastic rock. Int J Rock Mech Min Sci Geomech Abstr 30(4):395–411

Deer WA, Howie RA, Zussman J (1964) Rock-forming minerals. Sheet Silicates, Pitman, London

Deklotz EJ, Brown JW, Stemler OA (1966) Anisotropy of a schistose gneiss. 1st Congress of International Society for Rock Mechanics, Lisbon, pp 465–470

Diederichs MS, Kaiser PK, Eberhardt E (2004) Damage initiation and propagation in hard rock during tunnelling and the influence of near-face stress rotation. Int J Rock Mech Min Sci 41(5):785–812

Donath FA (1964) Strength variation and deformational behavior in anisotropic rock. State of stress in the Earth's Crust. In: Judd WR (ed) . Elsevier, New York, pp 281–297

Eberhardt E, Stead D, Stimpson B, Read RS (1998) Identifying crack initiation and propagation thresholds in brittle rock. Can Geotech J 35(2):222–233

Erdogan F, Sih GC (1963) On the crack extension in plates under plane loading and transverse shear. J Basic Eng 85:519–527

Gholami R, Rasouli V (2014) Mechanical and elastic properties of transversely isotropic slate. Rock Mech Rock Eng 47(5):1763–1773

Heng S, Yang CH, Zhang BP, Guo YT, Wang L, Wei YL (2015) Experimental research on anisotropic properties of shale. Rock Soil Mech 36(3):609–616

Hoek E (1964) Fracture of anisotropic rock. J South Afr Inst Min Metall 64(10):501–523

Horino, FG, Ellickson, ML (1970) A method of estimating the strength of rock containing planes of weakness. Report of Investigation 744.US Bureau of Mines

Irwin GR (1957) Analysis of stress and strains near the end of a crack extension force. J Appl Mech 24:361–364

Khanlari G, Rafiei B, Abdilor Y (2015) An experimental investigation of the Brazilian tensile strength and failure patterns of laminated sandstones. Rock Mech Rock Eng 48(2):843–852

Kim H, Cho JW, Song I, Min KB (2012) Anisotropy of elastic moduli, P-wave velocities, and thermal conductivities of Asan gneiss, Boryeong shale, and Yeoncheon schist in Korea. Eng Geol 147-148(5):68–77

Kuila U, Dewhurst DN, Siggins AF, Raven MD (2011) Stress anisotropy and velocity anisotropy in low porosity shale. Tectonophysics 503(1–2):34–44

Lajtai EZ (1974) Brittle fracture in compression. Int J Fract 10(4):525–536

Li D, Wong LNY, Liu G, Zhang XP (2012) Influence of water content and anisotropy on the strength and deformability of low porosity meta-sedimentary rocks under triaxial compression. Eng Geol 126:46–66

Mccabe WM, Koerner RM (1975) High pressure shear strength investigation of an anisotropic mica schist rock. Int J Rock Mech Mining Sci 12(8):219–228

Mclamore R, Gray KE (1967) The mechanical behavior of anisotropic sedimentary rocks. J Eng Ind 89(1):62–73

Nasseri MH, Rao K, Ramamurthy T (2003) Transversely isotropic strength and deformational behavior of Himalayan schists. Int J Rock Mech Min Sci 40:3–23

Nicksiar M, Martin CD (2012) Evaluation of methods for determining crack initiation in compression tests on low-porosity rocks. Rock Mech Rock Eng 45(4):607–617

Qi JF, Sui WH, Zang GL, Xu JS (2014) Calculation and analysis of the porosity and fractal dimension of red stratum sandstone based on SEM images processing. J Eng Geol 22(Suppl):339–345

Ramamurthy T (1994) Strength and modulus responses of anisotropic rocks. In: Hudson, J.A., ED., Compressive Rock Engineering, Vol.1, Pergamon, Oxford, 313–329

Ramamurthy T, Rao GV, Singh J (1993) Engineering behaviour of phyllites. Eng Geol 33(3):209–225

Shan ZG, Chen GQ, Zhou CH, Wang JX, Shen YS (2013) Mechanical properties and rock mass quality classification of quartz mica schist for danba hydropower station. Chin J Rock Mech Eng 32(10):2071–2078

Singh J, Ramamurthy T, Rao GV (1989) Strength anisotropies in rocks. Ind Geotech J 19(2):147–166

Vanorio T, Mukerji T, Mavko G (2008) Emerging methodologies to characterize the rock physics properties of organic-rich shales. Lead Edge 27(6):780–787

Vaughan MT, Guggenheim S (1986) Elasticity of muscovite and its relationship to crystal structure. J Geophys Res 91(B5):4657–4664

Voss RF, Laibowitz RB, Allesandrini EI (1991) Fractal geometry of percolation in thin gold films. Scaling Phenomena in Disordered Systems. Springer US

Yao Z, Ding WX, Wang JJ (1996) A study on anisotropy and normalization of the rockmass elastic wave velocity in a dam foundation at the upper reach of yellowriver. J Geol Hazard Environ Pres 7(2):38–43

Yin XM, Yan EC, Wang LN, Chen L (2019) Quantitative microstructure information extraction and microscopic morphology analysis of anisotropic schist. Rock Soil Mech 40(7):2617–2629

Yong MT, Ming CK (2001) A failure criterion for transversely isotropic rocks. Int J Rock Mech Min Sci 38(3):399–412

Zhang XM (2007) Anisotropic characteristic of rock material and its effect on stability of tunnel surrounding rock, PhD Thesis, Central South University

Zhang XP, Wong LNY, Wang SJ, Han GY (2012) Engineering properties of quartz mica schist. Eng Geol 121:135–149
Funding
This research is financially supported by the Nanhu Scholars Program of Xinyang Normal University and the Natural Science Foundation of China (Grant no. 41807240).
About this article
Cite this article
Yin, X., Yan, E., Wang, L. et al. Anisotropy of quartz mica schist based on quantitative extraction of fabric information. Bull Eng Geol Environ 79, 2439–2456 (2020). https://doi.org/10.1007/s10064-019-01699-5
Received:

Accepted:

Published:

Issue Date:
Keywords
Schist

Anisotropy

Microscopic fabric

Crack initiation strength

P wave velocity