Zusammenfassung
Hintergrund
Deutsches Rettungsdienstfachpersonal jeder Qualifikation erlernt die Erwachsenenreanimation im Rahmen der Ausbildung bzw. der Lehrgänge.
Ziel der Arbeit
Es soll ermittelt werden, ob sich Wissen und Handlungssicherheit zur Erwachsenenreanimation zwischen den Qualifikationen unterscheiden und ob es einen Zusammenhang zwischen diesen Variablen gibt, sowie ob ein Unterschied zwischen Rettungsdienstfachpersonal besteht, das binnen der letzten 3 Jahre an einem Reanimationstraining teilgenommen hat, und Rettungsdienstfachpersonal, welches dies nicht getan hat.
Methoden
Es wurde der Wissensstand in den Bereichen Basic Life Support (BLS) und Advanced Life Support (ALS) ermittelt und die subjektive Handlungssicherheit der Teilnehmer erfragt.
Es wurden Zusammenhänge mittels Spearman-Rho und Unterschiede mittels Kruskal-Wallis-Test errechnet.
Ergebnisse
Die Angaben von 1548 Rettungsdienstfachkräften (m: 1165; w: 380; d: 3; Durchschnittsalter: 31,5 Jahre) konnten ausgewertet werden. Zwischen den Qualifikationen zeigten sich Unterschiede im Gesamtwissen (Chi-Quadrat = 428,55, p < 0,001, η2 = 0,275), wobei sich das ALS-Wissen (Chi-Quadrat = 487,93, p < 0,001, η2 = 0,314) stärker unterschied als das BLS-Wissen (Chi-Quadrat = 48,982, p < 0,001, η2 = 0,029). Auch in der Handlungssicherheit bestanden geringe Unterschiede (Chi-Quadrat = 83,371, p < 0,001, η2 = 0,051). Ein Zusammenhang zwischen Handlungssicherheit und Gesamtwissen konnte nachgewiesen werden (rs = 0,138, p < 0,01); ebenso zwischen Handlungssicherheit und ALS-Wissen (rs = 0,139, p < 0,001). Rettungsdienstfachkräfte, die binnen der vergangenen drei Jahre an einem Reanimationstraining teilgenommen hatten, wiesen ein höheres Gesamtwissen und eine höhere Handlungssicherheit (Z = 2,786, p = 0,005, r = 0,07) auf.
Diskussion
Anders als im BLS-Bereich, der über alle Qualifikationen hinweg durch einen hohen Wissensstand abgedeckt ist, existieren im ALS-Bereich erhebliche Wissensunterschiede. Notfallsanitäter und Notfallsanitäter in Ausbildung wiesen dabei in beiden Fällen den höchsten Wissensstand auf. Die Handlungssicherheit ist bei allen Qualifikationen hoch. Am höchsten ist sie bei Notfallsanitätern und Rettungsassistenten, was am ehesten mit vorhandener Berufserfahrung zu erklären sein könnte. Ein Zusammenhang zwischen Wissensstand und Handlungssicherheit ist vorhanden, aber gering. Die Unterschiede zwischen Personal mit und ohne Reanimationstraining binnen der vorausgegangenen 3 Jahre sind zwar gering, dennoch sei hiermit auf die Wichtigkeit regelmäßigen Reanimationstrainings hingewiesen.
Abstract
Background
German emergency medical personnel are taught resuscitation as part of their training.
Objectives
This trial aims to determine the level of knowledge and the practical self-confidence in adult resuscitation for all qualifications; how that knowledge and practical self-confidence relate to each other; and how large is any difference between the levels of qualification and if there is a difference between emergency medical personnel who have participated in resuscitation training within the past 3 years, and rescue service personnel who have not done so.
Methods
The level of knowledge in basic life support (BLS) and advanced life support (ALS) was determined and the practical self-confidence of the participants was established. Relationships were calculated using Spearman rho and differences were examined using the Kruskal–Wallis test.
Results
Data of 1548 emergency medical professionals (m: 1165; f: 380; x: 3; average age: 31.46 years) were included. In the overall knowledge of adult resuscitation, differences between the qualifications exist (Χ2 = 428.55; p < 0.001; η2 = 0.275), whereby ALS knowledge (Χ2 = 487.93, p < 0.001, η2 = 0.314) differed more than BLS knowledge (Χ2 = 48.982, p < 0.001, η2 = 0.029). Also, there are slight differences in practical self-confidence (Χ2 = 83.371, p < 0.001, η2 = 0.051). A link between practical self-confidence and overall knowledge does exist (rs = 0.138, p < 0.01); as well as between practical self-confidence and ALS knowledge (rs = 0.139, p < 0.001). Emergency medical professionals who had undergone resuscitation training within the past 3 years had a higher overall knowledge than participants who did not (Z = 4.846, p < 0.001, r = 0.12) and a higher practical self-confidence (Z = 2.786, p = 0.005, r = 0.07).
Discussion
The BLS knowledge is well covered across all levels of qualification, but still there are relevant differences in ALS knowledge. Paramedics grade A and trainee-paramedics grade A have the highest level of knowledge in both fields. The level of practical self-confidence is high for all qualifications, but highest for paramedics grade A and paramedics grade B, which could best be explained by existing professional experience. A link between level of knowledge and practical self-confidence does exist, but is small. The differences between personnel with and without resuscitation training in the past 3 years are small. Regardless of this, the importance of regular resuscitation training must be emphasized.
Paramedic grade A: Notfallsanitäter, highest non-academic qualification in prehospital emergency medicine in Germany since 2014.
Paramedic grade B: Rettungsassistent, former highest non-academic qualification (1989 –2014)
Access options
Buy single article
Instant access to the full article PDF.
US$ 39.95
Tax calculation will be finalised during checkout.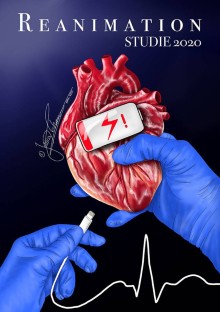 Literatur
1.

Ausbildungs- und Prüfungsverordnung für Notfallsanitäterinnen und Notfallsanitäter vom 16. Dezember 2013 (BGBl. I S. 4280), die zuletzt durch Artikel 41 des Gesetzes vom 15. August 2019 (BGBl. I S. 1307) geändert worden ist.

2.

Ausbildungs- und Prüfungsverordnung für Rettungsassistentinnen und Rettungsassistenten (RettAssAPrV) V. v. 7. Nov. 1989 BGBl. I S. 1966; aufgehoben durch § 26 V. v. 16. Dez. 2013 BGBl. I S. 4280

3.

Ausbildungs- und Prüfungsverordnung für Rettungssanitäterinnen und Rettungssanitäter sowie Rettungshelferinnen und Rettungshelfer (RettAPO). Vom 4. Dezember 2017.

4.

Blanz M (2015) Forschungsmethoden und Statistik für die Soziale Arbeit. Grundlagen und Anwendungen, 1. Aufl. Kohlhammer, Stuttgart

5.

Bossaert LL, Perkins GD, Askitopoulou H, Raffay VI, Greif R, Haywood KL, Mentzelopoulos SD, Nolan JP, Van de Voorde P, Xanthos TT (2015) Ethik der Reanimation und Entscheidungen am Lebensende. Notfall Rettungsmed 18(8):1035–1047. https://doi.org/10.1007/s10049-015-0083-z

6.

Böttiger BW, Becker LB, Kern KB, Lippert F, Lockey A, Ristagno G, Semeraro F, Wingen S (2020) BIG FIVE strategies for survival following out-of-hospital cardiac arrest. Eur J Anaesthesiol. https://doi.org/10.1097/EJA.0000000000001247

7.

Dunning D, Chip H, Suls JM (2004) Flawed self-assessment: implications for health, education, and the workplace. Psychol Sci Public Interest 5(3):69–106. https://doi.org/10.1111/j.1529-1006.2004.00018.x

8.

Fischer M, Wnent J, Gräsner J‑T, Seewald S, Brenner S, Jantzen T, Bein B, Bohn A, Rettungsdienste am Deutschen Reanimationsregister (2020) Jahresbericht Außerklinische Reanimation 2019 des Deutschen Reanimationsregisters. Anästh Intensivmed 61:V89–V93

9.

Fortbildung des nichtärztlichen Personals in der Notfallrettung und im Krankentransport RdErl. d. Ministeriums für Arbeit, Gesundheit und Soziales v. 21.1.1997 -VC 6-0717.8 (am 1.1.2003 MGSFF) (Zugriff am 12.07.2020)

10.

Greif R, Lockey AS, Conaghan P, Lippert A, de Vries W, Monsieurs KG (2015) Ausbildung und Implementierung der Reanimation. Notfall Rettungsmed 18(8):1016–1034. https://doi.org/10.1007/s10049-015-0092-y

11.

Irfan B, Zahid I, Khan MS, Khan OAA, Zaidi S, Awan S, Bilal S, Irfan O (2019) Current state of knowledge of basic life support in health professionals of the largest city in Pakistan: a cross-sectional study. BMC Health Serv Res 19(1):865. https://doi.org/10.1186/s12913-019-4676-y

12.

Jänig C, Van Den Bergh H, Höschel T, Poplawski A, Piepho T (2019) Vergleich des Fertigkeitsniveaus in der Anwendung des Larynxtubus und der Beutel-Masken-Beatmung durch Pflegekräfte im 1‑Jahres-Intervall nach Erstausbildung. Notfall Rettungsmed 22(5):394–401. https://doi.org/10.1007/s10049-018-0502-z

13.

Koch S, Drache D, Frenzel J, Männling W, Seeger S, Thomas M, Broda A (2018) Einstellung nichtärztlicher Mitarbeiter in der präklinischen Notfall- und Rettungsmedizin zu einer evidenzbasierten Notfallmedizin (EBNM). Notfall Rettungsmed 21(6):496–504. https://doi.org/10.1007/s10049-018-0489-5

14.

Kudenchuk PJ (2019) Shocking insights on double defibrillation: how, when and why not? Resuscitation 140:209–210. https://doi.org/10.1016/j.resuscitation.2019.05.022

15.

Meaney PA, Bobrow BJ, Mancini ME, Christenson J, de Caen AR, Bhanji F, Abella BS, Kleinman ME, Edelson DP, Berg RA, Aufderheide TP, Menon V, Leary M (2013) Cardiopulmonary resuscitation quality: improving cardiac resuscitation outcomes both inside and outside the hospital: a consensus statement from the American heart association. Circulation 128(4):417–435. https://doi.org/10.1161/CIR.0b013e31829d8654

16.

Ministerium für Gesundheit, Emanzipation, Pflege und Alter des Landes Nordrhein-Westfalen (2016) Rahmenlehrplan Ausbildung zum Notfallsanitäter / zur Notfallsanitäterin in Nordrhein-Westfalen. https://www.mags.nrw/sites/default/files/asset/document/rahmenlehrplan-notsan-nrw.pdf. Zugegriffen: 12. Juli 2020

17.

Monsieurs KG, Nolan JP, Bossaert LL, Greif R, Maconochie IK, Nikolaou NI, Perkins GD, Soar J, Truhlář A, Wyllie J, Zideman DA (2015) Kurzdarstellung: Kapitel 1 der Leitlinien zur Reanimation 2015 des European Resuscitation Council. Notfall Rettungsmed 18(8):655–747. https://doi.org/10.1007/s10049-015-0097-6

18.

Nerdinger FW, Blickle G, Schaper N (2014) Arbeits- und Organisationspsychologie. Springer, Berlin, Heidelberg

19.

Oktay V, Cirali IC, Baydar O, Sansoy V (2019) Knowledge and experience of cardiopulmonary resuscitation among cardiologists in clinical practice: A multicenter cross-sectional study. Anatol J Cardiol 21(6):296–304. https://doi.org/10.14744/AnatolJCardiol.2019.53383

20.

Park J‑H, Moon S, Cho H, Ahn E, Kim T, Bobrow BJ (2019) Effect of team-based cardiopulmonary resuscitation training for emergency medical service providers on pre-hospital return of spontaneous circulation in out-of-hospital cardiac arrest patients. Resuscitation 144:60–66. https://doi.org/10.1016/j.resuscitation.2019.09.014

21.

Perkins GD, Handley AJ, Koster RW, Castrén M, Smyth MA, Olasveengen T, Monsieurs KG, Raffay V, Gräsner J‑T, Wenzel V, Ristagno G, Soar J (2015) Basismaßnahmen zur Wiederbelebung Erwachsener und Verwendung automatisierter externer Defibrillatoren: Kapitel 2 der Leitlinien zur Reanimation 2015 des European Resuscitation Council. Notfall Rettungsmed 18(8):748–769. https://doi.org/10.1007/s10049-015-0081-1

22.

Reiter M et al (2010) Notfall- und Intensivmedizin bei speziellen Krankheitsbildern. In: Hamp T, Weidenauer D, Laggner A, Sitzwohl C (Hrsg) Lehrbuch Tertiale Notfall- und Intensivmedizin. Springer, Vienna

23.

Roshana S, Batajoo KH, Piryani RM, Sharma MW (2012) Basic life support: knowledge and attitude of medical/paramedical professionals. World J Emerg Med 3(2):141–145. https://doi.org/10.5847/wjem.j.issn.1920-8642.2012.02.011

24.

Soar J, Nolan JP, Böttiger BW, Perkins GD, Lott C, Carli P, Pellis T, Sandroni C, Skrifvars MB, Smith GB, Sunde K, Deakin CD (2015) Erweiterte Reanimationsmaßnahmen für Erwachsene ("adult advanced life support"): Kapitel 3 der Leitlinien zur Reanimation 2015 des European Resuscitation Council. Notfall Rettungsmed 18(8):770–832. https://doi.org/10.1007/s10049-015-0085-x
Ethics declarations
Interessenkonflikt
M. Mohr, J. Schillings und J. Mohren geben an, dass kein Interessenkonflikt besteht.
Für diesen Beitrag wurden von den Autoren keine Studien an Menschen oder Tieren durchgeführt. Für die aufgeführten Studien gelten die jeweils dort angegebenen ethischen Richtlinien. Dieser Beitrag enthält nur Fragebogendaten. Es wurden nur Datensätze ausgewertet, zu denen die Teilnehmer ihr Einverständnis zur Auswertung gegeben haben.
Additional information
Die Autoren M. Mohr und J. Schillings teilen sich die Erstautorenschaft.
Zur besseren Lesbarkeit wurde auf die Verwendung weiblicher und männlicher Sprachformen verzichtet und allein das generische Maskulinum verwendet. Sämtliche Personenbezeichnungen gelten selbstverständlich gleichermaßen für beide Geschlechter.
About this article
Cite this article
Mohr, M., Schillings, J. & Mohren, J. "Feel confident and know what to do?" Wissensstand und Handlungssicherheit von Rettungsdienstfachpersonal zur präklinischen Erwachsenenreanimation. Notfall Rettungsmed (2021). https://doi.org/10.1007/s10049-021-00841-9
Schlüsselwörter
Notfallmedizin

Präklinik

CPR

Rettungsdienstqualifikation

Herz-Lungen-Wiederbelebung
Keywords
Emergency medical services

Allied health personnel

Health services research

CPR

Medical knowledge