Abstract
The Impella is an axial-flow percutaneous ventricular assist device for cardiogenic shock. In this report, we describe two patients who developed aortic insufficiency (AI) associated with Impella and required surgical intervention upon implantation of the durable left ventricular assist device (LVAD). Both patients presented with cardiogenic shock and underwent insertion of Impella 5.0 as a bridge to decision. The cardiac function in these patients did not improve and obtaining approval for heart transplantation required time. They were managed with Impella for 91 and 98 days, respectively. In both cases, moderate AI that was not present before Impella insertion was observed when the Impella was removed. Therefore, we performed aortic valve closure to control the AI during durable LVAD implantation. In patients with durable LVAD implantation, AI may occur and progress after the operation in several cases. Aortic valve surgery is often performed to prevent deterioration of AI, especially in patients with AI before the surgery. Hence, AI is an important complication following Impella device implantation as a bridge to decision. Careful observation of AI is essential when the Impella is removed as the evaluation of AI by echocardiogram during Impella management is cumbersome because of device-generated artifacts.
This is a preview of subscription content, log in to check access.
Access options
Buy single article
Instant access to the full article PDF.
US$ 39.95
Price includes VAT for USA
Subscribe to journal
Immediate online access to all issues from 2019. Subscription will auto renew annually.
US$ 99
This is the net price. Taxes to be calculated in checkout.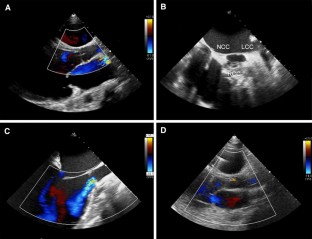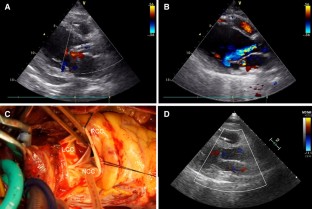 References
1.

Batsides G, Massaro J, Cheung A, Soltesz E, Ramzy D, Anderson MB. Outcomes of Impella 5.0 in cardiogenic shock: a systematic review and meta-analysis. Innovations (Philadelphia). 2018;13:254–60.

2.

Hall SA, Uriel N, Carey SA, Edens M, Gong G, Esposito M, et al. Use of a percutaneous temporary circulatory support device as a bridge to decision during acute decompensation of advanced heart failure. J Hear Lung Transplant. 2018;37:100–6.

3.

Dixon SR, Henriques JPS, Mauri L, Sjauw K, Civitello A, Kar B, et al. A prospective feasibility trial investigating the use of the Impella 2.5 system in patients undergoing high-risk percutaneous coronary intervention (the PROTECT I trial). Initial US experience. JACC Cardiovasc Interv. 2009;2:91–6.

4.

Yamamoto M, Yoneyama F, Kato H, Ieda M. Mitral chordal rupture by Impella 5.0 in a patient with fulminant myocarditis and inflammation of mitral chordae. Eur Heart J. 2020;41:1943.

5.

Maini B, Naidu SS, Mulukutla S, Kleiman N, Schreiber T, Wohns D, et al. Real-world use of the Impella 2.5 circulatory support system in complex high-risk percutaneous coronary intervention: the USpella Registry. Catheter Cardiovasc Interv. 2012;80:717–25.

6.

Hong E, Naseem T. Color Doppler artifact masking iatrogenic aortic valve injury related to an Impella device. J Cardiothorac Vasc Anesth. 2019;33:1584–7.

7.

Herrmann FE, Wellmann P, von Dossow V, Massberg S, Hagl C, Schramm R, et al. Rescue TAVI for aortic regurgitation after left ventricular assist device implantation following preoperative Impella® support. J Heart Valve Dis. 2017;26:603–5.

8.

Cowger J, Rao V, Massey T, Sun B, May-Newman K, Jorde U, et al. Comprehensive review and suggested strategies for the detection and management of aortic insufficiency in patients with a continuous-flow left ventricular assist device. J Hear Lung Transplant. 2015;34:149–57.

9.

Imamura T, Kinugawa K. Preoperative prediction of aortic insufficiency during ventricular assist device treatment. Int Heart J. 2016;57:3–10.

10.

Holtz J, Teuteberg J. Management of aortic insufficiency in the continuous flow left ventricular assist device population. Curr Heart Fail Rep. 2014;11:103–10.

11.

Baumgartner H, Falk V, Bax JJ, De Bonis M, Hamm C, Holm PJ, et al. 2017 ESC/EACTS guidelines for the management of valvular heart disease. Eur Heart J. 2017;38:2739–91.

12.

Noly PE, Pagani FD, Noiseux N, Stulak JM, Khalpey Z, Carrier M, et al. Continuous-flow left ventricular assist devices and valvular heart disease: a comprehensive review. Can J Cardiol. 2020;36:244–60.
Ethics declarations
Conflict of interest
T. O. received lecture fees from Ono Yakuhin, Medtronics, and Otsuka, and received research grants from Ono Yakuhin, Bayer, Daiichi-Sankyo, and Amgen Astellas (not in connection with the submitted work). A. U. received research grants from TERUMO, Edwards Lifesciences, JAPAN LIFELINE, Mitsubishi Tanabe, Medtronic Japan, Senko medical instrument, St. Jude Medical, Pfizer, Daiichi-Sankyo, iCorNet, Trestech, and NIPRO. T. M. received lecture fees and unrestricted research grants from the Department of Cardiology at Nagoya University Graduate School of Medicine, Bayer, Daiichi-Sankyo, Dainippon Sumitomo, Kowa, MSD, Mitsubishi Tanabe, Boehringer Ingelheim, Novartis, Pfizer, Sanofi-Aventis, Takeda, Astellas, Otsuka, and Teijin.
Additional information
Publisher's Note
Springer Nature remains neutral with regard to jurisdictional claims in published maps and institutional affiliations.
Electronic supplementary material
Below is the link to the electronic supplementary material.
Movie 1: Twenty-nine days after Impella 5.0 insertion, transthoracic echocardiogram revealed slight aortic insufficiency in case 1 (MPG 3180 kb)
Movie 2: A defect between right coronary cusp and non-coronary cusp became evident on transesophageal echocardiogram when Impella was removed in case 1 (MPG 2876 kb)
Movie 3: Transesophageal echocardiogram detected moderate aortic insufficiency when Impella was removed in case 1 (MPG 3390 kb)
Movie 4: Transthoracic echocardiogram revealed trivial aortic insufficiency one day after the central aortic valve closure at durable left ventricular assist device implantation in case 1 (MPG 3278 kb)
Movie 5: Transthoracic echocardiogram showed no obvious regurgitation flow just after Impella 5.0 insertion in case 2 (MPG 4786 kb)
Movie 6: Transthoracic echocardiogram detected moderate aortic insufficiency when Impella was transiently removed in case 2 (MPG 5298 kb)
Movie 7: Transthoracic echocardiogram showed no obvious aortic insufficiency two days after the central aortic valve closure at durable left ventricular implantation in case 2 (MPG 3288 kb)
About this article
Cite this article
Oishi, H., Kondo, T., Fujimoto, K. et al. Aortic insufficiency associated with Impella that required surgical intervention upon implantation of the durable left ventricular assist device. J Artif Organs (2020). https://doi.org/10.1007/s10047-020-01184-x
Received:

Accepted:

Published:
Keywords
Impella

Aortic insufficiency

Cardiogenic shock

Left ventricular assist device