Abstract
Earthquakes can trigger various hydrological responses such as changes in groundwater level, tidal response, and aquifer permeability, but the relationship between these changes remains unclear. In this study, the changes in groundwater level and tidal response induced by the 2,008 Ms8.0 Wenchuan earthquake, China, are analyzed for epicenter distances of tens of kilometers to more than 1,000 km. The results show that the water levels in 34 wells changed, including step-like, pulse, oscillation and gradual changes. The water levels of 8 out of 17 wells with tidal responses experienced changes in phase shift based on tidal analysis, and the water levels and phase shifts varied in opposite directions. The changes in phase shift indicate that the earthquake changed the horizontal or vertical permeability of the aquifer, or even the groundwater movement. Several possible mechanisms are proposed to account for these changes: breaching of the aquitard, associated with five of the studied wells in which phase shift increased to different extents but water level decreased; reduction in the fracture aperture, accounting for one well whose phase shift changed from positive to negative but water level increased; clogging/unclogging of the fractures, associated with one well with increasing and then decreasing phase shift; lower aquifer permeability or the occurrence of rapid fluctuations in pore pressure, accounting for another well where phase shift gradually decreased but the water level changed little. Each mechanism may deepen understanding of hydrological responses after earthquakes.
Résumé
Les séismes peuvent déclencher diverses réponses hydrologiques, telles que des changements du niveau des eaux souterraines (ESO), de la réponse tidale et de la perméabilité de l'aquifère, mais la relation entre ces changements reste peu claire. Dans la présente étude, les changements du niveau des ES et de la réponse de la marée induits par le séisme Wenchuan de 2008 de Ms. 8.0, en Chine, sont analysés pour des distances à l'épicentre allant de 10 km à plus de 1,000 km. Les résultats montrent que les niveaux d'eau dans 34 puits ont changé, y compris par des changements progressifs, pulsés, oscillatoires et graduels. Les niveaux d'eau de 8 des 17 puits présentant des réponses tidales ont subi des changements dans le déphasage d'après l'analyse des marées et les niveaux d'eau et les déphasages ont varié dans des sens opposés. Les changements du déphasage indiquent que le séisme a modifié la perméabilité horizontale ou verticale de l'aquifère ou même le mouvement des ESO. Plusieurs mécanismes possibles sont proposés pour expliquer ces changements: une rupture de l'aquitard, associée à cinq des puits étudiés, dans lesquels le déphasage a augmenté à des degrés divers, alors que le niveau d'eau a décru; une réduction de l'ouverture d'une fracture, représentée dans un des puits dont le déphasage est passé de positif à négatif alors que le niveau d'eau a cru; un colmatage-décolmatage des fractures associés à un puits à déphasage croissant puis décroissant; une perméabilité plus faible de l'aquifère ou la survenue de fluctuations rapides de la pression interstitielle, représentée dans un autre puits où le déphasage a diminué graduellement alors que le niveau d'eau a peu changé. Chaque mécanisme peut améliorer la compréhension des réponses hydrologiques à la suite des séismes.
Resumen
Los terremotos pueden desencadenar diversas respuestas hidrológicas, como los cambios en el nivel de las aguas subterráneas, respuesta de las mareas y permeabilidad de los acuíferos, pero la relación entre esos cambios todavía no está bien definida. En este estudio, los cambios en el nivel de las aguas subterráneas y la respuesta de las mareas inducidos por el terremoto de 2008 Ms8.0 Wenchuan, China, se analizan para distancias de epicentro de decenas de kilómetros a más de 1,000 km. Los resultados muestran que los niveles de agua en 34 pozos cambiaron, incluyendo variaciones escalonadas, pulsos, oscilaciones y cambios graduales. Los niveles de agua de 8 de los 17 pozos con respuestas de marea experimentaron variaciones de cambio de fase basadas en el análisis de mareas, y los niveles de agua y los cambios de fase variaron en direcciones opuestas. Las variaciones en el cambio de fase indican que el terremoto cambió la permeabilidad horizontal o vertical del acuífero, o incluso el movimiento de las aguas subterráneas. Se proponen varios mecanismos posibles para explicar esos cambios: la ruptura del acuitardo, asociada a cinco de los pozos estudiados en los que el cambio de fase aumentó en distinta medida pero el nivel del agua disminuyó; la reducción de la apertura de la fractura, que explica un pozo cuyo cambio de fase pasó de positivo a negativo pero el nivel del agua aumentó; el taponamiento o desobstrucción de las fracturas, asociado a un pozo con un cambio de fase creciente y luego decreciente; la menor permeabilidad del acuífero o la aparición de rápidas fluctuaciones en la presión de los poros, que explica otro pozo en el que el cambio de fase disminuyó gradualmente pero el nivel del agua cambió escasamente. Cada mecanismo puede profundizar la comprensión de las respuestas hidrológicas después de los terremotos.
摘要
地震会触发各种水文响应, 例如地下水位, 潮汐响应和含水层渗透率的变化, 但这些变化之间的关系仍不清楚。在这项研究中, 分析了2008年中国汶川Ms8.0地震引起的地下水位变化和潮汐响应, 其震中距离在几十公里到1000多公里之间。结果表明, 34口井的水位发生了阶梯状, 脉动, 振荡和逐渐变化。根据潮汐分析, 在具有潮汐响应的17口井中, 有8口的水位发生了相移变化, 并且水位和相移沿相反的方向变化。相移的变化表明地震改变了含水层的水平或垂直渗透率, 甚至改变了地下水的运动。提出了几种可能的机制来解释这些变化:隔水层破坏, 相应的五眼相关井的井中相移增加到不同程度, 但水位下降; 裂缝开度减小, 一口井的相移从正变负, 但水位增加; 裂缝的堵塞/疏通, 一口井相移增加然后相移降低; 较低的含水层渗透率或发生孔隙压力快速波动, 这是相移逐渐减少但水位变化不大的另一口井的原因。每种机制都可以加深对地震后水文响应的了解。
Resumo
Terremotos podem desencadear várias respostas hidrológicas, como mudanças no nível do lençol freático, resposta das marés e permeabilidade do aquífero, mas a relação entre essas mudanças permanece obscura. Neste estudo, as mudanças no nível do lençol freático e a resposta das marés induzidas pelo terremoto Ms8.0 de 2008 em Wenchuan, na China, são analisadas para distâncias de epicentro de dezenas de quilômetros a mais de 1,000 km. Os resultados mostram que os níveis de água em 34 poços mudaram, incluindo degraus, pulso, oscilação e mudanças graduais. Os níveis de água de 8 dos 17 poços com respostas de maré experimentaram alterações na mudança de fase com base na análise de maré, e os níveis de água e mudanças de fase variaram em direções opostas. As alterações na mudança de fase indicam que o terremoto mudou a permeabilidade horizontal ou vertical do aquífero, ou mesmo o movimento da água subterrânea. Vários mecanismos possíveis são propostos para dar conta dessas mudanças: rompimento do aquitardo, associado a cinco dos poços estudados nos quais a mudança de fase aumentou em diferentes extensões, mas o nível da água diminuiu; redução na abertura de fratura, responsável por um poço cuja mudança de fase mudou de positiva para negativa, mas o nível de água aumentou; obstrução/desobstrução das fraturas, associada a um poço com aumento e, em seguida, diminuição do deslocamento de fase; menor permeabilidade do aquífero ou a ocorrência de flutuações rápidas na pressão dos poros, sendo responsável por outro poço onde a mudança de fase diminuiu gradualmente, mas o nível da água mudou pouco. Cada mecanismo pode aprofundar a compreensão das respostas hidrológicas após terremotos.
Access options
Buy single article
Instant access to the full article PDF.
US$ 39.95
Tax calculation will be finalised during checkout.
Subscribe to journal
Immediate online access to all issues from 2019. Subscription will auto renew annually.
US$ 79
Tax calculation will be finalised during checkout.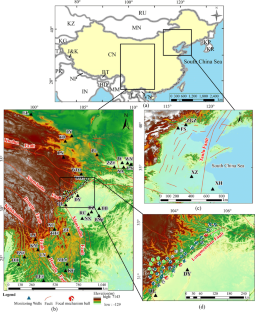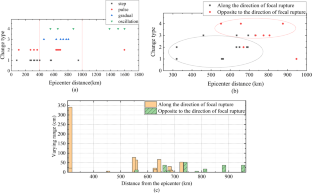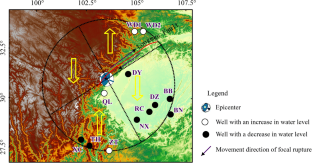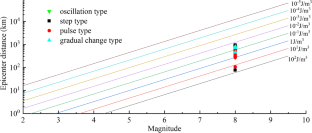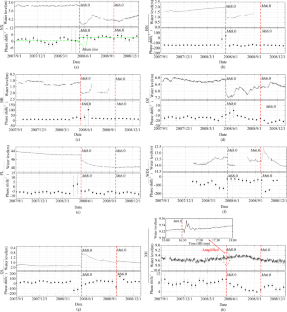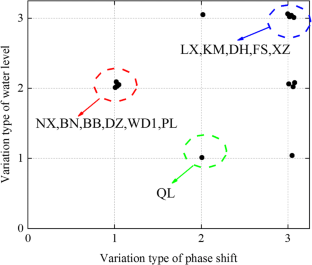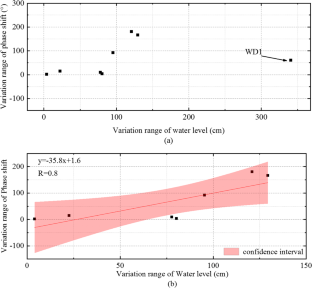 References
Brodsky EE, Roeloffs E, Woodcock D, Gall I, Manga M (2003) A mechanism for sustained groundwater pressure changes induced by distant earthquakes. J Geophys Res 108(B8):2390. https://doi.org/10.1029/2002JB002321

Chia Y, Wang Y-S, Chiu JJ, Liu C-W (2001) Changes of groundwater level due to the 1999 Chi-Chi earthquake in the Choshui River alluvial fan in Taiwan. Bull Seismol Soc Am 91(5):1062–1068

Cooper HH, Bredehoeft JD, Papadopulos IS, Bennett RR (1965) The response of well-aquifer systems to seismic wave. J Geophys Res 70:3915–3926

Doan ML, Brodsky EE, Prioul R, Signer C (2006) Tidal analysis of borehole pressure: a tutorial. University of California, Santa Cruz, CA

Elkhoury JE, Brodsky EE, Agnew DC (2006) Seismic waves increase permeability. Nature 441(29):1135–1138. https://doi.org/10.1038/nature04798

Elkhoury JE, André Niemeijer EEB, Marone C (2011) Laboratory observations of permeability enhancement by fluid pressure oscillation of in situ fractured rock. J Geophys Res 116:B02311. https://doi.org/10.1029/2010JB007759

Faoro I, Elsworth D, Marone C (2012) Permeability evolution during dynamic stressing of dual permeability media. J Geophys Res: Solid Earth 117:B01310. https://doi.org/10.1029/2011JB008635

Hsieh PA, Bredehoeft JD, Farr JM (1987) Determination of aquifer transmissivity from earth tide analysis. Water Resour Res 23(10):1824–1832

ISO (2020) Online browsing platform (OBP). https://www.iso.org/obp/ui#search. Accessed January 2021

Lay T, Wallace TC (1995) Modern global seismology. Academic, San Diego, CA, 521 pp

Liao X, Chi-Yuen W, Chun-Ping L (2015) Disruption of groundwater systems b earthquakes. Geophys Res Lett 42:9758–9763. https://doi.org/10.1002/2015GL066394

Liu W, Manga M (2009) Changes in permeability caused by dynamic stresses in fractured sandstone. Geophys Res Lett 36:L20307. https://doi.org/10.1029/2009GL039852

Manga M, Brodsky EE (2006) Seismic triggering of eruptions in the far fields: volcanoes and geysers. Annu Rev Earth Planet Sci 34:263–291. https://doi.org/10.1146/annurev.earth.34.031405.125125.

Manga M, Wang C (2007) Earthquake hydrology. In: Kanamori H (ed) Earthquake seismology, Treatise on Geophysics, vol 4, chap. 4.10. Elsevier, Amsterdam, pp 293–320

Manga M, Beresnev I, Brodsky EE, Elkhoury JE, Elsworth D, Ingebritsen S, Mays DC, Wang CY (2012) Changes in permeability caused by transient stresses: field observations, experiments, and mechanisms. Rev Geophys 50:RG2004. https://doi.org/10.1029/2011RG000382

Montgomey DR, Manga M (2003) Streamflow and water well response to earthquakes. Science 300:2047–2049. https://doi.org/10.1126/science.1082980.

Quilty EG, Roeloffs EA (1997) Water-level changes in response to the 20 December 1994 earthquake near Parkfield, California. Bull Seismol Soc Am 87(2):310–317

Roeloffs EA (1996) Poroelastic techniques in the study of earthquake related hydrologic phenomena. Adv Geophys 37:135–195. https://doi.org/10.1016/S0065-2687(08)60270-8

Roeloffs EA (1998) Persistent water level changes in a well near Parkfield, California, due to local and distant earthquakes. J Geophys Res 103:869–889. https://doi.org/10.1029/97JB02335

Rojstaczer S, Wolf S, Michel R (1995) Permeability enhancement in the shallow crust as a cause of earthquake-induced hydrological changes. Nature 373(19):237–239. https://doi.org/10.1038/37323

Shi Z, Wang G (2014) Hydrological response to multiple large distant earthquakes in the Mile well, China. J Geophys Res Earth Surf 119:2448–2459. https://doi.org/10.1002/2014JF003184

Shi Z, Wang G (2015) Sustained groundwater level changes and permeability variation in a fault zone following the 12 May 2008, Mw 7.9 Wenchuan earthquake. Hydrol Process 29:2659–2667. https://doi.org/10.1002/hyp.10387

Shi Z, Wang G (2016) Aquifers switched from confined to semiconfined by earthquakes. Geophys Res Lett 43. https://doi.org/10.1002/2016GL070937

Shi Z, Wang G (2017) Evaluation of the permeability properties of the Xiaojiang fault zone using hot springs and water wells. Pure Appl Geophys 170(11):1773–1783. https://doi.org/10.1007/s00024-012-0606-1

Shi Z, Wang G, Liu C (2013) Co-seismic groundwater level changes induced by the May 12, 2008 Wenchuan earthquake in the near field. Pure Appl Geophys 170(11):1773–1783. https://doi.org/10.1007/s00024-012-0606-1

Shi Z, Zhang S, Yan R, Wang G (2018) Fault zone permeability decrease following large earthquakes in a hydrothermal system. Geophys Res Lett 45:1387–1394. https://doi.org/10.1002/2017GL075821

Shi Y, Liao X, Zhang D, Liu C-P (2019) Seismic waves could decrease the permeability of the shallow crust. Geophys Res Lett 46. https://doi.org/10.1029/2019GL081974

Sun X, Wang G, Yang X (2015) Coseismic response of water level in Changping well, China, to the mw 9.0 Tohoku earthquake. J Hydrol 531:1028–1039

Sun XL, Xiang Y, Shi ZM (2018) Estimating the hydraulic parameters of a confined aquifer based on the response of groundwater levels to seismic Rayleigh waves. Geophys J Int 213:919–930. https://doi.org/10.1093/gji/ggy036

Tamura Y, Agnew D (2008) BAYTAP 08 user's manual. https://www.unavco.org/education/professional-development/short-courses/course-materials/strainmeter/2018-strainmeter-course-materials/baytap08.pdf. Accessed January 2021

Wakita (1975) Water wells as possible indicators of tectonic strain. Science 189(4202):553–555. https://doi.org/10.1126/science.189.4202.553

Wang HF (2000) Theory of linear poroelasticity. Princeton Ser. Geophys., Princeton Univ.Press, Princeton, NJ

Wang C-Y, Chia Y (2008) Mechanism of water level changes during earthquakes: near field versus intermediate field. Geophys Res Lett 35:L12402. https://doi.org/10.1029/2008GL034227.

Wang C-Y, Manga M (2010) hydrologic responses to earthquakes and a general metric. Geofluids 10:206–216. https://doi.org/10.1111/j.1468-8123.2009.00270.x.

Wang C-Y, Cheng LH, Chin CV, Yu SB (2001) Coseismic hydrologic response of an alluvial fan to the 1999 Chi-Chi earthquake, Taiwan. Geology 29(9):831–834.

Wang C-Y, Manga M, Dreger D, Wong A (2004) Streamflow increase due to rupturing of hydrothermal reservoirs: evidence from the 2003 San Simeon, California, Earthquake. Geophys Res Lett 31:L10502. https://doi.org/10.1029/2004GL020124.

Wang C-Y, Chia Y, Wang P-l, Dreger D (2009) Role of S waves and love waves in coseismic permeability enhancement. Geophys Res Lett 36:L09404. https://doi.org/10.1029/2009GL037330

Wang C-Y, Liao X, Wang L-P, Wang C-H, Manga M (2016) Large earthquakes create vertical permeability by breaching aquitards. Water Resour Res 52:5923–5937. https://doi.org/10.1002/2016WR018893

Wang C-Y, Doan M-L, Xue L, Barbour AJ (2018) Tidal response of groundwater in a leaky aquifer-application to Oklahoma. Water Resour Res 54:8019–8033. https://doi.org/10.1029/2018WR022793

Weaver KC, Doan M-L, Cox SC, Townend J, Holden C (2019) Tidal behavior and water-level changes in gravel aquifers in response to multiple earthquakes: a case study from New Zealand. Water Resour Res 55:1263–1278. https://doi.org/10.1029/2018WR022784

Xue L, Brodsky EE, Erskine J, Fulton PM, Carter R (2016) A permeability and compliance contrast measured hydrogeologically on the San Andreas Fault. Geochem Geophys Geosyst 17:858–871. https://doi.org/10.1002/2015GC006167
Acknowledgements
The original water level data used in this article were obtained from the National Earthquake Precursory Network Center. We thank the anonymous reviewers for their helpful comments and suggestions.
Funding
This work was supported by the National Natural Science Foundation of China (41807180) and the Earthquake Spark Program Project (XH19070).
Additional information
Publisher's note
Springer Nature remains neutral with regard to jurisdictional claims in published maps and institutional affiliations.
Supplementary Information
About this article
Cite this article
Lan, Ss., Gu, Hb. & Yu-Liu Changes in groundwater level and tidal response caused by the Wenchuan earthquake, China. Hydrogeol J (2021). https://doi.org/10.1007/s10040-021-02302-6
Received:

Accepted:

Published:
Keywords
Earthquake

Hydraulic properties

Tidal response

Groundwater level

China