Abstract
Trinidad and Tobago is a developing two-island nation in the Lesser Antilles of the Caribbean. Tobago is the smaller island and has small highly heterogeneous aquifers composed of igneous and metamorphic crystalline rock with strong structural controls on the spatial distribution of permeability. Hydrogeologic analyses of the water budget and groundwater production suggest that portions of the island are underlain by prolific fractured-rock aquifer systems. This study quantifies the amount and spatial distribution of recharge, as well as the fraction of recharge captured by groundwater pumping, using historical data, new field data, remote sensing data, multiple storage quantification methods and stable isotope analysis. Despite extensive freshwater withdrawals, groundwater production reaches only ~10% of annual groundwater recharge. Groundwater capture zones are created using a first-order hydrologic balance approach and with backward particle tracking in a steady-state groundwater model. Both approaches to generating capture zones suggest that many wells capture water from outside their topographic watershed. The location of sustainable, high yield, fresh potable groundwater wells less than 1 km from the coast, that have fractured bedrock intakes well below sea level, supports the concept of a rigorous and active groundwater flow system. Understanding the hydrogeology of small bedrock island aquifers is critical to evaluating groundwater resources, especially in the Caribbean where there is strong seasonality in precipitation, finite surface-water storage and increases in potable water demand.
Résumé
Trinidad et Tobago est un Etat insulaire en voie de développement composé de deux îles de l'archipel des Petites Antilles dans les Caraïbes. Tobago est l'île la plus petite et possède de petits aquifères très hétérogènes composés de roches cristallines ignées et métamorphiques avec un fort contrôle de la structure sur la distribution spatiale de la perméabilité. Les analyses hydrogéologiques du bilan hydrique et la production d'eau souterraine suggèrent que des parties de l'île reposent sur des systèmes aquifères de roches fracturées très productifs. La présente étude quantifie le volume et la distribution spatiale de la recharge, ainsi que la fraction de la recharge soustraite par le pompage des eaux souterraines, en utilisant des données historiques, des données de terrain nouvelles, des données de télédétection, de multiples méthodes de quantification du stockage et l'analyse d'isotopes stables. En dépit de prélèvements importants d'eau douce, la production d'eau souterraine n'atteint seulement que ~10% de la recharge annuelle des aquifères. Les zones de captage des eaux souterraines sont générées en utilisant une approche du bilan hydrique d'ordre un et à l'aide de la technique du traçage des particules vers l'arrière dans un modèle d'écoulement des eaux souterraines en régime permanent. Ces deux approches pour générer des zones de captage suggèrent que beaucoup de puits captent leur eau à l'extérieur du bassin versant topographique. L'emplacement de puits d'eau souterraine potable à fort rendement et durables et à moins de 1 km de la côte, qui ont des prises d'eau dans le substratum rocheux fracturé à des niveaux bien en-dessous du niveau de la mer, appuie le concept d'un système d'écoulement des eaux souterraines précis et actif. Comprendre l'hydrogéologie de petits aquifères insulaires à substratum rocheux est essentiel pour évaluer les ressources en eaux souterraines, spécialement dans les Caraïbes où il y a une forte saisonnalité des précipitations, une réserve en eau de surface limitée et un accroissement de la demande en eau potable.
Resumen
Trinidad y Tobago es un país en desarrollo de dos islas en las Antillas Menores del Caribe. Tobago es la isla más reducida y tiene pequeños acuíferos altamente heterogéneos alojados en roca cristalina ígnea y metamórfica con fuertes controles estructurales en la distribución espacial de la permeabilidad. Los análisis hidrogeológicos del balance hídrico y la producción de aguas subterráneas sugieren que partes de la isla están sustentadas por abundantes sistemas de acuíferos en roca fracturada. En este estudio se cuantifica la cantidad y la distribución espacial de la recarga, así como la parte de ésta extraída mediante el bombeo de aguas subterráneas, utilizando datos históricos, nuevos datos de campo, datos de teleobservación, múltiples métodos de cuantificación del almacenamiento y análisis de isótopos estables. A pesar de las considerables extracciones de agua dulce, la producción de agua subterránea sólo alcanza ~10% de la recarga anual de agua subterránea. Las zonas de extracción de aguas subterráneas se determinan utilizando un método de balance hidrológico de primer orden y con un sistema de seguimiento de la trayectoria de las partículas hacia atrás en un modelo de aguas subterráneas en estado estacionario. Ambos enfoques para generar zonas de extracción sugieren que muchos pozos captan agua de fuera de su cuenca topográfica. La ubicación de los pozos de agua subterránea dulce y potable de alto rendimiento, sostenibles y situados a menos de 1 km de la costa, que tienen entradas en el basamento rocoso fracturado bastante por debajo del nivel del mar, apoya el concepto de un sistema de flujo de aguas subterráneas activo. La comprensión de la hidrogeología de los acuíferos de las pequeñas islas del basamento es fundamental para evaluar los recursos de aguas subterráneas, especialmente en el Caribe, donde hay una fuerte estacionalidad en las precipitaciones, un almacenamiento finito de aguas superficiales y un aumento de la demanda de agua potable.
م لخص
جزيرتين ترنداد و توباغو دولة نامية واحدة في جزر الأنتيل الصغرى في منطقة البحر الكاريبي. توباغو هي الجزيرة الأصغر و لديها طبقات مياه جوفية غير متجانسة للغاية تتكون من صخور نارية و متحولة مع ضوابط هيكلية قوية على التوزيع المكاني للنفاذية. تشير التحليلات لميزانية المياه و إنتاج المياه الجوفية إلى أن أجزاء من الجزيرة تقع فوق طبقات مياه جوفية متصدعة. تحدد هذه الدراسة كميات تغذية المياه و توزيعها المكاني في الجزيرة، و كذلك نسبة التغذية التي تستهلك من جراء الضخ. من أجل ذلك نستخدم بيانات تاريخية و بيانات ميدانية جديدية و بيانات الاستشعار عن بعد بال إضافة إلى العديد من تحليل النظائر المستقرة و وسائل متعددة لتقدير كميات المياه المحزونة. على الرغم من ضخ المياه الجوفية على نطاق واسع، يبلغ كميات المياه ١٠ في المئة من تغذية المياه الجوفية. يمكن تشخيص مناطق تجمع المياه الجوفية في الجزيرة مرتكز على نحوين: الطريقة الأولى هي موازنة المياه من الدرجة الأولى، و الطريقة الثانية تتبع الجسيمات المتخلفة في نماذج المياه الجوفية المستقرة. تشير الطريقتين إلى أن كثير من الآبار تستمد المياه من خارج حدودها الطبوغرافية. مواقع الآبار للمياه الجوفية العذبة المستدامة ذات الإنتاجية العالية و التي تقع على بعض أقل من كيلومتر من البحر و التي تتسم بمداخل للمياه عبر صخور متصدعة تحت مستوى سطح البحر، تدعم الوجود مجاري نشطة و متينة لسير المياه. فهم حركة الماء في الأنظمة الصخورية للمياه الجوفية في الجزر الصغيرة مثل توباغو في غاية الأهمية لتقييم المياه الجوفية و خصوصاً في منطقة الكاريبي حيث توجد تقلبات موسمية شديدة في المطر و حيث تخزين الماء السطحية محدود و أيضاً حيث يوجد زيادة للطلب على مياه الشرب.
摘要
特立尼达和多巴哥是加勒比小安Lesser Antilles的发展中的两岛国家。多巴哥是一个较小的岛屿,拥有由火成岩和变质结晶岩组成的高度不均匀的小含水层,其中结构对渗透率的空间分布具有很强的控制作用。对水量和地下水开采量的水文地质分析表明,该岛的部分地区拥有较丰富的裂隙岩层含水层。该研究使用历史数据,新油田数据,遥感数据,多种储量定量化方法和稳定同位素分析来确定补给量和空间分布,以及由地下水开采诱发的补给量。尽管有大量淡水开采,但地下水开采量仅占到每年地下水补给量的10%。使用一阶水文平衡方法并在稳态地下水模型中使用反向粒子跟踪来创建地下水捕获区。两种生成捕获区的方法都表明,许多井都从其流域外部捕获水。海岸不到1公里的可持续的、高出水量的,淡水饮用水井,使裂隙化基岩进口正好低于海平面,其位置表明了精确而活跃的地下水流系统的概念。了解小型基岩岛含水层的水文地质状况对于评估地下水资源至关重要,尤其是在加勒比地区,该地区降水量季节性强,地表水储量有限而且饮用水需求量增加。
Resumo
Trinidad e Tobago é um país em desenvolvimento com duas ilhas nas Pequenas Antilhas do Caribe. Tobago é a ilha menor e possui pequenos aquíferos altamente heterogêneos compostos de rochas cristalinas ígneas e metamórficas com fortes controles estruturais sobre a distribuição espacial da permeabilidade. Análises hidrogeológicas do balanço hídrico e da produção de água subterrânea sugerem que partes da ilha são sustentadas por prolíficos sistemas aquíferos de rocha fraturada. Este estudo quantifica a quantidade e a distribuição espacial da recarga, bem como a fração da recarga capturada pelo bombeamento de água subterrânea, usando dados históricos, novos dados de campo, dados de sensoriamento remoto, métodos de quantificação de armazenamento múltiplo e análise de isótopos estáveis. Apesar das extensas retiradas de água doce, a produção de água subterrânea atinge apenas ~10% da recarga anual de água subterrânea. Zonas de captura de água subterrânea são criadas usando uma abordagem de equilíbrio hidrológico de primeira ordem e com rastreamento inverso de partículas em um modelo de água subterrânea em estado estacionário. Ambas as abordagens para gerar zonas de captura sugerem que muitos poços capturam água de fora de sua bacia hidrográfica topográfica. A localização de poços de água subterrânea potável sustentável, de alto rendimento, a menos de 1 km da costa, que tem poços com captura em formações rochosas fraturadas abaixo do nível do mar, apoiam o conceito de um sistema de fluxo de água subterrânea ativo e rigoroso. Compreender a hidrogeologia dos aquíferos de pequenas ilhas rochosas é fundamental para avaliar os recursos de água subterrânea, especialmente no Caribe, onde há forte sazonalidade na precipitação, armazenamento finito de água superficial e aumento na demanda de água potável.
Access options
Buy single article
Instant access to the full article PDF.
US$ 39.95
Tax calculation will be finalised during checkout.
Subscribe to journal
Immediate online access to all issues from 2019. Subscription will auto renew annually.
US$ 79
Tax calculation will be finalised during checkout.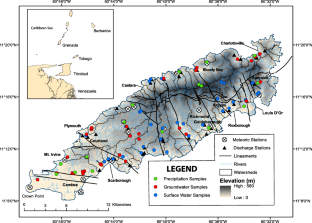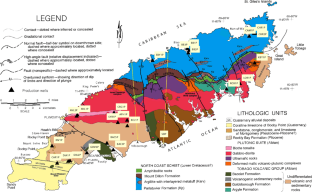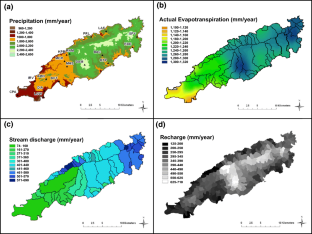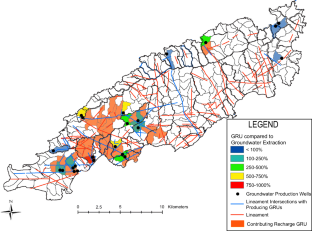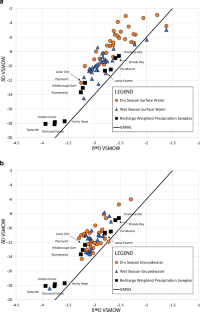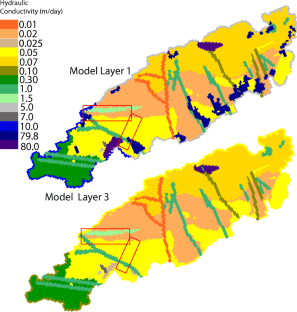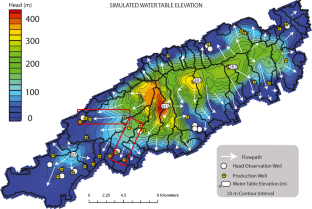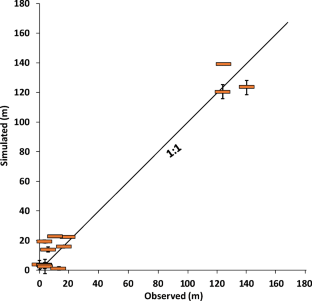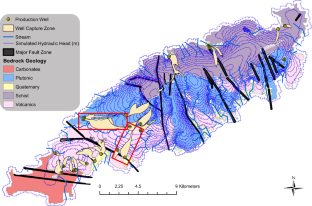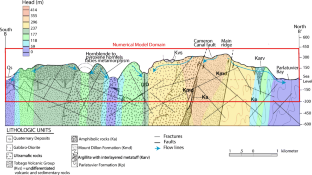 References
Aitken T, Mann P, Escalona A, Christeson GL (2011) Evolution of the Grenada and Tobago basins and implications for arc migration. Mar Pet Geol 28(1):235–258. https://doi.org/10.1016/j.marpetgeo.2009.10.003

Allen RG, Pereira LS, Raes D, Smith M (1998) Crop evapotranspiration: guidelines for computing crop requirements. Irrig Drain Pap no. 56, FAO, Rome. https://doi.org/10.1016/j.eja.2010.12.001

Arenas AD (1983) Tropical storms in Central America and the Caribbean: characteristic rainfall and forecasting of flash floods. In: Hydrology of humid tropical regions with particular reference to the hydrologicaleffects of agriculture and forestry practice (Proc. of the HamburgSymposium, August 1983). IAHS Publ. no. 140, pp 39–51

Baban S, Ramsewak D, Canisius F (2009) Mapping and detecting land use/cover change in Tobago using remote sensing and GIS. Caribbean J Earth Sci 40:3–13

Banerjee P, Singh VS, Singh A, Prasad RK, Rangarajan R (2012) Hydrochemical analysis to evaluate the seawater ingress in a small coral island of India. Environ Monit Assess 184(6):3929–3942. https://doi.org/10.1007/s10661-011-2234-0

Banks EW, Simmons CT, Love AJ, Cranswick R, Werner AD, Bestland EA, Wood M, Wilson T (2009) Fractured bedrock and saprolite hydrogeologic controls on groundwater/surface-water interaction: a conceptual model (Australia). Hydrogeol J 17(8):1969–1989. https://doi.org/10.1007/s10040-009-0490-7

Barton CA, Zoback MD, Moos D (1995) Fluid flow along potentially active faults in crystalline rock. Geol 23(8):683–686. https://doi.org/10.1130/0091-7613(1995)023<0683:Ffapaf>2.3.Co;2

Bense VF, Gleeson T, Loveless SE, Bour O, Scibek J (2013) Fault zone hydrogeology. Earth-Sci Rev 127:171–192. https://doi.org/10.1016/j.earscirev.2013.09.008

Biryukov D, Kuchuk FJ (2012) Transient pressure behavior of reservoirs with discrete conductive faults and fractures. Transp Porous Media 95(1):239–268. https://doi.org/10.1007/s11242-012-0041-x

Boutt DF, Hyndman DW, Pijanowski BC, Long DT (2001) Identifying potential land use: derived solute sources to stream baseflow using ground water models and GIS. Ground Water. https://doi.org/10.1111/j.1745-6584.2001.tb00348.x

Boutt DF, Diggins P, Mabee S (2010) A field study (Massachusetts, USA) of the factors controlling the depth of groundwater flow systems in crystalline fractured-rock terrain. Hydrogeol J. https://doi.org/10.1007/s10040-010-0640-y

Bowen (2019) Waterisotopes.org, https://wateriso.utah.edu/waterisotopes/. Accessed November 10, 2020

Brown SR, Bruhn RL (1998) Fluid permeability of deformable fracture networks. J Geophys Res 103(B2):2489–2500. https://doi.org/10.1029/97JB03113

Buss HL, Sak PB, Webb SM, Brantley SL (2008) Weathering of the Rio Blanco quartz diorite, Luquillo Mountains, Puerto Rico: coupling oxidation, dissolution, and fracturing. Geochim Cosmochim Acta 72(18):4488–4507. https://doi.org/10.1016/j.gca.2008.06.020

Buss HL, Mathur R, White AF, Brantley SL (2010) Phosphorus and iron cycling in deep saprolite, Luquillo Mountains, Puerto Rico. Chem Geol 269(1–2):52–61. https://doi.org/10.1016/j.chemgeo.2009.08.001

Caine JS, Evans JP, Forster CB (1996) Fault zone architecture and permeability structure. Geology 24(11):1025–1028. https://doi.org/10.1130/00917613(1996)024<1025:FZAAPS>2.3.CO;2

Caine JS, Tomusiak SRA (2003) Brittle structures and their role in controlling porosity and permeability in a complex Precambrian crystalline-rock aquifer system in the Colorado Rocky Mountain front range. Bull Geol Soc Am. https://doi.org/10.1130/B25088.1

Charlier JB, Lachassagne P, Ladouche B, Cattan P, Moussa R, Voltz M (2011) Structure and hydrogeological functioning of an insular tropical humid andesitic volcanic watershed: a multi-disciplinary experimental approach. J Hydrol 398(3–4):155–170. https://doi.org/10.1016/j.jhydrol.2010.10.006

Collins IIIWH, Easley DH (1999) Fresh-water lens formation in an unconfined barrier-island aquifer. J Am Water Resour Assoc 35(1):1–22

Craig H (1961) Isotopic variations in meteoric waters. Science. https://doi.org/10.1126/science.133.3465.1702

Daly C, Neilson RP, Phillips DL (1994) A statistical-topographic model for mapping climatological precipitation over mountainous terrain. J Appl Meteorol 33(2):140–158. https://doi.org/10.1175/1520-0450(1994)033<0140:ASTMFM>2.0.CO;2

Davis SN, Turk LJ (1964) Optimum depth of wells in crystalline rocks. Groundwater. https://doi.org/10.1111/j.1745-6584.1964.tb01750.x

Dingman SL (2002) Water in soils: infiltration and redistribution. In: Physical hydrology, 2nd edn. Prentice-Hall, Upper Saddle River, NJ, 646 pp

Earnest E, Boutt D (2014) Investigating the role of hydromechanical coupling on flow and transport in shallow fractured-rock aquifers. Hydrogeol J. https://doi.org/10.1007/s10040-014-1148-7

Ferguson G, Gleeson T (2012) Vulnerability of coastal aquifers to groundwater use and climate change. Nat Clim Change 2(5):342–345. https://doi.org/10.1038/nclimate1413

Gleeson T, Marklund L, Smith L, Manning AH (2011) Classifying the water table at regional to continental scales. Geophys Res Lett. https://doi.org/10.1029/2010GL046427

Government of the Republic of Trinidad and Tobago-Ministry of Public Utilities (2017) National Integrated Water Resource Management policy. Government of the Republic of Trinidad and Tobago, Port of Spain, 60 pp

Gustafson G, Krásný J (1994) Crystalline rock aquifers: their occurrence, use and importance. Appl Hydrogeol 2(2):64–75. https://doi.org/10.1007/s100400050051

Hamm SY, Cheong JY, Jang S, Jung CY, Kim BS (2005) Relationship between transmissivity and specific capacity in the volcanic aquifers of Jeju Island, Korea. J Hydrol 310(1–4):111–121. https://doi.org/10.1016/j.jhydrol.2004.12.006

Haitjema HM (1995) On the residence time distribution in idealized ground watersheds. J Hydrol. https://doi.org/10.1016/0022-1694(95)02732-5

Haitjema HM, Mitchell-Bruker S (2005) Are water tables a subdued replica of the topography? Ground Water. https://doi.org/10.1111/j.1745-6584.2005.00090.x

Hargreaves GH, Allen RG (2003) History and evaluation of Hargreaves evapotranspiration equation. J Irrig Drain Eng. https://doi.org/10.1061/(ASCE)0733-9437(2003)129:1(53

Heilweil VM, Healy RW, Harris RN (2012) Noble gases and coupled heat/fluid flow modeling for evaluating hydrogeologic conditions of volcanic island aquifers. J Hydrol 464–465:309–327. https://doi.org/10.1016/j.jhydrol.2012.07.019

Herrera DA, Ault TR, Fasullo JT, Coats SJ, Carrillo CM, Cook BI, Williams AP (2018) Exacerbation of the 2013–2016 Pan-Caribbean drought by anthropogenic warming. Geophys Res Lett. https://doi.org/10.1029/2018GL079408

Holding S, Allen DM, Foster S, Hsieh A, Larocque I, Klassen J, Pelt SC Van (2016) Groundwater vulnerability on small islands. Nat Clim Chang. https://doi.org/10.1038/nclimate3128

Hsieh PA, Shapiro AM (1996) Hydraulic characteristics of fractured bedrock underlying the use well field at the Mirror Lake site, Grafton County, New Hampshire. US Geological Survey Toxic Substances Hydrology Program—Proceedings of the Technical Meeting, Colorado Springs, CO, September 1996

Karmalkar AV, Taylor MA, Campbell J, Stephenson T, New M, Centella A, Benzanilla A, Charlery J (2013) A review of observed and projected changes in climate for the islands in the Caribbean. Atmosfera 26(2):283–309. https://doi.org/10.1016/S0187-6236(13)71076-2

Karnauskas KB, Donnelly JP, Anchukaitis KJ (2016) Future freshwater stress for island populations. Nat Clim Chang 6(7):720–725. https://doi.org/10.1038/nclimate2987

Kim Y, Lee KS, Koh DC, Lee DH, Lee SG, Park WB, Koh GW, Woo NC (2003) Hydrogeochemical and isotopic evidence of groundwater salinization in a coastal aquifer: a case study in Jeju volcanic island, Korea. J Hydrol 270(3–4):282–294. https://doi.org/10.1016/S0022-1694(02)00307-4

Kirchner JW (2016) Aggregation in environmental systems, part 1: seasonal tracer cycles quantify young water fractions, but not mean transit times, in spatially heterogeneous catchments. Hydrol Earth Syst Sci. https://doi.org/10.5194/hess-20-279-2016

Koh DC, Niel Plummer L, Kip Solomon D, Busenberg E, Kim YJ, Chang HW (2006) Application of environmental tracers to mixing, evolution, and nitrate contamination of ground water in Jeju Island, Korea. J Hydrol. https://doi.org/10.1016/j.jhydrol.2005.11.021

Kretzschmar R, Robarge WP, Amoozegar A (1994) Filter efficiency of three saprolites for natural clay and iron oxide colloids. Environ Sci Technol 28(11):1907–1915. https://doi.org/10.1021/es00060a022

Lyford BFP, Carlson CS, Hansen BP (2003) Delineation of water sources for public-supply wells in three fractured-bedrock aquifer systems in massachusetts. United States Geological Survey Water-Resources Investigations Report

Mabee SB, Hardcastle KC, Wise DU (1994) A method of collecting and analyzing lineaments for regional-scale fractured-bedrock aquifer studies. Ground Water 32(6):884–894

Manda AK, Mabee SB, Boutt DF, Cooke ML (2013) A method of estimating bulk potential permeability in fractured-rock aquifers using field-derived fracture data and type curves. Hydrogeol J 21(2):357–369. https://doi.org/10.1007/s10040-012-0919-2

Mimura N, Nurse L, McLean RF, Agard J, Briguglio L, Lefale P, Payet R, Sem G (2007) Climate Change 2007: impacts, adaptation and vulnerability—contribution of Working Group II to the fourth assessment report of the Intergovernmental Panel on Climate Change. https://doi.org/10.1256/004316502320517344

Min KB, Jing L, Stephansson O (2004) Determining the equivalent permeability tensor for fractured rock masses using a stochastic REV approach: method and application to the field data from Sellafield, UK. Hydrogeol J 12(5):497–510. https://doi.org/10.1007/s10040-004-0331-7

Mogaji KA, Omosuyi GO, Olayanju GM (2011) Groundwater system evaluation and protective capacity of overburden material at Ile-Oluji, southwestern Nigeria. J Geol Mining Res 3:294–304

Morin RH, Savage WZ (2003) Effects of crustal stresses on fluid transport in fractured rock: case studies from northeastern and southwestern USA. Hydrogeol J 11(1):100–112. https://doi.org/10.1007/s10040-002-0235-3

Niswonger RG, Panday S, Ibaraki M (2011) MODFLOW-NWT, a Newton formulation for MODFLOW-2005: US Geol Surv Tech Methods 6-A37

Öhman J, Niemi A, Tsang CF (2005) A regional-scale particle-tracking method for nonstationary fractured media. Water Resour Res 41(3):1–16. https://doi.org/10.1029/2004WR003498

Pyrak-Nolte LJ, Morris JP (2000) Single fractures under normal stress: the relation between fracture specific stiffness and fluid flow. Int J Rock Mech Min Sci 37(1–2):245–262. https://doi.org/10.1016/S1365-1609(99)00104-5

Penna D, Stenni B, Šanda M, Wrede S, Bogaard TA, Michelini M, Fischer BMC, Gobbi A, Mantese N, Zuecco G, Borga M, Bonazza M, Sobotková M, Čejková B, Wassenaar LI (2012) Technical note: evaluation of between-sample memory effects in the analysis of δ2H and δ18O of water samples measured by laser spectroscopes. Hydrol Earth Syst Sci. https://doi.org/10.5194/hess-16-3925-2012

Pett-Ridge JC, Derry LA, Kurtz AC (2009) Sr isotopes as a tracer of weathering processes and dust inputs in a tropical granitoid watershed, Luquillo Mountains, Puerto Rico. Geochim Cosmochim Acta 73(1):25–43. https://doi.org/10.1016/j.gca.2008.09.032

Robinson M, Beven KJ (1983) The effect of mole drainage on the hydrological response of a swelling clay soil. J Hydrol 64(1–4):205–223. https://doi.org/10.1016/0022-1694(83)90069-0

Seaton WJ, Burbey TJ (2005) Influence of ancient thrust faults on the hydrogeology of the Blue Ridge Province. Ground Water. https://doi.org/10.1111/j.1745-6584.2005.0026.x

Schneider JC, Kruse SE (2003) A comparison of controls on freshwater lens morphology of small carbonate and siliciclastic islands: examples from barrier islands in Florida, USA. J Hydrol 284(1–4):253–269. https://doi.org/10.1016/j.jhydrol.2003.08.002

Snoke AW, Rowe DW, Yule JD, Wadge G (2001) Petrologic and structural history of Tobago, West Indies: a fragment accreted Mesozoic oceanic arc of the southern Caribbean. https://doi.org/10.1130/0-8137-2354-x.1

Speed RC, Smith-Horowitz PL, Perch-Nielsen KVS, Saunders JB, Sanfilippo AB (1993) Southern Lesser Antilles Arc Platform: pre–late Miocene stratigraphy, structure, and tectonic evolution. Geol Soc Am 277. https://doi.org/10.1130/SPE277-p1

Speed RC, Smith-Horowitz PL (1998) The Tobago terrane. Int Geol Rev 40(9):805–830. https://doi.org/10.1080/00206819809465240

Stringfield VT, Rapp JR, Anders RB (1979) Effects of karst and geologic structure on the circulation of water and permeability in carbonate aquifers. Dev Water Sci. https://doi.org/10.1016/S0167-5648(09)70023-1

Trabucco A, Zomer R (2019) Global Aridity Index and Potential Evapotranspiration (ET0) Climate database, vol 2. figshare. Fileset. https://doi.org/10.6084/m9.figshare.7504448.v3

UNESCO (1986) Final report. In: First Workshop on the Hydrogeological Atlas of the Caribbean Islands, Santo Domingo, Dominican Republic, 7–10 October 1986. UNESCO/ROSTLAC, Montevideo, Uruguay, 229 pp

Williams AJ, Crossey LJ, Karlstrom KE, Newell D, Person M, Woolsey E (2013) Hydrogeochemistry of the Middle Rio Grande aquifer system: fluid mixing and salinization of the Rio Grande due to fault inputs. Chem Geol 351:281–298. https://doi.org/10.1016/j.chemgeo.2013.05.029

Zomer RJ, Trabucco A, Bossio DA, Verchot LV (2008) Climate change mitigation: a spatial analysis of global land suitability for clean development mechanism afforestation and reforestation. Agric Ecosyst Environ 126(1–2):67–80. https://doi.org/10.1016/j.agee.2008.01.014
Acknowledgements
Danielle Hare and Mitchell Isaacson are thanked for contributing to field work and support for hydrological analyses. Access to CGIAR-CSI data from their website (Trabucco and Zomer 2019) which is used for the PET calculations is appreciated. Isotope data published in this report are available freely online in the Water isotopes Database (Bowen 2019) and in the supporting information. Detailed comments and suggestions from the associate editor greatly improved the manuscript.
Funding
The support from the Trinidad and Tobago Water and Sewage Authority (WASA) and the Water Resources Authority (WRA) made this work possible.
Additional information
Publisher's note
Springer Nature remains neutral with regard to jurisdictional claims in published maps and institutional affiliations.
About this article
Cite this article
Boutt, D.F., Allen, M., Settembrino, M. et al. Groundwater recharge to a structurally complex aquifer system on the island of Tobago (Republic of Trinidad and Tobago). Hydrogeol J (2021). https://doi.org/10.1007/s10040-020-02289-6
Received:

Accepted:

Published:
Keywords
Fractured rocks

Groundwater management

Island hydrology

Trinidad and Tobago

Inter-basin groundwater flow