Abstract
A simple and efficient improvement on the conventional packer testing technique is described. Based on experience associated with hundreds of packer tests in the past decade, a functional change is proposed with respect to the pressure inflation supply for the packer testing unit. The change involves allowing each packer to be independently controlled with two separate gas-flow delivery systems, allowing for independent inflation and decompression underground. Four types of packer set-up are presented, which are able to be used alternately, according to specific environmental needs. It is believed that this is a small but important technical solution for packer testing failures, particularly as regards low water-level conditions in the well, regardless of whether this is a natural effect or a result of the drilling operation.
Résumé
Une amélioration simple et efficace d'une technique d'essai avec un obturateur conventionnel est. décrite. A partir de l'expérience associée à des centaines d'essais avec obturateur au cours de la décennie passée, une modification fonctionnelle est. proposée concernant la mise sous pression de l'unité d'essai avec obturateur. Le changement consiste à permettre à chaque obturateur d'être contrôlé de façon indépendante avec deux systèmes distincts de distribution de gaz, permettant de le gonfler et le décomprimer dans le milieu souterrain de manière indépendante. Quatre types de configuration d'obturateur sont présentés, lesquels pouvant être utilisés alternativement en fonction des exigences environnementales spécifiques. On estime que c'est. une petite mais importante solution technique pour les échecs lors d'essais avec obturateur, en particulier pour les conditions de bas niveau d'eau dans le forage, que ce soit lié à un effet naturel ou le résultat de l'opération de forage.
Resumen
Se describe una mejora simple y eficiente de la técnica de ensayo de packers convencionales. Se propone un cambio funcional con respecto al suministro de presión de inyección para la unidad de ensayo de packers en base a la experiencia asociada con cientos de ensayos realizados en la última década. El cambio implica permitir que cada packer sea controlado independientemente con dos sistemas de suministro de flujo de aire separados, permitiendo el aumento y descompresión independientes en el subsuelo. Se presentan cuatro tipos de configuración de packer, que pueden ser utilizados alternativamente según las necesidades ambientales específicas. Se considera que se trata de una solución técnica limitada, pero importante, para los defectos de las pruebas de los packers, en particular en lo que respecta a las condiciones de niveles bajos de agua en el pozo, independientemente de que se trate de un efecto natural o del resultado de la operación de perforación.
摘要
本文提出一項針對傳統封塞水力試驗設備的改良方法。根據過往經驗,我們認為封塞壓力充氣的方式應改良使氣流可獨立輸送,使得上下封塞可於地表下非同步性充氣和洩壓。本文因此討論了四種分離式封塞水力試驗設備的設置類型,可以根據特定的環境需求進行交替使用。本文所提出的技術方法是一個簡單但關鍵的技術解決方案,尤其可應用於井水位過低的情況。
Resumo
Uma melhoria simples e eficiente na técnica convencional de teste com obturadores pneumáticos é descrita. Com base na experiência associada a centenas de testes de obturadores pneumáticos na última década, propõe-se uma mudança funcional em relação ao fornecimento de pressão ao inflar o obturador pneumático. A mudança envolve permitir que cada obturador seja controlado independentemente com dois sistemas separados de fornecimento de fluxo de gás, permitindo inflação e descompressão subterrânea independente. São apresentados quatro tipos de configuração de obturadores pneumáticos, que podem ser utilizados alternadamente de acordo com necessidades ambientais específicas. Acredita-se que esta seja uma solução técnica pequena, mas importante para limitações de teste com obturadores pneumáticos, particularmente no que diz respeito às condições de baixo nível de água no poço, independentemente de se tratar de um efeito natural ou um resultado da operação de perfuração.
Access options
Buy single article
Instant access to the full article PDF.
US$ 39.95
Tax calculation will be finalised during checkout.
Subscribe to journal
Immediate online access to all issues from 2019. Subscription will auto renew annually.
US$ 79
Tax calculation will be finalised during checkout.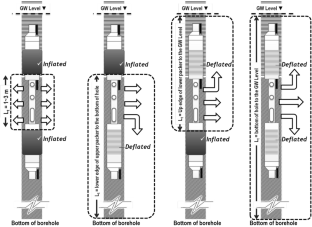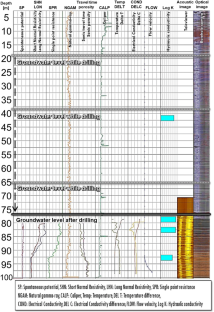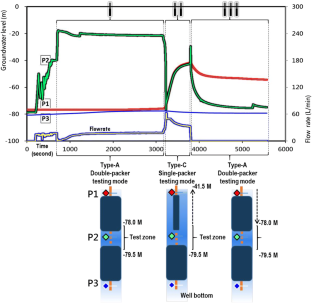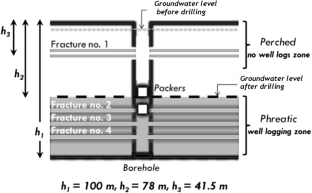 References
Becker K, Fisher AT (2008) Borehole packer tests at multiple depths resolve distinct hydrologic intervals in 3.5-Ma upper oceanic crust on the eastern flank of Juan de Fuca Ridge. J Geophys Res: Solid Earth 113:B17105

Binet S, Mudry J, Scavia C, Campus S, Bertrand C, Guglielmi Y (2007) In situ characterization of flows in a fractured unstable slope. Geomorphology 86(1–2):193–203

Bliss JC, Rushton KR (1984) The reliability of packer tests for estimating the hydraulic conductivity of aquifers. Q J Eng Geol Hydrogeol 17(1):81–91

Braester C, Thunvik R (1982) Numerical simulation of double packer tests (no. SKBF-KBS-TR-82-06). SKB, Stockholm

Celico F, Naclerio G, Bucci A, Nerone V, Capuano P, Carcione M, Allocca V, Celico P (2010) Influence of pyroclastic soil on epikarst formation: a test study in southern Italy. Terra Nova 22(2):110–115

Chen YF, Hu SH, Hu R, Zhou CB (2015) Estimating hydraulic conductivity of fractured rocks from high-pressure packer tests with an Izbash's law-based empirical model. Water Resour Res 51(4):2096–2118

Fisher A, Zwart G (1997) Packer experiments along the decollement of the Barbados accretionary complex: measurements of in situ permeability. In: Shipley TH, Ogawa Y, Blum P, Bahr JM (eds) Proceedings of the ocean drilling program. Scientific Results, vol 156, Ocean Drilling Program, College Station, TX, pp 199–218

Follin S (1992) On the interpretation of double-packer tests in heterogeneous porous media: numerical simulations using the stochastic continuum analogue. TR-92-36, SKB, Stockholm

Haimson BC, Cornet FH (2003) ISRM suggested methods for rock stress estimation, part 3: hydraulic fracturing (HF) and/or hydraulic testing of pre-existing fractures (HTPF). Int J Rock Mech Min Sci 40(7–8):1011–1020

Keller CE, Cherry JA, Parker BL (2014) New method for continuous transmissivity profiling in fractured rock. Groundwater 52(3):352–367

Manfredini G (1983) General report topic 3: hydraulical and hydrogeological testing to determine the permeability of the pores or transmissivity of the fractures. Rev Fr Géotech 23:31–42

Paillet FL (1998) Flow modeling and permeability estimation using borehole flow logs in heterogeneous fractured formations. Water Resour Res 34(5):997–1010

Palmer M, El-Idrysy H (2015) Comparison of borehole testing techniques and their suitability in the hydrogeological investigation of mine sites. In: Agreeing on solutions for more sustainable mine water management – Proceedings of the 10th ICARD and IMWA Annual Conference, Santiago, Chile, April 2015

Petrella E, Capuano P, Celico F (2007) Unusual behaviour of epikarst in the Acqua Dei Faggi carbonate aquifer (southern Italy). Terra Nova 19(1):82–88

Preene M (2018) Design and interpretation of packer permeability tests for geotechnical purposes. Q J Eng Geol Hydrogeol 52(2):182–200

Quinn P, Cherry JA, Parker BL (2015) Combined use of straddle packer testing and FLUTe profiling for hydraulic testing in fractured rock boreholes. J Hydrol 524:439–454

Read J, Stacey P (2009) Guidelines for open pit slope design. CSIRO Publishing, Clayton, Australia, 512 pp

Robinson BA, Broxton DE, Vaniman DT (2005) Observations and modeling of deep perched water beneath the Pajarito Plateau. Vadose Zone J 4(3):637–652

Salve R, Rempe DM, Dietrich WE (2012) Rain, rock moisture dynamics, and the rapid response of perched groundwater in weathered, fractured argillite underlying a steep hillslope. Water Resour Res 48(11):W11528. https://doi.org/10.1029/2012WR012583

Stephen DB, Neuman SP (1980) Analysis of borehole infiltration tests above the water table. Reports on Natural Resources Systems, no. 35, U of Arizona, Tucson, AZ, 211 pp

Swanson EE, Titone BC (2013) Packer testing program design and management. In: Proceedings of the Reliable Mine Water Technology Conference 2013. International Mine Water Association, Sydney, July 2013, pp 195–200

Winkler G, Reichl P (2014) Scale dependent hydraulic investigations of faulted crystalline rocks: examples from the Eastern Alps, Austria. In: Sharp JM (eds) Fractured rock hydrogeology. CRC, Boca Raton, FL, pp 181–196

Yihdego Y (2017) Hydraulic in situ testing for mining and engineering design: packer test procedure, preparation, analysis and interpretation. Geotech Geol Eng 35(1):29–44
Acknowledgements
The authors are grateful for the technical support of Mr. Chan-Peng Kang from Wilson Scientific.
Funding
Financial support comes from the Sinotech Engineering Consultants Inc., under the project grants RP-19903.
About this article
Cite this article
Chou, PY., Wang, CT., Wu, NC. et al. Identification of conductive fractures in perched formations with the use of a reformed packer test without well logging. Hydrogeol J 28, 2275–2282 (2020). https://doi.org/10.1007/s10040-020-02170-6
Received:

Accepted:

Published:

Issue Date:
Keywords
Equipment/field techniques

Hydraulic testing

Conductive fractures

Perched water table