Abstract
Numerous studies have demonstrated that Darcy velocity exhibits nonlinear dependence on the pressure gradient in lower-permeability porous media such as clays and shales when the pressure gradient is low. Non-Darcian flow has important implications to geologic disposal of high-level nuclear waste, because shale has been proposed as a disposal medium, with compacted bentonite clay as a buffer material. Consideration of the impact of temperature on non-Darcian flow in an engineered clay barrier is necessary, because the clay barrier is subjected to significant temperature changes resulting from the heat-releasing nuclear waste package. In this study, a continuum-scale, two-parameter predictive model is developed to facilitate experimental data interpretation and to provide mechanistic insights into the role of temperature on non-Darcian flow in saturated low-permeability porous media. This model has several advantages when it is applied at the continuum scale. First, this model is consistent with the current theory about the role of temperature and provides more flexibility in fitting experimental data associated with varying temperatures. Second, the values of the two independent parameters in the model can be easily determined and the solution is unique. This leads to practical convenience when the model is used to interpret continuum-scale laboratory data. Third, although the two-parameter model is simple, its performance in fitting existing experimental data is satisfactory. This suggests that the model achieves a balance between simplicity and effectiveness.
Résumé
De nombreuses études ont démonté que la vitesse de Darcy montre une dépendance non linéaire sur le gradient de pression dans les milieux poreux à plus faible perméabilité tels que les argiles et les schistes lorsque le gradient de pression est faible. L'écoulement non-Darcien a d'importantes implications sur l'entreposage géologique de déchets nucléaires de haut niveau, car les schistes ont été proposé comme milieu d'entreposage, avec des argiles de bentonite compactées comme matériel tampon. Il est nécessaire de tenir compte de l'impact de la température sur l'écoulement non-Darcien dans une barrière ouvragée d'argile, car la barrière argileuse est soumise à des changements importants de température résultant de la libération de température par les paquets de déchets nucléaires. Dans cette étude, un modèle prédictif à deux paramètres à l'échelle d'un continuum est développé pour faciliter l'interprétation des données expérimentales et pour fournir des informations mécanistiques sur le rôle de la température sur l'écoulement non-Darcien dans les milieux poreux saturés à faible perméabilité. Ce modèle possède de nombreux avantages lorsqu'il est appliqué à l'échelle du continuum. Tout d'abord, ce modèle est conforme à la théorie actuelle sur le rôle de la température et offre plus de souplesse dans la mise en forme des données expérimentales avec des températures variables. Deuxièmement, les valeurs des deux paramètres indépendants dans le modèle peuvent être facilement déterminées et la solution est unique. Cela conduit à une commodité pratique lorsque le modèle est utilisé pour interpréter les données de laboratoire à l'échelle du continuum. Troisièmement, bien que le modèle à deux paramètres soit simple, sa performance dans le calage de données expérimentales existantes est satisfaisante. Cela suggère que le modèle est en équilibre entre simplicité et efficacité.
Resumen
Numerosos estudios han demostrado que la velocidad de Darcy exhibe dependencia no lineal del gradiente de presión en medios porosos de menor permeabilidad como arcillas y esquistos cuando el gradiente de presión es bajo. El flujo no Darciano tiene importantes implicancias para la eliminación geológica de residuos nucleares de alto nivel, porque se ha propuesto el esquisto como medio de eliminación, con arcilla bentonítica compactada como material buffer. Es necesario considerar el impacto de la temperatura en el flujo no Darciano en una barrera proyectada de arcilla, porque esta última está sujeta a cambios significativos de temperatura como resultado del paquete de desechos nucleares liberadores de calor. En este estudio, se desarrolla un modelo predictivo de dos parámetros a escala continua para facilitar la interpretación experimental de los datos y para proporcionar perspectivas mecánicas sobre el papel de la temperatura en el flujo no Darciano en medios porosos saturados de baja permeabilidad. Este modelo tiene varias ventajas cuando se aplica a escala continua. En primer lugar, este modelo es coherente con la teoría actual sobre el papel de la temperatura y proporciona más flexibilidad para ajustar los datos experimentales asociados con las variaciones de temperatura. En segundo lugar, los valores de los dos parámetros independientes en el modelo pueden determinarse fácilmente y la solución es única. Esto conduce a la conveniencia práctica cuando el modelo se utiliza para interpretar datos de laboratorio a escala continua. En tercer lugar, aunque el modelo de dos parámetros es simple, su rendimiento en el ajuste de los datos experimentales existentes es satisfactorio. Esto sugiere que el modelo logra un equilibrio entre simplicidad y eficacia.
摘要
大量研究表明当压力梯度较低时诸如粘土和页岩的低渗透多孔介质的达西速度与压力梯度呈现非线性性。页岩已经被认作是压实膨润土作为缓冲材料的处置介质,因此非达西流动对高放核废物的地质处置具有重要意义。因为粘土屏障受到核废料包热释放的温度变化的影响,有必要考虑温度对工程粘土屏障中的非达西流动的影响。在本研究中,开发了连续尺度的双参数预测模型来进行实验数据解释,并研究温度对饱和低渗多孔介质中非达西流动的作用机制。该模型应用于连续尺度时有几个优点。首先,该模型与当前温度理论一致,并且在拟合与温度变化相关的实验数据方面提供了更大的灵活性。其次,可以容易地确定模型中两个独立参数的值,并且解决方案是唯一的。模型用于解释连续尺度的实验室数据时非常方便。第三,虽然双参数模型很简单,但它在拟合现有实验数据的效果令人满意。这表明该模型既有简单性又具有有效性。
Resumo
Inúmeros estudos vêm demonstrando que a velocidade de Darcy exibe uma dependência não linear com o gradiente de pressão em meio poroso de baixa permeabilidade, como em argilas e folhelhos quando o gradiente de pressão for baixo. O fluxo não Darciniano tem implicações importantes para deposição geológica de resíduos nucleares de alto nível, já que folhelho vem sendo proposto como um meio de despejo, com argila bentoníticas compactadas como material amortecedor. Considerar o impacto da temperatura em fluxos não Darciniano em barreiras argilosas projetadas são necessárias, já que a barreira de argila é um assunto significativo para mudanças na temperatura resultante da liberação de calor dos pacotes de resíduos nucleares. Neste estudo, um modelo de previsão de duas variáveis, em escala contínua, é desenvolvido para facilitar a interpretação de dados experimentais e criar um critério no papel da temperatura em fluxo não Darciniano em meios saturados de baixa permeabilidade. Este modelo possui diversas vantagens quando aplicados em escala contínua. Primeiro, o modelo é consistente com uma teoria atual sobre o papel da temperatura, e leva a uma maior flexibilidade quando é possível adequar os dados experimentais com a variação de temperatura. Segundo, os valores das duas variáveis independentes no modelo podendo ser facilmente determinados e a solução é única. Isto conduz para uma conveniência prática quando o modelo é usado para interpretar um dado de laboratório de forma contínua. Terceiro, o modelo de duas variáveis é simples, e o desempenho se adequa aos dados experimentais de forma satisfatória. Desta forma, isto sugere que o modelo atinge um balanço de simplicidade e efetividade.
This is a preview of subscription content, log in to check access.
Access options
Buy single article
Instant access to the full article PDF.
US$ 39.95
Price includes VAT for USA
Subscribe to journal
Immediate online access to all issues from 2019. Subscription will auto renew annually.
US$ 99
This is the net price. Taxes to be calculated in checkout.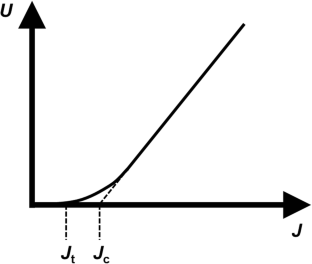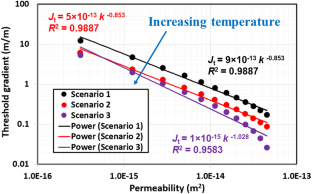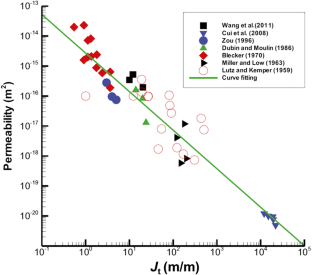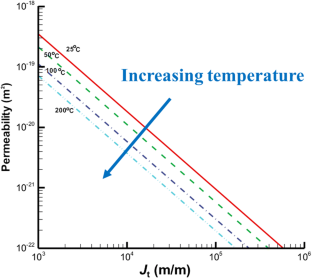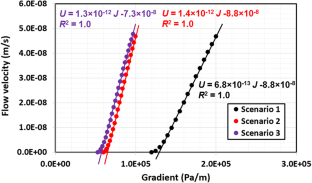 References
Bear J (1979) Hydraulics of groundwater. McGraw-Hill, New York

Bianchi M, Liu HH, Birkholzer JT (2015) Radionuclide transport behavior in a generic geological radioactive waste repository. Groundwater 53(3):440–451

Blecker RF (1970) Saturated flow of water through clay loam subsoil material of the Brolliat and Springerville soil series. MSc Thesis, University of Arizona, Tucson, AZ

Chen C (2016) Multiscale imaging, modeling, and principal component analysis of gas transport in shale reservoirs. Fuel 182:761–770

Chen C, Packman AI, Zhang DX, Gaillard JF (2010) A multi-scale investigation of interfacial transport, pore fluid flow, and fine particle deposition in a sediment bed. Water Resour Res 46, W11560

Cui YJ, Tang AM, Loiseau C, Delage P (2008) Determining the unsaturated hydraulic conductivity of a compacted sand-bentonite mixture under constant-volume and free-swell conditions. Phys Chem Earth 33:S462–S471

Dubin B, Moulin G (1986) Influences of critical gradient on the consolidation of clay. In: Young T (ed) Consolidation of soils, testing and evaluation. ASTM STP 892, West Conshohocken, PA, pp 354–377

Fan M, McClure J, Han Y, Chen C (2018) Interaction between proppant compaction and single−/multiphase flows in a hydraulic fracture. SPE J. https://doi.org/10.4043/27907-MS

Gerhart P, Gross R (1990) Fundamentals of fluid mechanics. Addison-Wesley, New York

Hansbo S (2001) Consolidation equation valid for both Darcian and non-Darcian flow. Geotechnique 51(1):51–54

Liu H (2017) Fluid flow in the subsurface: history, generalization and applications of physical Laws. Springer, Heidelberg, Germany

Liu HH (2014) Non-Darcian flow in low-permeability media: key issues related to geological disposal of high-level nuclear waste in shale formations. Hydrogeol J 22(7):1525–1534

Liu HH, Birkholzer J (2012) On the relationship between water flux and hydraulic gradient for unsaturated and saturated clay. J Hydrol 475:242–247

Liu HH, Lai BT, Chen JH (2016) Unconventional spontaneous imbibition into shale matrix: theory and a methodology to determine relevant parameters. Transp Porous Media 111(1):41–57

Liu HH, Li LC, Birkholzer J (2012) Unsaturated properties for non-Darcian water flow in clay. J Hydrol 430:173–178

Lutz JF, Kemper WD (1959) Intrinsic permeability of clay as effected by clay–water interaction. Soil Sci 88:83–90

Miller R, Low P (1963) Threshold gradient for water flow in clay systems. Soil Sci Soc Am Proc 27(6):605–609

Rutqvist J, Ijiri Y, Yamamoto H (2011) Implementation of the Barcelona basic model into TOUGH-FLAC for simulations of the geomechanical behavior of unsaturated soils. Comput Geosci 37(6):751–762

Rutqvist J, Zheng LG, Chen F, Liu HH, Birkholzer J (2014) Modeling of coupled thermo-hydro-mechanical processes with links to geochemistry associated with bentonite-backfilled repository tunnels in clay formations. Rock Mech Rock Eng 47(1):167–186

Sanchez M, Gens A, Guimarães LJDN, Olivella S (2005) A double structure generalized plasticity model for expansive materials. Int J Numer Anal Methods Geomech 29:751–787

Sanchez M, Villar MV, Lloret A, Gens A (2007) Analysis of the expansive clay hydration under low hydraulic gradient. Experiment Unsat Soil Mech 112:309−318

Swartzendruber D (1961) Modification of Darcy's law for the flow of water in soils. Soil Sci 93:22–29

Wang XX, Yang ZM, Sun YP, Liu XX (2011) Experimental and theoretical investigation of nonlinear flow in low permeability reservoir. Procedia Environ Sci 11:1392–1399

Wang YF (2014) Nanogeochemistry: nanostructures, emergent properties and their control on geochemical reactions and mass transfers. Chem Geol 378:1–23

Zeng JH, Cheng SW, Kong X, Guo K, Wang HY (2010) Non-Darcy flow in oil accumulation (oil displacing water) and relative permeability and oil saturation characteristics of low-permeability sandstones. Pet Sci 7(1):20–30

Zou Y (1996) A non-linear permeability relation depending on the activation energy of pore liquid. Geotechnique 46(4):769–774
Acknowledgements
The author is thankful to Dr. Hui-Hai Liu, Dr. Yifeng Wang, Dr. Rui Qiao, and Dr. Liange Zheng for the helpful discussions.
Funding
The author gratefully acknowledges the support of the US Department of Energy's Nuclear Energy University Program through grant DE-NE0008806.
About this article
Cite this article
Chen, C. A continuum-scale two-parameter model for non-Darcian flow in low-permeability porous media. Hydrogeol J 27, 2637–2643 (2019). https://doi.org/10.1007/s10040-019-02010-2
Received:

Accepted:

Published:

Issue Date:
Keywords
Non-Darian flow

Groundwater flow

Conceptual model

Temperature

Threshold gradient