Abstract
A significant volume of an aquifer along the coastline in the German Bight is salinized by seawater intrusion. The mean sea-level rise (MSLR) is expected to continue in the future due to global climatic change, subsequently degrading the fresh groundwater resources. To impede further salinization in the future, a solution is proposed based on weir construction in an existing canal hydraulically connected to the aquifer. The effect is twofold: (1) the elevated groundwater level can upgrade present fresh groundwater resources by shifting the saltwater–freshwater interface position further seaward, or by inhibiting its landward movement, and (2) the inland water level can be elevated, expanding surface water ponds. A fully coupled three-dimensional numerical surface-subsurface model (a modified HydroGeoSphere code) was used to simulate the effects of variable weir construction heights under different MSLR rates, and to quantify the gain of aquifer freshwater volume and loss of usable land due to surface ponding. Construction of a higher weir increases the desalinized aquifer volume and decreases the newly salinized aquifer volume under future MSLR. A minimum height of a weir was determined under a certain MSLR rate to maintain the present freshwater resource. Both weir construction and MSLR can cause the loss of land usage. Computed loss-gain ratio curves can be utilized to determine the optimal weir height, meeting the economic requirements of coastal land management under future MSLR.
Résumé
Un volume significatif d'un aquifère côtier dans la baie allemande de l'Helgoland est salée du fait de l'intrusion d'eau de mer. L'élévation moyenne du niveau de la mer (MSLR) devrait se poursuivre à l'avenir en raison du changement climatique mondial, avec pour conséquence une dégradation des ressources souterraines d'eau douce. Pour empêcher la progression de la salinisation à l'avenir, une solution est proposée reposant sur la construction d'un déversoir dans un canal existant hydrauliquement relié à l'aquifère. L'effet est double: (1) le niveau élevé de la nappe phréatique peut améliorer les ressources souterraines en eau douce en déplaçant la position d'interface eau salée-eaux douces, ou en inhibant son mouvement vers les terres, et (2) le niveau des eaux intérieures peut être augmenté, avec l'extension de bassins d'eau de surface. Un modèle numérique tridimensionnel des eaux de surface et des eaux souterraines, entièrement couplé (un code HydroGeoSphere modifié) a été utilisé pour simuler les effets de hauteurs de construction variables de déversoirs pour différentes vitesses de MSLR, et pour quantifier le gain du volume d'eau douce de l'aquifère et la perte de terres utilisables en raison de la surface des bassins. Une construction d'un déversoir plus haut augmente le volume d'aquifère dessalé et diminue le volume d'aquifère nouvellement salé pour des futures MSLR. Une hauteur minimum de déversoir a été déterminé pour un certain taux de MSLR afin de maintenir la ressource actuelle d'eau douce. La construction de déversoir et MSLR peuvent causer la perte de l'utilisation des terres. Des courbes de ratio perte-gain calculées peuvent être utilisées pour déterminer la hauteur optimale du déversoir, répondant aux besoins économiques de la gestion des zones côtières dans le cadre d'une future MSLR.
Resumen
Un volumen significativo de un acuífero a lo largo de la costa en la bahía alemana está salinizado por la intrusión de agua de mar. Se espera que el aumento medio del nivel del mar (MSLR) continúe en el futuro debido al cambio climático global, degradando posteriormente los recursos de agua dulce subterránea. Para impedir una mayor salinización en el futuro, se propone una solución basada en la construcción de presas en un canal existente conectado hidráulicamente al acuífero. El efecto es doble: (1) el nivel elevado de las aguas subterráneas puede mejorar los recursos actuales de agua dulce subterránea desplazando la posición de la interfaz agua salada-agua dulce hacia el mar o inhibiendo su movimiento hacia la tierra, y (2) el nivel de las aguas continentales puede elevarse, ampliando los cuerpos de aguas superficiales. Se utilizó un modelo tridimensional de superficie-subsuelo totalmente acoplado (un código HydroGeoSphere modificado) para simular los efectos de las alturas variables de construcción de presas bajo diferentes tasas MSLR, y para cuantificar el aumento del volumen de agua dulce del acuífero y la pérdida de uso de la tierra debido al cuerpo de agua en la superficie. La construcción de una presa más alta aumenta el volumen del acuífero desalinizado y disminuye el volumen del acuífero recién salinizado bajo la futura MSLR. Se determinó la altura mínima de una presa bajo una determinada tasa MSLR para mantener el recurso de agua dulce actual. Tanto la construcción de presas como la MSLR pueden causar la pérdida de uso del suelo. Se pueden utilizar curvas calculadas de relación pérdida-ganancia para determinar la altura óptima de la presa, satisfaciendo los requisitos económicos de la gestión de tierras costeras bajo futuros MSLR.
摘要
德国湾沿海岸相当体积的含水层被海水入侵而咸化。由于全球气候变化,预计未来平均海平面升幅(MSLR)将持续,伴随地淡水地下水资源减少。为了防止地下水在未来进一步被盐化,提出了在与含水层具有水力联系的现行运河中建造围堰的解决方案。其效果是双重的:(1)地下水位的升高通过将咸淡水界面位置进一步向海推进,或通过抑制其向陆地运移来增加现有的淡水地下水资源;(2)可以提高内陆区水位,扩大地表水池。使用完全耦合的三维数值地表水-地下水模型(改进的HydroGeoSphere代码)来模拟不同MSLR速率下可变堰构造高度的影响,并量化含水层淡水量的增加和由于地表水池影响的可用土地损失。在未来的MSLR下,更高堰的建造增加了脱盐含水层的体积并减少了新咸化含水层体积。确定堰在一定的MSLR率条件下的最小高度以维系目前的淡水资源。堰构造和MSLR都可能导致土地使用量的损失。计算的损失-增益比曲线可用于确定最佳堰高,满足未来MSLR条件下沿海土地管理的经济要求。
Resumo
Um volume significativo de um aquífero ao longo da costa na Baía Alemã é salinizado pela invasão da água do mar. Espera-se que o aumento médio do nível do mar (AMNM) continue no futuro devido às mudanças climáticas globais, degradando subsequentemente os recursos de água subterrânea. Para impedir ainda mais a salinização no futuro, uma solução é proposta com base na construção de barragem em um canal existente conectado hidraulicamente ao aquífero. O efeito é duplo: (1) o nível elevado do lençol freático pode melhorar os atuais recursos hídricos subterrâneos deslocando a posição da interface água salgada e água doce, ou inibindo seu movimento para a terra, e (2) o nível da água interior pode ser elevado, expandindo a ocorrência de lagoas. Um modelo numérico de subsuperfície tridimensional totalmente acoplado (um código HydroGeoSphere modificado) foi usado para simular os efeitos de alturas variáveis de construção de barragens sob diferentes taxas de AMNM, e para quantificar o ganho de volume de água doce do aquífero e perda de terra utilizável na superfície para as lagoas. A construção de uma barragem maior aumenta o volume do aquífero dessalinizado e diminui o volume do aquífero recém-salinizado sob o AMNM futuro. Uma altura mínima de barragem foi determinada sob certa taxa de AMNM para manter o atual recurso de água doce. Tanto a construção do açude quanto o AMNM podem causar perdas no uso da terra. As curvas computacionais de taxa de ganho-perda podem ser utilizadas para determinar a altura ideal da barragem, atendendo aos requisitos econômicos do manejo de terras costeiras sob o AMNM futuro.
This is a preview of subscription content, log in to check access.
Access options
Buy single article
Instant access to the full article PDF.
US$ 39.95
Price includes VAT for USA
Subscribe to journal
Immediate online access to all issues from 2019. Subscription will auto renew annually.
US$ 99
This is the net price. Taxes to be calculated in checkout.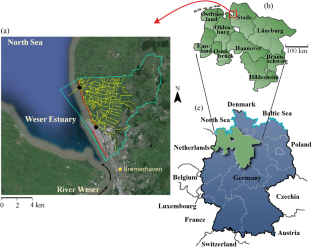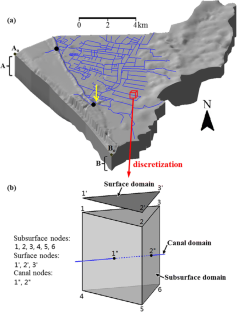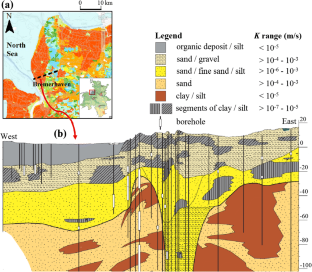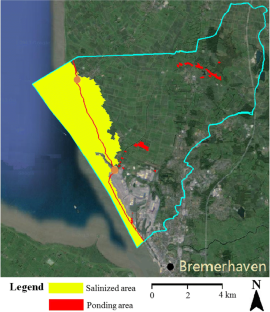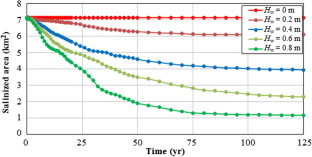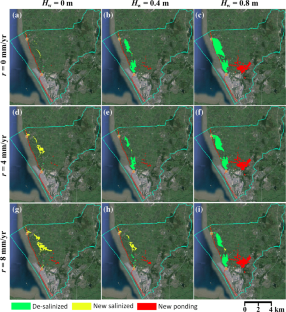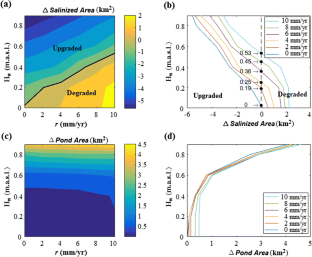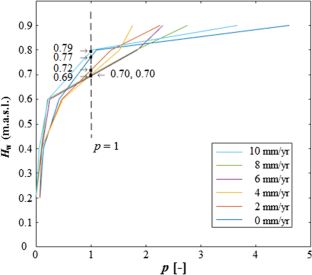 References
Bear J (1972) Dynamics of fluids in porous media. Elsevier, Amsterdam

Chui TFM, Terry JP (2011) Modeling freshwater lens damage and recovery on atoll islands after storm-wave washover. Ground Water. https://doi.org/10.1111/j.1745-6584.2011.00860.x

Doherty J, Hunt R (2010) Approaches to highly parameterized inversion: a guide to using PEST for groundwater-model calibration. US Geol Surv Sci Invest Rep 2010-5169

Giambastiani BMS, Antonellini M, Oude Essink GHP, Stuurman RJ (2007) Saltwater intrusion in the unconfined coastal aquifer of Ravenna (Italy): a numerical model. J Hydrol 340:91–104

IPCC (2013) In: Stocker TF, Qin D, Plattner G-K, Tignor M, Allen SK, Boschung J, Nauels A, Xia Y, Bex V, Midgley PM (eds) Climate change 2013: the physical science basis. Contribution of Working Group I to the Fifth Assessment Report of the Intergovernmental Panel on Climate Change. Cambridge University Press, Cambridge, 1535 pp

Manning R (1891) On the flow of water in open channels and pipes. Trans Inst Civil Eng Irel 20:161–207

Michael HA, Russoniello CJ, Byron LA (2013) Global assessment of vulnerability to sea-level rise in topography-limited and recharge-limited coastal groundwater systems. Water Resour Res 49:1–13

NIBIS Kartenserver (2010) Hydrostratigrafische Profilschnitte, 1:50000 [Hydrostratigraphical profile 1:50000]. Niedersachsen: Landesamt für Bergbau, Energie und Geologie. http://nibis.lbeg.de. Accessed Mar 2010

NLfB (2005) Geofakten 21: Hydrostratigrafische Gliederung Niedersachsens [Hydrostratigraphic classification of Lower Saxony]. Lower Saxony State Office for Soil Research]. Technical report, NLfB, Bremen, Germany

NLfB Cartographers (2003) Grundwasser- und Geotechnische Planungskarte Bremerhaven, Beiheft [Groundwater and geotechnical planning map of Bremerhaven, supplement). Map, NLfB, Bremen, Germany

Oude Essink GHP, van Baaren ES, de Louw PGB (2010) Effects of climate change on coastal groundwater systems: a modeling study in the Netherlands. Water Resour Res 46:W00F04. https://doi.org/10.1029/2009WR008719

Therrien R, McLaren R, Sudicky E, Panday S (2010) HydroGeoSphere: a three-dimensional numerical model describing fully-integrated subsurface and surface flow and solute transport. University of Waterloo, ON and Université Laval, QB, Canada

Vermeer M, Rahmstorf S (2009) Global sea level linked to global temperature. Proc Natl Acad Sci 106(51):21527–21532

Von Storch H, Doerffer J, Meinke I (2009) Die deutsche Nordseeküste und der Klimawandel [The German North Sea coastal and climatic change]. In: Ratter BMW (ed) Hamburger Symposium Geographie, band 1. Institute for Geography, Hamburg, Germany, pp 9–22

Werner AD, Bakker M, Post VEA, Vandenbohede A, Lu C, Ataie-Ashtiani B, Simmons CT, Barry DA (2012) Seawater intrusion processes, investigation and management: recent advances and future challenges. Adv Water Resour. https://doi.org/10.1016/j.advwatres.2012.03.004

Wiederhold H, Elbracht J, Hinsby K, Michaelsen J, Nommensen B, Schneider W, Taugs R (2014) Süwasserressourcen und Salzwasserintrusion im Küstenbereich Gefahren für das Grundwasser im Klimawandel [Freshwater resources and saltwater intrusion in the coastal area: risks to groundwater in climate change]. Proceedings of 23rd Salt Water Intrusion Meeting, Husum, Germany, June, 2014

Yang J, Graf T, Herold M, Ptak T (2013) Modelling the effects of tides and storm surges on coastal aquifers using a coupled surface–subsurface approach. J Contam Hydrol 149:61–75

Yang J, Graf T, Ptak T (2015a) Sea level rise and storm surge effects in a coastal heterogeneous aquifer: a 2D modelling study in northern Germany. Grundwasser. https://doi.org/10.1007/s00767-014-0279-z

Yang J, Graf T, Ptak T (2015b) Impact of climate change on freshwater resources in a heterogeneous coastal aquifer of Bremerhaven, Germany: a three-dimensional modeling study. J Contam Hydrol 177-178:107–121

Zorndt AC, Schlurmann T, Grabemann I (2012) The influences of extreme events on hydrodynamics and salinities in the Weser Estuary in the context of climate impact research. Proceedings of 33rd Conference on Coastal Engineering, Santander, Spain. https://doi.org/10.9753/icce.v33.currents.50
Acknowledgments
All data used in this study and any additional details can be obtained from the corresponding author. This research was initiated while Jie Yang was working at Helmholtz Centre for Environmental Research – UFZ, and mostly completed there. Assistance from the institute is appreciated. We thank the editorial board of HJ for handling our manuscript, especially Maria-Theresia Schafmeister and two anonymous reviewers, whose constructive comments helped improve the manuscript.
Funding
This research was supported by the Helmholtz Research Program "Terrestrial Environment", topic 3: "Sustainable Water Resources Management", with the integrated project: "Water and Matter Flux Dynamics in Catchments".
About this article
Cite this article
Yang, J., Graf, T. & Ptak, T. Combined influence of weir construction and sea-level rise on freshwater resources of a coastal aquifer in northern Germany. Hydrogeol J 27, 2695–2705 (2019). https://doi.org/10.1007/s10040-019-02009-9
Received:

Accepted:

Published:

Issue Date:
Keywords
Coastal aquifers

Weir construction

Sea level rise

Numerical modeling

Germany