Abstract
The influence of local perched aquifers on groundwater recharge in semi-arid areas at a regional scale remains inadequately studied, especially in southern Africa where data scarcity limits the understanding of recharge and groundwater flow processes. The objective of this study was to understand the interaction between localized perched aquifers and an underlying regional aquifer in the Cuvelai-Etosha Basin in Namibia. The connection between the perched and regional aquifers was assessed based on an extensive dataset of hydrochemical and isotope (δ18O and δ2H) measurements for groundwater from both shallow and deep hand-dug wells as well as boreholes. Ephemeral rivers and pans/depression landforms were analyzed separately. Recharge was calculated using the chloride mass balance method. It was found that groundwater originates from precipitation that undergoes strong evapotranspiration and water–rock interaction, especially carbonate dissolution. Overlapping chemical and isotopic compositions suggest a common or similar origin of groundwater in the perched and regional aquifers in the pan/depression hydrotope. No such similarity was established for the ephemeral river hydrotope, suggesting that ephemeral rivers contribute negligibly to regional groundwater recharge. This has important implications for groundwater management and helps to understand recharge processes in similar semi-arid environments.
Kurzfassung
Der Einfluss von lokalen, schwebenden Grundwasserleitern auf die Grundwasserneubildung in semiariden Gebieten ist auf regionaler Skala weitgehend unerforscht. Besonders im südlichen Afrika sind oberflächennahe Grundwasserressourcen essentiell und Grundwasserneubildungs- und -fließprozesse kaum untersucht. Das Ziel dieser Studie war es, die Interaktion zwischen lokalen, schwebenden Aquiferen und dem regionalen Grundwasserleiter im Cuvelai-Etosha Becken (CEB), Namibia, zu untersuchen. Hierfür wurde ein umfangreicher Datensatz hydrochemischer Messungen und stabiler Wasserisotopen (δ18O und δ2H) des Grundwassers aus flachen Bohrlöchern sowie handgegrabenen Brunnen verwendet. Auch der Einfluss von Landformen wie ephemeren Flussbetten und Pfannensystemen sowie lokalen Depressionen, die Einfluss auf Neubildungsprozesse und -raten haben, wurden untersucht. Grundwasserneubildungsraten wurden mit der Chlorid-Bilanzmethode bestimmt. Das Grundwasser in den untersuchten Landformen hat seinen Ursprung in Niederschlagswasser, das bei der Infiltration stark durch Evapotranspiration beeinflusst ist und einer Interaktion von infiltrierendem Wasser und Gestein ausgesetzt ist (besonders Karbonat-Lösung). Sich überschneidende chemische und Werte für stabile Wasserisotope lassen auf einen gemeinsamen Ursprung von Grundwasser aus dem hängendem und regionalen Aquifer im Hydrotop Pfannensystem/Depressionen schließen. Für die ephemeren Flussläufe ist dies nicht der Fall. Daraus kann geschlossen werden, dass dieses Hydrotop nicht zur Grundwasserneubildung des regionalen Aquifers beiträgt. Die hier vorgestellten Ergebnisse tragen zu besserem Prozessverständnis bei und sollten somit auch praktische Auswirkungen für das Management von oberflächennahen Grundwasserressourcen in semiariden Gebieten haben.
Résumé
L'influence des aquifères perchés sur la recharge des eaux souterraines à l'échelle régionale dans les régions semi-arides demeure insuffisamment étudiée, en particulier en Afrique australe où la rareté des données limite la compréhension des processus de recharge et des écoulements souterrains. L'objectif de cette étude est de comprendre les interactions entre les aquifères perchés localisés et l'aquifère régional sous-jacent du bassin de Cuvelai-Etosha en Namibie. La connexion entre les aquifères perchés et régional est évaluée sur la base d'un large jeu de mesures hydrochimiques et isotopiques (δ18O et δ2H) des eaux souterraines à partir de puits peu profonds et profonds. Les morphologies des cours d'eau temporaires et de creux/dépressions ont été analysées séparément. La recharge est calculée en utilisant la méthode du bilan de masse en chlorures. L'étude montre que l'eau souterraine provient de précipitations ayant subi une forte évapotranspiration et des interactions eau-roche, en particulier la dissolution des carbonates. Pour les hydrotopes en creux/dépressions, le recoupement des compositions chimiques et isotopiques suggère une origine commune et similaire des eaux souterraines dans les aquifères perchés et régional. Cette similitude n'est pas observée pour les hydrotopes de type cours d'eau temporaire. Cela suggère que les cours d'eau temporaires apportent une contribution négligeable à la recharge de l'aquifère régional. Ce résultat a d'importantes implications pour la gestion des eaux souterraines et aide à comprendre les processus de recharge dans des environnements semi-arides similaires.
Resumen
La influencia de los acuíferos locales colgados en la recarga de aguas subterráneas en zonas semiáridas a escala regional sigue sin estudiarse adecuadamente, especialmente en África meridional, donde la escasez de datos limita la comprensión de los procesos de recarga y de los flujos de las aguas subterráneas. El objetivo de este estudio fue comprender la interacción entre los acuíferos locales colgados y un acuífero regional subyacente en la cuenca del Cuvelai-Etosha en Namibia. La conexión entre los acuíferos colgados y los regionales se evaluó sobre la base de un amplio conjunto de datos de mediciones hidroquímicas e isotópicas (δ18O and δ2H) para las aguas subterráneas de pozos excavados a mano, tanto superficiales como profundos. Los ríos efímeros y las depresiones del paisaje se analizaron por separado. La recarga se calculó utilizando el método de balance de masa de cloruro. Se encontró que el agua subterránea se origina en la precipitación que sufre una fuerte evapotranspiración e interacción agua-roca, especialmente la disolución de carbonatos. Las composiciones químicas e isotópicas superpuestas sugieren un origen común o similar de las aguas subterráneas en los acuíferos en posición vertical y regionales en el hidrótopo de la depresión. No se estableció tal similitud para el hidrótopo del río efímero. Esto sugiere que los ríos efímeros contribuyen de manera insignificante a la recarga regional de aguas subterráneas. Esto tiene importantes implicancias para el manejo de las aguas subterráneas y ayuda a entender los procesos de recarga en ambientes semiáridos similares.
摘要
区域尺度半干旱区局部上层滞水含水层对地下水补给的影响仍未得到充分研究, 特别是在南部非洲, 数据缺乏影响了地下水补给和流动过程的认识。本研究的目的是了解纳米比亚Cuvelai-Etosha盆地局部上层滞水含水层与下伏区域含水层之间的关系。根据来自浅层和深层手挖井的地下水水化学和同位素(δ18O和δ2H)测量的大数据集, 评估了上层滞水和区域含水层之间的关系。分析对季节性河流和盘状/凹陷地貌进行了分析。使用氯质量平衡法计算了补给。研究发现, 地下水来源于经历强烈蒸散和像碳酸盐溶解的水-岩相互作用的降水。重叠的化学和同位素组成表明在盘状/凹陷同位素中的上层滞水区和区域含水层中有相同或相似的地下水来源。对于季节性河流同位素中没有这种相似性。这表明季节性河流对区域地下水补给的贡献很少。这对地下水管理具有重要意义, 有助于认识类似半干旱区域地下水的补给过程。
Resumo
A influência de aquíferos suspensos locais na recarga de águas subterrâneas em escala regional nas áreas semiáridas permanece insuficientemente estudada, especialmente no sul da África, onde a escassez de dados limita a compreensão dos processos de recarga e o fluxo das águas subterrâneas. O objetivo deste estudo foi entender a interação entre aquíferos suspensos locais e um aquífero regional subjacente na bacia de Cuvelai-Etosha na Namíbia. A conexão entre os aquíferos suspensos e regionais foi avaliada com base em um extenso conjunto de dados hidroquímicos e isotópicos (δ18O e δ2H) de águas subterrâneas provenientes de poços rasos e profundos, manualmente escavados. Rios efêmeros e formas de relevo em depressões/panelas foram analisados separadamente. A recarga foi calculada utilizando o método de balanço de massas de cloreto. Verificou-se que a água subterrânea é originada da precipitação, que é submetida a forte evapotranspiração, e da interação água-rocha, principalmente a dissolução de carbonatos. A sobreposição das composições químicas e isotópicas sugere uma origem comum ou similar das águas subterrâneas nos aqüíferos suspensos e regionais no hidrótopo panela/depressão. Nenhuma similaridade foi estabelecida para o hidrótopo rio efêmero , sugerindo que sua contribuição na recarga regional das águas subterrâneas é insignificante. Isso agrega implicações importantes para o gerenciamento de águas subterrâneas e auxilia no entendimento sobre os processos de recarga em ambientes semiáridos similares.
This is a preview of subscription content, log in to check access.
Access options
Buy single article
Instant access to the full article PDF.
US$ 39.95
Price includes VAT for USA
Subscribe to journal
Immediate online access to all issues from 2019. Subscription will auto renew annually.
US$ 99
This is the net price. Taxes to be calculated in checkout.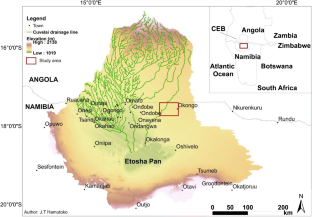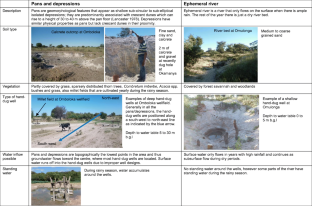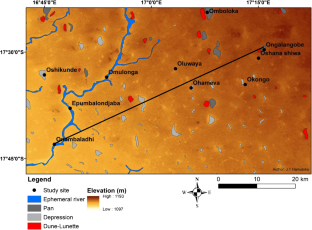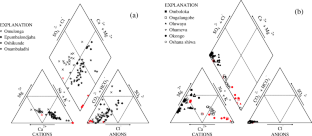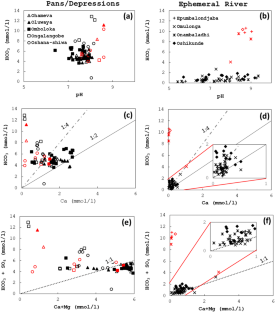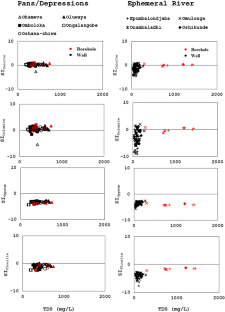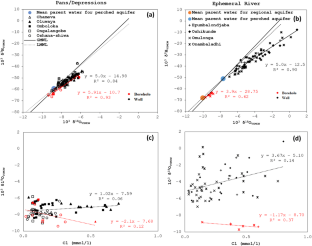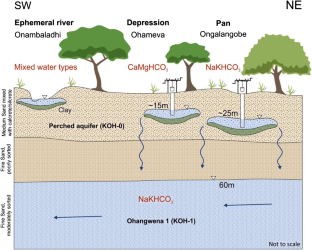 References
Abiye T (2016) Synthesis on groundwater recharge in southern Africa: a supporting tool for groundwater users. Groundw Sustain Dev 2:182–189. https://doi.org/10.1016/j.gsd.2016.10.002

Allison G, Gee GW, Tyler S (1994) Vadose-zone techniques for estimating groundwater recharge in arid and semi-arid regions. Soil Sci Soc Am J 58:6–14

Allison GB, Hughes MW (1983) The use of natural tracers as indicators of soil-water movement in a temperate semi-arid region. J Hydrol 60:157–173

Ananias A (2015) Estimation of hydraulic parameters of the shallow, perched Ohangwena aquifer (KOH-0) and determination of its interaction with the deeper regional Ohangwena aquifer (KOH-1), Ohangwena region, Namibia. MSc Thesis, University of Namibia, Nambia

Becker A, Braun P (1999) Disaggregation, aggregation and spatial scaling in hydrological modelling. J Hydrol 217:239–252

Beyer M, Hamutoko JT, Wanke H, Gaj M, Koeniger P (2018) Examination of deep root water uptake using anomalies of soil water stable isotopes, depth-controlled isotopic labelling and mixing models. J Hydrol 566:122–136. https://doi.org/10.1016/j.jhydrol.2018.08.060

Bittner A (2006) Desk study report: Cuvelai-Etosha groundwater investigation. Windhoek, Nambia

Cartwright I, Weaver T, Cendón DI, Swane I (2010) Environmental isotopes as indicators of inter-aquifer mixing, Wimmera region, Murray Basin, Southeast Australia. Chem Geol 277:214–226. https://doi.org/10.1016/j.chemgeo.2010.08.002

Cartwright I, Weaver TR, Cendón DI, Fifield LK, Tweed SO, Petrides B, Swane I (2012) Constraining groundwater flow, residence times, inter-aquifer mixing, and aquifer properties using environmental isotopes in the Southeast Murray Basin, Australia. Appl Geochem 27:1698–1709. https://doi.org/10.1016/j.apgeochem.2012.02.006

Clark I, Fritz P (1997) Environmental isotopes in hydrogeology, 1st edn. Springer, Berlin

Coplen T (2011) Guidelines and recommended terms for expression of stable isotope-ratio and gas-ratio measurement results. Rapid Commun Mass Spectrom 25:2538–2560

De Vries J, Selaolo E, Beekman HE (2000) Groundwater recharge in the Kalahari, with reference to paleo-hydrologic conditions. J Hydrol 238:110–123

Dill HG, Dohrmann R, Fenner J, Gersdorf U, Kringel R, Lindenmaier F, Ludwig R, Miller R, Nick A, Noell U, Walzer A (2012) Groundwater for the North of Namibia Project. Kalahari Res Proj I:1–50

Dill HG, Kaufhold S, Lindenmaier F, Dohrmann R, Ludwig R, Botz R (2013) Joint clay-heavy-light mineral analysis: a tool to investigate the hydrographic-hydraulic regime of late Cenozoic deltaic inland fans under changing climatic conditions (Cuvelai-Etosha Basin, Namibia). Int J Earth Sci 102:265–304. https://doi.org/10.1007/s00531-012-0770-7

Edmunds WM, Fellman E, Goni IB, Prudhomme C (2002) Spatial and temporal distribution of groundwater recharge in northern Nigeria. Hydrogeol J 10:205–215. https://doi.org/10.1007/s10040-001-0179-z

Fenicia F, Kavetski D, Savenije HHG, Clark MP, Schoups G, Pfister L, Freer J (2014) Catchment properties, function, and conceptual model representation: is there a correspondence? Hydrol Process 28:2451–2467. https://doi.org/10.1002/hyp.9726

Fetter C (1994) Applied hydrogeology. Macmillan, New York

Flügel W-A (1995) Delineating hydrological response units by geographical information system analyses for regional hydrological modelling using PRMS/MMS in the drainage basin of the river Bröl, Germany. Hydrol Process 9:423–436. https://doi.org/10.1002/hyp.3360090313

Freeze RA, Cherry JA (1979) Groundwater. Prentice-Hall, Englewood Cliffs, NJ

Gao H, Hrachowitz M, Fenicia F, Gharari S, Savenije HHG (2014) Testing the realism of a topography-driven model (FLEX-topo) in the nested catchments of the Upper Heihe, China. Hydrol Earth Syst Sci 18:1895–1915. https://doi.org/10.5194/hess-18-1895-2014

Geyh MA (1997) Hydrogeology and isotope hydrology of the Otavi Mountain Land and its surroundings (Karst_01 and Karst_02). Technical Cooperation Project, Windhoek, Nambia and Hannover, Germany

Gharari S, Hrachowitz M, Fenicia F, Savenije HHG (2011) Hydrological landscape classification: investigating the performance of HAND based landscape classifications in a central European meso-scale catchment. Hydrol Earth Syst Sci 15:3275–3291. https://doi.org/10.5194/hess-15-3275-2011

Hamutoko JT, Wanke H, Voigt HJ (2016) Estimation of groundwater vulnerability to pollution based on DRASTIC in the Niipele sub-basin of the Cuvelai Etosha Basin, Namibia. Phys Chem Earth 1–9. https://doi.org/10.1016/j.pce.2015.12.007

Hamutoko JT, Wanke H, Koeniger P, Beyer M, Gaj M (2017) Hydrogeochemical and isotope study of perched aquifers in the Cuvelai-Etosha Basin, Namibia. Isot Environ Health Stud 53:382–399. https://doi.org/10.1080/10256016.2016.1273913

Harrington G, Cook PG, Herczeg AL (2002) Spatial and temporal variability of groundwater recharge in Central Australia: a tracer approach. Groundwater 40:518–528

Klock H (2001) Hydrogeology of the Kalahari in north-eastern Namibia with special emphasis on groundwater recharge, flow modelling and hydrochemistry. PhD Thesis, Julius-Maximilians-University of Würzburg, Germany

Kpegli KAR, Alassane A, Trabelsi R, Zouari K, Boukari M, Mama D, Dovonon FL, Yoxi YV, Toro-Espitia LE (2015) Geochemical processes in Kandi Basin, Benin, West Africa: a combined hydrochemistry and stable isotopes approach. Quat Int 369:99–109. https://doi.org/10.1016/j.quaint.2014.12.070

Külls C (2000) Groundwater of the north-western Kalahari, Namibia: estimation of recharge and quantification of the flow systems. PhD Thesis, Julius-Maximilians-University of Würzburg, Germany

Lapworth DJ, MacDonald AM, Tijani MN, Darling WG, Gooddy DC, Bonsor HC, Araguás-Araguás LJ (2013) Residence times of shallow groundwater in West Africa: implications for hydrogeology and resilience to future changes in climate. Hydrogeol J 21:673–686

Legesse D, Vallet-Coulomb C, Gasse F (2003) Hydrological response of a catchment to climate and land use changes in tropical Africa: case study south Central Ethiopia. J Hydrol 275:67–85. https://doi.org/10.1016/S0022-1694(03)00019-2

Lerner DN, Issar AS, Simmers I (1990) Groundwater recharge: a guide to understanding and estimating natural recharge. Heise, Hannover, Germany

Lindenmaier F, Miller R, Fenner J, Christelis G, Dill HG, Himmelsbach T, Kaufhold S, Lohe C, Quinger M, Schildknecht F, Symons G, Walzer A, van Wyk B (2014) Structure and genesis of the Cubango Megafan in northern Namibia: implications for its hydrogeology. Hydrogeol J 22:1307–1328. https://doi.org/10.1007/s10040-014-1141-1

Lohe C (2012) Report on the hydro-census carried out for the groundwater resources in the northern Namibian part of the Cuvelai-Etosha Basin. In: Groundwater for theNorth of Namibia. Ministry of Agriculture, Water and Forestry, Windhoek, Namibia

Lohe C, Lindenmaier F, Miller RM (2013) Groundwater for the North of Namibia Project: Technical Note no. 1 Drill-Log Interpretation and Evaluation of Drillings KOH I and KOH II Aquifer, Ohangwena Region, Cuvelai- Etosha Basin. Ministry of Agriculture, Water and Forestry, Windhoek, Namibia

Melly BL, Schael DM, Gama PT (2017) Perched wetlands: an explanation to wetland formation in semi-arid areas. J Arid Environ 141:34–39. https://doi.org/10.1016/j.jaridenv.2017.02.004

Mendelsohn JM, Jarvis A, Robertson T (2013) A profile and atlas of the Cuvelai-Etosha basin. RAISON

Miller R (1997) The Owambo basin of northern Namibia. Sediment Basins World 3:237–268

Miller R, Pickford M, Senut B (2010) The geology, palaeontology and evolution of the Etosha Pan, Namibia: implications for terminal Kalahari deposition. South African J Geol 113:307–334. https://doi.org/10.2113/gssajg.113.3.307

Miller RM, Becker T (2008) The Geology of Namibia: Neoproterozoic to lower Palaeozoic. Ministry of Mines and Energy Geological Survey of Namibia, Windhoek, Namibia

Nakwafila A (2011) Water quality of hand dug wells in 5 example regions of Namibia. BA Degree Work, University of Namibia, Windhoek, Namibia

Parkhurst DL, Appelo CAJ (1999) User's guide to PHREEQC (Version 2): a computer program for speciation, batch-reaction, one-dimensional transport, and inverse geochemical calculations. US Geol Surv Water Resour Invest Rep 99-4259

Priestley SC, Wohling DL, Keppel MN, Post VEA, Love AJ, Shand P, Tyroller L, Kipfer R (2017) Detecting inter-aquifer leakage in areas with limited data using hydraulics and multiple environmental tracers, including 4He, 36Cl/cl, 14C and 87Sr/86Sr. Hydrogeol J 25:2031–2047. https://doi.org/10.1007/s10040-017-1609-x

Savenije HHG (2010) HESS opinions "topography driven conceptual modelling (FLEX-topo)". Hydrol Earth Syst Sci 14:2681–2692. https://doi.org/10.5194/hess-14-2681-2010

Scanlon BR, Keese KE, Flint AL, Flint LE, Gaye CB, Edmunds WM, Simmers I (2006) Global synthesis of groundwater recharge in semi-arid and arid regions. Hydrol Process 20:3335–3370. https://doi.org/10.1002/hyp

Simmers I (1997) Groundwater recharge principles, problems and developments. In: Recharge of phreatic aquifers in (semi-)arid areas. IAH International Contributions to Hydrogeology 19, Taylor and Francis, London, pp 1–18

Stadler S, Osenbrück K, Suckow AO, Himmelsbach T, Hötzl H (2010) Groundwater flow regime, recharge and regional-scale solute transport in the semi-arid Kalahari of Botswana derived from isotope hydrology and hydrochemistry. J Hydrol 388:291–303. https://doi.org/10.1016/j.jhydrol.2010.05.008

Thomas DSG, Shaw PA (1990) The deposition and development of the Kalahari group sediments, central southern Africa. J Afr Earth Sci 10:187–197

UN-Water (2014) Water facts. http://www.unwater.org/fileadmin/user_upload/unwater_new/docs/water_scarcity.pdf. Accessed 14 March 2014

Van Tonder GJ, Kirchner J (1990) Estimation of natural groundwater recharge in the Karoo aquifers of South Africa. J Hydrol 121:395–419

Vanderzalm JL, Jeuken BM, Wischusen JDH, Pavelic P, La Salle CL, Knapton A, Dillon PJ (2011) Recharge sources and hydrogeochemical evolution of groundwater in alluvial basins in arid Central Australia. J Hydrol 397:71–82. https://doi.org/10.1016/j.jhydrol.2010.11.035

Wallner M, Houben G, Lohe C, Quinger M, Himmelsbach T (2017) Inverse modelling and uncertainty analysis of potential groundwater recharge to the confined semi-fossil Ohangwena II Aquifer, Namibia. https://doi.org/10.1007/s10040-017-1615-z

Wanke H, Nakwafila A, Hamutoko JT, Lohe C, Neumbo F, Petrus I, David A, Beukes H, Masule N, Quinger M (2014) Hand dug wells in Namibia: an underestimated water source or a threat to human health? Phys Chem Earth 76–78. https://doi.org/10.1016/j.pce.2015.01.004

Wanke H, Gaj M, Beyer M, Koeniger P, Hamutoko JT (2018) Stable isotope signatures of meteoric water in the Cuvelai-Etosha Basin, Namibia: seasonal characteristics, trends and relations to southern African patterns. Isot Environ Health Stud 0:1–20. https://doi.org/10.1080/10256016.2018.1505724

Weitz J, Demlie M (2013) Conceptual modelling of groundwater-surface water interactions in the Lake Sibayi catchment, eastern South Africa. J Afr Earth Sci 99:613–624. https://doi.org/10.1016/j.jafrearsci.2013.11.018

Wohling D, Keppel M, Fulton S, Costar A, Sampson L, Berens V (2013) Australian government initiative on coal seam gas and large coal mining. Arckaringa Basin and Pedirka Basin Groundwater Assessment Projects. Department for Environment and Water, South Australia, Adelaide, SA

Xu Y, Beekman HE (2003) Groundwater Recharge Estimation in Southern Africa. UNESCO IHP Series no. 64, UNESCO, Paris
Acknowledgements
This work forms part of a PhD study that was undertaken at the University of Namibia. We thank the local communities for access to sample their wells. We thank UNAM staff and local authorities who assisted in fieldwork. We kindly thank the staff at the BGR hydrochemical laboratory under Dr. Paul Koeniger's guidance for analysing the samples. Finally, the comments of reviewers who helped to significantly improve this manuscript are highly appreciated.
Funding
The work is funded by SASSCAL project under Task 007 and Task 010 and the Namibian National Commission of Research Science and Technology.
About this article
Cite this article
Hamutoko, J.T., Post, V.E.A., Wanke, H. et al. The role of local perched aquifers in regional groundwater recharge in semi-arid environments: evidence from the Cuvelai-Etosha Basin, Namibia. Hydrogeol J 27, 2399–2413 (2019). https://doi.org/10.1007/s10040-019-02008-w
Received:

Accepted:

Published:

Issue Date:
Keywords
Groundwater recharge

Hydrochemistry

Stable isotopes

Perched aquifers

Namibia