Abstract
Co-management through local collective action appeals as a way of effectively responding to critical groundwater management issues, including groundwater quality degradation and pumping that lowers water tables. Co-management may also build sufficient trust for stakeholders to agree to investigate, and potentially implement, new opportunities for the use and management of groundwater resources. This paper examines the potential of collective action to underpin co-management and lead to improved groundwater management. The case study is the Angas Bremer (AB) irrigation district in South Australia, which provides a rare example of community-lead groundwater management since the late 1970s. The key questions were: (1) Was the AB an example of collective action, and did that spark successful co-management? and, (2) What were the key outcomes of collective action throughout the years? Data were gathered through semi-structured interviews with key stakeholders. By working together, and with government departments, AB irrigators successfully recovered an aquifer that was at risk of depletion and salinization. Drawing on this evidence, it is suggested that co-management through local collective action may be a useful option for those setting out to improve the social acceptability of new groundwater initiatives in farming landscapes, including managed aquifer recharge (MAR) and conjunctive use of surface water and groundwater.
Résumé
La cogestion par le biais d'une action collective au niveau local est un moyen de répondre efficacement aux problèmes critiques de gestion des eaux souterraines, notamment la dégradation de la qualité et le pompage qui abaisse les nappes phréatiques. La cogestion peut également créer une confiance suffisante pour que les parties prenantes acceptent d'étudier et, éventuellement, de mettre en œuvre de nouvelles opportunités d'utilisation et de gestion des ressources. Ce document examine le potentiel d'une action collective pour renforcer la cogestion et améliorer la gestion des eaux souterraines. L'étude de cas porte sur le district d'irrigation d'Angas Bremer (AB), situé dans le sud de l'Australie, qui constitue un exemple rare de gestion par les communautés depuis la fin des années 1970. Les questions clés étaient: (1) Le CA at-il été un exemple d'action collective et cela a-t-il favorisé une cogestion réussie? et, (2) Quels ont été les principaux résultats de l'action collective au cours des années? Les données ont été recueillies lors d'entretiens semi-structurés avec des parties prenantes clés. En travaillant ensemble et avec les ministères, les irrigants AB ont réussi à récupérer un aquifère menacé d'épuisement et de salinisation. Sur la base de ces preuves, il est suggéré que la cogestion par une action collective locale pourrait constituer une option utile pour ceux qui souhaitent améliorer l'acceptabilité sociale des nouvelles initiatives relatives aux eaux souterraines dans les paysages agricoles, y compris la recharge des aquifères et l'utilisation conjointe eau et eaux souterraines.
Resumen
La cogestión, a través de acción colectiva local, tiene ventajas como forma de responder de manera efectiva a los problemas críticos de la gestión del agua subterránea, incluida la degradación de la calidad y el bombeo que reduce los niveles piezométricos. La cogestión también puede generar suficiente confianza para que las partes interesadas acepten investigar, y potencialmente implementar, nuevas oportunidades para el uso y la gestión de los recursos hídricos. Este documento examina el potencial de la acción colectiva para sustentar la cogestión y conducir a una mejor gestión de las aguas subterráneas. El estudio de caso es el distrito de irrigación de Angas Bremer (AB) en Australia del Sur, que ofrece un raro ejemplo de manejo de agua subterránea liderado por la comunidad desde fines de los años setenta. Las preguntas clave fueron (1) ¿Fue el AB un ejemplo de acción colectiva, y eso provocó el éxito de la cogestión? y, (2) ¿Cuáles fueron los resultados clave de la acción colectiva a lo largo de los años? Los datos se recopilaron a través de entrevistas semiestructuradas con partes interesadas clave. Al trabajar juntos y con los departamentos gubernamentales, los irrigadores de AB recuperaron exitosamente un acuífero que estaba en riesgo de agotamiento y salinización. A partir de esta evidencia, sugerimos que la cogestión a través de la acción colectiva local puede ser una opción útil para aquellos que se proponen mejorar la aceptabilidad social de las nuevas iniciativas de agua subterránea en los paisajes agrícolas, incluida la recarga artificial de acuíferos y el uso conjunto de agua superficial y subterránea.
摘要
基于当地集体行动的共同管理是应对关键地下水管理问题的一种有效方式,包括地下水质量恶化和降低地下水位的抽水问题。共同管理或许还可以与利益相关者建立足够的信任,使其同意调查工作的进行,并潜在地为地下水资源利用和管理提供新的机会。本文探讨了集体行动对于支持共同管理的潜力,并进一步改善了地下水管理。此案例的研究区位于南澳大利亚的Angas Bremer(AB)灌溉区,提供了一个自20世纪70年代后期以来罕见的由社区领导的地下水管理的示例。其关键问题是:(1)AB是否是集体行动的一个例子,并成功地促成了共同管理?(2)多年来集体行动的主要成果是什么?数据收集的方式为与主要利益相关者的半结构式访谈。通过共同合作并与政府部门协作,AB的灌溉者们成功地恢复了一个处于枯竭和盐碱化风险的含水层。据此证明,通过地方集体行动进行共同管理有助于提高农业景观中新的地下水倡议的社会可接受性,其中包括管理含水层补给(MAR)和地表水与地下水的综合利用。
Resumo
Co-gestão, através de ação colectiva local, é vantajosa para responder eficazmente a questões críticas para a gestão de água subterrânea, incluindo degradação da qualidade e extracções que reduzam os níveis piezométricos. A co-gestão pode também contribuir para que se crie confiança suficiente para que as partes interessadas concordem em investigar, e potencialmente implementar, novas oportunidades para o uso e gestao dos recursos hídricos. Este documento examina o potencial da acção colectiva para contribuir para co-gestão, levando assim a uma melhor gestão da água subterrânea. O estudo de caso é o distrito de irrigação de Angas Bremer (AB) na Austrália do Sul, que oferece um raro exemplo de gestao de água subterrânea conduzida pela comunidade local desde o final da década de 1970. As questões-chave foram: (1) Foi AB um exemplo de acção colectiva, e isso gerou uma co-gestão bem-sucedida? e, (2) Quais foram os principais resultados da acção colectiva ao longo dos anos? Os dados foram recolhidos através de entrevistas semiestruturadas com os principais envolvidos no processo. Trabalhando em conjunto e com departamentos governamentais, os irrigadores de AB recuperaram com sucesso um aquífero em risco de esgotamento e salinização. Com base nesta evidência, sugere-se que a co-gestão através de acção coletiva local possa ser uma opção útil para aqueles que desejem melhorar a aceitação social de novas iniciativas de gestao de água subterrânea em zonas agrícolas, incluindo a recarga artificial de aquíferos e uso conjunto de água superficial e subterrânea.
This is a preview of subscription content, log in to check access.
Access options
Buy single article
Instant access to the full article PDF.
US$ 39.95
Tax calculation will be finalised during checkout.
Subscribe to journal
Immediate online access to all issues from 2019. Subscription will auto renew annually.
US$ 99
Tax calculation will be finalised during checkout.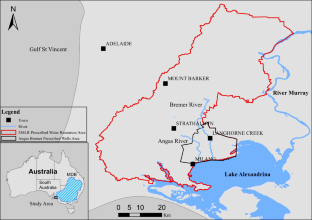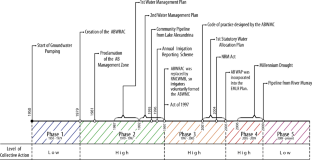 References
Adams E (2015) Participants or customers in water governance? Community-public partnerships for peri-urban water supply. Geoforum 65:112–124

Afroz S, Cramb R, Grunbuhel C (2016) Collective management of water resources in coastal Bangladesh: formal and substantive approaches. Hum Ecol 44:17–31

Agrawal A (2001) Common property institutions and sustainable governance of resources. World Dev 29(10):1649–1672

Angas Bremer Region Water Management (ABRWM) (2017) Angas Bremer Water Management Committee. http://www.angasbremerwater.org.au. Accessed 17 May 2017

Baland JM, Platteau JP (1996) Halting degradation of natural resources: is there a role for rural communities? Food and Agriculture Organization of the United Nations, Rome

Baldwin C (2008) Rules for the magic pudding: managing Lockyer groundwater. Soc Altern 27(3):26–31

Barthel R, Foster F, Villholth KG (2017) Interdisciplinary and participatory approaches: the key to effective groundwater management. Hydrogeol J 25:1923–1926

Bekkar Y, Kuper M, Mostafa E, Nicolas F, Mohamed G (2009) On the difficulty of managing on invisible resource: farmers' strategies and perceptions of groundwater use, field evidence from Morocco. Irrig Drain 58:S252–S263

Brouwer R, Ordens CM, Pinto R, Condesso de Melo MT (2018) Economic valuation of groundwater protection using a groundwater quality ladder based on chemical threshold levels. Ecol Indic 88:292–304

Burnard P (2008) Analysing and presenting qualitative data. Br Dent J 204(8)

Clark I, Brake L (2009) Using local knowledge to improve understanding of groundwater supplies in parts of arid South Australia. GeoJournal 74(5):441–450

Cody K, Smith S, Cox M, Andersson K (2015) Emergence of collective action in a groundwater commons: irrigators in the San Luis Valley of Colorado. Soc Nat Resour 28(4):405–422

Cresswell R, Gibson D (2004) Application of airborne geophysical techniques to groundwater resource issues in the Angas-Bremer Plains. Land and Biodiversity Services Division, Department of Water, Land and Biodiversity Conservation, Adelaide, South Australia

Cuadrado-Quesada G (2014) Groundwater governance and spatial planning challenges: examining sustainability and participation on the ground. Water Int 39(6):798–812

Curtis A, Ross H, Marshall GR, Baldwin C, Cavaye J, Freeman C, Carr A, Syme GJ (2014) The great experiment with devolved NRM governance: lessons from community engagement in Australia and New Zealand since the 1980s. Aus J Environ Manag 21(2):175–199

Curtis A, Mitchell A, Sharp E (2016) Social science contributions to groundwater governance. In: Jakeman AJA, Barreteau 0, Randall JH, Rinaudo JD, Ross A (eds) Integrated groundwater management. Springer, Heidelberg, Germany

Department for Environment and Water (DEW) (2017) Topics: water. https://www.environment.sa.gov.au/topics/water. Accessed 28 May 2019

DeVos B, van Tatenhove J (2011) Trust relationships between fishers and government: new challenges for the co-management arrangements in the Dutch flatfish industry. Mar Policy 35:218–225

Eastern Mount Lofty Ranges Water Allocation Plan (EMLR WAP) (2013) Website: www.naturalresources.sa.gov.au/files/c2293324-4e9f-407c-b9c4.../emlr-wap-plan.pdf. Accessed 17 September 2016

Esteban E, Albiac J (2012) The problem of sustainable groundwater management: the case of La Mancha aquifers, Spain. Hydrogeol J 20:851–863

FAO (2015) Global Framework for Action to achieve the vision on Groundwater Governance. Special edn. for World Water Forum 7. GEF Groundwater Governance Project. http://wwwgroundwatergovernance.org. Accessed 17 September 2016

Fienen MN, Arshad M (2016) Integrated groundwater management: an overview of concepts and challenges. In: Jakeman AJ,, Barreteau 0, Randall JH, Rinaudo JD, Ross A (eds) Integrated groundwater management. Springer, Heidelberg, Germany

Foster S, van der Gun J (2016) Groundwater governance: key challenges in applying the global framework for action. Hydrogeol J 24:749–752

Green T (2016) Linking climate change and groundwater. In: Jakeman AJ, Barreteau 0, Randall JH, Rinaudo JD, Ross A (eds) Integrated groundwater management. Springer, Heidelberg, Germany

Hammani A, Hartani T, Kuper M, Imache A (2009) Paving the way for groundwater management: transforming information for crafting management rules. Irrig Drain 58(S3):S240–S251

Hardin G (1968) The tragedy of the commons. Science 162:1243–1248

Harris B (1993) Recovering degraded groundwater in the Angas-Bremer basin through community action. AGSO J Austral Geol Geophys 14(2/3):176–176. Website: http://www.angasbremerwater.org.au. Accessed 17 September 2016

Hearne D, Powell B (2014) Too much of a good thing? Building social capital through knowledge transfer and collaborative networks in the southern Philippines. Int J Water Resour Dev 30(3):495–514

Howles, S. 1994. Groundwater resource management in the Angas-Bremer irrigation area of South Australia. Department of Mines and Energy, South Australia. http://www.angasbremerwater.org.au. Accessed 17 September 2016

Jakeman AJ, Barreteau O, Hunt RJ, Rinaudo JD, Ross A, Muhammad, A, Hamilton S (2016) Integrated groundwater management: an overview of concepts and challenges. In: Jakeman AJ, Barreteau O, Hunt RJ, Rinaudo JD, Ross A (eds) Integrated groundwater management. Springer, Heidelberg, Germany

Karar E, Jacobs-Mata I (2016) Inclusive governance: the role of knowledge in fulfilling the obligations of citizens. Aquat Proc 6:15–22

Katon B, Meinzen-Dick R, Knox A (1999) Collective action, property rights and devolution of natural resources management. https://www.researchgate.net/publication/42764433_Collective_Action_Property_Rights_and_Devolution_of_Natural_Resource_Management?enrichId=rgreq-9618f9a6fd000557e2d032468745c24e-XXX&enrichSource=Y292ZXJQYWdlOzQyNzY0NDMzO0FTOjk3NzMwMDUxNDQ0NzU0QDE0MDAzMTIwNjg4NTc%3D&el=1_x_3&_esc=publicationCoverPdf. Accessed 17 September 2016

Kumar S (2011) An inquiry into collective action and sustainable participatory watershed management: evidence from southern India. Water Int 36(3):370–385

Lacroix MEK, Megdal BS (2016) Explore, synthesize, and repeat: unraveling complex water management issues through the stakeholder engagement wheel. Water 8(4):118

Lam WF (1998) Governing irrigation systems in Nepal: institutions, infrastructure and collective action. ICS Press, San Francisco

Lopez-Gunn E (2003) The role of collective action in water governance: a comparative study of groundwater user associations in La Mancha aquifers in Spain. Water Int 28(3):367–378

Lopez-Gunn E (2012) Groundwater governance and social capital. Geoforum. 43:1140–1151

Lopez-Gunn E, Cortina LM (2006) Is self-regulation a myth? Case study on Spanish groundwater user associations and the role of higher-level authorities. Hydrogeol J 14:361–379

Margerum R (2007) Overcoming locally based collaboration constraints. Soc Nat Resour 20:135–152

Meinzen-Dick R, Raju K, Gulati A (1999) Conditions for collective action in canal irrigation systems. Paper presented at fourth national conference on participatory irrigation management. Hyderabad, India

Mitchell M, Curtis A, Sharp E, Mendham E (2011) Social research to improve groundwater governance: literature review. ILWS report no. 66, Institute for Land, Water and Society, Charles Sturt University, Albury, Wagga Wagga, Australia

Mitchell M, Curtis A, Sharp E, Mendham E (2012) Directions for social research to underpin improved groundwater management. J Hydrol 448–449:223–231

Muller K (2002) A partnership approach to environmental stewardship in Langhorne Creek, SA. In: Proceedings of the Second National Wine Industry Environment Conference and Exhibition. http://www.angasbremerwater.org.au/downloads.php. Accessed 17 September 2016

Murray Darling Basin Authority (MDBA) (2017a) Website. https://www.mdba.gov.au. Accessed 17 January 2017

Murray Darling Basin Authority (MDBA) (2017b) The Murray–Darling Basin water compliance review. https://www.mdba.gov.au/sites/default/files/pubs/MDB-Compliance-Review-Final-Report.pdf. Accessed 21 February 2018

Neuman LW (2014) Social research methods: qualitative and quantitative approaches, 7th edn. Pearson, London

Olson M (1965) The logic of collective action: public goods and the theory of groups. Harvard University Press, Cambridge

Ostrom E (1990) Governing the commons: the evolution of institutions for collective action. Cambridge University Press, Cambridge

Ostrom E (1992) Crafting institutions for self-governing irrigation systems. Institute for Contemporary Studies Press, San Francisco

Ostrom E (2000) Collective action and the evolution of social norms. J Econ Perspect 14(3):137–158

Ostrom E, Ahn TK (2001) A social science perspective on social capital: social capital and collective action. Presented at the European Research Conference on "Social Capital: Interdisciplinary Perspectives"

Ostrom E (2007) Collective action theory. In: Boix C, Stokes S (eds) The Oxford handbook of comparative politics. Oxford University Press, Oxford, pp 186–208

Pomeroy RS (1995) Community based and co-management institutions for sustainable coastal fisheries management in South East Asia. Ocean Coast Manag 27(3):143–162

Ranjan R (2014) Combining social capital and technology for drought resilience in agriculture. Nat Resour Model 27(1)

Re V (2015) Incorporating the social dimension into hydrogeochemical investigations for rural development: the Bir Al-Nas approach for socio-hydrogeology. Hydrogeol J 23:1293–1304

Rica M, Dumont A, Villarroya F, López-Gunn E (2014) Whither collective action? Upscaling collective actions, politics and basin management in the process of 'legitimizing' an informal groundwater economy. Water Int 39(4):520–533

Ross H, Powell B, Hoverman S (2008) Public participation and community engagement for water resource management in the Pacific. Australian Water Research Facility Policy Brief, Int. Water Centre, Nathan, QLD, Australia

Schlager E (2007) Community management of groundwater. In: Giordano M, Villholth KG (eds) The agricultural groundwater revolution: opportunities and threats to development. CAB, London

Sen S, Nielsen JR (1996) Fisheries co-management: a comparative analysis. Mar Policy 20:405–418

Sharp E, Curtis A (2014) Can NRM agencies rely on capable and effective staff to build trust in the agency? Aust J Environ Manag 21(3):268–280

Silliman SE, Hamlin C, Crane PE, Boukari M (2008) International collaborations and incorporating the social sciences in research in hydrology and hydrologic engineering. J Hydrol Eng 13:13–19

Silverman BA (1978) What do we need in weather modification? J Appl Meteorol 17(6):867–871

Skurray J (2015) The scope for collective action in a large groundwater basin: an institutional analysis of aquifer governance in Western Australia. Ecol Econ 114:128–140

Sravanthi K, Speelman S, Umesh KB (2015) Economic impact of participatory groundwater management: a case study on Andhra Pradesh farmer managed groundwater systems project. Res J Agric Sci 6:1674–1680

Steins NE, Edwards VM (1999) Collective action in common-Pool resource management: the contribution of a social constructivist perspective to existing theory. Soc Nat Resour 12(6):539–557

Tang YS (1992) Institutions and collective action: self-governance in irrigation. ICS Press, San Francisco

Tannehill IR (1947) Drought: its causes and effects. Princeton University Press, Princeton, NJ

Thomson, T (2002) Angas Bremer Irrigators lead the nation. Australian Viticulture 6(3):51–53. http://www.angasbremerwater.org.au/downloads.php. Accessed 17 July 2016

Thomson T (2008) More water management innovations in the Angas Bremer district of South Australia. Water Down Under. http://www.angasbremerwater.org.au/downloads.php. Accessed 17 July 2016

Ticehurst JL, Curtis AL (2019) Assessing conjunctive use opportunities with stakeholders in Australia's Murray-Darling basin. J Water Resour Plan Manag 145(5):05019008

Vanni F (2014) The role of collective action. In: Agriculture and public goods. Springer, Dordrecht, The Netherlands

Varua ME, Ward J, Maheshwari B, Oza S, Purohit R, Hakimuddin CP (2016) Assisting community management of groundwater: irrigator attitudes in two watersheds in Rajasthan and Gujarat, India. J Hydrol 537:171–186

Wade R (1987) The management of common property resources: collective action as an alternative to privatisation or state regulation. Camb J Econ 11(2):95–106

Wang Y (2013) Institutional legitimacy: an exegesis of normative incentives. Int J Water Resour Dev 29(4):514–525

Werner AD, Alcoe DW, Ordens CM, Hutson JL, Ward JD, Simmons CT (2011) Current practice and future challenges in coastal aquifer management: flux-based and trigger-level approaches with application to an Australian case study. Water Resour Manag 25:1831–1853. https://doi.org/10.1007/s11269-011-9777-2

Wilhite D (2011) Breaking the hydro-illogical cycle: progress or status quo for drought management in the United States. Eur Water 34:5–18

World Water Development Report (WWDR) (2015) Global water resources under increasing pressure from rapidly growing demands and climate change, according to new UN World Water Development Report. United Nations World Water Assessment Programme

Zulfic D, Barnett SR (2007) Angas Bremer PWA groundwater status report. Department of Water, Land and Biodiversity Conservation, Adelaide, Australia
Acknowledgements
The authors would like to thank Ms. Diane Davidson for suggesting this interesting research project. The authors would also like to thank Prof. Christine Trenorden, Dr. Emily Mendham, Mr. James Hopkinson, Mr. Constantine Seidl and Ms. Leah Hunter for insightful discussions. The authors thank the Associate Editor Dr. Rebecca Doble and two anonymous reviewers for their contribution, which increased the quality of this report immensely. Finally, the authors would like to thank the interviewees for their availability and valuable information provided without which this research would not have been possible.
About this article
Cite this article
Shalsi, S., Ordens, C.M., Curtis, A. et al. Can collective action address the "tragedy of the commons" in groundwater management? Insights from an Australian case study. Hydrogeol J 27, 2471–2483 (2019). https://doi.org/10.1007/s10040-019-01986-1
Received:

Accepted:

Published:

Issue Date:
Keywords
Groundwater management

Australia

Collective action

Co-management

Millennium drought