Abstract
The dynamics of artificial recharge of winter surface flows coupled with increased summer groundwater use for irrigation in the Sokh aquifer (Central Asia) have been investigated. Water release patterns from the giant Toktogul reservoir have changed, as priority is now given to hydropower generation in winter in Kyrgyzstan. Winter flows have increased and summer releases have declined, but the Syr Darya River cannot pass these larger winter flows and the excess is diverted to a natural depression, creating a 40 × 109m3 lake. A water balance study of all 18 aquifers feeding the Fergana Valley indicated the feasibility of winter groundwater recharge in storage created by summer abstraction. This modeling study examines the dynamics of the process in one aquifer over a 5-year period, with four scenarios: the current situation; increased groundwater abstraction of around 625 million (M) m3/year; groundwater abstraction with an artificial recharge of 144 Mm3/year, equivalent to the volume available in low flow years in the Sokh River; and with a larger artificial recharge of 268 Mm3/year, corresponding to high flow availability. Summer surface irrigation diversions can be reduced by up to 350 Mm3 and water table levels can be lowered.
Résumé
Evaluation du potentiel et impact des eaux hivernales infiltrees dans l'aquifere de Sokh, Asie Centrale
La dynamique de la recharge artificielle par les flux superficiels d'hiver et l'augmentation de l'utilisation des eaux souterraines pour l'irrigation dans l'aquifer de Sokh (Asie Centrale) ont ete etudiees en parallele. Le schema d'utilisation des eaux du reservoir geant de Toktogul a change, avec la priorite mise sur la production d'hydroelectricite en hiver au Kyrgyzstan. Les flux d'hiver ont augmente et les relargages d'ete ont diminue, mais le riviere Syr Darya ne peut recevoir les importants flux d'hiver et l'exces d'eau est detourne vers une depression naturelle creant ainsi un lac de 40 × 109 m3. Une etude du bilan hydrique des 18 aquifers qui alimentent la vallee de Fergana indique la faisabilite d'une recharge en hiver compensant l'abstraction estivale. Cette etude de modelisation prend en compte la dynamique des processus d'un aquifere sur une periode de 5 ans, suivant 4 scenarios: la situation actuelle; une augmentation de l'exploitation de l'eau souterraine d'environ 625 million (M) m par an; une exploitation de l'eau souterraine et une recharge artificielle de 144 Mm3 par an, equivalant au volume disponible en periode seche dans la riviere Sokh; et avec une plus improtante recharge artificielle de 268 Mm3 par an, correspondant a la disponibilite en periode humide. Les pertes en eau d'irrigation en ete peuvent etre reduites a 350 Mm3 et les niveaux piezometriques peuvent etre abaisses.
Resumen
Una evaluación del potencial e impactos del embancamiento de agua invernal en el acuífero Sokh, Asia Central
Se ha investigado la dinámica de la recarga artificial del flujo superficial de invierno acoplado con el incremento del uso de aguas subterráneas en el verano para riego en el acuífero Sokh (Asia Central). Los esquemas de liberación de agua desde el gigante embalse Toktogul han cambiado, debido a que la prioridad ahora es la generación hidroeléctrica en invierno en Kyrgyzstan. Los flujos en el invierno se han incrementado y las descargas del verano han disminuido, pero el Río Syr Darya no puede los mayores flujos del invierno y el exceso es derivado a una depresión natural, creando un lago de 40× 109 m3. Un estudio del balance de agua de todos los 18 acuíferos que alimentan el Valle Fergana, indicó la factibilidad de la recarga de aguas subterráneas en invierno en el almacenamiento creado por la extracción del verano. Este estudio de modelación examina la dinámica del proceso en un acuífero durante un período de 5 años con cuatro escenarios: la situación actual; incrementando la extracción de aguas subterráneas a alrededor de 625 millones (M) de m3 por año; extracción de aguas subterráneas con una recarga artificial de 144 Mm3 por año, equivalente al volumen disponible en años de bajo flujo en el Río Sokh; y con una recarga artificial mayor de 268 Mm3 por año, correspondiente a la disponibilidad de altos flujos. Las desviaciones del riego superficial del verano pueden reducirse hasta 350 Mm3 y los niveles freáticos pueden ser descendidos.
Resumo
Uma avaliação das potencialidades e dos impactes da recarga artificial no Inverno no aquífero de Sokh, Ásia Central
Investigou-se a dinâmica de recarga artificial dos escoamentos superficiais no Inverno, acoplada ao uso crescente de água subterrânea para rega no Verão, no aquífero de Sokh (Ásia Central). O padrão das descargas do gigantesco reservatório de Toktogul mudou, uma vez que agora se dá prioridade à geração hidroeléctrica no Inverno no Quirguistão. Os fluxos de Inverno têm aumentado e as descargas de Verão diminuído, mas o Rio Syr Darya não consegue escoar esses maiores volumes de Inverno, e o excesso é desviado para uma depressão natural, criando um lago de 40 × 109 m3. Um estudo do balanço hídrico de todos os 18 aquíferos que alimentam o Vale de Fergana indicou a viabilidade de recarga das águas subterrâneas no Inverno, utilizando o armazenamento disponibilizado no aquífero pelas extracções do Verão. Este estudo de modelação analisa a dinâmica do processo num aquífero durante um período de 5 anos, com quatro cenários: a situação actual; o aumento da captação de águas subterrâneas em cerca de 625 milhões (M) de m3 por ano; a captação de águas subterrâneas com uma recarga artificial de 144 Mm3 por ano, equivalente ao volume disponível em anos de baixo fluxo no Rio Sokh; e com uma maior recarga artificial de 268 Mm3 por ano, correspondente à disponibilidade de fluxos elevados. Os desvios de água superficial para rega no Verão podem ser reduzidos em até 350 Mm3 e os níveis freáticos podem ser rebaixados.
Access options
Buy single article
Instant access to the full article PDF.
US$ 39.95
Tax calculation will be finalised during checkout.
Subscribe to journal
Immediate online access to all issues from 2019. Subscription will auto renew annually.
US$ 79
Tax calculation will be finalised during checkout.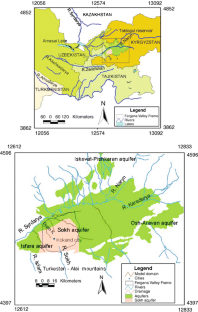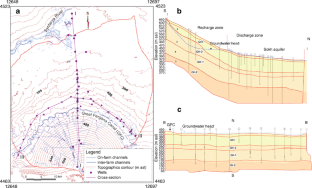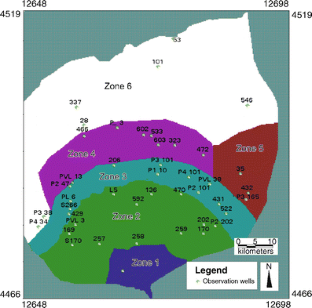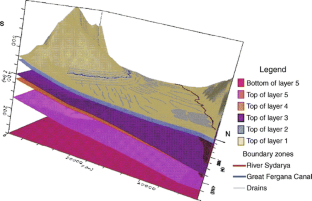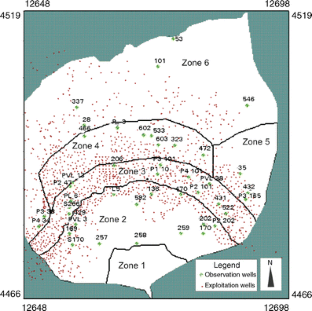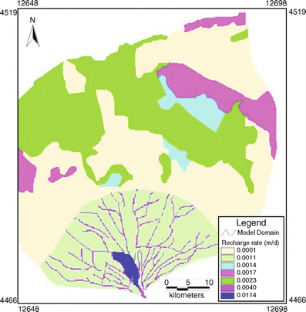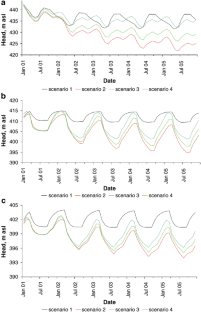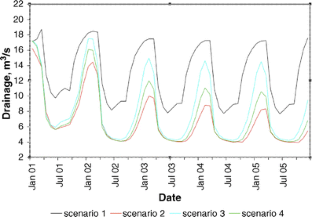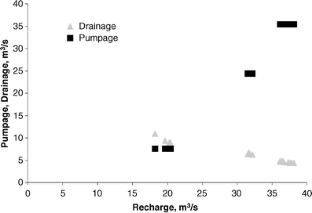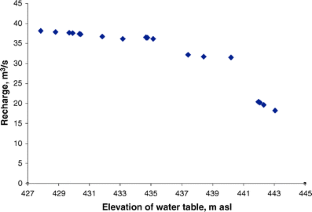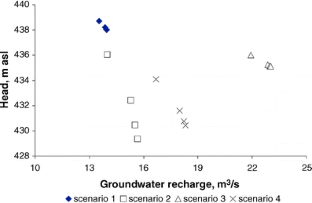 References
Akramov AA (1985) Grounds for integrated regulating of water resources in surface and subsurface reservoirs (in Russian). In: Hydrogeology and engineering geology problems of Central Asia. Fan, Tashkent, Uzbekistan, pp 77–86

Akramov AA (1991) Regulating fresh water storages in underground water aquifers (in Russian). Fan, Tashkent, Uzbekistan, 207 pp

Altshul AKh, Usenko BS, Chaban MO (1977) Regulating underground water storages (in Russian). Kolos, Moscow, 238 pp

Borisov VA (1990) Resources of underground waters and their use in national economy: case of Uzbekistan (in Russian). Fan, Taskent, Uzbekistan, 142 pp

Geintsc VA (1967) Underground waters of Quaternary deposits of south-western Fergana, their regime and budget in connections with water related activities (in Russian). Fan, Tashkent, Uzbekistan, 98 pp

Karimov A, Turral H, Mavlonov A, Rahmatov N, Manthritillake H, Borisov V, Anzelm K (2008) The role of underground aquifers of Fergana Valley in regulating the winter flow of Syrdarya River. Water Manage Kazakhstan J 2(18):17–26

Mirzaev SSh (1972) To methodology of regional evaluation of potential of underground water artificial recharge (in Russian). Uzbek Geol J N1:5–7

Mirzaev SSh (1974) Underground water reserves of Uzbekistan (in Russian). Fan, Tashkent, Uzbekistan, 150 pp

Mirzaev SSh, Karimov AKh (1989) Basics of conjunctive use of underground and surface water for irrigation (in Russian). Fan, Tashkent, Uzbekistan, 100 pp

Mirzaev SSh, Saidmuradov ZS (1991) Rationale for multi-objective use of underground waters in the arid zone (in Russian). Fan, Tashkent, Uzbekistan, 110 pp

Plotnikov NA, Sychev KI (1976) Assessment of exploitation storages of underground waters with their artificial recharge (in Russian). Nedra, Moscow, 151 pp

Rindahl B (1996) Groundwater Modeling and Analysis using the USGS MODFLOW Program and ArcView. Published On-line in ESRI International User Conference 1996 Proceedings. ESRI International User Conference, Palm Springs, CA, 20–24 May 1996. http://gis.esri.com/library/userconf/proc96/TO50/PAP042/P42.HTM. Cited 22 December 2008

Sychev KI (1975) Hydrogeology grounds for artificial recharge of under ground water storages (in Russsian). The All Union Institute of Hydrogeology and Engineering Geology, Moscow, 98 pp

Usenko VS (1972) Artificial recharge of underground waters and infiltration basins (in Russsian). Nauka and Technika, Minsk, Russia, 251 pp

Valiev KhI (2002) Assessing opportunities for water resource management using underground reservoirs in various conditions of Uzbekistan (in Russian). In: Issues of potable water supply and environment. University, Tashkent, Uzbekistan, pp 227–237
Acknowledgements
The authors would like to express their thanks to the OPEC fund for financing this work, and to the Hydrogeology Expedition of Uzbekistan for additional data.
Electronic supplementary material
Below is the link to the electronic supplementary material.
About this article
Cite this article
Gracheva, I., Karimov, A., Turral, H. et al. An assessment of the potential and impacts of winter water banking in the Sokh aquifer, Central Asia. Hydrogeol J 17, 1471–1482 (2009). https://doi.org/10.1007/s10040-009-0444-0
Received:

Accepted:

Published:

Issue Date:
Keywords
Groundwater recharge

Groundwater/surface water relations

Agriculture

Numerical modeling

Central Asia

Groundwater recharge management

Numerical modeling and scenario analysis