Abstract
Purpose
This study aimed at clinical results in terms of postoperative pain and functional recovery of new technique (eTEP) compared to IPOM + for ventral/incisional midline hernias. Recurrence rate, intra/postoperative complications and aesthetic results are secondary aims.
Methods
Data from consecutive patients requiring minimally invasive hernia repair were collected. From January 2015 to September 2018, patients with midline ventral/incisional hernias underwent IPOM + were compared to patients underwent eTEP procedure from October 2018 to December 2019 in a case/control study.
Results
Thirty-nine patients in IPOM + group and 40 in eTEP group were included. No significant differences were identified when hernias types, mean defect area, mean mesh area and intraoperative/postoperative complications (except seroma rate in favor of eTEP group) were compared. Operative time and hospital stay were significantly higher in eTEP group and IPOM + group, respectively. eTEP group showed significantly less pain on 1st, 7th and 30th postoperative days than IPOM + group. Restriction of activities was significantly decreased in eTEP group on the 30th and 180th day after surgery. Significant differences were observed in terms of cosmetic results 30th and 180th days after surgery in favor of eTEP group.
Average follow-up was 15 months in eTEP group and 28 months in IPOM + group. No recurrences were identified in eTEP group and one recurrence in IPOM + group with no significant differences.
Conclusion
Endoscopic retromuscular technique shows significant lower postoperative pain, better functional recovery and cosmesis than IPOM + without differences in intra/postoperative complications (except seroma rate) or recurrences during the follow-up. eTEP requires longer operative time.
Access options
Buy single article
Instant access to the full article PDF.
US$ 39.95
Tax calculation will be finalised during checkout.
Subscribe to journal
Immediate online access to all issues from 2019. Subscription will auto renew annually.
US$ 79
Tax calculation will be finalised during checkout.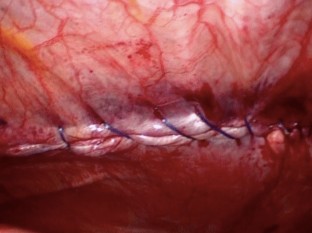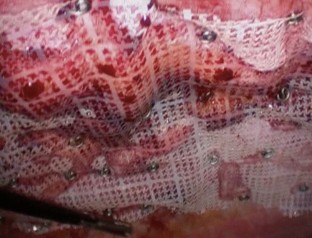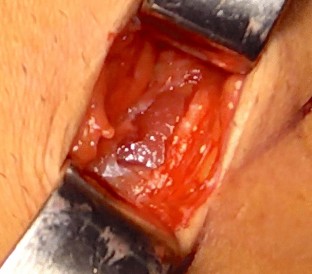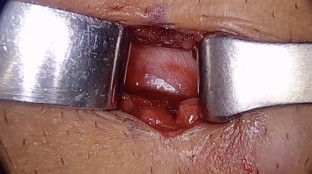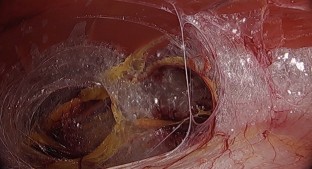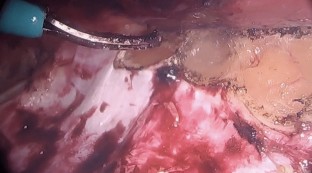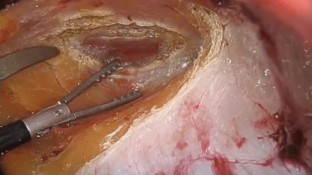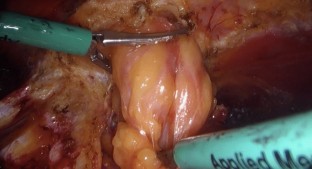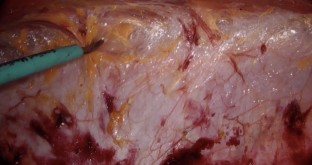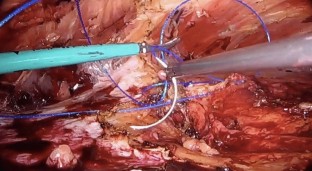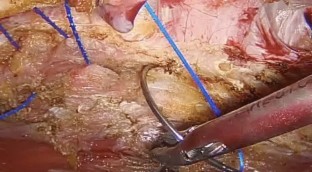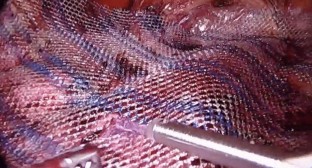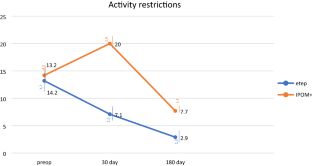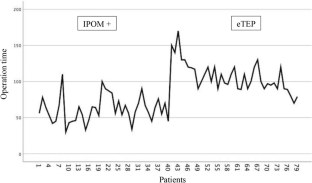 Data availability
Data are available in IBM SPSS Statistics Base version 25.0 tables and Microsoft excel 16.4.
References
1.

LeBlanc KA, Booth WV (1993) Laparoscopic repair of incisional abdominal hernias using expanded polytetrafluoroethylene: preliminary findings. SurgLaparoscEndosc 3(1):39–41

2.

Olmi S, Scaini A, Cesana GC, Erba L, Croce E (2007) Laparoscopic versus open incisional hernia repair: an open randomized controlled study. SurgEndosc 21(4):555–559

3.

Misra MC, Bansal VK, Kulkarni MP, Pawar DK (2006) Comparison of laparoscopic and open repair of incisional and primary ventral hernia: results of a prospective randomized study. SurgEndosc 20(12):1839–1845

4.

Beldi G, Wagner M, Bruegger LE, Kurmann A, Candinas D (2011) Mesh shrinkage and pain in laparoscopic ventral hernia repair: a randomized clinical trial comparing suture versus tack mesh fixation. SurgEndosc 25:749–755

5.

Stoppa RE (1985) The treatment of complicated groin and incisional hernias. WJS 5:545–554

6.

Novitsky YW, Porter JR, Rucho ZC, Getz SB, Pratt BL, Kercher KW et al (2006) Open preperitonealretrofascial mesh repair for multiply recurrent ventral incisional hernias. J Am CollSurg 203:283–289

7.

Maman D, Greenwald D, Kreniske J, Royston A, Powers S, Bauer J (2012) Modified Rives-Stoppa technique for repair of complex incisional hernias in 59 patients. Ann PlastSurg 68:190–193

8.

Miserez M, Penninckx F (2002) Endoscopic totally preperitoneal ventral hernia repair. SurgEndosc 16:1207–1213

9.

BellidoLuque JA, BellidoLuque A, Gomez Menchero J, Suarez Grau JM, García Moreno J, Tejada Gomez A, Jurado G (2017) Safety and effectiveness of self-adhesive mesh in laparoscopic ventral hernia repair using transabdominal preperitoneal route. J SurgEndosc 31(3):1213–1218

10.

Schroeder AD, Debus ES, Schroeder M, Reinpold WM (2013) Laparoscopic transperitonealsublay mesh repair: a new technique for the cure of ventral and incisional hernias. SurgEndosc 27:648–654

11.

Schwarz J, Reinpold W, Bittner R (2017) Endoscopic mini/less open sublay technique (EMILOS)—a new technique for ventral hernia repair. Langenbecks Arch Surg 402:173–180

12.

Nguyen DK, Chen DC (2017) Laparoendoscopic stapled Rives Stoppasublay technique for extraperitoneal ventral hernia repair. EurSurg 49:175–179

13.

Belyansky I, Daes J, Radu VG, Balasubramanian R, Reza Zahiri H, Weltz AS, Sibia US, Park A, Novitsky Y (2018) A novel approach using the enhanced-view totally extraperitoneal(eTEP) technique for laparoscopic retromuscular hernia repair. SurgEndosc 32(3):1525–1532

14.

Radu VG, Lica M (2019) The endoscopic retromuscular repair of ventral hernia: the eTEP technique and early results. Hernia 23(5):945–955

15.

Daes J (2012) The enhanced view-totally extraperitoneal technique for repair of inguinal hernia. SurgEndosc 26:1187–1188

16.

Muysoms FE et al (2009) Classification of primary and incisional abdomianal wall hernias. Hernia 13(4):407–414

17.

Clavien PA, Barkun J et al (2009) Clavien-Dindo classification of surgical complications. Five-years of experience. Ann Surg 250(2):187–196

18.

Morales-Conde S et al (2012) A new classification for seroma after laparoscopic ventral hernia repair. Hernia 16(3):261–267

19.

Muysoms FE, Vanlander A, Ceulemans R, Kyle-Leinhase I, Michiels M, Jacobs I, Pletinckx P, Berrevoet F (2016) A prospective, multicenter, observational study on quality of life after laparoscopic inguinal hernia repair with ProGrip laparoscopic, self-fixating mesh according to the European Registry for Abdominal Wall Hernias Quality of Life Instrument. Surgery 160(5):1344–1357

20.

Agarwal BB, Agarwal S, Mahajan KC (2009) Laparoscopic ventral hernia repair: innovative anatomical closure, mesh insertion without 10-mm transmyofascial port, and atraumatic mesh fixation: a preliminary experience of a new technique. SurgEndosc 23(4):900–905

21.

Papanivelu C, Jani KV et al (2007) Laparoscopic sutured closure with mesh reinforcement of incisional hernia. Hernia 11:223–228

22.

Suwa K, Okamoto T, Yanaga K (2016) Closure versus non-closure of fascial defects in laparoscopic ventral and incisional hernia repairs: a review of literature. Surg Today 46(7):764–773

23.

Mitura K et al (2017) Outcomes of bridging versus mesh augmentation in laparoscopic repair of small an medium midline ventral hernias. Surgendosc 31:382–388

24.

Wennergen JE, Askenasy EP, Greenberg JH, Holihan J, Keith J, Liang MK, Martindale RG, Trott S, Plymale M, Roth JS (2016) Laparoscopic ventral hernia repair with primary fascial closure vs. Bridged repair: a risk-adjusted comparative study. SurgEndosc 30:3231–3238

25.

Tandon A, Pathak S, Lyons NJR, Nunes QM, Daniels IR, Smart NJ (2016) Meta-analysis of closure of the fascial defect during laparoscopic incisional and ventral hernia repair. BJS 103:1598–1607

26.

Henniford BT, Park A, Ramshaw BJ, Woeller G (2003) Laparoscopic repair of ventral hernias: nine years experience with 850 consecutive cases. Ann Surg 238:391–400

27.

Prasad P, Tantia O, Patle NM et al (2011) Laparoscopic ventral hernia repair: a comparative study of transabdominal preperitoneal versus intraperitoneal onlay mesh repair. J LaparoendoscAdvSurg Tech 21(6):477–483

28.

Henniford BT et al (2016) Guidelines for laparoscopic ventral hernia repair. SurgEndosc 30(8):3161–3162

29.

Prasad P et al (2011) Laparoscopic transabdominal preperitoneal repair of ventral hernia: a step towards physiological repair. Indian J Surg 73(6):403–408

30.

Earle D, Roth JS, Saber A, Haggerty S et al (2016) SAGES guidelines for laparoscopic ventral hernia repair. SurgEndosc 30:3163–3183
Acknowledgement
This study complies with the current laws of Spain, in which it has been performed.
Ethics declarations
Conflict of interest
Authors Juan Bellido Luque, Juan Carlos Gomez Rosado, Araceli Bellido Luque, Julio Gomez Menchero, Juan Manuel Suarez Grau, Inmaculada Sanchez Matamoros, Angel Nogales Muñoz, Fernando Oliva Mompeán, Salvador Morales Conde declare that they have no conflict of interest. Conflict of interest is recorded in the potential conflict of interest disclosure forms.
Ethics approval
Approval was obtained from the ethics committee of University of Seville (Spain), Virgen de la Macarena Hospital. The procedures used in this study adhere to the tenets of the Declaration of Helsinki.
Informed Consent
Informed consent was obtained from all individual participants included in the study.
Consent for publication
Patients signed informed consent regarding publishing their data and photographs.
Additional information
Publisher's Note
Springer Nature remains neutral with regard to jurisdictional claims in published maps and institutional affiliations.
Supplementary Information
Below is the link to the electronic supplementary material.
Supplementary file1 (MP4 191300 KB)
About this article
Cite this article
Bellido Luque, J., Gomez Rosado, J.C., Bellido Luque, A. et al. Endoscopic retromuscular technique (eTEP) vs conventional laparoscopic ventral or incisional hernia repair with defect closure (IPOM +) for midline hernias. A case–control study. Hernia (2021). https://doi.org/10.1007/s10029-021-02373-0
Received:

Accepted:

Published:
Keywords
eTEP

Totally endoscopic retromuscular repair

Minimally invasive ventral hernias

Extraperitoneal ventral hernia