Abstract
Introduction
For many years the Shouldice technique was the gold standard for inguinal hernia repair. Nowadays mesh repair has been proven to entail better results in randomized trials. Since the first publication 1953 the Repair has been described in detail in many textbooks, articles and You Tube videos. It appears that the original technique is used almost exclusively in the Shouldice Hospital in Thornhill/ Canada and despite the success of the Shouldice Hospital many surgeons inexplicably modify this original technique in their daily practice. In the last couple of years there appears to be an increasing interest in pure tissue repairs for various reasons, often fear of mesh-related pain. The aim of the study was to review the current evidence and to define an updated standard with key principles of the Shouldice repair.
Methods
Because of unpublished evidence regarding many operative details the organizing group decided to create a technical update via a consensus meeting with 13 international designated hernia surgeons from six countries. In preparation of the meeting a review of the current literature regarding Shouldice repair was done by the organizing group. A questionnaire was prepared and sent to all participants before the meeting to get an independent answer on all critical aspects.
Results
All questions regarding a detailed standard of the operation technique could be outlined. As result of the consensus meeting the participants have formulated all key-points of preparation/dissection and repair of the Shouldice technique. For 5 of 6 critical technical surgical steps a strong consensus could be defined in the group. There was no consensus among the group regarding the cremaster resection and the ideal indication for Shouldice repair.
Conclusion
After a 75-year history of the Shouldice repair the technique should continue to merit consideration by all hernia surgeons. After this consensus meeting a clear binding standard of the Shouldice technique for all interested surgeons is proposed.
Access options
Buy single article
Instant access to the full article PDF.
US$ 39.95
Tax calculation will be finalised during checkout.
Subscribe to journal
Immediate online access to all issues from 2019. Subscription will auto renew annually.
US$ 79
Tax calculation will be finalised during checkout.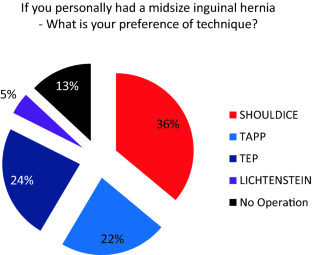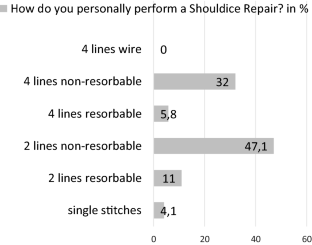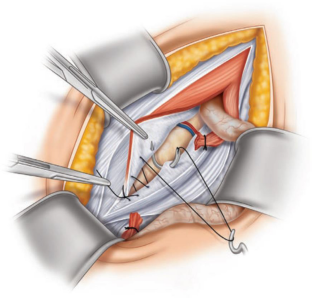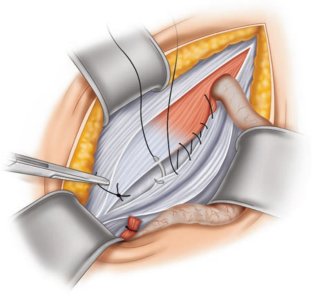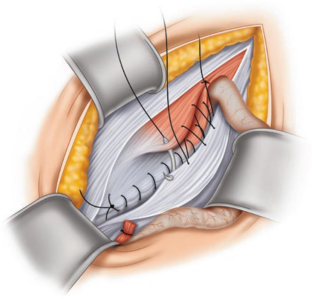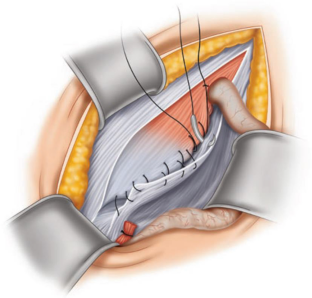 References
1.

Shouldice EE (1953) The treatment of Hernia. Ontario Med Rev 20:670–684

2.

Shouldice EB (2003) The Shouldice repair for groin hernias. Surg Clin North Am 83:1163–1187

3.

Shearburn EW, Myers RN (1969) Shouldice repair for inguinal hernia. Surgery 66:450–459

4.

Obney N, Chan CK (1984) Repair of multiple time recurrent inguinal hernias with reference to common causes of recurrences. Contemp Surg 25:25–32

5.

Wantz GE (1989) The Canadian repair: personal observations. World J Surg 13:516–521

6.

Bendavid R (2016) Re: Recurrence of inguinal hernias repaired in a large surgical specialty hospital and general hospitals in Ontario, Canada. Can J Surg 59(1):E3. https://doi.org/10.1503/cjs.017715

7.

Chan CK, Chan G (2006) The Shouldice technique for the treatment of inguinal hernia. J Minim Access Surg 2(3):124–128

8.

Gorjanc J (2011) The Shouldice repair—experience with first 50 patients. Zdrav Vestn 80:668–675

9.

Kux M, Fuchsjäger N, Schemper M (1995) Shouldice is superior to Bassini inguinal herniorhaphy. Am J Surg 168:15–18

10.

Schumpelick V, Treutner K-H, Arlt G (1994) Inguinal hernia repair in adults. Lancet 344:375–379

11.

Hay JM et al (1995) Shouldice inguinal hernia repair in the male adult a multicenter controlled trial in 1578 patients. Ann Surg 22:719–727

12.

Treutner KH, Arlt G, Schumpelick V (1999) Shouldice repair for recurrent hernia—a ten-year follow-up. In: Schumpelick V (ed) Incisional hernia, 9th edn. Springer, Berlin, Heidelberg, p 359

13.

Nordin P et al (2002) Randomised trial of Lichtenstein vs Shouldice hernia repair in general surgery practice. Br J Surg 89:45–49

14.

Danielsson P et al (2003) Randomised study of Lichtenstein with Shoudice inguinal hernia repair by surgeons in training. Eur J Surg. https://doi.org/10.1080/110241599750007504

15.

Arvidsson D et al (2005) Randomised clinical trial comparing 5-year recurrence rate after laparoscopic versus shouldice repair of primary Inguinal hernia. Br J Surg 92:1085–1091

16.

Amato B, Moja L, Panico S et al (2012) Shouldice technique versus other open techniques for inguinal hernia repair. Cochrane Database Syst Rev 2012(4):01543. https://doi.org/10.1002/14651858.CD001543.pub4 (Published 2012)

17.

HerniaSurge Group (2018) International guidelines for groin hernia management. Hernia 22:1–65

18.

Fischer JE (2013) Hernia repair: why do we continue to perform mesh repair in the face of the human toll of inguinodynia? Am J Surg 206:619–623. https://doi.org/10.1016/j.amjsurg.2013.03.010

19.

Lorenz R (2018) Do we really need a renaissance of pure tissue repair? Invited comment to: Desarda's technique versus Lichtenstein technique for the treatment of primary inguinal hernia: a systematic review and meta-analysis of randomized controlled trials Emile S, Elfeki H. Hernia 22:397–398

20.

Lorenz R (2019) Outside of guidelines: successful desarda technique for primary inguinal hernias. Int J Abdom Wall Hernia Surg 2:23–24

21.

Köckerling F, Koch A, Adolf D et al (2018) Has shouldice repair in a selected group of patients with inguinal hernia comparable results to lichtenstein, TEP and TAPP techniques? World J Surg 42(7):2001–2010. https://doi.org/10.1007/s00268-017-4433-5

22.

Köckerling F, Lorenz R, Hukauf M, Grau H, Jacob D, Fortelny R, Koch A (2019) Influencing factors on the outcome in female groin hernia repair: a registry-based multivariable analysis of 15,601 patients. Ann Surg 270(1):1–9. https://doi.org/10.1097/SLA.0000000000003271

23.

WHO handbook for guideline development—2nd ed. (ISBN 978 92 4 154896 0) © World Health Organization 2014, https://www.who.int/publications/guidelines/Chp16_May2016.pdf (accessed 1 Nov, 2019)

24.

Ris HB, Aebersold P, Küpfer K, Stucki U, Stirnemann H, Doran J (1987) 10 years' experience using a modified Shouldice surgical technic for inguinal hernia in adults. II. Which factors modify the recurrence of inguinal hernia? Chirurg 58(2):100–105

25.

Töns C, Klinge U, Kupczyk-Joeris D, Rötzscher VM, Schumpelick V (1991) Controlled study of cremaster resection in Shouldice repair of primary inguinal hernia. Zentralbl Chir 116(12):737–743

26.

Hilgert RE, Dörner A, Wittkugel O (1999) Comparison of polydioxanone (PDS) and polypropylene (Prolene) for Shouldice repair of primary inguinal hernias: a prospective randomised trial. Eur J Surg 165:333–338

27.

Nordin P, Haapaniemi S, Kald A, Nilsson E (2003) Influence of suture material and surgical technique on risk of reoperation after non-mesh open hernia repair. Br J Surg 90:1004–1008

28.

Peiper C, Junge K, Füting A, Conze J, Bassalay P, Schumpelick V (1998) Intraoperative Messung der Nahtkräfte bei der Shouldice-Reparation primärer Leistenhernien. Chirurg 69:1077–1081

29.

Weyhe D, Conze J, Kuthe A, Köckerling F, Lammers BJ, Lorenz R, Niebuhr H, Reinpold W, Zarras K, Bittner R (2018) HerniaSurge: international guidelines on treatment of inguinal hernia in adults : comments of the Surgical Working Group Hernia (CAH/DGAV) and the German Hernia Society (DHG) on the most important recommendations. Chirurg 89(8):631–638. https://doi.org/10.1007/s00104-018-0673-7

30.

Miedema BW, Ibrahim SM, Davis BD, Koivunen DG (2004) A prospective trial of primary inguinal hernia repair by surgical trainees. Hernia 8:28–32

31.

Lockhart K, Teo S, Ng JY, Dhillon M, Teo E, van Driel ML (2018) Mesh versus non-mesh for inguinal and femoral hernia repair. Cochrane Database Syst Rev 9:CD011517. https://doi.org/10.1002/14651858.CD011517.pub2

32.

Bocchi P (1993) Shouldice's operation: can results in a general surgical unit be the same as those in a highly specialized surgical unit? J Chir (Paris) 130:275–277

33.

Malik A, Bell CM, Stukel TA, Urbach DR (2016) Recurrence of inguinal hernias repaired in a large hernia surgical specialty hospital and general hospitals in Ontario, Canada. Can J Surg 59:19–25

34.

Barbaro A, Kanhere H, Bessell J, Maddern GJ (2017) Laparoscopic extraperitoneal repair versus open inguinal hernia repair: 20-year follow-up of a randomized controlled trial. Hernia 21(5):723–727. https://doi.org/10.1007/s10029-017-1642-7 (Epub 2017 Sep 1)

35.

Murphy BL, Ubl DS, Zhang J, Habermann EB, Farley DR, Paley K (2018) Trends of inguinal hernia repairs performed for recurrence in the United States. Surgery 163(2):343–350. https://doi.org/10.1016/j.surg.2017.08.001 (Epub 2017 Sep 15)
Ethics declarations
Conflict of interest
RL, GA, JC, RF, JG, AK, JM, VO, and JC have no conflicts of interest.
Ethical approval
This study was performed in line with the principles of the Declaration of Helsinki and its later amendments or comparable ethical standards.
Human and animal rights
All procedures performed in this study involving human participants were in accordance with the ethical standards of the institutional and/or national research committee and with the 1964 Helsinki declaration and its later amendments or comparable ethical standards.
Informed consent
For this type of study, no informed consent is required.
Additional information
This paper is dedicated to MD Robert Bendavid (who died on September, 30th, 2019) and MD Dennis R. Klassen (who died on July 29th, 2020).
Publisher's Note
Springer Nature remains neutral with regard to jurisdictional claims in published maps and institutional affiliations.
Supplementary Information
Below is the link to the electronic supplementary material.
About this article
Cite this article
Lorenz, R., Arlt, G., Conze, J. et al. Shouldice standard 2020: review of the current literature and results of an international consensus meeting. Hernia (2021). https://doi.org/10.1007/s10029-020-02365-6
Received:

Accepted:

Published:
Keywords
Shouldice repair

Groin hernia

Pure tissue repair