Abstract
Background
The abdominal wall can be considered comprised of two compartments: an anterior and a posterior compartment. The anterior compartment includes the anterior rectus sheath and the rectus muscle. The posterior compartment comprises the posterior rectus sheath, the transversalis fascia, and the peritoneum. When a large defect in the anterior compartment has to be corrected, for example, a rectus diastasis or large incisional hernia, an action on the anterior compartment is necessary; therefore, an anterior component separation has to be considered. If a loss of substance is present in the posterior compartment, a trasversus abdominis release should be accomplished.
Methods
We propose an original anterior compartment mobilisation, by a posterior approach. Dissection of the posterior rectus sheet proceeds until the linea semilunaris is reached. Incision of the anterior rectus sheath permits a mobilisation of the anterior compartment by a posterior approach. A mesh is placed in a sublay position. If the abdominal wall presents a loss of substance of the posterior compartment, a transversus abdominis release (TAR) can be performed in the same time.
Results
No hernia recurrences, no wound infection, and no mesh infection have been reported.
Conclusions
The anterior compartment mobilization permits mobilization towards the midline of rectus muscle and restoration of anterior compartment, with low morbidity rate; it can be easily associated to a large sublay mesh placement, it allows the preservation of the neurovascular bundles and rectus muscle trophism, and it can be associated with a concomitant TAR procedure for the restoration of the PC, if necessary.
Access options
Buy single article
Instant access to the full article PDF.
US$ 39.95
Tax calculation will be finalised during checkout.
Subscribe to journal
Immediate online access to all issues from 2019. Subscription will auto renew annually.
US$ 79
Tax calculation will be finalised during checkout.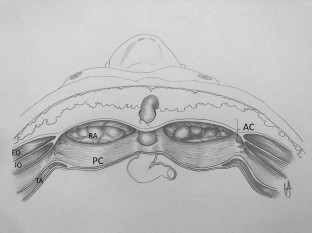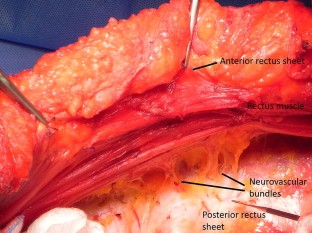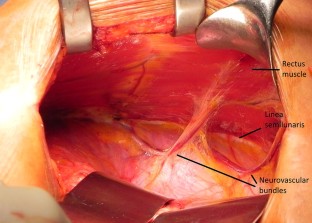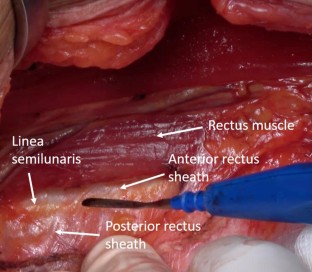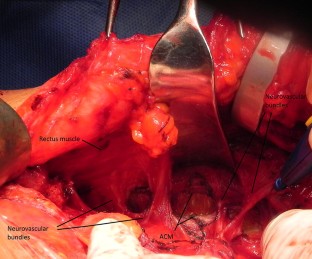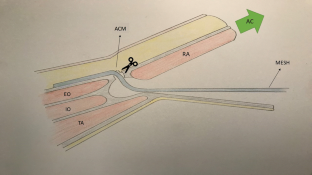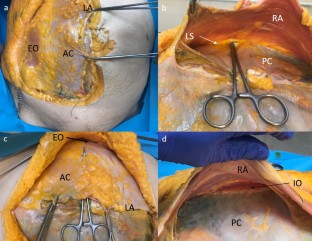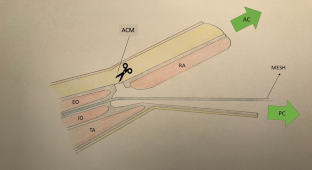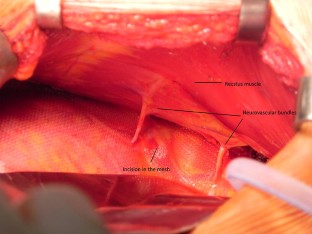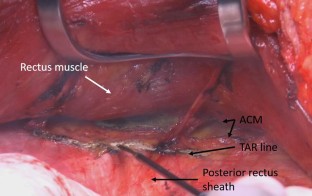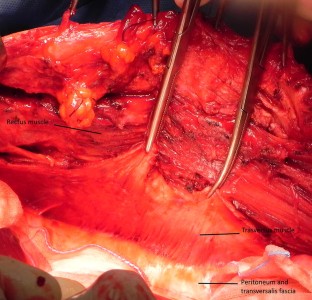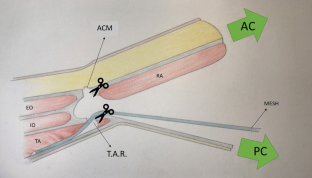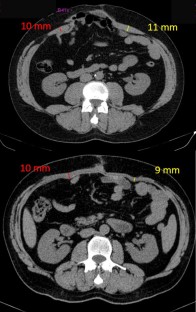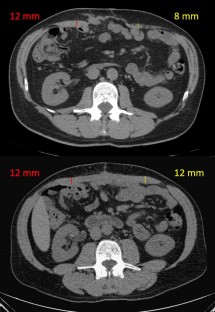 References
1.

Di Bello JN, Moore JH (1996) Sliding myofascial flap of the rectus abdominus muscles for the closure of recurrent ventral hernias. Plast Reconstr Surg 98(3):464–469

2.

Ramirez OM, Ruas E, Dellon AL (1990) "Components separation" method for closure of abdominal-wall defects: an anatomic and clinical study. Plast Reconstr Surg 86(3):519–526

3.

Saulis AS, Dumanian GA (2002) Periumbilical rectus abdominis perforator preservation significantly reduces superficial wound complications in "separation of parts" hernia repairs. Plast Reconstr Surg 109(7):2275–2280

4.

Rosen MJ, Jin J, McGee MF et al (2007) Laparoscopic component separation in the single-stage treatment of infected abdominal wall prosthetic removal. Hernia 11:435–440

5.

Daes J (2014) Endoscopic subcutaneous approach to component separation. J Am Col Surg 218:e1–e4

6.

Rosen MJ (2017) Posterior component separation with transversus abdominis muscle release. In: Rosen MJ (ed) Atlas of abdominal wall reconstruction, 2nd edn. Elsevier, Philadelphia, pp 82–109

7.

Novitsky YW, Elliott HL, Orenstein SB, Rosen MJ (2012) Transversus abdominis muscle release: a novel approach to posterior component separation during complex abdominal wall reconstruction. Am J Surg 204(5):709e716

8.

Campanelli G, Trivellini G et al (2002) Surgical treatment of incisional hernias with marked loss of substance. Hernia 4(4):202–205

9.

Camapnelli G, Catena F, Ansaloni L (2008) Prosthetic abdominal wall hernia repair in emergency surgery. WJES 3:33

10.

Stoppa RE (1989) The treatment of complicated groin and incisional hernias. World J Surg 13:545–554

11.

van Geffen HJ, Simmermacher RK, van Vroonhoven TJ et al (2005) Surgical treatment of large contaminated abdominal wall defects. J Am Coll Surg 201(2):206–212

12.

Cox TC, Pearl JP, Ritter EM (2010) Rives-Stoppa incisional hernia repair combined with laparoscopic separation of abdominal wall components: a novel approach to complex abdominal wall closure Hernia. J Hernias Abdom Wall Surg 14(6):561e567

13.

Giurgius M, Bendure L, Davenport DL, Roth JS (2012) The endoscopic component separation technique for hernia repair results in reduced morbidity compared to the open component separation technique Hernia. J Hernias Abdom Wall Surg 16(1):47e51

14.

Bachman SL, Ramaswamy A, Ramshaw BJ (2009) Early results of midline hernia repair using a minimally invasive component separation technique. Am Surg 75(7):572e577

15.

Netter F (2018) Atlas of human anatomy, 6 edn, plate 248. s.l. Elsevier—Health Sciences Division, Amsterdam, ISBN 9780323390095
Ethics declarations
Conflict of interest
All authors declare that they have no conflict of interest.
Ethical approval
All procedures performed in studies involving human participants were in accordance with the ethical standards of the institutional and with the 1964 Helsinki declaration and its later amendments or comparable ethical standards.
Human and animal rights
This article does not contain any studies with animals performed by any of the authors.
Informed consent
Informed consent was obtained from all individual participants included in the study.
Additional information
Publisher's Note
Springer Nature remains neutral with regard to jurisdictional claims in published maps and institutional affiliations.
About this article
Cite this article
Cavalli, M., Bruni, P.G., Lombardo, F. et al. Original concepts in anatomy, abdominal-wall surgery, and component separation technique and strategy. Hernia 24, 411–419 (2020). https://doi.org/10.1007/s10029-019-02030-7
Received:

Accepted:

Published:

Issue Date:
Keywords
Rectus diastasis

Loss of substance

Anterior component separation

Posterior component separation

Anterior compartment mobilisation