Abstract
Introduction
Repair of complex ventral hernia presents a significant challenge plagued by high morbidity and recurrence. Recent studies have demonstrated significant benefits achievable with preoperative Botulinum Toxin A (BTA) chemical component paralysis to the abdominal wall muscles, facilitating primary closure of complex ventral hernia defects. However, transversus abdominis is known to play an integral role in truncal stability, and its paralysis can result in unwanted physiological changes. This is the first study to report on selective administration of preoperative BTA to internal and external oblique muscles only, thus sparing transversus abdominis from paralysis.
Methods
This is a prospective observational study of 46 patients who underwent either selective two-layer or standard three-layer abdominal wall muscle BTA injection prior to elective laparoscopic ventral hernia repair. Serial abdominal CT imaging was performed to compare defect size and length of the lateral abdominal musculature.
Results
46 patients received preoperative BTA injections (23 in each group). A comparison of gains achieved from chemical component paralysis demonstrated no statistically significant difference between the two groups. Fascial closure was achieved in all cases, with no post-operative sequelae of abdominal hypertension. There are no hernia recurrences to date.
Conclusion
Preoperative selective muscle chemical component paralysis is an effective technique to counteract the chronic muscle retraction observed in large ventral hernias. Transversus abdominis plays a significant role in truncal and spinal stability, and sparing it from paralysis preserves an important component of abdominal wall physiology and does not detract from the ability to primarily close complex defects.
This is a preview of subscription content, log in to check access.
Access options
Buy single article
Instant access to the full article PDF.
US$ 39.95
Price includes VAT for USA
Subscribe to journal
Immediate online access to all issues from 2019. Subscription will auto renew annually.
US$ 99
This is the net price. Taxes to be calculated in checkout.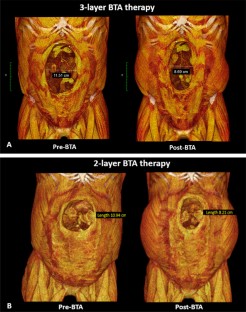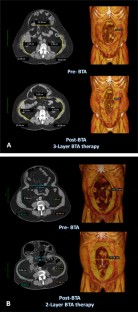 References
1.

Weissler JM, Lanni MA, Tecce MG et al (2017) Chemical component separation: a systematic review and meta-analysis of botulinum toxin for management of ventral hernia. J Plast Surg Hand Surg 51:366–374

2.

Deerenberg EB, Timmermans L, Hogerzeil DP et al (2015) A systematic review of the surgical treatment of large incisional hernia. Hernia 19:89–101

3.

Flum DR, Horvath K, Koepsell T (2003) Have outcomes of incisional hernia repair improved with time? A population-based analysis. Ann Surg 237:129–135

4.

Heniford BT, Park A, Ramshaw BJ et al (2003) Laparoscopic repair of ventral hernias: nine years' experience with 850 consecutive hernias. Ann Surg 238:391–399

5.

Awad ZT, Puri V, LeBlanc K et al (2005) Mechanisms of ventral hernia recurrence after mesh repair and a new proposed classification. J Am Coll Surg 201:132–140

6.

Ramirez OM, Ruas E, Dellon AL (1990) "Components Separation" method for closure of abdominal-wall defects: an anatomic and clinical study. Plast Reconstr Surg 86:519–526

7.

Heller L, McNichols CH, Ramirez OM (2012) Component separations. Semin Plast Surg 26:25–28

8.

Jardim YJ, Mesquita GHA, Pipek LZ et al (2018) Chemical components separation with the use of botulinum toxin A: a critical review for correction of ventral hernia. J Abdom Wall Reconstr 1:1002

9.

Zendejas B, Khasawneh MA, Srvantstyan B et al (2013) Outcomes of chemical component paralysis using botulinum toxin for incisional hernia repairs. World J Surg 37:2830–2837

10.

Ibarra-Hurtado TR, Nuno-Guzman CM, Echeagaray-Herrera JE et al (2009) Use of botulinum toxin type A before abdominal wall hernia reconstruction. World J Surg 33:2553–2556

11.

Ibarra-Hurtado TR, Nuno-Guzman CM, Miranda-Diaz AG et al (2014) Effect of botulinum toxin type A in lateral abdominal wall muscles thickness and length of patients with midline incisional hernia secondary to open abdomen management. Hernia 18:647–652

12.

Zielinski MD, Goussous N, Schiller HJ et al (2013) Chemical components separation with botulinum toxin A: a novel technique to improve primary fascial closure rates of the open abdomen. Hernia 17:101–107

13.

Farooque F, Jacombs A, Roussos E et al (2016) Preoperative abdominal muscle elongation with botulinum toxin A for complex incisional ventral hernia repair. ANZ J Surg 86:79–83

14.

Elstner KE, Jacombs AS, Read JW et al (2016) Laparoscopic repair of complex ventral hernia facilitated by pre-operative chemical component relaxation using Botulinum Toxin A. Hernia 20:209–219

15.

Elstner KE, Read JW, Rodriguez-Acevedo O (2017) Preoperative chemical component relaxation using Botulinum Toxin A: enabling laparoscopic repair of complex ventral hernia. Surg Endosc 31:761–768

16.

Rodriguez-Acevedo O, Elstner KE, Jacombs ASW et al (2018) Preoperative Botulinum Toxin A enabling defect closure and laparoscopic repair of complex ventral hernia defects. Surg Endosc 32:831–839

17.

Smoot D, Zielinski M, Jenkins D et al (2011) Botox A injection for pain after laparoscopic ventral hernia: a case report. Pain Medicine 12:1121–1123

18.

Rudmik LR, Schieman C, Dixon E et al (2006) Laparoscopic incisional hernia repair: a review of the literature. Hernia 10:110–119

19.

Heller L, Chike-Obi C, Xue AS (2012) Abdominal wall reconstruction with mesh and components separation. Semin Plast Surg 26:29–35

20.

Saulis AS, Dumanian GA (2002) Periumbilical rectus abdominis perforator preservation significantly reduces superficial wound complications in "separation of parts" hernia repairs. Plast Reconstr Surg 109:2275–2282

21.

Lowe JB, Garza JR, Bowman JL, Rohrich RJ, Strodel WE (2000) Endoscopically assisted "components separation" for closure of abdominal wall defects. Plast Reconstr Surg 105:720–729

22.

Maas SM, de Vries Reilingh TS, van Goor H, de Jong D, Bleichrodt RP (2002) Endoscopically assisted "components separation technique" for the repair of complicated ventral hernias. J Am Coll Surg 194:388–390

23.

Rosen MJ, Williams C, Kin J, McGee MF, Schomisch S, Marks J, Ponsky J (2007) Laparoscopic versus open-component separation: a comparative analysis in a porcine model. Am J Surg 194:385–389

24.

Dressler D (2012) Clinical applications of botulinum toxin. Curr Opin Microbiol 15:325–336

25.

Ganong W (1995) Review of medical physiology 17th Ed. Appleton and Lange

26.

Haggmark T, Thorstensson A (1979) Fibre types in human abdominal muscles. Acta Physiol Scand 107:319–325

27.

Hodges PW (2003) Neuromechanical stiffness of the spine. Thesis Dissertation. Karolinska Institute

28.

Hodges PW, Richardson CA (1998) Delayed postural contraction of transversus abdominis in low back pain associated with movement of the lower limb. J Spinal Disord 11:46–56

29.

Hodges PW, Richardson CA (1996) Inefficient muscular stabilization of the lumbar spine associated with low back pain: a motor control evaluation of transversus abdominis. Spine 21:2640–2650

30.

McGill SM, Grenier S, Kavcic N, Cholewicki J (2003) Coordination of muscle activity to assure stability of the lumbar spine. J Electromyogr Kinesiol 13:353–359

31.

Hodges PW, Richardson CA (1997) Feedforward contraction of transversus abdominis is not influenced by the direction of arm movement. Exp Brain Res 114:362–370
Acknowledgements
A/Prof Michael Talbot, Dr William Mackie, Dr Alexander Bay, and Isabelle Ibrahim are acknowledged
Funding
There are no sources of funding to disclose.
Ethics declarations
Conflicts of interest
All authors (KE, JS, PC, OR, AJ, RTM, and NI) declare no conflicts of interest, with the exception of JR, who declares conflict of interest related to the submitted work as he receives financial remuneration from Medicare as a radiologist.
Ethical approval
Approval from the institutional review board was not required for this study.
Human and animal rights
The study including human participants has been performed in accordance with the ethical standards of the Declaration of Helsinki and its later amendments.
Informed consent
Informed consent was obtained from all individual participants included in this study.
Additional information
Publisher's Note
Springer Nature remains neutral with regard to jurisdictional claims in published maps and institutional affiliations.
About this article
Cite this article
Elstner, K.E., Read, J.W., Saunders, J. et al. Selective muscle botulinum toxin A component paralysis in complex ventral hernia repair. Hernia 24, 287–293 (2020). https://doi.org/10.1007/s10029-019-01939-3
Received:

Accepted:

Published:

Issue Date:
Keywords
Complex ventral hernia

Incisional hernia

Botulinum toxin A

Chemical component paralysis