Abstract
Purpose
This study aims to compare the outcomes of posterior component separation and transversus abdominis release (PCSTAR) with the open anterior component separation (OACS) technique. OACS, first described by Ramirez et al. (Plast Reconstr Surg 86(3):519–526, 1990), has become an established technique for local myofascial advancement in abdominal hernia surgery. PCSTAR, described by Novitsky et al. (Am J Surg 204(5):709–716, 2012), is being used more frequently and is rapidly becoming the technique of choice in complex ventral hernia repair.
Methods
Analysis was conducted according to PRISMA guidelines. A systematic search of the MEDLINE, EMBASE and Pubmed databases was performed. Studies reporting exclusively on midline ventral hernia repair were reviewed. Studies describing PCSTAR were selected and compared to matched studies describing OACS. Meta-analysis was used to compare outcomes between the two-pooled groups.
Results
Seven studies describing 281 cases of PCSTAR for midline incisional hernia using a retromuscular mesh placement were identified. Six comparable studies describing 285 cases of OACS and retromuscular mesh placement were identified from the same search. Pooled analysis demonstrated a hernia recurrence rate of 5.7% (3.0–8.5) for PCSTAR and 9.5% (4.0–14.9) for OACS. Comparative analysis demonstrated no significant difference between hernia recurrence rate (p = 0.23). The use of bridging mesh was not significantly reduced by the use of PCSTAR (3.1%) when compared to ACS (7.5%) (p = 0.22). No significant difference was found in wound complication rates between PCSTAR and OACS, respectively, 'superficial' 10.9 vs 21.6% (p = 0.15); and 'deep' 9.5 vs 12.7% (p = 0.53).
Conclusions
These data suggest PCSTAR have comparable outcomes to OACS. This analysis is limited by the lack of comparative studies and heterogenicity in the OACS group.
Access options
Buy single article
Instant access to the full article PDF.
US$ 39.95
Tax calculation will be finalised during checkout.
Subscribe to journal
Immediate online access to all issues from 2019. Subscription will auto renew annually.
US$ 79
Tax calculation will be finalised during checkout.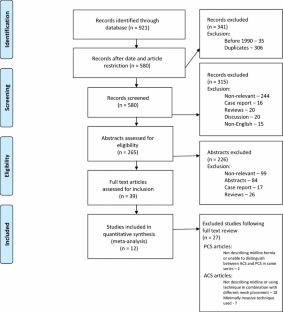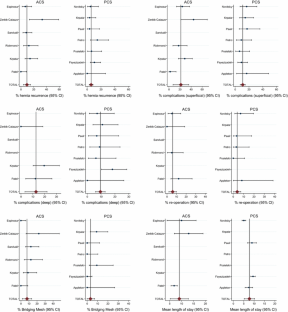 References
1.

Flament JB, Rives JPJ (1995) Major incisional hernia. In: Chevrel JP (ed) Hernia and surgery of the abdominal wall. Springer, New York, pp 116–144

2.

Stoppa R, Louis D, Verhaeghe P, Henry X, Plachot JP (1987) Current surgical treatment of post-operative eventrations. Int Surg 72(1):42–44 (Cited 4 Jan 2017)

3.

Criss CN, Petro CC, Krpata DM, Seafler CM, Lai N, Fiutem J et al (2014) Functional abdominal wall reconstruction improves core physiology and quality-of-life. Surg (US). 156:176–182

4.

Booth JH, Garvey PB, Baumann DP, Selber JC, Nguyen AT, Clemens MW et al (2013) Primary fascial closure with mesh reinforcement is superior to bridged mesh repair for abdominal wall reconstruction. J Am Coll Surg 217(6):999–1009 (Cited 19 Dec 2017)

5.

Ramirez OM, Ruas E, Dellon AL (1990) 'Components separation' method for closure of abdominal-wall defects: an anatomic and clinical study. Plast Reconstr Surg 86(3):519–526 (Cited 4 Jan 2017)

6.

de Vries Reilingh TS, Bodegom ME, van Goor H, Hartman EHM, van der Wilt G-J, Bleichrodt RP (2007) Autologous tissue repair of large abdominal wall defects. Br J Surg 94(7):791–803 (Cited 4 Jan 2017)

7.

Group VHW, Breuing K, Butler CE, Ferzoco S, Franz M, Hultman CS et al (2010) Incisional ventral hernias: review of the literature and recommendations regarding the grading and technique of repair. Surgery. 148(3):544–558

8.

Sailes FC, Walls J, Guelig D, Mirzabeigi M, Long WD, Crawford A et al (2010) Synthetic and biological mesh in component separation: a 10-year single institution review. Ann Plast Surg. 64:696–698

9.

Ghazi B, Deigni O, Yezhelyev M (2011) Current options in the management of complex abdominal wall defects. Ann Plast Surg 66:488–492

10.

Novitsky YW, Elliott HL, Orenstein SB, Rosen MJ (2012) Transversus abdominis muscle release: a novel approach to posterior component separation during complex abdominal wall reconstruction. Am J Surg 204(5):709–716

11.

Downs SH, Black N (1998) The feasibility of creating a checklist for the assessment of the methodological quality both of randomised and non-randomised studies of health care interventions. J Epidemiol Community Health 52(6):377–384 (Cited 4 Jan 2017)

12.

Slim K, Nini E, Forestier D, Kwiatkowski F, Panis Y, Chipponi J (2003) Methodological index for non-randomized studies (minors): development and validation of a new instrument. ANZ J Surg 73(9):712–716 (Cited 4 Jan 2017)

13.

Krpata DM, Blatnik JA, Novitsky YW, Rosen MJ (2012) Posterior and open anterior components separations: a comparative analysis. Am J Surg 203(3):318–322 (Cited 4 Jan 2017)

14.

Pauli EM, Wang J, Petro CC, Juza RM, Novitsky YW, Rosen MJ (2015) Posterior component separation with transversus abdominis release successfully addresses recurrent ventral hernias following anterior component separation. Hernia 19(2):285–291

15.

Petro CC, Como JJ, Yee S, Prabhu AS, Novitsky YW (2015) Posterior component separation and transversus abdominis muscle release for complex incisional hernia repair in patients with a history of an open abdomen. J Trauma Acute Care Surg 78:422–429

16.

Posielski NM, Yee ST, Majumder A, Orenstein SB, Prabhu AS (2015) Repair of massive ventral hernias with 'quilted' mesh. Hernia 19:465–472

17.

Fayezizadeh M, Majumder A, Belyansky I, Novitsky YW (2016) Outcomes of retromuscular porcine biologic mesh repairs using transversus abdominis release reconstruction. J Am Coll Surg 223(3):461–468

18.

Appleton ND, Anderson KD, Hancock K, Scott MH, Walsh CJ (2017) Initial UK experience with transversus abdominis muscle release for posterior components separation in abdominal wall reconstruction of large or complex ventral hernias: a combined approach by general and plastic surgeons. Ann R Coll Surg Engl 99(4):265–270

19.

Espinosa-de-Los-Monteros A, Avendano-Peza H, Gomez-Arcive Z, Martin-Del-Campo LA, Navarro-Navarro J-A (2016) Total abdominal wall reconstruction with component separation, reinforcement, and vertical abdominoplasty in patients with complex ventral hernias. Aesthetic Plast Surg 40(3):387–394

20.

Zerbib P, Caiazzo R, Piessen G, Rogosnitzky M, Sequier C, Koriche D, Truant S, Boleslawski E, Chambon JP, Pruvot FR (2015) Outcome in procine acellular dermal matrix reinforcement of infected abdominal wall defects: a prospective study. Hernia 19(2):253–257

21.

Sandvall BK, Suver DW, Said HK, Mathes DW, Neligan PC, Dellinger EP et al (2016) Comparison of synthetic and biologic mesh in ventral hernia repair using components separation technique. Ann Plast Surg 76(6):674–679

22.

Richmond B, Ubert A, Judhan R, King J, Harrah T, Dyer B (2014) Component separation with porcine acellular dermal reinforcement is superior to traditional bridged mesh repairs in the open repair of significant midline ventral hernia defects. Am Surg 80:725–731

23.

Patel KM, Nahabedian MY, Gatti M (2012) Indications and outcomes following complex abdominal reconstruction with component separation combined with porcine acellular dermal matrix reinforcement. Ann Plast Surg 69:394–398

24.

Switzer NJ, Dykstra MA, Gill RS, Lim S, Lester E, de Gara C et al (2015) Endoscopic versus open component separation: systematic review and meta-analysis. Surg Endosc 29(4):787–795

25.

Azoury SC, Dhanasopon AP, Hui X, De La Cruz C, Tuffaha SH, Sacks JM et al (2014) A single institutional comparison of endoscopic and open abdominal component separation. Surg Endosc 28(12):3349–3358

26.

Harth KC (2010) Endoscopic versus open component separation in complex abdominal wall reconstruction. Am J Surg 199:342–347

27.

Ghali S, Turza KC, Baumann DP (2012) Minimally invasive component separation results in fewer wound-healing complications than open component separation for large ventral hernia repairs. J Am Coll Surg 214:981–989

28.

Hesselink VJ, Luijendijk RW, de Wilt JH, Heide R, Jeekel J (1993) An evaluation of risk factors in incisional hernia recurrence. Surg Gynecol Obstet 176(3):228–234 (Cited 6 Jan 2017)
Funding
Nil related to current review.
Ethics declarations
Conflict of interest
JDH declares no conflict of interest; CAL declares no conflict of interest; YM declares no conflict of interest related to the submitted work and declares personal fees from Medtronic and Astellas; PB declares no conflict of interest; SO declares no conflict of interest; CV declares no conflict of interest directly related to the current work and declares consultancy advisor to Acelity and paid lecture for Allergan; JW declares no conflict of interest.
Ethical approval
This study did not need approval from an ethic committee.
Human and animal rights
This article does not contain any studies with human participants or animals performed by any of the authors.
Informed consent
Informed consent was not required for this type of study.
About this article
Cite this article
Hodgkinson, J.D., Leo, C.A., Maeda, Y. et al. A meta-analysis comparing open anterior component separation with posterior component separation and transversus abdominis release in the repair of midline ventral hernias. Hernia 22, 617–626 (2018). https://doi.org/10.1007/s10029-018-1757-5
Received:

Accepted:

Published:

Issue Date:
Keywords
Abdominal wall reconstruction

Anterior component separation

Posterior component separation

Transversus abdominis release