Abstract
The expected future intensification of forest disturbance as a consequence of ongoing anthropogenic climate change highlights the urgent need to more robustly quantify associated biotic responses. Saproxylic beetles are a diverse group of forest invertebrates representing a major component of biodiversity that is associated with the decomposition and cycling of wood nutrients and carbon in forest ecosystems. Disturbance-induced declines or shifts in their diversity indicate the loss of key ecological and/or morphological species traits that could change ecosystem functioning. Functional and phylogenetic diversity of biological communities is commonly used to link species communities to ecosystem functions. However, our knowledge on how disturbance intensity alters functional and phylogenetic diversity of saproxylic beetles is incomplete. Here, we analyzed the main drivers of saproxylic beetle abundance and diversity using a comprehensive dataset from montane primary forests in Europe. We investigated cascading relationships between 250 years of historical disturbance mechanisms, forest structural attributes and the taxonomic, phylogenetic and functional diversity of present-day beetle communities. Our analyses revealed that historical disturbances have significant effects on current beetle communities. Contrary to our expectations, different aspects of beetle communities, that is, abundance, taxonomic, phylogenetic and functional diversity, responded to different disturbance regime components. Past disturbance frequency was the most important component influencing saproxylic beetle communities and habitat via multiple temporal and spatial pathways. The quantity of deadwood and its diameter positively influenced saproxylic beetle abundance and functional diversity, whereas phylogenetic diversity was positively influenced by canopy openness. Analyzing historical disturbances, we observed that current beetle diversity is far from static, such that the importance of various drivers might change during further successional development. Only forest landscapes that are large enough to allow for the full range of temporal and spatial patterns of disturbances and post-disturbance development will enable long-term species coexistence and their associated ecosystem functions.
We're sorry, something doesn't seem to be working properly.
Please try refreshing the page. If that doesn't work, please contact support so we can address the problem.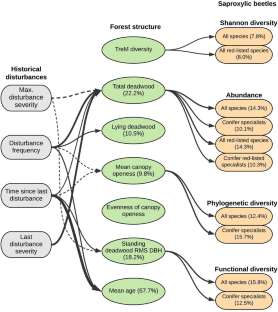 References
Alinvi O, Ball JP, Danell K, Hjälten J, Pettersson RB. 2006. Sampling saproxylic beetle assemblages in dead wood logs: comparing window and eclector traps to traditional bark sieving and a refinement. J Insect Conserv 11:99–112.

Alexander KNA. 2008. Tree biology and saproxylic coleoptera: issues of definitions and conservation language. Revue d'écologie 63(10):9–13.

Beudert B, Bässler C, Thorn S, Noss R, Schröder B, Dieffenbach-Fries H, Foullois N, Müller J. 2015. Bark beetles increase biodiversity while maintaining drinking water quality. Conservation Letters 8(4):272–81.

Cadotte MW. 2007. Competition–colonization trade-offs and disturbance effects at multiple scales. Ecology 88(4):823–9.

Cadotte MW, Cavender-bares J, Tilman D, Oakley THT. 2009. Using phylogenetic, functional and trait diversity to understand patterns of plant community productivity. PLoS One 4:e5695.

Cadotte M, Albert CH, Walker SC. 2013. The ecology of differences: assessing community assembly with trait and evolutionary distances. Ecol Lett 16:1234–44.

Chao A, Gotelli NJ, Hsieh TC, Sander E, Ma KH, Colwell RK, Ellison AM. 2014. Rarefaction and extrapolation with Hill numbers: a framework for sampling and estimation in species diversity studies. Ecol Monogr 84(1):45–67.

Chapin FSIII, Zavaleta ES, Eviner VT, Naylor RL, Vitousek PM, Reynolds HL, Hooper DU, Lavorel S, Sala OE, Hobbie SE, Mack MC, Díaz S. 2000. Consequences of changing biodiversity. Nature 405(6783):234–42.

Devictor V, Robert A. 2009. Measuring community responses to large-scale disturbance in conservation biogeography. Divers Distrib 15(1):122–30.

Ding Y, Zang R, Letcher SG, Liu S, He F. 2012. Disturbance regime changes the trait distribution, phylogenetic structure and community assembly of tropical rain forests. Oikos 121(8):1263–70.

Emborg J, Christensen M, Heilmann-Clausen J. 2000. The structural dynamics of Suserup Skov, a near-natural temperate deciduous forest in Denmark. For Ecol Manag 126(2):173–89.

Faith DP. 1992. Conservation evaluation and phylogenetic diversity. Biol Cons 61:1–10.

Fox J, Weisberg W. 2011. An R Companion to Applied Regression. 2nd edn. Thousand Oaks: SAGE. p 570.

Franklin JF, Lindenmayer DB, MacMahon JA, McKee A, Magnusson J, Perry DA, Waide R, Foster DR. 2000. Threads of continuity: ecosystem disturbances, biological legacies, and ecosystem recovery. Conserv Biol Pract 1:8–16.

Frelich LE. 2002. Forest dynamics and disturbance regimes: studies from temperate evergreen-deciduous forests. Cambridge: Cambridge University Press. p 280.

Gossner MM, Müller J. 2011. The influence of species traits and q-metrics on scale-specific β-diversity components of arthropod communities of temperate forests. Landsc Ecol 26(3):411–24.

Gossner MM, Lachat T, Brunet J, Isacsson G, Bouget C, Brustel H, Brandl R, Weisser WW, Müller J. 2013. Current near-to nature forest management effects on functional trait composition of saproxylic beetles in beech forests. Conserv Biol 27:605–14.

Gossner MM, Wende B, Levick S, Schall P, Floren A, Linsenmair KE, Steffan-Dewenter I, Schulze E-D, Weisser WW. 2016. Deadwood enrichment in European forests–Which tree species should be used to promote saproxylic beetle diversity? Biol Cons 201:92–102.

Gotelli NJ. 2000. Null model analysis of species co-occurrence patterns. Ecology 81:2606–21.

Gower JC. 1971. A general coefficient of similarity and some of its properties. Biometrics 27:857–71.

Grove SJ. 2002. Saproxylic insect ecology and the sustainable management of forests. Annu Rev Ecol Syst 33(1):1–23.

Hanson JJ, Lorimer CG. 2007. Forest structure and light regimes following moderate wind storms: implications for multi-cohort management. Ecol Appl 17:1325–40.

Hansen AJ, Spies TA, Swanson FJ, Ohmann JL. 1991. Conserving biodiversity in managed forests. Bioscience 41(6):382–92.

Hilmers T, Friess N, Bässler C, Heurich M, Brandl R, Pretzsch H, Müller J. 2018. Biodiversity along temperate forest succession. J Appl Ecol 55(6):2756–66.

Hsieh TC, Ma KH, Chao A. 2019. iNEXT: iNterpolation and EXTrapolation for species diversity. R Package Version 2:17.

Hunt T, Bergsten J, Levkanicova Z, Papadopoulou A, St. John O, Wild R, Hammond PM, Ahrens D, Balke M, Caterino MS, Gómez-Zurita J, Ribera I, Barraclough TG, Bocakova M, Bocak L, Vogler AP. 2007. A comprehensive phylogeny of beetles reveals the evolutionary origins of a superradiation. Science 318:1913–16.

Hyvärinen E, Kouki J, Martikainen P. 2006. A comparison of three trapping methods used to survey forest-dwelling Coleoptera. Eur J Entomol 103(2):397.

IUCN. 2019. The IUCN Red List of Threatened Species.Version 2019-2. http://www.iucnredlist.org. Downloaded on 18 July 2019.

Jacobsen RM, Birkemoe T, Sverdrup-Thygeson A. 2015. Priority effects of early successional insects influence late successional fungi in dead wood. Ecol Evol 5(21):4896–905.

Janda P, Trotsiuk V, Mikoláš M, Bače R, Nagel TA, Seidl R, Seedre M, Morrissey RC, Kucbel S, Jaloviar P, Jasík M, Vysoký J, Šamonil P, Čada V, Mrhalová H, Lábusová J, Nováková MH, Rydval M, Matěju L, Svoboda M. 2017. The historical disturbance regime of mountain Norway spruce forests in the Western Carpathians and its influence on current forest structure and composition. For Ecol Manag 388:67–78.

Jonsell M. 2008. Saproxylic beetle species in logging residues: which are they and which residues do they use? Norweg J Entomol 55(1):109.

Jonsson BG, Kruys N, Ranius T. 2005. Ecology of species living on dead wood–lessons for dead wood management. Silva Fennica 39(2):289–309.

Jost L. 2006. Entropy and diversity. Oikos 113(2):363–75.

Kopf A, Funke W. 1998. Xylobionte arthropoden. Die Entwicklung von Wald-Biozönosen nach Sturmwurf. Landsberg Ecomed 1:282–91.

Kozák D, Mikoláš M, Svitok M, Bače R, Paillet Y, Larrieu L, Nagel TA, Begovič K, Čada V, Diku A, Frankovič M, Janda P, Kameniar O, Keren S, Kjučukov P, Lábusová J, Langbehn T, Málek J, Mikac S, Morrissey RC, Nováková MH, Schurrman JS, Svobodová K, Synek M, Theodosiu M, Toromani E, Trotsiuk V, Vítková L, Svoboda M. 2018. Profile of tree-related microhabitats in European primary beech-dominated forests. For Ecol Manag 429:363–74.

Kulakowski D, Bebi P, Rixen C. 2011. The interacting effects of land use change, climate change and suppression of natural disturbances on landscape forest structure in the Swiss Alps. Oikos 120(2):216–25.

Kulakowski D, Seidl R, Holeksa J, Kuuluvainen T, Nagel TA, Panayotov M, Svoboda M, Thorn S, Vacchiano G, Whitlock C, Wohlgemuth T, Bebi P. 2017. A walk on the wild side: Disturbance dynamics and the conservation and management of European mountain forest ecosystems. For Ecol Manag 388(15):120–31.

Kuuluvainen T, Aakala T. 2011. Natural forest dynamics in boreal Fennoscandia: a review and classification. Silva Fennica 45(5):823–41.

Kuznetsova A, Brockhoff PB, Christensen RHB. 2017. lmerTest package: Tests in linear mixed effects models. J Stat Softw 82:1–26.

Lachat T, Chumak M, Chumak V, Jakoby O, Müller J, Tanadini M, Wermelinger B. 2016. Influence of canopy gaps on saproxylic beetles in primeval beech forests: a case study from the Uholka-Shyrokyi Luh forest. Ukraine. Insect conservation and diversity 9(6):559–73.

Lachat T, Müller J. 2018. Importance of primary forests for the conservation of saproxylic insects. In: Ulyshen MD, Ed. Saproxylic insects. Cham: Springer. p 581–605.

Larrieu L, Cabanettes A, Delarue A. 2012. Impact of silviculture on dead wood and on the distribution and frequency of tree microhabitats in montane beech-fir forests of the Pyrenees. Eur J For Res 131(3):773–86.

Larrieu L, Cabanettes A, Brin A, Bouget C, Deconchat M. 2014. Tree microhabitats at the stand scale in montane beech–fir forests: practical information for taxa conservation in forestry. Eur J For Res 133(2):355–67.

Larrieu L, Paillet Y, Winter S, Bütler R, Kraus D, Krumm F, Lachat T, Michel AK, Regnery B, Vandekerkhove K. 2018. Tree related microhabitats in temperate and Mediterranean European forests: A hierarchical typology for inventory standardization. Ecol Ind 84:194–207.

Lassauce A, Paillet Y, Jactel H, Bouget C. 2011. Deadwood as a surrogate for forest biodiversity: meta-analysis of correlations between deadwood volume and species richness of saproxylic organisms. Ecol Ind 11(5):1027–39.

Lindhe A, Lindelöw Å, Åsenblad N. 2005. Saproxylic beetles in standing dead wood density in relation to substrate sun-exposure and diameter. Biodivers Conserv 14(12):3033–53.

Lehnert LW, Bässler C, Brandl R, Burton PJ, Müller J. 2013. Conservation value of forests attacked by bark beetles: Highest number of indicator species is found in early successional stages. J Nat Conserv 21(2):97–104.

Loreau M, Naeem S, Inchausti P, Bengtsson J, Grime JP, Hector A, Hooper DU, Huston MA, Raffaelli D, Schmid B, Tilman D. 2001. Biodiversity and ecosystem functioning: current knowledge and future challenges. Science 294:804–8.

Lorimer CG, Frelich LE. 1989. A methodology for estimating canopy disturbance frequency and intensity in dense temperate forests. Can J For Res 19(5):651–63.

Martikainen P, Siitonen J, Punttila P, Kaila L, Rauh J. 2000. Species richness of Coleoptera in mature managed and old-growth boreal forests in southern Finland. Biol Cons 94(2):199–209.

Meigs GW, Morrissey RC, Bače R, Chaskovskyy O, Čada V, Després T, Donato DC, Janda P, Lábusová J, Seedre M, Mikoláš M, Nagel TA, Schurman JS, Synek M, Teodosiu M, Trotsiuk V, Vítková L, Svoboda M. 2017. More ways than one: Mixed-severity disturbance regimes foster structural complexity via multiple developmental pathways. For Ecol Manag 406:410–26.

Mikoláš M, Tejkal M, Kuemmerle T, Griffiths P, Svoboda M, Hlásny T, Leitão PJ, Morrissey RC. 2017a. Forest management impacts on capercaillie (Tetrao urogallus) habitat distribution and connectivity in the Carpathians. Landsc Eco 32(1):163–79.

Mikoláš M, Svitok M, Bollmann K, Reif J, Bače R, Janda P, Trotsiuk V, Čada V, Vítková L, Teodosiu M, Coppes J, Schurman JS, Morrissey RC, Mrhalová H, Svoboda M. 2017b. Mixed-severity natural disturbances promote the occurrence of an endangered umbrella species in primary forests. For Ecol Manag 405:210–8.

Mikoláš M, Ujházy K, Jasík M, Wiezik M, Gallay I, Polák P, Vysoký J, Čiliak M, Meigs GW, Svoboda M, Trotsiuk V. 2019. Primary forest distribution and representation in a Central European landscape: Results of a large-scale field-based census. For Ecol Manag 449:117466.

Möller G. 2009. Struktur- und Substratbindung holzbewohnender Insekten, Schwerpunkt Coleoptera - Käfer. Dissertation zur Erlangung des akademischen Grades des Doktors der Naturwissenschaften (Dr. rer. nat.). Freie Universität, Berlin.

Müller J, Bußler H, Goßner M, Rettelbach T, Duelli P. 2008. The European spruce bark beetle Ips typographus in a national park: from pest to keystone species. Biodivers Conserv 17:2979–3001.

Müller J, Noss RF, Bussler H, Brandl R. 2010. Learning from a "benign neglect strategy" in a national park: Response of saproxylic beetles to dead wood accumulation. Biol Cons 143(11):2559–69.

Nakagawa S, Johnson PC, Schielzeth H. 2017. The coefficient of determination R2 and intra-class correlation coefficient from generalized linear mixed-effects models revisited and expanded. J R Soc Interface 14(134):20170213.

Nagel TA, Svoboda M, Kobal M. 2014. Disturbance, life history traits, and dynamics in an old-growth forest landscape of southeastern Europe. Ecol Appl 24(4):663–79.

Nagel TA, Firm D, Mihelic T, Hladnik D, de Groot M, Rozenbergar D. 2017. Evaluating the influence of integrative forest management on old-growth habitat structures in a temperate forest region. Biol Cons 216:101–7.

Økland B. 1996. A comparison of three methods of trapping saproxylic beetles. European Journal of Entomology 93:195–210.

Paillet Y, Archaux F, Boulanger V, Debaive N, Fuhr M, Gilg O, Gosselin F, Guilbert E. 2017. Snags and large trees drive higher tree microhabitat densities in strict forest reserves. For Ecol Manage 389:176–86.

Parisi F, Di Febbraro M, Lombardi F, Biscaccianti AB, Campanaro A, Tognetti R, Marchetti M. 2019. Relationships between stand structural attributes and saproxylic beetle abundance in a Mediterranean broadleaved mixed forest. For Ecol Manag 432:957–66.

Parmain G, Bouget C, Müller J, Horak J, Gossner MM, Lachat T, Isacsson G. 2015. Can rove beetles (Staphylinidae) be excluded in studies focusing on saproxylic beetles in central European beech forests? Bull Entomol Res 105(1):101–9.

Pausas JG, Verdú M. 2010. The jungle of methods for evaluating phenotypic and phylogenetic structure of communities. Bioscience 60(8):614–25.

Perry DA, Hessburg PF, Skinner CN, Spies TA, Stephens SL, Taylor AH, Franklin JF, McComb B, Riegel G. 2011. The ecology of mixed severity fire regimes in Washington, Oregon, and Northern California. For Ecol Manag 262(5):703–17.

Pielou EC. 1966. The measurement of diversity in different types of biological collections. J Theor Biol 13:131–44.

Pinheiro J, Bates D, DebRoy S, Sarkar D, R Core Team 2019. nlme: Linear and Nonlinear Mixed Effects Models. R package version 3.1-139.

Quinn GP, Keough MJ. 2002. Experimental design and data analysis for biologists. Cambridge: Cambridge University Press.

R Core Team. 2019. R: A language and environment for statistical computing. Vienna, Austria: R Foundation for Statistical Computing.

Saint-Germain M, Drapeau P, Buddle CM. 2007. Host-use patterns of saproxylic phloeophagous and xylophagous Coleoptera adults and larvae along the decay gradient in standing dead black spruce and aspen. Ecography 30(6):737–48.

Sabatini FM, Burrascano S, Keeton WS, Levers C, Lindner M, Pötzschner F, Verkerk PJ, Bauhus J, Buchwald E, Chaskovsky O, Debaive N, Horváth F, Garbarino M, Grigoriadis N, Lombardi F, Marques Duarte I, Meyer P, Midteng R, Mikac S, Mikoláš M, Motta R, Mozgeris G, Nunes L, Panayotov M, Ódor P, Ruete A, Simovski B, Stillhard J, Svoboda M, Szwagrzyk J, Tikkanen OP, Volosyanchuk R, Vrska T, Zlatanov T, Kuemmerle T. 2018. Where are Europe's last primary forests? Divers Distrib 24:1426–39.

Schall P, Gossner MM, Heinrichs S, Fischer M, Boch S, Prati D, Jung K, Baumgartner V, Blaser S, Böhm S, Buscot F, Daniel R, Goldmann K, Kaiser K, Kahl T, Lange M, Müller J, Overmann J, Renner SC, Schulze E-D, Sikorski J, Tschapka M, Türke M, Weisser WW, Wemheuer B, Wubet T, Ammer Ch. 2018. The impact of even-aged and uneven-aged forest management on regional biodiversity of multiple taxa in European beech forests. J Appl Ecol 55(1):267–78.

Schmidl J, Büche B. 2016. Die Rote Liste und Gesamtartenliste der Käfer (Coleoptera, exkl. Lauf- und Wasserkäfer) Deutschlands im Überblick. Naturschutz und Biologische Vielfalt 70.

Seidl R, Fernandes PM, Fonseca TF, Gillet F, Jönsson AM, Merganičová K, Netherer S, Arpaci A, Bontemps J-D, Bugmann H, González-Olabarria JR. 2011. Modelling natural disturbances in forest ecosystems: a review. Ecol Model 222(4):903–24.

Seibold S, Bässler C, Brandl R, Büche B, Szallies A, Thorn S, Ulyshen MD, Müller J. 2016a. Microclimate and habitat heterogeneity as the major drivers of beetle diversity in dead wood. J Appl Ecol 53(3):934–43.

Shea K, Roxburgh SH, Rauschert ES. 2004. Moving from pattern to process: coexistence mechanisms under intermediate disturbance regimes. Ecol Lett 7(6):491–508.

Shipley B. 2009. Confirmatory path analysis in a generalized multilevel context. Ecology 90(2):363–8.

Seibold S, Brandl R, Buse J, Hothorn T, Schmidl J, Thorn S, Müller J. 2015. Association of extinction risk of saproxylic beetles with ecological degradation of forests in Europe. Conserv Biol 29:382–90.

Seibold S, Bässler C, Brandl R, Büche B, Szallies A, Thorn S, Ulyshen MD, Müller J. 2016b. Microclimate and habitat heterogeneity as the major drivers of beetle diversity in dead wood. J Appl Ecol 53:934–43.

Seibold S, Thorn S. 2018. The importance of dead-wood amount for saproxylic insects and how it interacts with dead-wood diversity and other habitat factors. In: Ulyshen MD, Ed. saproxylic insects. Cham: Springer. p 607–37.

Stokland JN. 2001. The coarse woody debris profile: an archive of recent forest history and an important biodiversity indicator. Ecological Bulletins 1:71–83.

Stokland JN, Siitonen J, Jonsson BT. 2012. Biodiversity in dead wood. Cambridge: Cambridge University Press. p 524.

Spies TA, Franklin JF. 1988. Old growth and forest dynamics in the Douglas-fir region of western Oregon and Washington. Nat Areas Jl 8(3):190–201.

Spies TA, Hemstrom MA, Youngblood A, Hummel S. 2006. Conserving old-growth forest diversity in disturbance-prone landscapes. Conserv Biol 20(2):351–62.

Swanson ME, Franklin JF, Beschta R, Crisafulli ChM, DellaSala DA, Hutto RL, Lindenmayer DB, Swanson FJ. 2011. The forgotten stage of forest succession: early-successional ecosystems on forest sites. Front Ecol Environ 9(2):117–25.

Svoboda M, Janda P, Nagel TA, Fraver S, Rejzek J, Bače R. 2011. Disturbance history of an old-growth sub-alpine Picea abies stand in the Bohemian Forest, Czech Republic. J Veg Sci 23(1):86–97.

Svoboda M, Janda P, Nagel TA, Fraver S, Rejzek J, Bače R. 2012. Disturbance history of an old-growth sub-alpine Picea abies stand in the Bohemian Forest, Czech Republic. J Veg Sci 23(1):86–97.

Svoboda M, Janda P, Fraver S, Nagel TA, Rejzek J, Mikoláš M, Douda J, Boubl K, Šamonil P, Trotsiuk V, Uzel P, Teodosiu M, Bouriaud O, Biris AI. 2014. Landscape-level variability in historical disturbance in primary Picea abies mountain forests of the Eastern Carpathians, Romania. J Veg Sci 25:386–401.

Thom D, Seidl R. 2016. Natural disturbance impacts on ecosystem functions and biodiversity in temperate and boreal forests. Biol Rev 91(3):760–81.

Thom D, Rammer W, Dirnböck T, Müller J, Kobler J, Katzensteiner K, Helm N, Seidl R. 2017. The impacts of climate change and disturbance on spatio-temporal trajectories of biodiversity in a temperate forest landscape. J Appl Ecol 54(1):28–38.

Thorn S, Bässler C, Svoboda M, Müller J. 2017. Effects of natural disturbances and salvage logging on biodiversity–Lessons from the Bohemian Forest. For Ecol Manag 388:113–19.

Thorn S, Förster B, Heibl C, Müller J, Bässler C. 2018a. Influence of macroclimate and local conservation measures on taxonomic, functional, and phylogenetic diversities of saproxylic beetles and wood-inhabiting fungi. Biodivers Conserv 27(12):3119–35.

Thorn S, Bässler C, Brandl R, Burton PJ, Cahall R, Campbell JL, Castro J, Choi Ch-Y, Cobb T, Donato DC, Durska E, Fontaine JB, Gauthier S, Hebert Ch, Hothorn T, Hutto RL, Lee E-J, Leverkus AB, Lindenmayer DB, Obrist MK, Rost J, Seibold S, Seidl R, Thom D, Waldron K, Wermelinger B, Winter M-B, Zmihorski M, Müller J. 2018b. Impacts of salvage logging on biodiversity: A meta-analysis. J Appl Ecol 55(1):279–89.

Tilman D. 2001. Functional diversity. Encycl Biodivers 3(1):109–20.

Trotsiuk V, Svoboda M, Janda P, Mikolas M, Bace R, Rejzek J, Samonil P, Chaskovskyy O, Korol M, Myklush S. 2014. A mixed severity disturbance regime in the primary Picea abies (L.) Karst. forests of the Ukrainian Carpathians. For Ecol Manag 334:144–53.

Ulyshen MD, Hanula JL. 2009. Habitat associations of saproxylic beetles in the southeastern United States: A comparison of forest types, tree species and wood postures. For Ecol Manag 257:653–64.

Vandekerkhove K, Keersmaeker LD, Menke N, Meyer P, Verschelde P. 2009. When nature takes over from man: Dead wood accumulation in previously managed oak and beech woodlands in North-western and Central Europe. For Ecol Manag 258:425–35.

Vuidot A, Paillet Y, Archaux F, Gosselin F. 2011. Influence of tree characteristics and forest management on tree microhabitats. Biol Cons 144:441–50.

Watson JE, Evans T, Venter O, Williams B, Tulloch A, Stewart C, Thompson I, Ray JC, Murray K, Salazar A, McAlpine C, Potapov P, Walston J, Robinson JG, Painter M, Wilkie D, Filardi Ch, Laurence WF, Houghton RA, Maxwell S, Grantham H, Samper C, Wang S, Laestadius L, Runting RK, Silva-Chávez GA, Ervin J, Lindenmayer D. 2018. The exceptional value of intact forest ecosystems. Nat Ecol Evol 2(4):599–610.

Webb CO, Ackerly DD, McPeek MA, Donoghue MJ. 2002. Phylogenies and community ecology. Annu Rev Ecol Syst 33:475–505.

Weedon JT, Cornwell WK, Cornelissen JH, Zanne AE, Wirth C, Coomes DA. 2009. Global meta-analysis of wood decomposition rates: a role for trait variation among tree species? Ecol Lett 12(1):45–56.

Wende B, Gossner MM, Grass I, Arnstadt T, Hofrichter M, Floren A, Linsenmair KE, Weisser WW, Steffan-Dewenter I. 2017. Trophic level, successional age and trait matching determine specialization of deadwood-based interaction networks of saproxylic beetles. Proc R Soc B: Biol Sci 284(1854):20170198.

Wermelinger B, Duelli P, Obrist MK. 2002. Dynamics of saproxylic beetles (Coleoptera) in windthrow areas in alpine spruce forests. For Snow Landsc Res 77:133–48.

Winter M, Devictor V, Schweiger O. 2013. Phylogenetic diversity and nature conservation: where are we? Trends Ecol Evol 28(4):199–204.

Winter MB, Ammer Ch, Baier R, Donato DC, Seibold S, Müller J. 2015. Multi-taxon alpha diversity following bark beetle disturbance: Evaluating multi-decade persistence of a diverse early-seral phase. For Ecol Manag 338:32–45.

Winter MB, Bässler C, Bernhardt-Römermann M, Krah F-S. 2017. Schäfer H, Seibold S, Müller. J Eur J For Res 136:357–73.
Acknowledgements
This project was supported by the institutional project MSMT (No. CZ.02.1.01/0.0/0.0/16_019/0000803), by the Czech University of Life Sciences (Grant IGA No. A_19_33 and CIGA No. 20184301), by the Operational Programme Research and Innovation (NFP: 313010T721) and by the Grant of the Slovak Grant Agency for Science (VEGA no.1/0104/19).
Additional information
Authors Contributions: DK, MM, MW, ST, MSvi, MSvo, JHor conceived the ideas and designed study. DK, MW, MM, PJ, RB, VČ, VT, OK, AW, MSy, MD and MF contributed to and organized data collection. MSvi, ST, DK analyzed the data. DK, ST, AB, MM, TAN, JLP, JMP, JHof, RM led the writing of the manuscript. All authors contributed critically to the study and gave final approval for publication.
Electronic supplementary material
Below is the link to the electronic supplementary material.
About this article
Cite this article
Kozák, D., Svitok, M., Wiezik, M. et al. Historical Disturbances Determine Current Taxonomic, Functional and Phylogenetic Diversity of Saproxylic Beetle Communities in Temperate Primary Forests. Ecosystems 24, 37–55 (2021). https://doi.org/10.1007/s10021-020-00502-x
Received:

Accepted:

Published:

Issue Date:
Keywords
Disturbance processes

Climate change

Ecological traits

Phylogenetic diversity

Primary forest

Carpathians

Coleoptera