Abstract
In recent years, the development of efficient and effective evacuation information systems has attracted considerable attention, because people have been affected by various large-scale disasters such as typhoons, cyclones, floods, and tsunamis all over the world. Even in conventional evacuation information systems, necessary information can be given to the evacuees in advance. Nevertheless, it has been reported that many of the victims died without escaping. The cause is not the lack of information but the psychological properties of humans. This phenomenon is called majority syncing bias. In general, we tend to sympathize with the emotions of others in a crowd, and this prevents evacuation. In our previous works, we proposed a framework for controlling the emotional level of a crowd by employing robots. In this paper, to confirm the effectiveness of our proposed approach, we conducted additional simulations under various scales and ratios of guide robots for evacuees.
Access options
Buy single article
Instant access to the full article PDF.
US$ 39.95
Tax calculation will be finalised during checkout.
Subscribe to journal
Immediate online access to all issues from 2019. Subscription will auto renew annually.
US$ 79
Tax calculation will be finalised during checkout.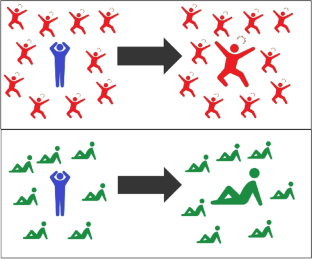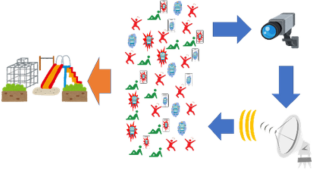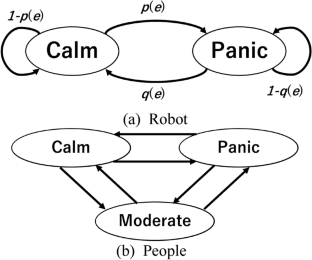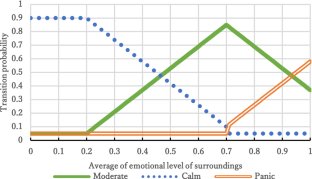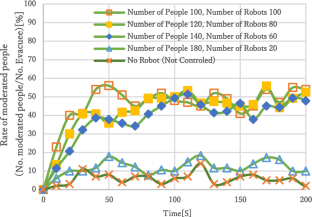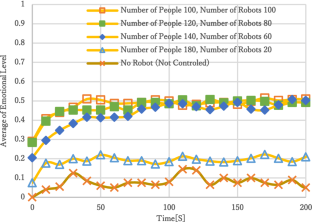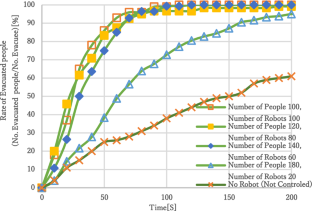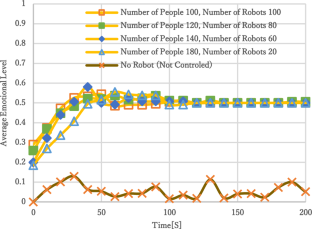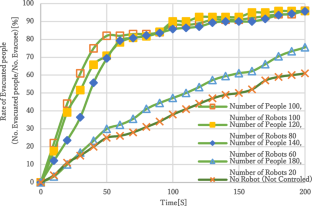 References
1.

Hirose H (2012) Evacuation behavior of catastrophe. Fire Sci Inf (Shouboukagaku-to-Jyouhou) 107:10–13 (in Japanese)

2.

BBC NEWS (2015) How 1985 British Airtours disaster changed air travel. https://www.bbc.com/news/uk-england-manchester-33304675. Accessed 1 Mar 2020

3.

Onishi M, Yamashita T, Hada Y, Sakama Y (2017) Measurement of normality bias and majority synching bias during evacuation: why do not people evacuate in a disaster? IEICE technical report BioX2016-40 (in Japanese)

4.

Sankei Shimbun (2018) West japan heavy rain. Sankei Shimbun (in Japanese)

5.

Kaitsuji M, Hokugo A (2012) A study on the crowd shock waves phenomenon in an interrupted flow of high-density crowds: analysis of large-scale events. J Soc Saf Sci 99(17):63–71 (in Japanese)

6.

Jin T (2015) Human behavior for fire safety evacuation. Part 4: Evacuation in case of the department store fire. Jpn Lighting Manuf Assoc J (Nihon Shoumei Kougyoukaihou) 11:54–60

7.

Ueda J (2011) Modeling and control of stochastic actuator arrays inspired by biological muscles. J Robot Soc Jpn 29(5):431–434 (in Japanese)

8.

Ueda J, Odhner L, Asada HH (2007) Broadcast feedback of stochastic cellular actuators inspired by biological muscle control. Int J Robot Res 26(11–12):1251–1265

9.

Ueda J, Odhner L, Asada HH (2007) Broadcast feedback of stochastic cellular actuator systems consisting of nonuniform actuator units. In: IEEE international conference on robotics and automation, pp 642–647

10.

Sato Y, Ito K (2019) Evacuation support system which control emotional level of crowed ~performance evaluation using various majority synching bias models. In: 35th Fuzzy system symposium, Osaka, Japan, Aug 29–31 (in Japanese)
Additional information
Publisher's Note
Springer Nature remains neutral with regard to jurisdictional claims in published maps and institutional affiliations.
About this article
Cite this article
Ito, K., Sato, Y. Evacuation support system to control emotional level of crowd: simulation-based evaluation under various scales and ratios of guide robots for evacuees. Artif Life Robotics 26, 61–65 (2021). https://doi.org/10.1007/s10015-020-00631-5
Received:

Accepted:

Published:

Issue Date:
Keywords
Majority synching bias

Normalcy bias

Evacuation guidance system

Conformity