Abstract
Among all the preparation methods, electrochemical exfoliation of graphite in neutral aqueous solution to prepare high-quality graphene is a hot research topic due to many advantages, such as high efficiency, environmental friendly, fewer defects, and convenient operation with simple equipment. In this work, the graphene was prepared by pre-intercalation assisted electrochemical exfoliation of graphite foil, in which one pre-intercalation stage was performed at the low voltage to moderately enlarge the interlayer distance of graphite foil, and then graphite electrode was electrochemically exfoliated to produce graphene nanosheets in an aqueous inorganic salt solution of (NH4)2SO4. Through comparing two pretreatment methods of graphite foil (pre-expansion with liquid nitrogen and pre-intercalation by electrochemical intercalation), the electrochemical pre-intercalation process was confirmed to avoid the serious loss of the graphite electrode during the liquid nitrogen pretreatment and facilitate electrochemical exfoliation. Meanwhile, the optimum parameters of pre-intercalation were determined. Subsequently, the effect of applied voltage on the quality of obtained graphene (such as the number of layers, defects, size, composition) during the exfoliation stage was investigated systematically, and especially the effect of applied voltage on the quality and yield of graphene was discussed in detail. The graphene nanosheets with a small number of layers (60% is less than 5 layers) were obtained through two stages of electrochemical pre-intercalation and exfoliation. The structure, morphology, and composition of the graphene were analyzed by using the XRD, SEM, TEM, AFM, and XPS.
Access options
Buy single article
Instant access to the full article PDF.
US$ 39.95
Tax calculation will be finalised during checkout.
Subscribe to journal
Immediate online access to all issues from 2019. Subscription will auto renew annually.
US$ 79
Tax calculation will be finalised during checkout.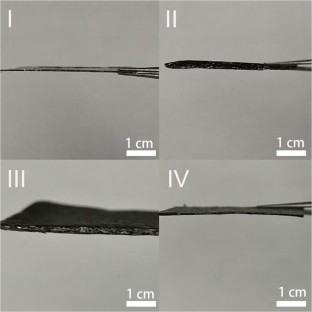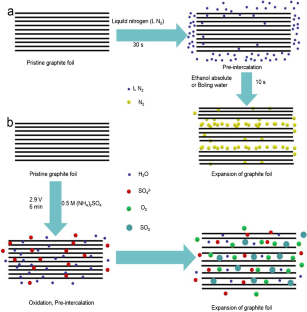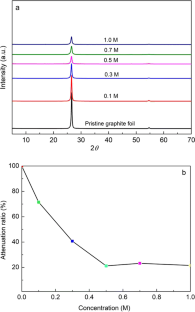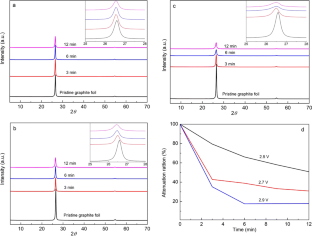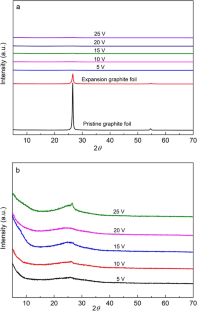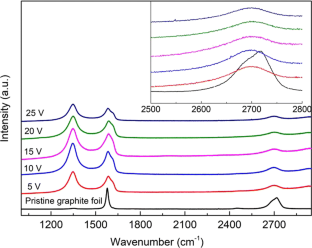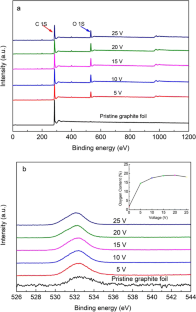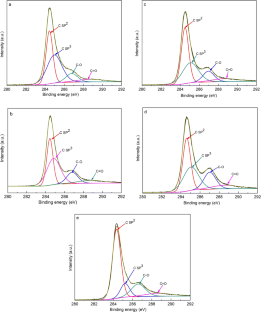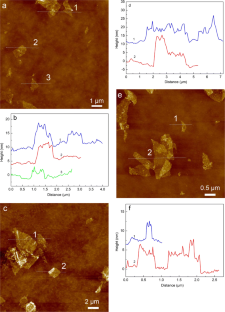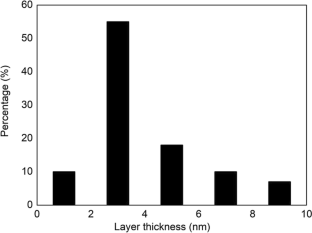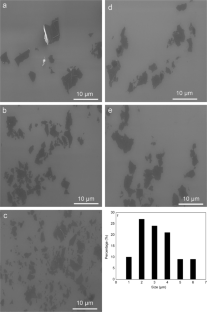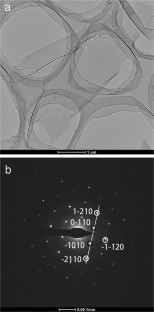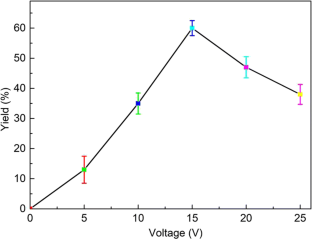 References
1.

Zhang YB, Tan YW, Stormer HL, Kim P (2005) Nature 438(7065):201–204

2.

Han MY, Ozyilmaz B, Zhang YB, Kim P (2007) Physical Review Letters 98(20):206805

3.

Novoselov KS, Geim AK, Morozov SV, Jiang D, Zhang Y, Dubonos SV, Grigoriera IV, Firsor AA (2004) Science 306(5696):666–669

4.

Bolotin KI, Sikes KJ, Jiang Z, Klima M, Fudenberg G, Hone J, Kim P, Stormer HL (2008) Solid State Communications 149:351–355

5.

Balandin AA, Ghosh S, Bao WZ, Calizo I, Teweldebrahan D, Miao F, Lan CN (2008) Nano Letters 8(3):902–907

6.

Nair RR, Blake P, Grigorenko AN, Novoselov KS, Booth TJ, Stauber T, Peres NMR, Geim AK (2008) Science 320(5881):1308–1308

7.

Wang Q, Li XF, He XN, Cao LY, Cao GQ, Xu HJ, Hu JH, Shao GS (2020) Journal of Power Sources 455:227988

8.

Xu HJ, Xuan MJ, Xiao WD, Shen YL, Li ZZ, Wang Z, Hu JH, Shao GS (2019) ACS Applied Energy Materials 2(9):6288–6294

9.

Liu CD, Cao GQ, Wu ZH, Hu JH, Wang HY, Shao GS (2019) ACS Applied Materials & Interfaces 11(35):31991–31996

10.

Edwards RS, Coleman KS (2013) Nanoscale 5(1):38–51

11.

Coros M, Pogacean F, Magerusan L, Socaci C, Pruneanu S (2019) Frontiers of Materials Science 13(1):23–32

12.

Liu W, Li H, Xu C, Khatami Y, Banerjee K (2011) Carbon 49(13):4122–4130

13.

Sutter E, Albrecht P, Camino FE, Sutter P (2010) Carbon 48(15):4414–4420

14.

Liu JB, Li PJ, Chen YF, Wang ZG, Qi F, He JR, Zheng BJ, Zhou JH, Zhang WL, Gu L, Li YR (2015) Scientific Reports 5(1):15285

15.

Wang ZG, Chen YF, Li PJ, Zhou JH, He JR, Zhang WL, Guo Z, Li YR, Dong MD (2016) RSC Advances 6(95):92682–92687

16.

Kondo D, Yagi K, Sato M, Nihei M, Awano Y, Sato S, Yokoyama N (2011) Chemical Physics Letters 514(4-6):294–300

17.

Chithaiah P, Raju MM, Kulkami GU, Rao CNR (2020) Beilsten Journal of Nanotechnology 11:68–75

18.

Mazanek V, Pavlikova L, Marvan P, Plutnar J, Pumera M, Sofer Z (2019) Applied Materials Today 15:343–349

19.

Sarno M, Cosa M (2018) Journal of Physics and Chemistry of Solids 120:241–249

20.

Wang ZG, Li PJ, Chen YF, He JR, Zheng BJ, Liu JB, Qi F (2014) Materials Letters 116:416–419

21.

Wu LQ, Li WW, Li P, Liao ST, Qiu SQ, Chen ML, Guo YF, Li Q, Zhu C, Liu LW (2013) Small 10:1421–1429

22.

Lee CY, Mitchell DRG, Molino P, Fahy A, Wallace GG (2019) Applied Materials Today 15:290–296

23.

Zhang Y, Xu YL (2019) Advanced Functional Materials 29(37):1902171

24.

Yang S, Lohe MR, Mullen K, Feng XL (2016a) Advanced Materials 28(29):6213–6221

25.

Low CTJ, Walsh FC, Chakrabarti MH, Hashim MA, Hussain MA (2013) Carbon 54:1–21

26.

Vasquez-Sandoval D, Pavez J, Carlesi C, Aracena A (2018) Fullerenes Nanotubes and Carbon Nanostructures 26(2):123–129

27.

M K PK, Shanthini S, Srivastava C (2015) Rsc Advance 5:53865–53869

28.

Chen DH, Wang F, Li YJ, Wang WW, Huang TX, Li JF, Novoselov KS, Tian ZQ, Zhan DP (2019) Chemical Communications 55(23):3379–3382

29.

Coros M, Pogacean F, Rosu MC, Socaci C, Borodi G, Magerusan L, Biris AR, Pruneanu S (2016a) Rsc Advances 6(4):2651–2661

30.

Parvez K, Wu ZS, Li RG, Liu XJ, Graf R, Feng XL, Mullen K (2014a) Journal of the American Chemical Society 136(16):6083–6091

31.

Ambrosi A, Pumera M (2015) Chemistry A European Journal 22:153–159

32.

Zhou F, Tian LJ, Gao L, Wu ZS (2020) CIESC Journal 71:2724–2734

33.

Yang S, Bruller S, Wu ZS, Liu ZY, Parvez K, Dong R, Richard F, Samori P, Feng XL, Mullen K (2015) Journal of the American Chemical Society 137(43):13927–13932

34.

Wu PW, He J, Chen LL, Wu YC, Li HP, Zhu HY, Li HM, Zhu WS (2018) Journal of Energy Chemistry 27(5):1509–1515

35.

Gong Y, Ping YJ, Li DL, Luo CZ, Ruan XF, Fu Q, Pan CX (2017) Applied Surface Science 397:213–219

36.

Munuera JM, Paredes JI, Villar-Rodil S, Martinez-Alonso A, Tascon JMD (2017) Carbon 115:625–628

37.

Gu WT, Zhang W, Li XM, Zhu HW, Wei JQ, Li Z, Shu QK, Wang C, Wang KL, Shen WC, Kang FY, Wu DH (2009) Journal of Materials Chemistry 19(21):3367–3369

38.

Li XL, Wang XR, Zhang L, Lee SW, Dai HJ (2008b) Science 319(5867):1229–1232

39.

Li XL, Zhang GY, Bai XD, Sun XM, Wang XR, Wang E, Dai HJ (2008a) Nature Nanotechnology 3(9):538–542

40.

Lu WB, Liu S, Qin XY, Wang L, Tian JQ, Luo YL, Asiri AM, Al-Youbi AO, Sun XP (2012) Journal of Materials Chemistry 22(18):8775–8777

41.

Shan K, Yi ZZ, Yin XT, Cui LR, Dastan D, Carmestani H, Alamgir FM (2021) Journal of Alloys and Compounds 855:157465

42.

Yu QK, Jauregui LA, Wu W, Colby R, Tian J, Su ZH, Cao HL, Liu ZH, Pandey D, Wei DG, Chung TF, Peng P, Guisinger NP, Stach EA, Bao JM, Pei SS, Chen YP (2011) Nature Materials 10(6):443–449

43.

Malard LM, Pimenta MA, Dresselhaus G, Dresselhaus MS (2009) Physics Reports 473(5-6):51–87

44.

Ferrari AC, Meyer JC, Scardaci V, Casiraghi C, Lazzeri M, Mauri F, Piscanec S, Jiang D, Novoselov KS, Roth S, Geim AK (2006) Physical Review Letters 97(18):187401

45.

Graf D, Molitor F, Ensslin K, Stampfer C, Jungen A, Hierold C, Wirtz L (2007) Nano Letters 7(2):238–242

46.

Shi PC, Guo JP, Liang X, Cheng S, Zhang H, Wang Y, Chen CH, Xiang HF (2018) Caron 126:507–513

47.

Esfandiar A, Akhavan O, Irajizadab A (2011) Journal of Materials Chemistry 21(29):10907–10914

48.

Wang H, Wei C, Zhu KY, Zhang Y, Gong CH, Guo JH, Zhang JW, Yu LG, Zhang JG (2017) ACS Applied Materials & Interfaces 9(39):34456–34466

49.

Hou YG, Lv SH, Liu LP, Liu X (2020) Ceramics International 46(2):2392–2402

50.

Pei SF, Zhao JP, Du JH, Ren WC, Cheng HM (2010) Carbon 48(15):4466–4474

51.

Shruthi G, Baishali G, Radhakrishna V, Verma P (2020) Graphene Technology 5(1-2):19–25
Additional information
Publisher's note
Springer Nature remains neutral with regard to jurisdictional claims in published maps and institutional affiliations.
About this article
Cite this article
Pei, J., Zhang, T. & Suo, H. Graphene preparation and process parameters by pre-intercalation assisted electrochemical exfoliation of graphite. J Solid State Electrochem (2021). https://doi.org/10.1007/s10008-021-04899-w
Received:

Revised:

Accepted:

Published:
Keywords
Pre-intercalation

Graphene

Electrochemical exfoliation

Voltages

Synthesis