Abstract
A simple and green approach for creating a highly capacitive molybdenum disulphide (MoS2) anode material for lithium-ion batteries is proposed. The electrode composition consists of MoS2 and conductive water-based binder PEDOT:PSS/CMC (poly(3,4-ethylenedioxythiophene)/poly(styrenesulphonate)/carboxymethyl cellulose). The electrochemical performance of modified electrodes is markedly superior to those with conventional PVDF (polyvinylidene fluoride) and carbon black composition. The electrode provides initial capacity of 1090 mA h g−1 at 0.1 mA g−1, maintains 410 mA h g−1 at 2 mA g−1 and retains 78% of initial capacity after 100 charge-discharge cycles.
This is a preview of subscription content, log in to check access.
Access options
Buy single article
Instant access to the full article PDF.
US$ 39.95
Price includes VAT for USA
Subscribe to journal
Immediate online access to all issues from 2019. Subscription will auto renew annually.
US$ 99
This is the net price. Taxes to be calculated in checkout.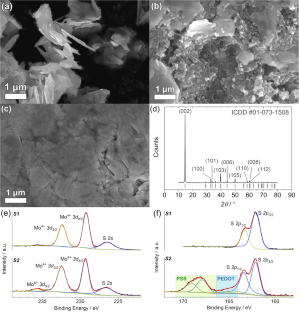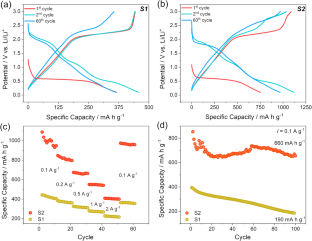 Data availability
The datasets generated during and/or analysed during the current study are available from the corresponding author on reasonable request.
Acknowledgements
The authors would like to thank the Centres for X-ray Diffraction Studies, Nanotechnology, and Physical Methods of Surface Investigation of the Research park of Saint Petersburg State University for XRD, SEM, and XPS studies.
Funding
The financial support was from Saint Petersburg State University (grant no. 26455158).
Ethics declarations
Conflict of interest
The authors declare that they have no conflict of interest.
Code availability
Not applicable.
Additional information
Publisher's note
Springer Nature remains neutral with regard to jurisdictional claims in published maps and institutional affiliations.
About this article
Cite this article
Volkov, A.I., Eliseeva, S.N., Tolstopjatova, E.G. et al. Enhanced electrochemical performance of MoS2 anode material with novel composite binder. J Solid State Electrochem 24, 1607–1614 (2020). https://doi.org/10.1007/s10008-020-04701-3
Received:

Revised:

Accepted:

Published:

Issue Date:
Keywords
Composites

PEDOT:PSS

Molybdenum disulphide

Energy storage

Lithium-ion batteries