On the effect of the carbonaceous substrate in the nucleation of Sn nanoparticles for Li-ion anodes: experiments and first principles calculations
Abstract
The nucleation of Sn nanoparticles by chemical reduction was studied using three different carbonaceous substrates, to obtain Sn/C composites. When used as active materials in anodes for lithium-ion batteries, these composites displayed higher capacities than commercially used graphite, and showed a good cyclability. The differences in morphology, capacity, cyclability, and diffusion between the resulting materials are highlighted. The resulting materials were characterized by charge-discharge cycling, voltammetry, EIS, SEM, and TEM microscopy. It was found that the substrate has a determinant effect on the deposition of Sn. This effect is interpreted in terms of the relative adsorption energies of a single Sn atom obtained from DFT calculations.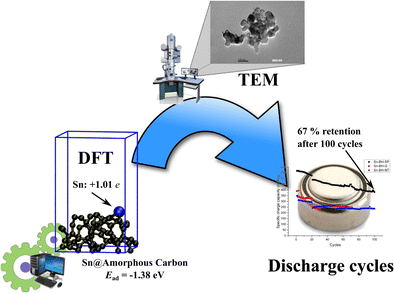 Keywords
Li-ion batteries 
Sn 
Carbon-based materials 
DFT 
Notes
Acknowledgments
This work was supported by PIO Conicet-YPF 3855/15, Y-TEC, Agencia Nacional de Promoción Científica, Program BID-Foncyt (PICT-2012-2324, PICT-2015-1605) Argentina, PID Conicet-11220110100992, PID Conicet-11220150100624, CONICET PUE "Desarrollo de baterías de litio" and SeCyT, from the National University of Cordoba. This work used computational resources from CCAD—Universidad Nacional de Córdoba (http://ccad.unc.edu.ar/), in particular the Mendieta Cluster, which is part of SNCAD—MinCyT, República Argentina.
Copyright information
© Springer-Verlag GmbH Germany, part of Springer Nature 2017