A new low bandgap hybrid polymer film obtained by electropolymerization of 3,4-ethylenedioxythiophene with bis(1,3-dithiole-2-thione-4,5-dithiolate)platinate(II) dianion, PEDOT/[Pt(dmit)2]2−
Abstract
In this work, we report the electrochemical polymerization of novel low bandgap hybrid polymer films based on 3,4-ethylenedioxythiophene containing bis(1,3-dithiole-2-thione-4,5-dithiolate)platinate(II) dianions, PEDOT/[Pt(dmit)
2
]
2−
which were obtained under galvanostatic conditions using a synthesis charge (Q
s
) of 12.5 mC cm
−2
. Morphological studies of these films by SEM and AFM revealed a regular surface with volumetric roughness (RMS) of 141.8 nm as well as high homogeneity in its composition. FTIR studies depicted bands assigned to both polymer and counterions, confirming a strong interaction among the components. Cyclic voltammetry in a monomer free solution showed well-defined peaks and potentials similar to that of the free counterion, evincing that the electron transfer processes in the film are mainly ruled by the dmit-based counterion. Optoelectronics studies of hybrid films showed a strong absorption at 786 nm and a multicolor electrochromism (greenish yellow-deep green). The direct optical bandgap (
E
g
), calculated from the absorption spectrum, was 1.42 eV, suggesting that the dmit-based dianion plays an important role on the optoelectronic properties of the hybrid polymer films.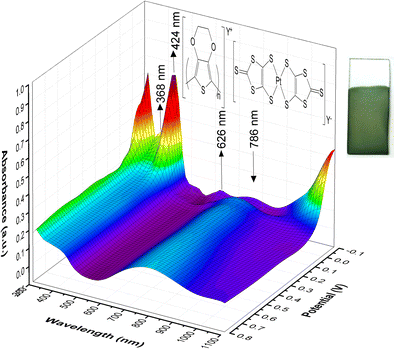 Keywords
poly(3,4-ethylenedioxythiophene) 
PEDOT 
Conducting polymer 
Hybrid material 
bis(1,3-dithiole-2-thione-4,5-dithiolate) platinate(II) 
dmit 
Low bandgap 
Notes
Acknowledgments
The author would like to dedicate this work to my friend Cassiano Pedro da Silva who passed away on December 12, 2016.
Funding information
The authors would like to thank CAPES, CNPq, FAPEMIG, and FAPERJ (Project No. E-26/111.355/2014), Brazilian agencies for funding this work.
Copyright information
© Springer-Verlag GmbH Germany 2017