Voltammetric determination of 17β-estradiol in human urine and buttermilk samples using a simple copper(II) oxide-modified carbon paste electrode
Abstract
This paper reports the voltammetric determination of 17β-estradiol in urine and buttermilk samples using a simple detector based on a carbon paste electrode (CPE) modified with copper(II) oxide (CuO). The CuO was obtained by the Pechini method and characterized by X-ray diffraction (XRD), scanning electron microscopy (SEM), and energy-dispersive (EDS), Fourier transform infrared (FTIR), and Raman spectroscopies. Cyclic voltammetry (CV) and square-wave voltammetry (SWV) demonstrated that the CuO-modified carbon paste electrode (CuO/CPE detector) displayed much higher electrocatalytic activity in the 17β-estradiol oxidation reaction than the CPE without modification, exhibiting a low detection limit of 21.0 nmol L−1 with a wide linear range from 60.0 to 800.0 nmol L−1 (R = 0.998). Satisfactory results were obtained for the determination of 17β-estradiol in human urine and buttermilk samples. The proposed electrochemical detector offers high repeatability, stability, fast response, low cost, and potential for practical application in the quantification of this hormone.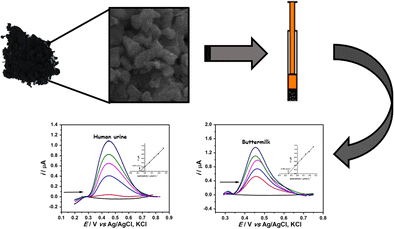 Keywords
17β-Estradiol 
Carbon paste electrode 
CuO 
Square-wave voltammetry 
Notes
Acknowledgements
The authors are grateful to the Brazilian government agencies CAPES (Coordenação de Aperfeiçoamento de Pessoal de Nivel Superior), CNPq (Conselho Nacional de Desenvolvimento Cientifico e Tecnológico), FINEP (Financiadora de Estudos e Projetos), and Fundação Araucária for scholarships and financial support. This research was also supported by Grupo de Estudos de Processos Eletroquímicos e Eletroanalíticos of Federal University of Santa Catarina (Florianópolis/SC, Brazil) and Institute of Chemistry of University of São Paulo (São Paulo/SP, Brazil).
Copyright information
© Springer-Verlag GmbH Germany 2017