Abstract
Purpose
Zygomatic bone has a higher risk of sustaining injuries in the maxillofacial skeleton. On fracturing, zygomatic bone separates from the four neighbouring bones at its articulations. Treatment for zygomaticomaxillary fractures has evolved a long way since 3000 BC. With the advent of miniplates for midface fracture, controversies still exist regarding the stability of zygoma following 1, 2, and 3 points for fixation. The study aims to compare and determine the most effective technique for the reduction of zygomaticomaxillary fractures and the ability to retain the fractured zygoma in a stable position. Hence, a study was conducted in our institute to compare 2 and 3-point fixation of zygomaticomaxillary fractures taking into account the clinical and radiographic parameters.
Methods
Twenty-four patients were divided into 2 equal groups A and B, receiving 2- and 3-point fixation respectively. Fracture displacement and stability were assessed using coronal and axial CT scan tracings at preoperatively, immediate, and 5-week postoperatively.
Results
Group B showed a significant reduction in postoperative mean displacement at sphenozygomatic and infraorbital region when compared with group A. Patients in group A had an increase incidence in vertical dystopia and enophthalmos. There was no postoperative displacement at any site in both the groups.
Conclusion
The fractured segment was held in place by both the fixation methods but 3-point fixation gave better stability in maintaining the fractured segment in desired reduced position.
Access options
Buy single article
Instant access to the full article PDF.
US$ 39.95
Tax calculation will be finalised during checkout.
Subscribe to journal
Immediate online access to all issues from 2019. Subscription will auto renew annually.
US$ 79
Tax calculation will be finalised during checkout.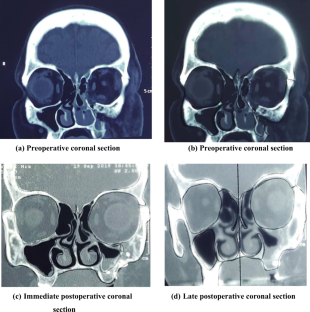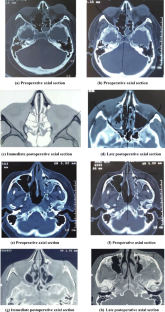 References
1.

Rana M, Warraich R, Tahir S, Iqbal A, Von See C, Eckardt AM, Gellrich NC (2012) Surgical treatment of zygomatic bone fracture using two points fixation versus three-point fixation-a randomized prospective clinical trial. Trials. 13(1):36

2.

Kovacs AF, Ghahremani M (2001) Minimization of zygomatic complex fracture treatment. Int J Oral Maxillofac Surg 30(5):380–383

3.

Rohrich RJ, Watumull D (1995) Comparison of rigid plate versus wire fixation in the management of zygoma fractures: a long-term follow-up clinical study. PlastReconstr Surg 96(3):570–575. https://doi.org/10.1097/00006534-199509000-00008

4.

Kelley P, Hopper R, Gruss J (2007) Evaluation and treatment of zygomatic fractures. Plast Reconstr Surg 120(7):5S–15S

5.

Bluebond-Langner R, Rodriguez E (2009) Application of skeletal buttress analogy in composite facial reconstruction. Craniomaxillofac Trauma Reconstr 2(01):019–025

6.

Pappachan B, Alexander M (2012) Biomechanics of cranio-maxillofacial trauma. J Maxillofac Oral Surg 11(2):224–230

7.

Rudderman RH, Mullen RL (1992) Biomechanics of the facial skeleton. Clin Plast Surg 19(1):11–29

8.

Dal Santo F, Ellis E III, Throckmorton GS (1992) The effects of zygomatic complex fracture on masseteric muscle force. J Oral Maxillofac Surg 50(8):791–799

9.

Agasao M, Nagasao T, Imanishi Y, Tomita T, Tamaki T, Ogawa K (2009) Experimental evaluation of relapse-risks in operated zygoma fractures. Auris Nasus Larynx 36(2):168–175

10.

Hwang K (2010) One-point fixation of tripod fractures of zygoma through a lateral brow incision. J Craniofac Surg 21(4):1042–1044

11.

Zingg M, Chowdhury K, Lädrach K, Vuillemin T, Sutter F, Raveh J (1991) Treatment of 813 zygoma-lateral orbital complex fractures: new aspects. Arch Otolaryngol Head Neck Surg 117(6):611–620

12.

Chakranarayan A, Thapliyal GK, Sinha R, Suresh MP (2009) Efficacy of two point rigid internal fixation in the management of zygomatic complex fracture. J Maxillofac Oral Surg 8(3):265–269

13.

Karlan MS, Cassisi NJ (1979) Fractures of the zygoma: a geometric, biomechanical, and surgical analysis. Arch Otolaryngol 105(6):320–327

14.

Punjabi SK, Rehman H, Ali Z, Ahmed S (2011) Causes and management of zygomatic bone fractures at Abbasi Shaheed Hospital Karachi (analysis of 82 patients). JPMA J Pak Med Assoc 61(1):36

15.

Parashar A, Sharma RK, Makkar S (2007) Rigid internal fixation of zygoma fractures: a comparison of two-point and three-point fixation. Indian J Plast Surg 40(1):18

16.

Rana M, Warraich R, Tahir S, Iqbal A, Von See C, Eckardt AM, Gellrich NC (2012) Surgical treatment of zygomatic bone fracture using two points fixation versus three point fixation-a randomised prospective clinical trial. Trials. 13(1):36

17.

Ellis E, Kittidumkerng W (1996) Analysis of treatment for isolated zygomaticomaxillary complex fractures. J Oral Maxillofac Surg 54(4):386–400

18.

Strong EB, Sykes JM (1998) Zygoma complex fractures. Facial Plast Surg 14(01):105–115

19.

De Ruiter BJ, Levin A, Nash DW, Kamel GN, Mostafa E, Baghdasarian D, Davidson EH (2019) The zygomaticosphenoidal angle: a reference for surgical navigation in zygomaticomaxillary complex fracture repair. Plast Reconstr Surg Glob Open 7(8S-1):71–72

20.

Candamourty R, Narayanan V, Baig MF, Muthusekar MR, Jain MK, Babu RM (2013) Treatment modalities in zygomatic complex fractures: a prospective short clinical study. Dent Med Res 1(1):13

21.

Ridgway EB, Chen C, Colakoglu S, Gautam S, Lee BT (2009) The incidence of lower eyelid malposition after facial fracture repair: a retrospective study and meta-analysis comparing subtarsal, subciliary, and transconjunctival incisions. Plast Reconstr Surg 124(5):1578–1586

22.

Benoliel R, Birenboim R, Regev E, Eliav E (2005) Neurosensory changes in the infraorbital nerve following zygomatic fractures. Oral Surg Oral Med Oral Pathol Oral Radiol Endodontol 99(6):657–665
Additional information
Publisher's note
Springer Nature remains neutral with regard to jurisdictional claims in published maps and institutional affiliations.
About this article
Cite this article
Degala, S., Radhakrishna, S. & Dharmarajan, S. Zygomaticomaxillary fracture fixation: a prospective comparative evaluation of two-point versus three-point fixation. Oral Maxillofac Surg 25, 41–48 (2021). https://doi.org/10.1007/s10006-020-00881-4
Received:

Accepted:

Published:

Issue Date:
Keywords
Zygomaticomaxillary fractures

2 point and 3 point fixation

CT scan

Stability

Reduction