Abstract
Novel two-dimensional materials have emerged as hybrid structures that combine graphene and hexagonal boron nitride (h-BN) domains. During their growth process, structural defects such as vacancies and change of atoms connectivity are unavoidable. In the present study, we use first-principle calculations to investigate the electronic structure of graphene domains endowed with a single carbon atom vacancy or Stone–Wales defects in h-BN sheets. The results show that both kinds of defects yield localized states within the bandgap. Alongside this change in the bandgap configuration, it occurs a splitting of the spin channels in such a way that electrons with up and down spins populate different energy levels above and below the Fermi level, respectively. Such a spin arrangement is associated to lattice magnetization. Stone–Wales defects solely point to the appearance of new intragap levels. These results demonstrated that vacancies could significantly affect the electronic properties of hybrid graphene/h-BN sheets.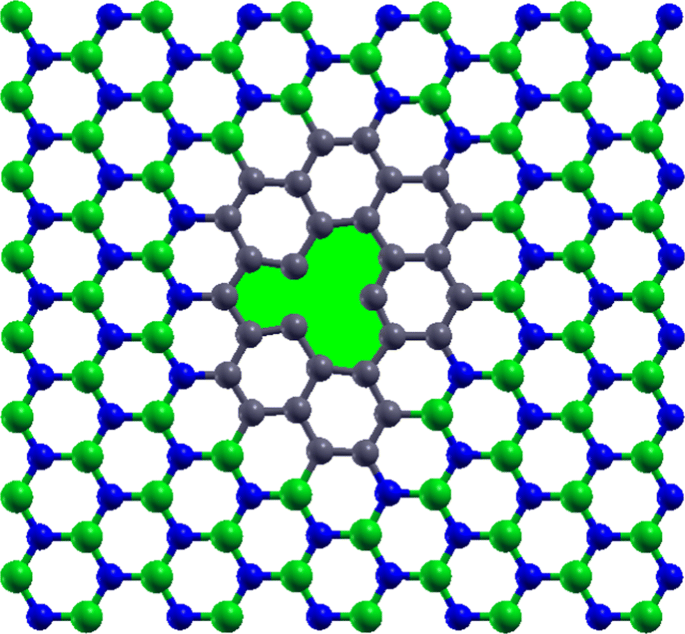 This is a preview of subscription content, log in to check access.
Access options
Buy single article
Instant access to the full article PDF.
US$ 39.95
Price includes VAT for USA
Subscribe to journal
Immediate online access to all issues from 2019. Subscription will auto renew annually.
US$ 199
This is the net price. Taxes to be calculated in checkout.




Acknowledgements
The authors acknowledge the financial support from the Brazilian Research Councils CNPq and CAPES. The authors also acknowledge the CENAPAD-SP for providing the computational facilities. L.A.R.J and G.M.S gratefully acknowledge the financial support from the Brazilian Research Council FAPDF grants 0193.001.511/2017 and 0193.001766/2017, respectively. L.A.R.J also wishes to thank the Brazilian Ministry of Planning, Budget and Management (Grant DIPLA 005/2016). L.A.R.J. and G.M.S. gratefully acknowledge, respectively, the financial support from CNPq grants 302236/2018-0 and 304637/2018-1.
Additional information
Publisher's note
Springer Nature remains neutral with regard to jurisdictional claims in published maps and institutional affiliations.
This paper belongs to Topical Collection VII Symposium on Electronic Structure and Molecular Dynamics – VII SeedMol
About this article
Cite this article
dos Santos, R.M., Santos, R.B., Neto, B.G.E. et al. Defective graphene domains in boron nitride sheets. J Mol Model 25, 230 (2019). https://doi.org/10.1007/s00894-019-4093-5
Received:

Accepted:

Published:
Keywords
Graphene

Boron nitride

Domains

Defects

Heterostructures