Theoretical study of the electronic structure of mono-chloride of lanthanum molecule including spin-orbit coupling effect
Abstract
Our investigation is devoted to the theoretical study of the low-lying electronic structure of the LaCl molecule by using ab initio quantum methods. We are concerned with several methods such as the complete active space-self consistent field (CAS-SCF) and the multi reference of configuration interaction (MRCI + Q) methods. These methods are applied for the purpose of drawing the potential energy curves (PECs) and calculating the molecular spectroscopic constants for a given number of electronic states of singlet and triplet multiplicity. We count 26 2S+ 1 Λ(±) electronic states located below 24,000 cm− 1 neglecting the spin-orbit effects and 47 Ω(±) components taken into consideration these effects. Our calculations are performed via the quantum ab initio package MOLPRO (Werner and Knowles 2000).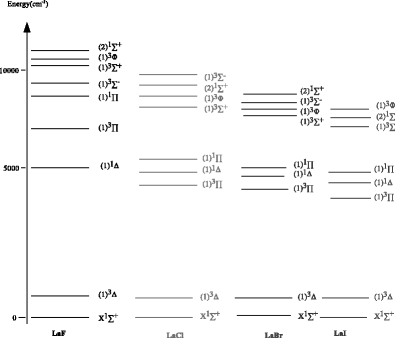 Keywords
Diatomic molecules 
Ab initio methods 
Theoretical electronic states 
Spectroscopic constants 
Ab initio package MOLPRO 
Notes
Acknowledgements
We present our appreciation and deep thanks to Mr. Florent REAL, Professor at the University of Sciences and Technologies Lille 1-France and member on PHLAM laboratory for his support and sincere discussion of this work. We also thank Pr. Fadia TAHER, Head of the Common trunc at the Faculty of Engineering III on the Lebanese University and the director of the Molecular Quantum Mechanics and Modeling Laboratory. We also thank Mr. Jihad SIDAWI, Professor at the Faculty of Engineering III at the Lebanese University and member on the Molecular Quantum Mechanics and Modeling Laboratory for his cooperation.
Copyright information
© Springer-Verlag GmbH Germany, part of Springer Nature 2018