Abstract
Current forms of parent training for childhood attention deficit hyperactivity disorder (ADHD) are often insufficient. Many families drop out of the training, and treatment gains are often not maintained. Nonviolent resistance parent training (NVR) focuses on helping parents resist the child's negative behaviors without escalating the problem. NVR helps parents to fulfill an anchoring function, supporting the child through presence, self-regulation, structure, and support network. This study is a randomized controlled trial designed to assess the efficacy of NVR in the treatment of childhood ADHD. Participants were Israeli parents of children with primary ADHD diagnosis (N = 101; 5–13 years old; 79% male participants) randomly assigned to either 12-session NVR (N = 50) or waiting list (N = 51). Measures were administered before and after treatment and at a 4-month follow-up. ADHD outcomes included the Conners and Child Behavior Checklist. Parenting outcomes included parental helplessness, emotional regulation, anchoring function, and family chaos. Participants in the NVR condition reported significant improvements in the child's internalizing, externalizing, and ADHD symptoms, as well as improvement in paternal and maternal helplessness and anchoring. Participants in the control condition did not report changes in the child's symptoms or the parents' condition. The results at follow-up revealed maintenance of change in the child's externalizing and internalizing symptoms, but failure to maintain gains in ADHD core symptoms. Maternal helplessness and anchoring, as well as family chaos continued to improve at follow-up. Dropout rates in the treatment group were low (5%), and fathers' engagement was close to 100%. NVR is an efficient treatment for childhood ADHD, with benefits extending beyond the child's symptoms to the entire family. NVR's special focus on parental distress may have contributed to low dropout, high paternal engagement, and maintenance of change.
Access options
Buy single article
Instant access to the full article PDF.
US$ 39.95
Tax calculation will be finalised during checkout.
Subscribe to journal
Immediate online access to all issues from 2019. Subscription will auto renew annually.
US$ 159
Tax calculation will be finalised during checkout.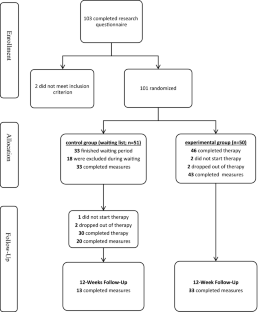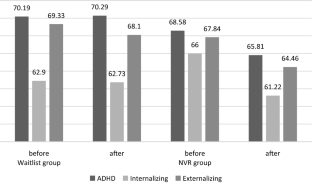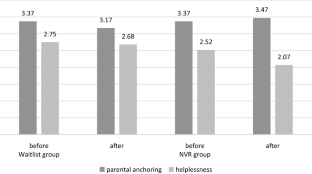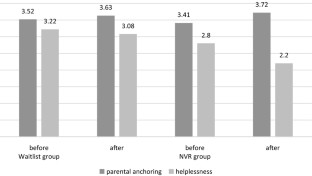 Data availability statement
The data that support the findings of this study are available on request from the corresponding author, ISS. The data are not publicly available in order not to compromise the privacy of the research participants.
Notes
1.

The study was conducted at the ADHD Clinic at the Schneider Children's Medical Center, Petah Tikvah, Israel.
References
1.

Steiner H, Remsing L (2007) Practice parameter for the assessment and treatment of children and adolescents with oppositional defiant disorder. J Am Acad Child Adolesc Psychiatry 46:126–141. https://doi.org/10.1097/01.chi.0000246060.62706.af

2.

Schwarz A, Cohen S (2013) More diagnoses of hyperactivity in new CDC data: a rapid rise in rates. The New York Times. https://www.nytimes.com/2013/04/01/health/more-diagnoses-of-hyperactivity-causing-concern.html. Accessed 8 Aug 2020

3.

Subcommittee on Attention-Deficit/Hyperactivity, Wolraich M, Brown L, Brown RT, Visser S et al (2011) ADHD: clinical practice guideline for the diagnosis, evaluation, and treatment of attention-deficit/hyperactivity disorder in children and adolescents. Pediatrics 128:1007–1022. https://doi.org/10.1542/peds.2011-2654

4.

McArdle P (2013) Attention deficit hyperactivity disorder. J Paediatr Child Health 23:40–41. https://doi.org/10.1016/j.paed.2012.11.003

5.

Barkley RA (2006) Associated cognitive, developmental, and health problems. In: Barkley RA (ed) Attention-deficit hyperactivity disorder: a handbook for diagnosis and treatment. Guilford, New York, pp 122–183

6.

Agha SS, Zammit S, Thapar A, Langley K (2013) Are parental ADHD problems associated with a more severe clinical presentation and greater family adversity in children with ADHD? Eu Child Adolesc Psychiatry 22:369–377. https://doi.org/10.1007/s00787-013-0378-x

7.

Sibley MH, Pelham WE Jr, Molina BSG, Gnagy EM, Waschbusch DA, Garefino AC, Karch KM et al (2012) Diagnosing ADHD in adolescence. J Consult Clin Psychol 80:139–150. https://doi.org/10.1037/a0026577

8.

Lamers F, van Oppen P, Comijs HC, Smit JH, Spinhoven P, van Balkom AJLM, Penninx BWJH et al (2011) Comorbidity patterns of anxiety and depressive disorders in a large cohort study: the Netherlands Study of Depression and Anxiety (NESDA). J Clin Psychiatry 72:341–348. https://doi.org/10.4088/jcp.10m06176blu

9.

Wehmeier PM, Schacht A, Barkley RA (2010) Social and emotional impairment in children and adolescents with ADHD and the impact on the quality of life. J Adolesc Health 46:209–217. https://doi.org/10.1016/j.jadohealth.2009.09.009

10.

Cussen A, Sciberras E, Ukoumunne OC, Efron D (2012) Relationship between symptoms of attention-deficit/hyperactivity disorder and family functioning: a community-based study. Eur J Pediatr 171:271–280. https://doi.org/10.1007/s00431-011-1524-4

11.

Theule J, Wiener J, Tannock R, Jenkins JM (2010) Parenting stress in families of children with ADHD: a meta-analysis. J Emot Behav Disord 21:3–17. https://doi.org/10.1177/1063426610387433

12.

Schroeder VM, Kelley ML (2009) Associations between family environment, parenting practices, and executive functioning of children with and without ADHD. J Child Fam Stud 18:227–235. https://doi.org/10.1007/s10826-008-9223-0

13.

Kvist AP, Nielsen HS, Simonsen M (2013) The importance of children's ADHD for parents' relationship stability and labor supply. Soc Sci Med 88:30–38. https://doi.org/10.1016/j.socscimed.2013.04.001

14.

Biederman J, Petty CR, Wilens TE, Fraire MG, Purcell CA, Mick E, Faraone SV et al (2008) Familial risk analyses of attention deficit hyperactivity disorder and substance use disorders. Am J Psychiatry 165:107–115. https://doi.org/10.1176/appi.ajp.2007.07030419

15.

Markel C, Wiener J (2014) Attribution processes in parent–adolescent conflict in families of adolescents with and without ADHD. Can J Behav Sci 46:40–48. https://doi.org/10.1037/a0029854

16.

Barlow J, Smailagic N, Huband N, Roloff V, Bennett C (2012) Group-based parent training programmes for improving parental psychosocial health. Campbell Syst Rev. https://doi.org/10.1002/14651858.CD002020.pub3

17.

Weber L, Kamp-Becker I, Christiansen H, Mingebach T (2019) Treatment of child externalizing behavior problems: a comprehensive review and meta-analysis on the effects of parent-based interventions on parental characteristics. Eur Child Adolesc Psychiatry 28:1025–1036. https://doi.org/10.1007/s00787-018-1175-3

18.

Carr A, Hartnett D, Brosnan E, Sharry J (2017) Parents plus systemic solution-focused parent training programs: description, review of the evidence based and meta-analysis. Fam Process 56:652–668. https://doi.org/10.1111/famp.12225

19.

Fabiano GA (2007) Father participation in behavioral parent training for ADHD: review and recommendations for increasing inclusion and engagement. J Fam Psychol 21:683–693. https://doi.org/10.1037/0893-3200.21.4.683

20.

Schneider BW, Gerdes AC, Haack LM, Lawton KE (2013) Predicting treatment dropout in parent training interventions for families of school-aged children with ADHD. Child Fam Behav Ther 35:144–169. https://doi.org/10.1080/07317107.2013.789365

21.

Omer H (2004) Nonviolent resistance: a new approach to violent and self-destructive children. Cambridge University Press, New York

22.

Omer H (2011) The new authority: family, school and community. Cambridge University Press, New York

23.

Gershy N, Omer H (2017) Engaging fathers in parent training: a qualitative study. J Fam Psychother 28:38–58. https://doi.org/10.1080/08975353.2017.1283143

24.

Gershy N, Meehan KB, Omer H, Papouchis N, Schorr Sapir I (2017) Randomized clinical trial of mindfulness skills augmentation in parent training. Child Youth Care Forum 46:783–803. https://doi.org/10.1007/s10566-017-9411-4

25.

Weinblatt U, Omer H (2008) Nonviolent resistance: a treatment for parents of children with acute behavior problems. J Marital Fam Ther 34:75–92. https://doi.org/10.1111/j.1752-0606.2008.00054.x

26.

Ollefs B, Schlippe A, Omer H, Kriz J (2009) Adolescents with external behavior problems—effects of parental coaching. Familiendynamik 34:256–265

27.

Lebowitz E, Omer H, Hermes SL (2014) Parent training for childhood anxiety disorders: the SPACE program. Cogn Behav Pract 21:456–469. https://doi.org/10.1016/j.cbpra.2013.10.004

28.

Lebowitz ER, Marin C, Martino A, Shimshoni Y, Silverman WK (2020) Parent-based treatment as efficacious as cognitive-behavioral therapy for childhood anxiety: a randomized noninferiority study of supportive parenting for anxious childhood emotions. J Am Acad Child Adolesc Psychiatry 59:362–372. https://doi.org/10.1016/j.jaac.2019.02.014

29.

Golan O, Shilo H, Omer H (2016) Non-violent resistance parent training for the parents of young adults with high functioning autism spectrum disorder. J Fam Ther. https://doi.org/10.1111/1467-6427.12106

30.

Van Holen F, Vanderfaeillie J, Omer H (2016) Adaptation and evaluation of a nonviolent resistance intervention for foster parents: a progress report. J Marital Fam Ther 42(2):256–271. https://doi.org/10.1111/jmft.12125

31.

Van Holen F, Vanderfaeillie J, Omer H, Vanschoonlandt F (2018) Training in nonviolent resistance for foster parents: a randomized controlled trial. Res Soc Work Pract 28:931–942. https://doi.org/10.1177/1049731516662915

32.

Omer H, Steinmetz SG, Carthy T, Von Schlippe A (2013) The anchoring function: parental authority and the parent-child bond. Fam Process 52:193–206. https://doi.org/10.1111/famp.12019

33.

Laugesen B, Groenkjaer M (2015) Parenting experiences of living with a child with attention deficit hyperactivity disorder: a systematic review of qualitative evidence. JBI Database System Rev Implement Rep 13:169–234

34.

Schorr-Sapir I (2018) The efficacy of 'nonviolent resistance' parent training for treating ADHD in children. Dissertation, Tel-Aviv University

35.

Achenbach TM (1991) Manual for the Child Behavior Checklist. University of Vermont, Department of Psychiatry, Burlington

36.

Zilber N, Auerbach J, Lerner Y (1994) Israeli norms for the Achenbach Child Behavior Checklist: comparison of clinically-referred and non-referred children. Isr J Psychiatry Relat Sci 31:5–12

37.

Conners CK, Sitarenios G, Parker JDA, Epstein JN (1998) The revised Conners' Parent Rating Scale (CPRS-R): factor structure, reliability, and criterion validity. J Abnorm Child Psychol 26:257–268. https://doi.org/10.1023/A:1022602400621

38.

Gratz KL, Roemer L (2004) Multidimensional assessment of emotion regulation and dysregulation: development, factor structure, and initial validation of the Difficulties in Emotion Regulation Scale. J Psychopathol Behav Assess 26:41–54. https://doi.org/10.1023/B:JOBA.0000007455.08539.94

39.

Kahn DT, Carthy TAL, Colson B, Tenne TAL, Omer H (2019) Measuring parental anchoring: the development and validation of the parental anchoring scale. TPM Test Psychom Methodol Appl Psychol 26:271–286. https://doi.org/10.4473/TPM26.2.7

40.

Matheny AP, Wachs TD, Ludwig JL, Phillips K (1995) Bringing order out of chaos: psychometric characteristics of the confusion, hubbub, and order scale. J Appl Dev Psychol 16:429–444. https://doi.org/10.1016/0193-3973(95)90028-4

41.

Hollis S, Campbell F (1999) What is meant by intention to treat analysis? Survey of published randomised controlled trials. Br Med J 319:670. https://doi.org/10.1136/bmj.319.7211.670

42.

Abdi H (2007) The Bonferonni and Šidák corrections for multiple comparisons. In: Salkind NJ (ed) Encyclopedia of measurement and statistics. SAGE Publications, Thousand Oaks

43.

Šidák Z (1967) Rectangular confidence regions for the means of multivariate normal distributions. J Am Stat Assoc 62:626–633. https://doi.org/10.1080/01621459.1967.10482935

44.

Newman DA (2003) Longitudinal modeling with randomly and systematically missing data: a simulation of ad hoc, maximum likelihood, and multiple imputation techniques. Organ Res Methods 6:328–362. https://doi.org/10.1177/1094428103254673

45.

Rubin DB (2004) Multiple imputations for nonresponse in surveys. Wiley, New York

46.

Chronis-Tuscano A, Chacko A, Barkley R (2013) Key issues relevant to the efficacy of behavioral treatment for ADHD. Am J Psychiatry 170:799–799. https://doi.org/10.1176/appi.ajp.2013.13030293

47.

Larson K, Russ SA, Kahn RS, Halfon N (2011) Patterns of comorbidity, functioning, and service use for US children with ADHD, 2007. Pediatrics 127:462. https://doi.org/10.1542/peds.2010-0165

48.

Lavi-Levavi I, Shachar I, Omer H (2013) Training in nonviolent resistance for parents of violent children: differences between fathers and mothers. J Syst Ther 32:79–93. https://doi.org/10.1521/jsyt.2013.32.4.79

49.

Omer H, Schorr-Sapir I, Weinblatt U (2008) Non-violent resistance and violence against siblings. J Fam Ther 30:450–464. https://doi.org/10.1111/j.1467-6427.2008.00441.x

50.

Friars PM, Mellor DJ (2007) Drop out from behavioral management training programs for ADHD: a prospective study. J Child Fam Stud 16:427–441. https://doi.org/10.1007/s10826-006-9096-z

51.

Gearing RE, Townsend L, Elkins J, El-Bassel N, Osterberg L (2014) Strategies to predict, measure, and improve psychosocial treatment adherence. Harv Rev Psychiatry 22:31–45. https://doi.org/10.1097/HRP.10.1097/HRP.0000000000000005
Ethics declarations
Conflict of interest
The authors have no conflicts of interest to declare.
About this article
Cite this article
Schorr-Sapir, I., Gershy, N., Apter, A. et al. Parent training in non-violent resistance for children with attention deficit hyperactivity disorder: a controlled outcome study. Eur Child Adolesc Psychiatry (2021). https://doi.org/10.1007/s00787-021-01723-8
Received:

Accepted:

Published:
Keywords
ADHD

Parent training

Nonviolent resistance

Externalizing symptoms

Parental helplessness